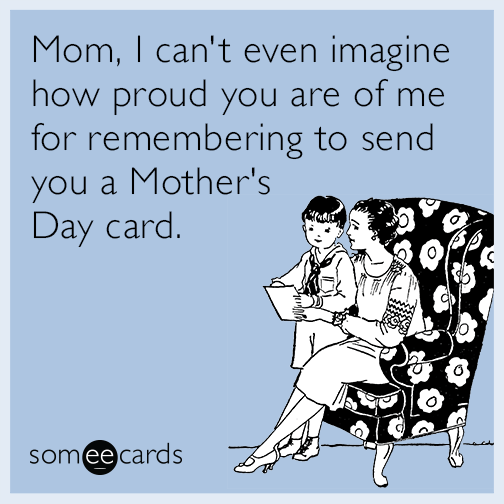 Our Sunday Supper Movement founder, Isabel, put a call out on social media – okay, Facebook – asking her friends if they had a special meal request for Mother's Day. The responses rolled in quickly. Funnily enough, they weren't all food. We thought it would be fun to share some of the best ones with you today – what Mom really wants for Mother's Day – as Sunday Supper celebrates Mom's Favorite Recipes.
Just in case you thought that flowers or jewelry might top the list, the request that got the most mentions and "Likes" was
1. Any dish that is prepared by someone else. Many moms said that they didn't care what the dish was as long as someone else was cooking, although we did get a few foodie votes for macaroni salad, cheesecake, macadamia nut cookies, salmon and Mediterranean food. One mom said, "It could be eggs and bacon in the morning with toast!! I think it should go from breakfast to dinner, an all day thing!" We totally agree.
2. No dishes to wash! No mom wants to do dishes on Mother's Day. Brunch out was mentioned a few times since that also means no washing up to do after. You know what would be a great Mother's Day gift? Promise to do the dishes for a week.
3. Room service. Now that would imply a night in a hotel too, but we are prepared to get behind that suggestion as well. Doesn't your mom deserve some time some place special, maybe even alone? Which brings us to the next thing Mom really wants for Mother's Day.
4. Silence. Yep, it's that simple. She'd love some peace and quiet. Perhaps to read a good book, while sipping a glass of wine.
5. And speaking of wine, Mom would also like a fancy drink, perhaps some mimosas or sangria to celebrate.
6. Moms really want you to help them with their projects. As one mom put it, "The only dish I've ever wanted for Mother's Day was a simple plate with a card that said, 'We plan to help you garden today.' That was HUGE for them because they didn't enjoy it but knew it was all I really wanted!"
That, children, is how you earn some serious brownies points with Mom. What would your mom like you to help with for Mother's Day? Think about it.
You know what else mom really wants for Mother's Day?
7.  Sleep. Never mind the breakfast in bed or at least don't bring it in at the crack of dawn. Keep the house quiet and let Mom sleep in for Mother's Day.
And finally, the most precious gift of all, what mom really wants for Mother's Day is
8. Family. Be there if you can. Call if you can't. Once again, it's that simple. Moms just want to know you love and appreciate them.
Please leave us a comment! What do you really want for Mother's Day? And if we've already named it, please pass this on to your children, however old they might be!
This week our Sunday Supper tastemakers are sharing either their mothers' favorite dishes or favorite recipes they've learned from their moms. It's a fabulous line-up of deliciousness.
Starters (Appetizers, Beverages, Breakfast)
Salads, Side Dishes, and Sauces
Main Dishes
Desserts
Plus What Mom Really Wants for Mother's Day and Mom's Favorite Recipes  from Sunday Supper
Movement
Join the #SundaySupper conversation on twitter on Sunday! We tweet throughout the day and share recipes from all over the world. Our weekly chat starts at 7:00 pm ET. Follow the #SundaySupper hashtag and remember to include it in your tweets to join in the chat.
To get more great Sunday Supper Recipes, visit our website or check out our Pinterest board.
Would you like to join the Sunday Supper Movement? It's easy. You can sign up by clicking here: Sunday Supper Movement.