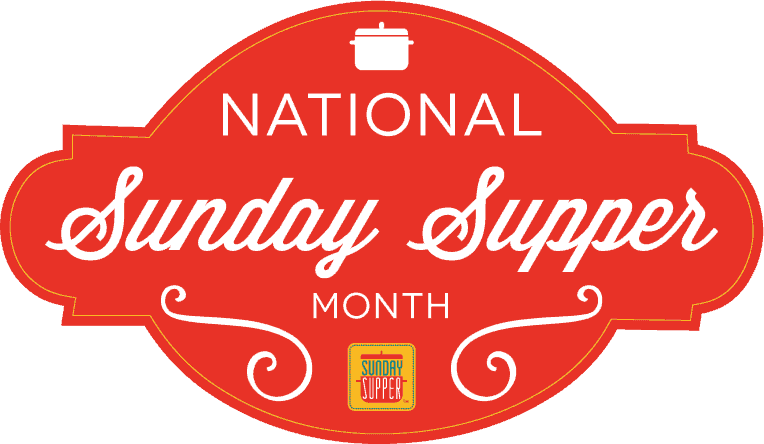 2016 is going to kick off with a bang!
We are celebrating the first National Sunday Supper Month in January and National Sunday Supper Day on January 10th with a full schedule of deliciously fun activities. We can't think of a better way to mark Sunday Supper's 4th anniversary. It is exciting to know that every January will be a time to honor meals at the family table. Special attention will be paid on Sunday Supper Day, the second Sunday of every January. Isabel Laessig better know as Family Foodie is passionate about her family and believes that we can empower our families by nurturing them around the family table. Making a vow to eat together on Sunday evenings soon grows into more family meals. Don't get too hung up on the formal table. Sunday Supper can be a moveable feast, especially on football days. We do love a tailgate. Go on a picnic or eat in the backyard. Move the meal to Grandma's house every now and then, or maybe even travel to a college kid's house. What's important is that the family is together.
Get Involved with Sunday Supper Month
Follow the hashtag #SundaySupper
on Twitter and Instagram for daily tips on how to make mealtime nutritious and fun. Don't forget to join the weekly #SundaySupper chat at 7 p.m. Sundays on Twitter. We will be kicking off the month with a Sunday Supper event that includes dozens of our member bloggers. They will be sharing their favorite recipes for Sunday Supper.
Click on this link and respond with
: "I cook because … #SundaySupper." We will be compiling 100 reasons why people like to spend time in the kitchen.
Take our Instagram Photo challenge
and post fun photos of your family, your home and what you are making. Tag your photos #SundaySupper and @SundaySupperFam.
Celebrate with us!
Celebrate National Sunday Supper Day
on Jan. 10 with a big bowl of poutine and a whole lot of potato tips, recipes and lore from 
Idaho® Potatoes
. We can't wait to see what variations on the theme that the Sunday Supper tastemakers will come up with and are thrilled to have Idaho® Potatoes at the table with us.
Florida Strawberries
Follow the Sunday Supper taste makers and Florida Strawberry the weekend
of Jan. 16-17. We will be coming to you live from the winter strawberries field of Plant City, Fl., and the
Epicurean Hotel
and the legendary
Bern's Steak House
in Tampa, Fl. Follow us on Twitter, Instagram and Periscope all weekend and get a taste of the nation's sweetest berries.
The new year is going to start on a high note, thanks to National Sunday Supper Month. Stay tuned for exciting events and fabulous giveaways by subscribing to our newsletter below! We may also have some surprises along the way…shhhh.
The following two tabs change content below.
Janet K. Keeler
Award-winning journalist Janet K. Keeler was the longtime food and travel editor of the Tampa Bay Times in St. Petersburg, Fl. She is now an assistant professor of journalism and food writing at the University of South Florida St. Petersburg. Janet retired from daily newspaper journalism in April 2015, ending a 35-year career. She has been a news reporter, copy desk chief, and features editor. She is also the author of "Cookielicious: 150 Fabulous Recipes to Bake & Share," which was published in 2010 by Seaside Publishing.
Latest posts by Janet K. Keeler (see all)