Nothing says easy picnic food like a classic potato salad! But have you ever realized just how many kinds there are aside from the traditional potato salad recipe? There are more than just one or two ways to learn how to make potato salad, whether you're looking for an old fashioned potato salad or a fresh new take! Below are the best potato salad recipes for any occasion (especially as an addition to your picnic food list!).
Easy Picnic Food
It's no wonder classic potato salad is a favorite for cold picnic food. It's easy to learn how to make potato salad, and there are so many different ways you can experiment with its flavors! Potato salad with mayo or vinegar isn't your only option. It might surprise you just how many types of potato salad there are!
German Potato Salad
Authentic German Potato Salad is packed with flavor from bacon and tangy vinegar dressing. You can serve it cold or as a hot potato salad, and it pairs deliciously with other classic picnic food ideas like sandwiches, hot dogs, hamburgers, or even chicken.
Spanish Potato Salad
Loaded with flavors like smoked paprika and Spanish olives, Spanish Potato Salad is one of our favorite side dishes for BBQ and one of our frequent picnic food ideas. This potato and egg salad should not be missed!
Greek Potato Salad
This Greek Potato Salad from Super Golden Bakes is a healthy potato salad with no mayo! Try this gluten free potato salad at your next BBQ, as an easy picnic food, or as a side dish for recipes like Veggie Burgers, Boneless Prime Rib Roast, or even Chicken and Mushroom Pie.
Avocado Potato Salad
This Avocado Potato Salad by Natalie's Health is full of flavor from spring onions and radishes, and is made with fresh and simple ingredients! Try this creamy potato salad recipe as a BBQ side dish or for dinner alongside a meal like Vegetarian Enchiladas Recipe with Chickpea Curry, Chicken Fajita Meal Prep Bowls, or this Vegetarian Taco Recipe for Two.
Japanese Potato Salad
Creamy, sweet, and acidic all in one, this Japanese Potato Salad with Yukon Gold Potatoes from Karen's Kitchen Stories is easily one of our favorite picnic basket ideas! This recipe differs from an American potato salad as it includes Japanese mayonnaise, carrots, cucumbers, onions, and thinly sliced ham. You can even add eggs! Serve this creamy potato salad with another easy Japanese recipe: this Katsu Sando (Japanese Pork Cutlet Sandwich).
Healthier Bacon Ranch Potato Salad
Looking for a potato salad with bacon? This Healthier Bacon Ranch Potato Salad from The Schmidty Wife is easily one of our favorite ranch potato salad recipes! Try this loaded potato salad alongside an Italian Pressed Sandwich or The Easiest Slow Cooker Brisket Recipe.
15 Minute French Potato Salad
Have you ever tried French potato salad? This 15 Minute French Potato Salad from A Communal Table gives you every reason to give it a shot! Ready in 15 minutes and loaded with flavor from potatoes, tomato, and corn dressed in a lemon dijon mustard vinaigrette, this mustard potato salad is a must try. Serve alongside Easy Salmon Sliders with Broccoli Slaw or a Steak Foil Pack.
Loaded Baked Potato Salad
Do you like your potato salads without mayo? Try this Loaded Baked Potato Salad Without Mayo from Sustainable Cooks! This is a perfect, easy potato salad to serve with other potluck side dishes or as a BBQ side dish. Try alongside BBQ Chicken Sliders, Shrimp Foil Pack, or Loaded Burger with Bacon and Asparagus.
Cauliflower Potato Salad
If you're worried about the carbs in potato salad, give this Low-Carb Cauliflower "Potato" Salad from Whole New Mom a try! Try it with Roasted Vegetables with Cheese Sauce or another cauliflower dish, like this Cauliflower Cheese Casserole.
Curried Potato Salad
Indian-inspired Curried Potato Salad from Veggies Save the Day is a fun twist on classic potato salad! This simple potato salad is full of incredible flavor from curry seasoning, peas, onions, and cilantro. Try it alongside this Harissa Beef Roulade.
Best Potato Salad Recipe with Bacon and Pickles
Girl Heart Food has us sold on this Best Potato Salad Recipe with Bacon and Pickles. This is a creamy mustard potato salad with mayo, too, that stacks flavors like no other! Try it with Bacon Cheeseburger Sliders for a delicious combo.
Creamy Dill and Cucumber Potato Salad
We love this Creamy Dill and Cucumber Potato Salad from Renee's Kitchen Adventures! Dill potato salad is easily one of our favorites, especially served cold on a hot summer day. Pair this red potato salad with dishes like Foil Pack Salmon for a flavor-packed meal.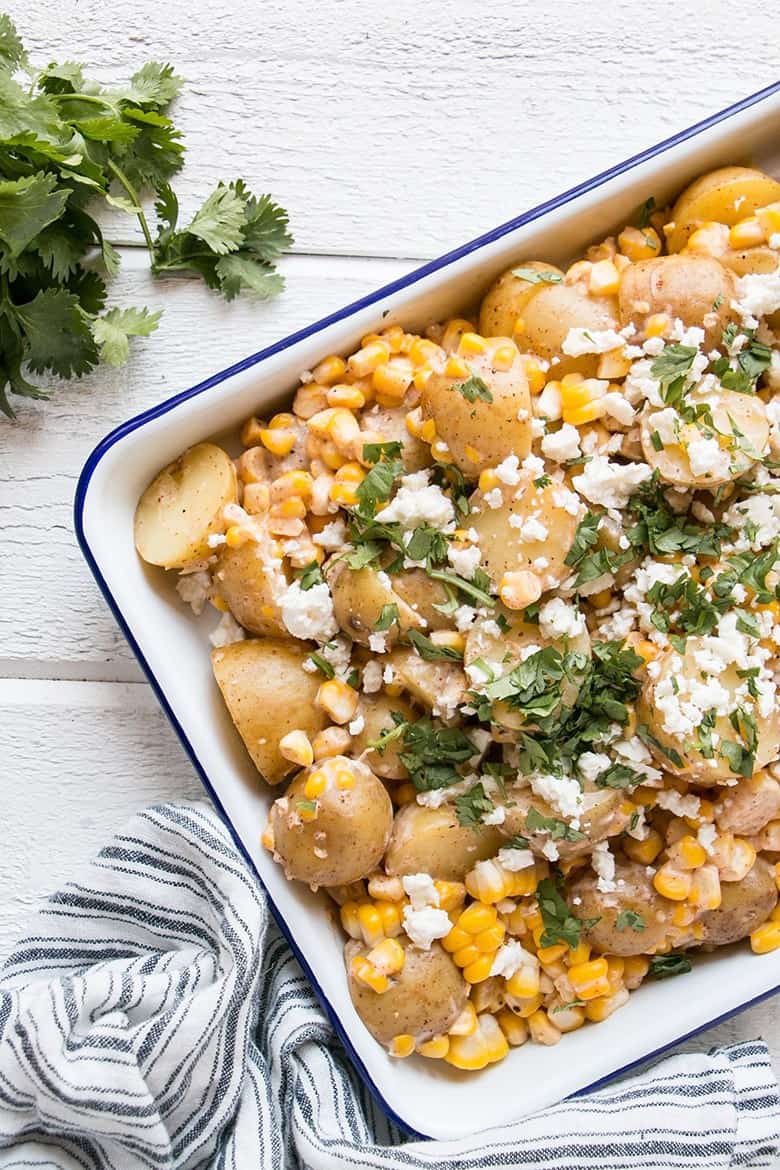 Mexican Street Corn Potato Salad
You are not going to believe the flavors in this Mexican Street Corn Potato Salad from My Kitchen Love. This incredible creamy potato salad has all of the flavors of your favorite Elote recipe, including corn, cotija cheese, lime, and chili powder. We are obsessed with the potato salad ingredients in this recipe! Try it with a Mexican Shrimp Rice Bowl.
Gluten Free Instant Pot Potato Salad
Did you know you can make potato salad in an instant pot? This Gluten Free Instant Pot Potato Salad from Hot Pan Kitchen is not only a delicious recipe, but a great guide, too! Learn what the best potatoes for potato salad are, how to cut a potato for potato salad, and how to make instant pot potato salad.
What's your favorite potato salad recipe? Have you ever made homemade potato salad? Let us know in the comments below!
Want more potato recipes?
This post was updated on June 25, 2019.