Cookie exchange parties are the perfect way to gather family and friends for a holiday get-together! The guests and host make a big batch of their favorite cookie, and bring it in to share and exchange. Each person will walk away with enough cookies to last them through the holiday season, and with new recipes! Our best cookie exchange recipes are sure to inspire you to try something new this year. You might just find a new favorite holiday cookie recipe!


This collection of our best cookie exchange recipes has all the cookie recipes you need this holiday season. These recipes are perfect for parties and make great gifts!

1. Our chewy blondies recipe, made with white chocolate chips and toasted pecans, is one of our best cookie exchange recipes.

2. Our Christmas bark recipe is so simple to make, and is easily one of our best cookie exchange recipes even without being a traditional cookie!

3. Cake-like and full of Fall flavors, our pumpkin spice chocolate chip cookies are a must for this holiday season!

4. Our pecan cranberry ginger cookies are irresistibly tasty, and perfect for the holidays!

5. These cranberry white chocolate chip cookies are easily the hit of any holiday party.

6. Triple chocolate cookies are so delicious. Perfect for a chocolate lover!

7. These fun and creative peanut butter marshmallow cookies are one of our best cookie exchange recipes.

8. Mexican chocolate peanut butter cookies have a unique flair, and are crisp on the outside but soft on the inside. So tasty!

9. These jumbo chocolate mint cookies are the perfect decadent addition to your cookie jar.

10. Double peanut butter cookies are a comforting classic that anyone would love as a gift or at a party.

11. There's nothing quite like these crowd-pleasing classic sugar cookies.

12. Soft chocolate chip cookies are many peoples' go-to cookie. These are extra chewy and delicious!

13. These chewy coconut cookies are easily made and so yummy!

14. Flourless fudge cookies are crispy on the outside and ooey, gooey soft on the inside.

15. These stained glass cookies from That Skinny Chick Can Bake are not only tasty, they're beautiful.

16. Candy topped toffee squares from That Skinny Chick Can Bake are easy to make and so festive!

17. These coconut sugar cookies from Foolproof Living are one of the best cookie exchange recipes we've found and love.

18. Santa's swirl sugar cookies from Renee's Kitchen Adventures are colorful and comforting!

19. These white chocolate-dipped chocolate peppermint cookies from Celebrating Sweets are festive and SO tasty!

20. Soft gingerbread cookies from Bless This Mess are one of the best cookie exchange recipes that you can make for the holidays. Your guests will love them!

21. These polar bear cookies from Noshing with the Nolands are too cute!

22. Salted caramel dark chocolate brownie cookies from Wholefully are ooey, gooey delicious.
Looking for even more of the best cookie exchange recipes?
Sunday Supper Movement loves cookies, and we have plenty to choose from. Try one of our favorites: Nana's butter cookies!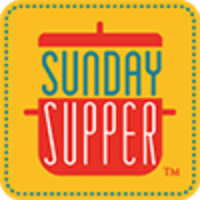 The Sunday Supper Movement is committed to bringing our readers delicious recipes that encourage them to gather and eat together around the family table. Search for your favorite ingredients on our Sunday Supper website. Also check out the Sunday Supper Pinterest boards for plenty more ideas and inspiration.
Sign up for our newsletter to get FREE recipes delivered right to your inbox!