Ahhhh blueberries how do I love thee? Let me count the ways… Today I'm sharing all the reasons I love blueberries and why you definitely should too! I'm answering your burning blueberry questions such as When is blueberry season? How do I shop for blueberries? What's the best way to store blueberries? Are blueberries healthy? But that's not all! This post is jam-packed with information on how to eat more blueberries and why you need to! Additionally, you'll watch a video from the state-of-the-art blueberry farm in Florida and even get our best easy blueberry recipes too. Read on to find out how easy it is to add blueberries to your daily routine so you can benefit from all the good-for-you stuff packed into those little blueberries! https://sundaysuppermovement.wistia.com/medias/2xlrnmd1oy?embedType=async&videoFoam=true&videoWidth=640
What is a Blueberry?
Well that's pretty simple to answer. I think most everyone has seen a blueberry and probably has even eaten a blueberry or two, but if you aren't sure what a blueberry is they are small sweet blue-black edible berries (see photo below) that grow on a shrub. Blueberries are grown in North and South America. Therefore, blueberries are always in season and available year round.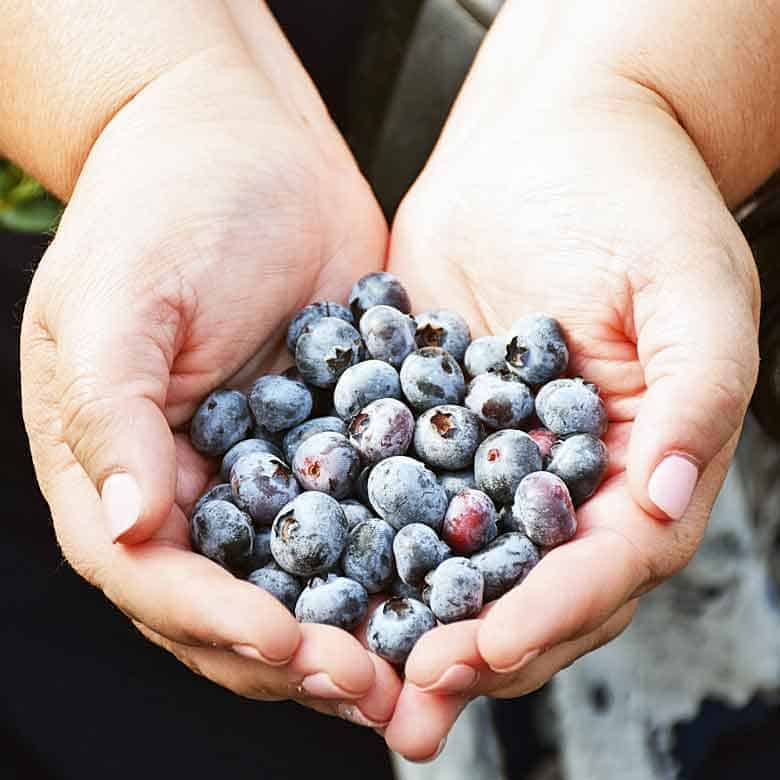 This post is sponsored by Wish Farms in conjunction with a social media campaign through Sunday Supper LLC. All opinions are my own.
Blueberry Farm
Ever wonder how blueberries are grown? Me too! I love learning how our food gets from farm to table. Recently, I was invited to visit Wish Farms Misty Organics Blueberry Farm in Florida. Although we only visited the organic blueberry farm, Wish Farms has has both organic and traditionally grown farms in order to provide consumers with a choice. I like that!
Wish Farms Misty Organics Blueberry Farm is a state-of-the-art blueberry farm. All the blueberries are grown in containers under large tents that help produce heat to encourage blueberry growth. There is a lot of planning and science that goes into growing the blueberries. Did you know there are different blueberry varieties?! I had no idea! At the blueberry farm we visited they grow 7 different blueberry varieties, however, I learned the best way to eat blueberries is to eat a mix of the varieties. That is how they get packaged too, so you can rest assured you are always eating a good mix for maximum flavor. Check out this video about the blueberry farm
How to Shop for Blueberries
Look for blueberries that are firm and plump with a silvery surface. I learned the silvery coating is the bloom which is very good for you. The berries should be deep purple or blue to almost black. Size isn't a factor and you're likely to find large and small berries packaged together. Avoid blueberries that are reddish in color, look soft or shriveled, or are bruised. Reddish blueberries are not ripe yet. Blueberries don't ripen once picked, so it's best to buy blueberries with that deep blue color.
How to Store Blueberries
Blueberries like to stay chilled. Refrigerate fresh blueberries as soon as possible. For best results, store blueberries in their original container. Avoid washing blueberries before refrigerating them. Instead, gently wash blueberries just before you use them and enjoy them within 1 week of purchase. You can freeze blueberries, so in the unlikely event the blueberries are hanging out in the fridge for too long, go ahead and pop them in the freezer to use in cereal, smoothies, compotes, or even for a tasty snack. Frozen blueberries are a refreshing snack especially during the hot summer months! It's best to freeze them dry, so avoid washing them before putting in the freezer. If you need to wash them first, be sure you dry them thoroughly before freezing. Use frozen blueberries within 6-8 months.
Blueberry Health Benefits
Have you ever wondered if blueberries are good for you? Wonder no more! Blueberries are living proof that good things really do come in small packages. These little blue berries may be small but they pack a serious punch when it comes to health benefits. Did you know blueberries are a nutrient-dense SUPERFOOD?! With approximately 85 calories per cup and virtually no fat, blueberries are a smart choice when it comes to snacking, but low calories and fat are not the only health benefits of blueberries. Here is a list of more blueberry health benefits:
One serving of blueberries pumps you up with nearly 20% of your daily requirement of Vitamin C
A cup of blueberries has about 3.6 grams of fiber which is almost 15% of your daily requirement which aids in digestion, and because fiber is so filling, blueberries have been known to aid in weight loss.
Blueberries are high in manganese. Manganese helps the body process cholesterol and nutrients such as carbohydrates and protein.
Blueberries are one of the best sources of antioxidants. Antioxidants protect against several types of chronic disease, including cancer, heart disease and diabetes.
Brain boosting berries! Eating blueberries has been shown to improve memory and cognition.
Now that you know you NEED to eat more blueberries, how do you go about adding blueberries into your daily life? You certainly don't have to be a professional chef to add blueberries to your everyday recipes. Check out these easy ways to eat blueberries every day:
How to Eat Blueberries Every Day
By the handful! One of the easiest ways to eat your blueberries is fresh right out of the container. It's a sweet, low calorie snack that is sure to satisfy.
Add blueberries to cereal or oatmeal for breakfast or toss blueberries into pancake batter for a special breakfast treat
Mix blueberries into a smoothie with yogurt and spinach for a healthy start to your day
A handful of blueberries tossed in yogurt is a sweet and healthy addition for a light meal or snack
Blueberries tossed in a green salad make a delicious lunch or light dinner
Dip blueberries in your favorite yogurt and freeze them on a tray. Yogurt dipped blueberries make a fun treat for the kiddos.
Need a healthier dessert option? Try layering blueberries with yogurt and granola for a beautiful blueberry parfait everyone will love!