A plateful of Buffalo Mozzarella Salad with lentils is a substantial meal. It's perfect to serve as a Main Course Salad, especially in spring and summer since it is loaded with wholesome vegetables and plenty of protein from the lentils and the cheese.
Lentil Salad
When the warmer weather of spring and summer rolls into play, a main course salad makes a wonderful change from the hearty food synonymous with colder months. I don't know about you, but when salad is mentioned, it's easy to assume that the meal will be too lightweight to see you through the rest of the day. But a serving of Buffalo Mozzarella Salad with Lentils will keep those hunger pangs at bay for hours. This salad is packed full of nutritious vegetables and two sources of protein to help stave off any need to reach for a snack.
At the heart of this Main Course Salad is a generous serving of French green lentils. Lentils are packed full of fiber, protein and, believe it or not, vitamins. Yes, even dried pulses (pulses are edible seeds that grow in a pod such as lentils, beans, & peas) can help supply our bodies with plenty of nutrients. Add into the mix slow-roasted baby tomatoes, red and yellow peppers and a generous handful of spinach and it's easy to understand why this salad is so substantial.
And the great news it that although this salad is hearty and healthy, it also packs a great punch in the flavor department. Thanks to a scattering of Kalamata olives, a delectable – and very easy – red pesto dressing and an indulgent splurge of buffalo mozzarella this buffalo mozzarella salad is a bit of a showstopper.
What is Buffalo Mozzarella?
Buffalo Mozzarella is mozzarella cheese made in the traditional way from the milk of an Italian buffalo. Buffalo mozzarella is the highest-quality mozzarella. It is truly superior to mozzarella made from cow's milk. Buffalo mozzarella is creamier, softer, and more flavorful than cow's milk mozzarella. Buffalo Mozzarella has a slight tang and much more flavor than cow's milk mozzarella as buffalo milk has a higher fat content. Just like with beef, fat equals flavor! Do a taste comparison and see which you prefer. We're willing to bet the buffalo mozzarella will win every time!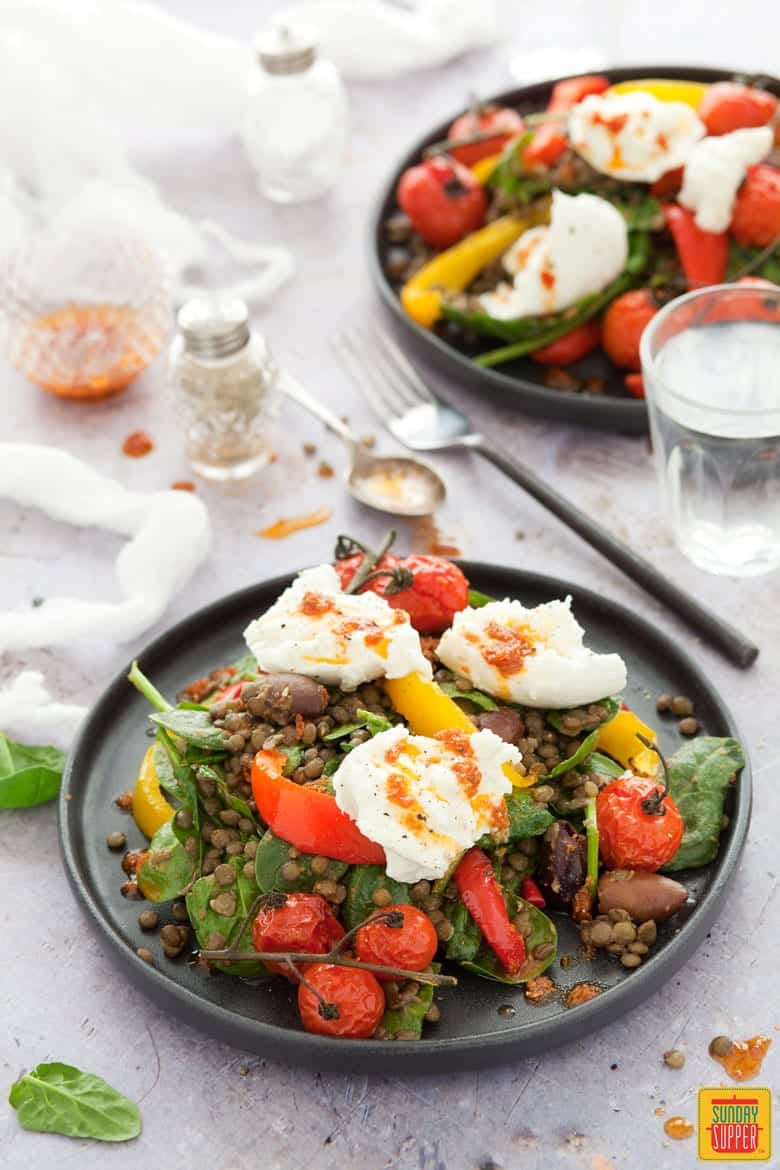 Lentils Suitable for Salads
When it comes to lentils in a salad, robust ones that hold their shape when cooked are ideal. I've used French Green Lentils but Puy lentils would be a great substitution. Brown lentils are also an option.
Avoid red or yellow split lentils as they tend to disintegrate during the cooking process.
How to Make a Buffalo Mozzarella Lentil Salad
This recipe is very easy, but it's a good idea to work in a certain order:
The tomatoes and peppers will take the longest time to cook so put those in the oven first
Next, cook the lentils according to the pack instructions. Typically, this involves rinsing the lentils in cold water, then simmering for 30-40 minutes until just tender. Drain and refresh under cold water
While the vegetables and lentils are cooking prepare the dressing
When the lentils are ready, toss in the spinach leaves, olives and 2/3 of the dressing and mix gently to combine. The spinach leaves will wilt slightly
Plate up: layer the lentil mix with the peppers then top with the roasted tomatoes. Rip up the mozzarella and scatter on top, then finally add a drizzle of the reserved dressing
Buffalo Mozzarella Salad with Lentils
By the time this Buffalo Mozzarella Salad with Lentils is fully assembled the cooked ingredients will be just warm. The flavors are akin to the Mediterranean on a plate: think France (lentils) mixed in with Italy (pesto & mozzarella) and Greece (olives). It is the ideal Main Course Salad to serve in the warmer months, especially if your next vacation is a little way off.
More Lentil Recipes: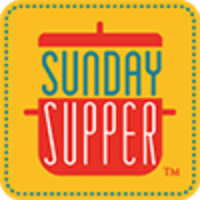 The Sunday Supper Movement is committed to bringing our readers delicious recipes that encourage them to gather and eat together around the family table. Search for your favorite ingredients on our Sunday Supper website. Also check out the Sunday Supper Pinterest boards for plenty more ideas and inspiration.
Sign up for our newsletter to get FREE Sunday Supper recipes delivered right to your inbox!

Buffalo Mozzarella Salad with Lentils
A plateful of Buffalo Mozzarella Salad with lentils is a substantial meal. It's perfect to serve as a Main Course Salad, especially in spring and summer since it is loaded with wholesome vegetables and plenty of protein from the lentils and the cheese
Print
Pin
Comment
Hands on time:
15
minutes
Ingredients
For the Salad
1/2

Cup

French green lentils (dried)

or Puy Lentils

12

Baby tomatoes - preferably on the vine

1

Red pepper

1

Yellow pepper

1

Handful spinach leaves

1

Buffalo Mozzarella Ball (approx 4.5oz)

1

tbsp

Olive oil

12

Kalamata olives (destoned)
For the Red Pesto Dressing
1

tbsp

Red pesto

2

tbsp

Olive Oil

Salt & pepper
Instructions
Preheat oven to 300F and line a large baking tin with parchment

Place the tomatoes on the tin. Deseed the peppers and slice each one into 12 lengths. Add to the baking tray

Spoon 1 tbsp olive oil over the vegetables and season lightly with salt & pepper. Toss the vegetables very gently, to coat in the oil, then bake for 45 minutes (turning the peppers after 30 minutes to prevent them from burning)

Cook the lentils according to the instructions on the pack in a medium saucepan

Meanwhile make the dressing - combine the pesto and olive oil and season to taste (I put my ingredients into a screw cap jar and shake vigorously for 15 seconds)

When the lentils are cooked, drain, rinse briefly and put into a large mixing bowl or back into the saucepan. Add the spinach, olives and 2 tbsp of the dressing. Use your hands to toss the salad in the dressing


When the tomatoes and peppers are cooked assemble the salad on 2 plates by layering the lentil mix and roasted peppers up. Arrange the cherry tomatoes around the edges and rip the buffalo mozzarella into pieces, scattering them on top of the salad plates

Drizzle the remaining dressing over the salads and serve with a grind of black pepper on the top of the cheese
Nutrition
Calories:
389
kcal
|
Carbohydrates:
25
g
|
Protein:
10
g
|
Fat:
29
g
|
Saturated Fat:
4
g
|
Cholesterol:
5
mg
|
Sodium:
462
mg
|
Potassium:
711
mg
|
Fiber:
8
g
|
Sugar:
6
g
|
Vitamin A:
3020
IU
|
Vitamin C:
200.1
mg
|
Calcium:
98
mg
|
Iron:
2.9
mg