This menu features simple, delicious recipes for a fit family lifestyle that make ideal weekday supper options! We are excited to be partnering with American Family Insurance to bring you all of the dishes on this week's menu as part of the #ChooseDreams initiative!
Monday
Grilled Pork Tenderloin with Couscous & Heirloom Tomato Salad from Foxes Love Lemons
The dish celebrates summer with a bounty of heirloom tomatoes and pork tenderloin done on the grill. Everything comes together on one platter with a side of pearl couscous for a fresh and light seasonal dinner.
Tuesday
Chickpea Tabbouleh with Grilled Chicken and Artichokes from Bobbi's Kozy Kitchen
This dish is made with fresh herbs and vegetables, creamy chickpeas, and smoky grilled chicken. Tons of flavor, on the table in 30 minutes, and easy on your wallet.
Wednesday
Black Bean Lettuce Wraps with Grilled Corn Salsa and Cilantro Lime Rice from Ruffles & Truffles
These black bean lettuce wraps with cilantro lime rice are an easy weekday supper to put together. They have all of the delicious flavors and textures of a burrito, but with a healthy twist using a lettuce wrap instead of a tortilla!
Thursday
Bacon Ranch Quinoa Chicken Salad from Cupcakes & Kale Chips
Comfort food flavors in a healthy, satisfying dish that is easy to make ahead for busy days.
Friday
Summer Veggie Medley on Polenta from The Not So Cheesy Kitchen
Get your veggies on with with these delicious roasted summer vegetables combined with chickpeas and served on a bed of smooth polenta.
___________________________________________________________________________

If you're looking for more quick and easy Weekday Supper recipes, check out our current Weekday Supper Menu, or drop by our Weekday Supper Pinterest board for more ideas!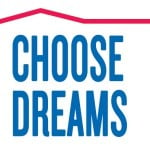 We are partnering with American Family Insurance for the #ChooseDreams initiative. For even more inspiration, follow the Family Favorites Turned Healthy #ChooseDreams Pinterest board, or connect with American Family Insurance on Facebook, Twitter, Pinterest, Google+, YouTube, or LinkedIn!