This Celery Root Soup recipe will swiftly become one of your favorite simple dinner ideas for two. The creamy, bisque-like base is completely vegetarian and carnivores get the added bonus of lush, buttery lobster meat.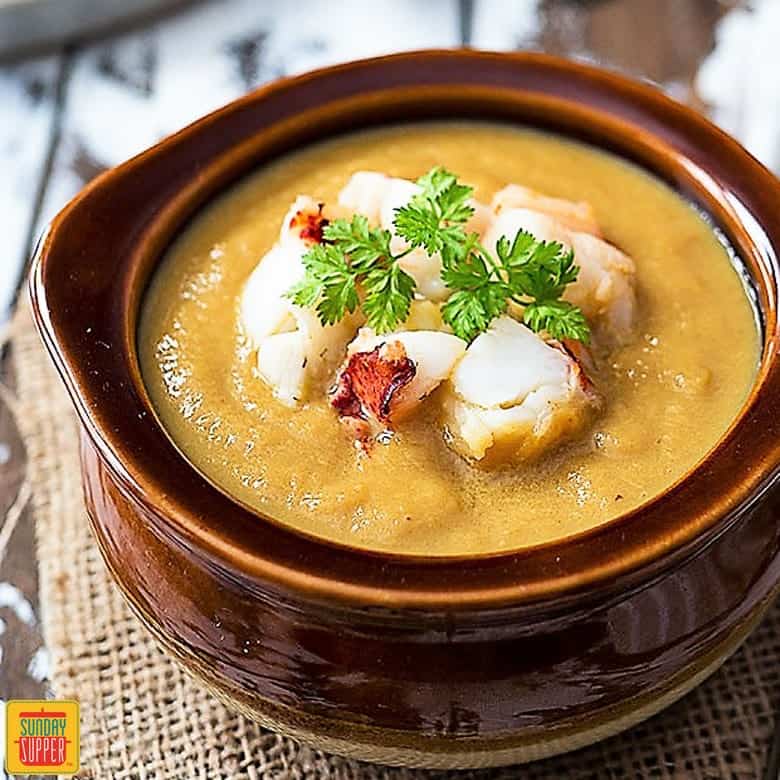 No matter how big your family is, it's great to have some simple dinner ideas for two up your sleeve. We are a family of four but on nights when the kids want pasta or pizza…really? again?…you'll find me whipping up something a bit more interesting to share with my husband. Like this celery root soup.
If you haven't tried celery root (aka celeriac) don't be intimidated. It looks odd and you may have to Google "how to prepare celery root" but it's not complicated and well worth it. I've heard its flavor described as a cross between celery and parsley and I completely agree. Which means this celery root soup is fresh and bright, not cloying like some other bisques can get after three bites.
Sweethearts Love Celery Root Soup
Celery root is in season now. Store it in the fridge for up to two weeks. Which is right around…you guessed it…Valentine's Day! The BEST night of all to share one of your favorite simple dinner ideas for two. Although this recipe serves 4, you are sure to be happy to have leftovers for lunch.
This celery root soup definitely qualifies as simple. And it's delicious, on its own, as a satisfying vegetarian meal. But if you and your sweetheart eat meat and you want to crank the WOW factor up to 11 this Valentine's Day, the lobster tails seal the deal.
Like celery root, lobster tails LOOK complicated if you haven't worked with them before but they're not. One YouTube video on how to butterfly a lobster tail and you're in business. But even when you know how easy and fast they are to prepare…you can't help but be impressed when they hit the table.
This celery root soup's clean flavor is the perfect backdrop for that rich lobster meat. You can serve the lobster on top, like in these photos, or alongside the soup for a flashier presentation.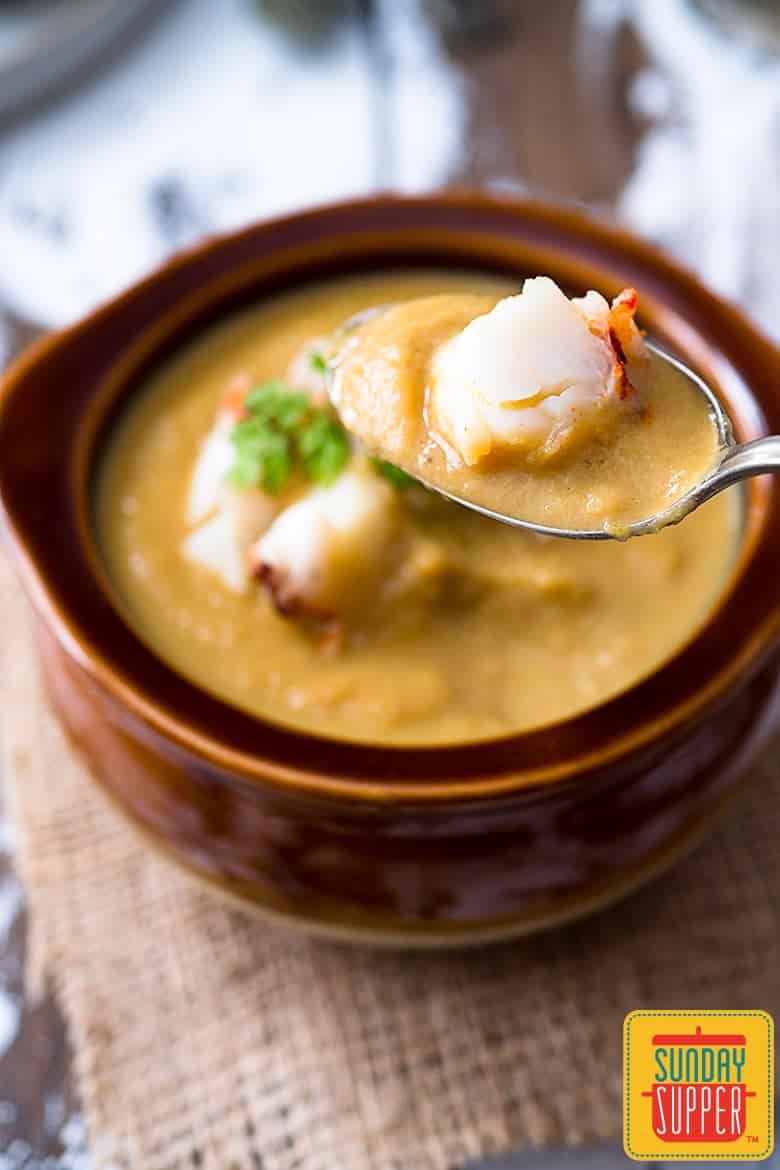 A match made in absolute heaven.
Looking for more simple dinner ideas? Try these…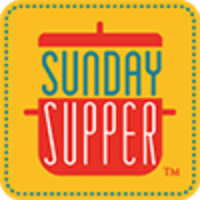 The Sunday Supper Movement is committed to bringing our readers delicious recipes that encourage them to gather and eat together around the family table. Search for your favorite ingredients on our Sunday Supper website. Also check out the Sunday Supper Pinterest boards for plenty more ideas and inspiration.
Sign up for our newsletter to get FREE Sunday Supper recipes delivered right to your inbox!

Celery Root Soup and Lobster Dinner for Two
This Celery Root Soup recipe will swiftly become one of your favorite simple dinner ideas for two. The creamy, bisque-like base is completely vegetarian and carnivores get the added bonus of lush, buttery lobster meat.
Ingredients
Celery Root Soup
1

Tablespoon extra virgin olive oil

1

Tablespoon unsalted butter

1

cup diced yellow onion

1/2

cup diced Yukon potato

1/2

cup diced celery

1

Tablespoon minced shallot

1/2

Serrano pepper, seeded and minced

1

teaspoon garlic

1/4

cup white wine

5

cups peeled, roughly chopped celery root

5

cups vegetable stock

1

teaspoon kosher salt

1/8

teaspoon cayenne pepper

1

teaspoon mustard

2/3

cup half-and-half

1/3

cup 2% milk

2

Tablespoons coarsely chopped chervil leaves
Broiled Lobster Tails
4

frozen lobster tails

2

Tablespoons unsalted butter

1/16

teaspoon Creole seasoning

Pinch kosher salt
Instructions
Celery Root Soup:
Set a heavy 4-quart saucepan over medium-high heat. Add the olive oil and butter and, once melted, saute the onion, potato, celery, shallot, Serrano and garlic until softened and fragrant, about 10 minutes. Add the wine and simmer until the wine is completely absorbed, about 7 - 10 minutes.
Add the celery root, stock, salt, cayenne pepper and mustard in the saucepan and simmer until the celery root is tender, about 35 to 40 minutes.
Remove the saucepan from the heat and puree the soup using an immersion blender (or in batches using a blender) until smooth. Stir in the half-and-half and milk. Taste, and re-season the soup if necessary and garnish with the chervil.
Serve with 3 Tablespoons of the sauteed lobster per soup bowl for the meat eaters at the table.
Broiled Lobster Tails
Using kitchen scissors, cut the lobster shells in half, and firmly open up to butterfly the tails. Gently slice through the lobster meat just enough to open it up. Be careful not to cut all the way through the meat.
Melt the butter and stir in the seasoning and salt.
Turn the tails upside down on a broiler pan, and broil for 7 minutes. Flip over and baste with the seasoned butter. Slip back under the broiler fore another 4 minutes or until done. Baste again with the seasoned butter.
The lobster tails can be served as is with additional butter alongside the soup, or gently remove the meat from the shells, coarsely chop, and top each bowl of bisque with the meat of one tail.
This celery root soup is a remake of the Celery Root Bisque (with Lobster) by the Wimpy Vegetarian published on this site in 2014.