These simple Chicken and Potato Empanadas are the perfect pocket-sized meal. Packed with plenty of good carbs and protein, it's a great grab and go dinner for busy, active families.
Chicken and Potato Empanadas
by Run DMT
Ingredients
1 – 10 count frozen empanada dough (small disks)
1 tablespoon olive oil, 1/4 cup for basting
1 small Spanish onion, finely chopped
1 garlic cloves, finely minced
1 pound ground chicken
2 pound baking potatoes
1 cup finely chopped tomatoes
1/4 teaspoon turmeric
2 teaspoon cumin
1 teaspoon salt
1/2 teaspoon black ground pepper

For more easy and fresh meal options to fit your busy schedule, check out this week's #WeekdaySupper menu.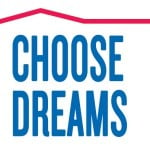 We are partnering with American Family Insurance for the #ChooseDreams initiative. For even more inspiration, follow the Family Favorites Turned Healthy #ChooseDreams Pinterest board, or connect with American Family Insurance on Facebook, Twitter, Pinterest, Google+, YouTube, or LinkedIn!