A Classic Eton Mess has three essential ingredients, beautifully ripe strawberries, meringue and whipped cream. It can easily be made with store-bought meringues, for a simple yet lovely dessert, pretty enough for your holiday table.
The folklore behind the quintessential English dessert, Eton Mess, is that it was created when a group of Etonians, students at that famous school, were headed out for a picnic, a meringue topped with whipped cream and berries stashed in the car. The story goes that one of their dogs stepped on the dessert, crushing the meringue and generally making a mess of it. They ate it anyway and declared it delicious.
But if Wikipedia is to be believed, the truth is rather less romantic. The classic Eton mess was first mentioned in print back in 1893. To quote that source, "Eton mess was served in the 1930s in the school's 'sock shop' (tuck shop), and was originally made with either strawberries or bananas mixed with ice-cream or cream. Meringue was a later addition. An Eton mess can be made with many other types of summer fruit, but strawberries are regarded as more traditional."
Sunday Supper is celebrating the new Florida Strawberry season by sharing holiday recipes using those vibrant sweet red berries. Florida strawberries are special, their season runs from late November through spring, perfect for the holidays. They grow in and around Plant City in Florida, by farmers who are part of the Florida Strawberry Growers Association. The goal is to get those strawberries shipped out to consumers the very same day they are picked so their distribution area is in Florida and all the way up the east coast to New England.
If you are lucky enough to get some fresh Florida strawberries, make a classic Eton mess for your next holiday party. This can be made in one big bowl from which you will serve with a spoon or in individual bowls. Either way, your family and friends will love it.
Classic Eton Mess
Ingredients
For the meringues – from Delia How to Cook, Book 1
1 2

large egg whites

1/2

cup

or 110g white caster sugar
For the Eton Mess
1 1/2

lbs

or 680g strawberries

1/2

cup

or 100g sugar

Pinch

salt

1-2

tablespoon

Cointreau or other orange liqueur

1 1/2

cups

or 360ml whipping cream

Meringues- about 18 small ones

2

tablespoons

pistachio slivers - optional
Instructions
Preheat your oven to 300°F or 150°C. Line two large baking pans or cookie sheets with silicone liner or baking parchment.

To make the meringues, place the egg whites in a large, grease-free bowl and beat at a low speed with electric beaters.

Beat for about 2 minutes or until the whites are foamy then up the speed to medium and whisk for another minute or so.

Turn the speed to high and beat until the egg whites form stiff peaks.

Continue beating at high speed, adding the sugar a tablespoon at a time, until the mixture is stiff and glossy.

Spoon the mixture gently into a large piping bag with a large tip. Pipe out the meringues onto your prepared baking pans.

Put them in the oven and immediately reduce the heat to 275°F or 140°C, and leave them for 30 minutes, rotating the pans from top to bottom shelf and vice versa halfway through.

After that, turn the oven off and leave the meringues to dry out in the warmth of the oven until it is completely cold or overnight.

Transfer the meringues to an airtight container to store.

Hull and chop the rest of the strawberries roughly.

Put half of the chopped strawberries in a small pot with the sugar, a good pinch of salt and a tablespoon of water.

Cook over a medium heat for about 3-4 minutes, crushing the strawberries lightly with a fork or potato masher when they start to soften.

Cook at a low boil for another 3-4 minutes, until the strawberries and syrup that is created have thickened somewhat.

Put the hot strawberries in a bowl and leave to cool for a few minutes, then stir in the rest of the strawberries and the Cointreau. Cover with cling film and refrigerate until completely chilled.

Once the strawberries are cold, whip the cream into stiff peaks.

Divide it in half and fold one quarter of the strawberries into half of the cream.

To serve, make layers from the bottom: 1. strawberries 2. pink cream 3. 2 small meringues, crumbled roughly 4. white cream 5. strawberries 6. slivered pistachios (if desired) and a whole mini meringue.
Recipe Notes
This can be made in one big bowl from which you will serve with a spoon or in individual bowls.
The pistachios are not traditional but they add a lovely pop of green to the Classic Eton Mess.
Learn more about Florida Strawberries on their website or follow them on social media.
Facebook
Google+
Instagram
Pinterest
Twitter
YouTube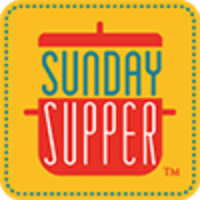 The Sunday Supper Movement is committed to bringing our readers delicious recipes that encourage them to gather and eat together around the family table. Search for your favorite ingredients on our Sunday Supper website. Also check out the Sunday Supper Pinterest boards for plenty more ideas and inspiration.
And sign up for our newsletter to get great recipes delivered right to your inbox every Thursday!


.
Pin it!