Sunday Supper is an Amazon Associate and may receive compensation for purchases made through affiliate links.
I love cast skillet iron recipes and am excited to share some of our absolute favorites with you. Trust me, a good cast iron skillet will transform not only your Sunday Supper recipes but also make weeknight dinners a cinch!
Cast iron skillet recipes are popular and for good reason. Cooking in a cast iron pan offers durability and excellent heat retention and distribution. I am excited to share a list of the Best Cast Iron Skillet Recipes.
These sturdy skillets are some of my favorite kitchen cookware. They heat up slowly, distribute heat evenly, and offer superior heat retention to other pans. And if you take care of your cast iron skillet, it will last for generations.
So, what does that mean? It means you'll get a better sear on your cast iron ribeye steak and it will cook more evenly.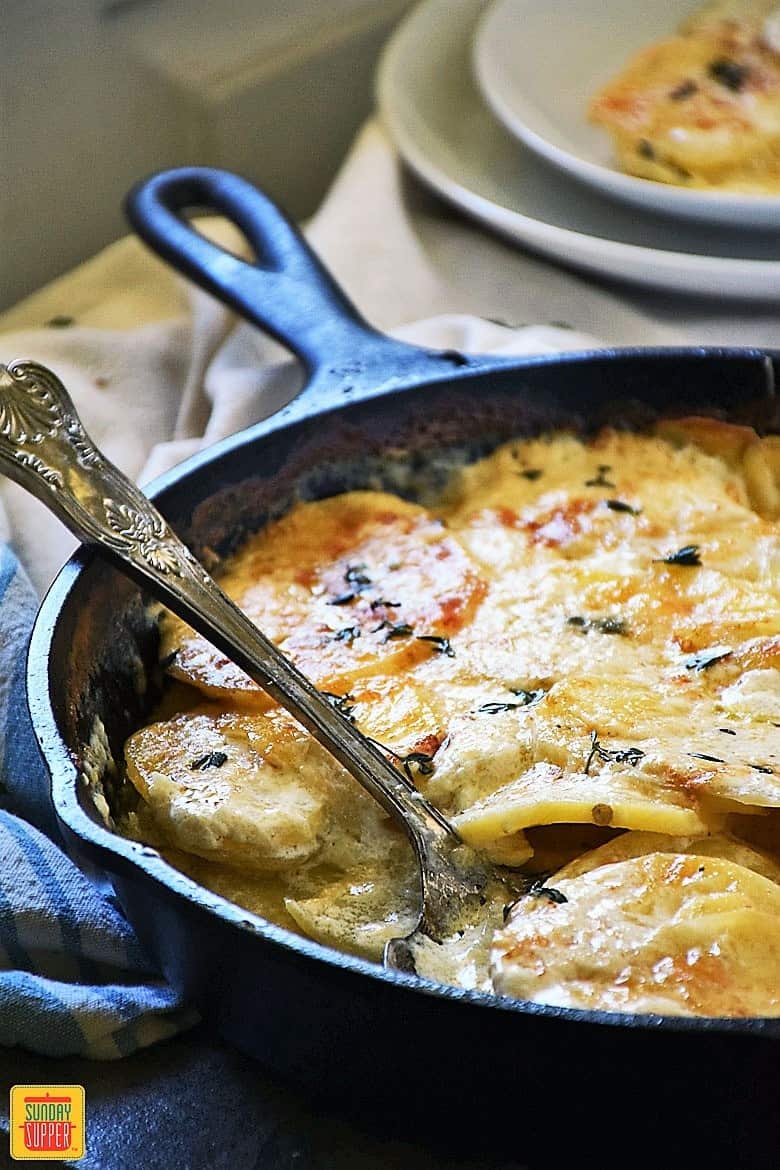 Additionally, cast iron cooking is perfect for frying vegetables and even baking casseroles, as in this Gluten Free Au Gratin Potatoes recipe.
Cowboy Kent Rollins
If you're familiar with chef Kent Rollins, then you may have heard the term "cowboy cooking" before. But what is cowboy cooking? Learn about chuck wagon cooking and how to care for a cast-iron skillet in this easy and fun guide on cast iron skillet recipes and cast iron care!
What is cowboy cooking?
Cowboy cooking is about hearty, stick-to-your-ribs food, usually made in a cast-iron skillet over a wood-burning stove or an open fire. Campfire dinner recipes using beef, beans, and potatoes are popular "cowboy food", and are perfect for skillet cooking. You can even make cast iron desserts!
Cast Iron Cooking at Home
Cast Iron Cooking isn't just for camping. The best part about cast iron skillet recipes is that you can make them from the comfort of your kitchen.
It's easy to enjoy the robust flavors of cowboy cooking just as if you were cooking outdoors. It is much easier to cook in your own kitchen.
If you know how to care for a cast-iron skillet, you won't want to cook with any other kind of pan!
How to Care for Cast Iron Skillets
To keep your cast iron skillet in good shape, we recommend following a few simple rules:
Season your cast iron skillet properly. In the case of cast iron, "seasoning" just means creating a non-stick surface for cast iron through the use of oil or fat. Many people simply cook with their pan frequently enough for it to become seasoned, or buy their pans pre-seasoned, but you can also intentionally season your pan easily. If you don't know how to season a cast iron skillet, it's simple! Follow our seasoning directions below.
Do not boil water in your cast iron skillet. The boiling water will deteriorate the seasoning on the pan, ruining your hard work. It's best not to boil beans, pasta, or anything else in your cast iron skillet.
Clean your cast iron skillet properly. Cast iron skills should not be cleaned the same way you clean your average pan, or you risk it rusting or deteriorating your pan's seasoning. If you're not sure how to clean a cast iron skillet, don't worry, it's easy. Use a stiff kitchen brush or pot scrubber and running water to clean your cast iron skillet—do not use soap. For tough stains on the pan, scrub your cast iron with kosher salt. That should do the trick.
Store your cast iron pans in a dry location. Moisture and cast iron pans do not go well together, as too much moisture will cause your pan to rust over time. If you have no choice but to store your cast iron skillet in an area with high humidity, try storing it with a little dry rice on the bottom to absorb moisture.
Line your cast iron pans with a paper towel when storing them on top of each other. This will prevent the skillets from scratching each other.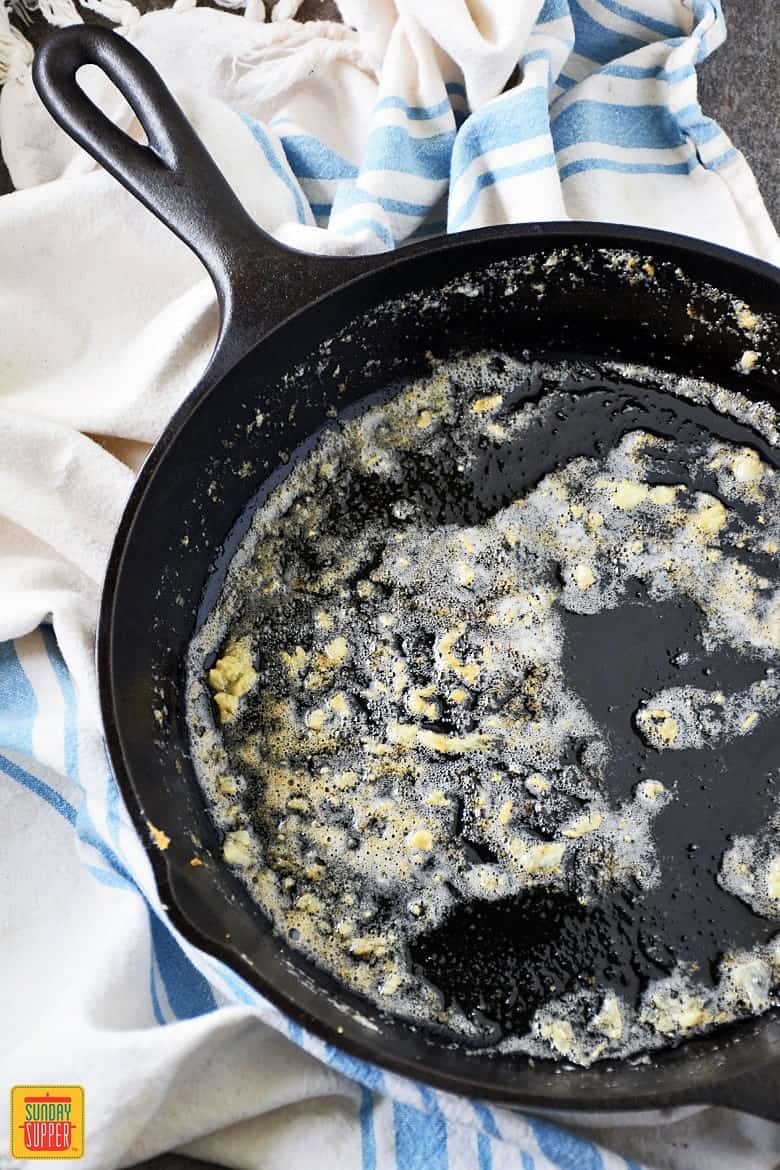 How to Season Cast Iron Skillets
To season a cast iron skillet, follow these simple steps:
Clean your cast iron pan (remember not to use soap) and preheat your oven to about 200°F. Allow your freshly clean pan to heat on the stove for 10-15 minutes to get rid of any remaining moisture.
Add oil to your skillet. You can use any vegetable or olive oil, whatever is most accessible to you. Some sources will swear by specific oils, but you can season your pan with whatever olive or vegetable oil works best for you. Not much oil is needed to season a cast iron skillet; you want a thin layer, so start with about 1 tsp. to be safe.
Using a clean paper towel, rub the oil around the inside surface of the pan. Then take a second clean paper towel and wipe up whatever is left. Make sure there isn't oil pooling anywhere.
Place your oiled cast iron skillet in the preheated oven upside down and on the middle rack. Once 10 minutes have passed, take the pan out and place it on the stove. Carefully wipe away any excess oil. Always remember to be careful and use potholders, as the pan should be quite hot at this point.
Increase the heat of the oven to 400°F. Let it heat up, then return the pan to the oven and leave it for an hour, making sure not to disturb the oven by opening the door.
Cast Iron Skillet Meal Ideas
You can cook all kinds of incredible recipes using a cast iron skillet, from savory breakfasts to sweet desserts and everything in-between. We've collected a few of our favorite cast iron skillet recipes for you to enjoy, including a little bit of everything!
Skillet Garlic Butter Steak Bites
Breakfast Skillet Recipes
You can make breakfast easily in a cast iron skillet! Anything from chilaquiles (a Mexican breakfast skillet using tortillas) to fluffy Dutch baby pancakes can be cooked in cast iron. Try these great breakfast ideas: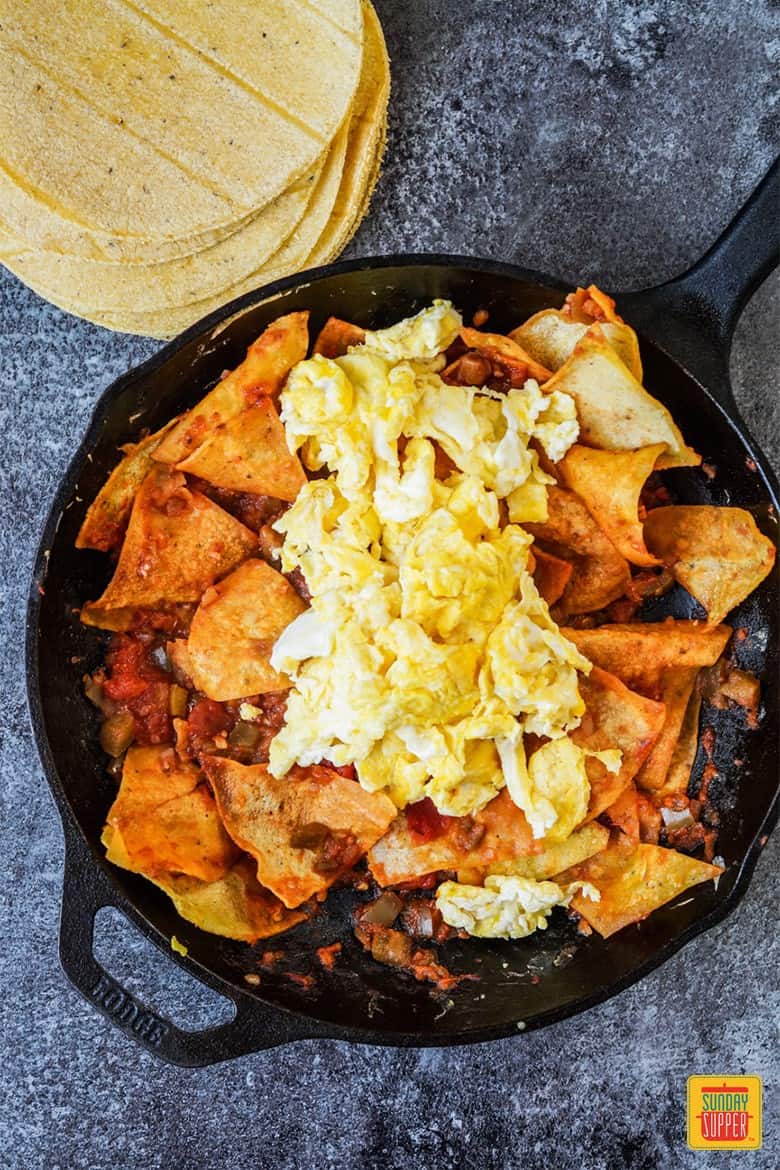 Cast Iron Skillet Appetizers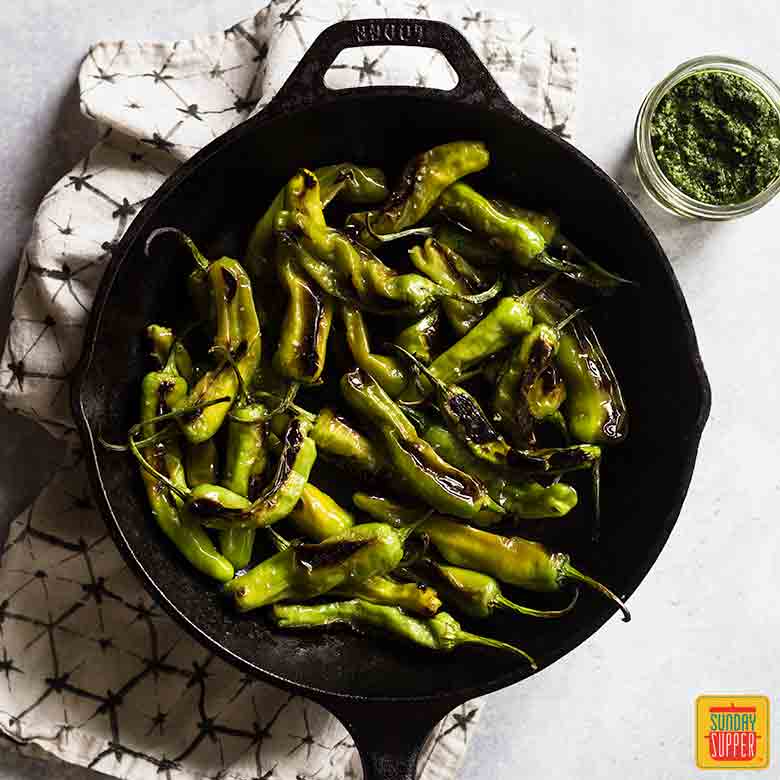 Cast Iron Skillet Dinner Recipes
Our favorite cast iron skillet dinners are dishes like skillet lasagna, steaks, pork chops, and chicken recipes!
Cast Iron Skillet Dinner Ideas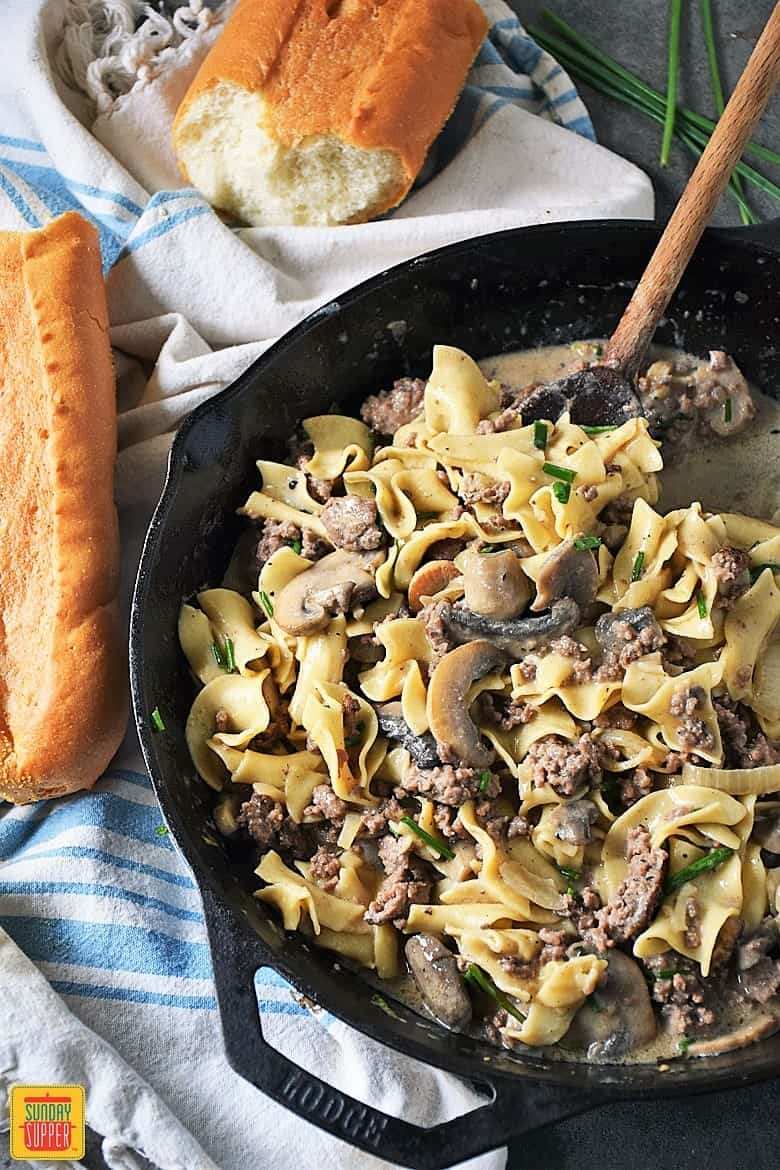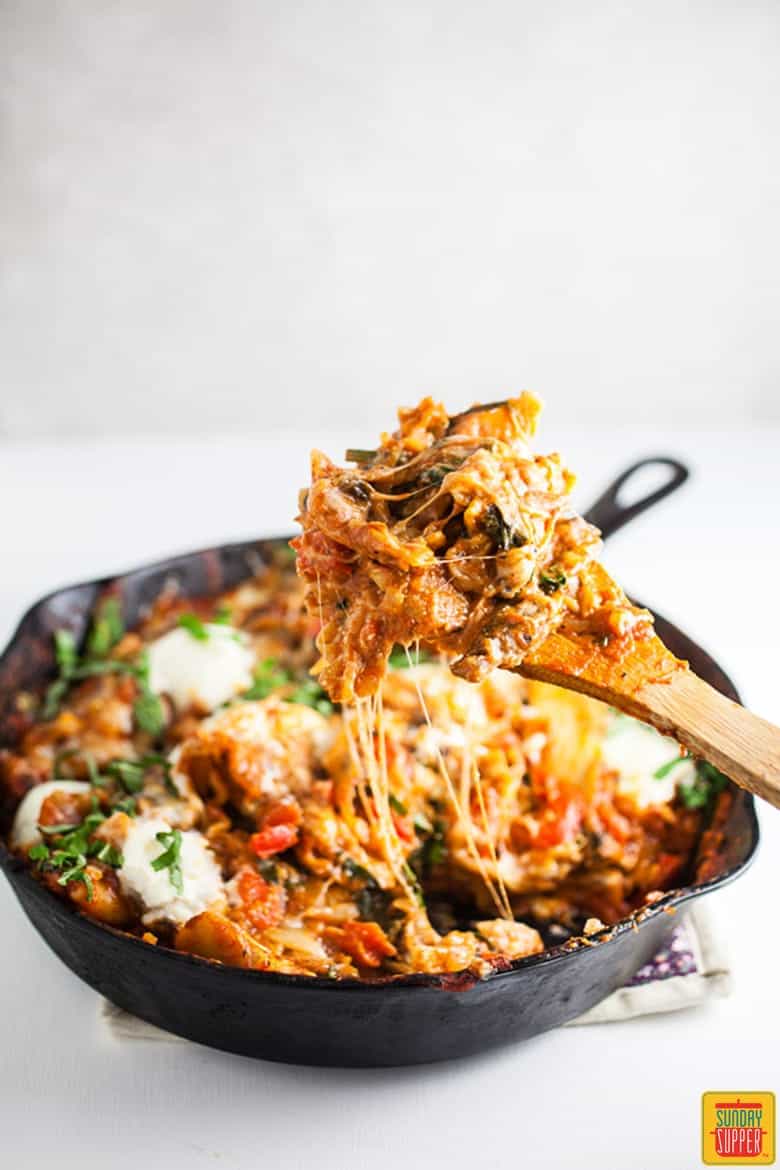 Baked Ziti with Sausage and Peppers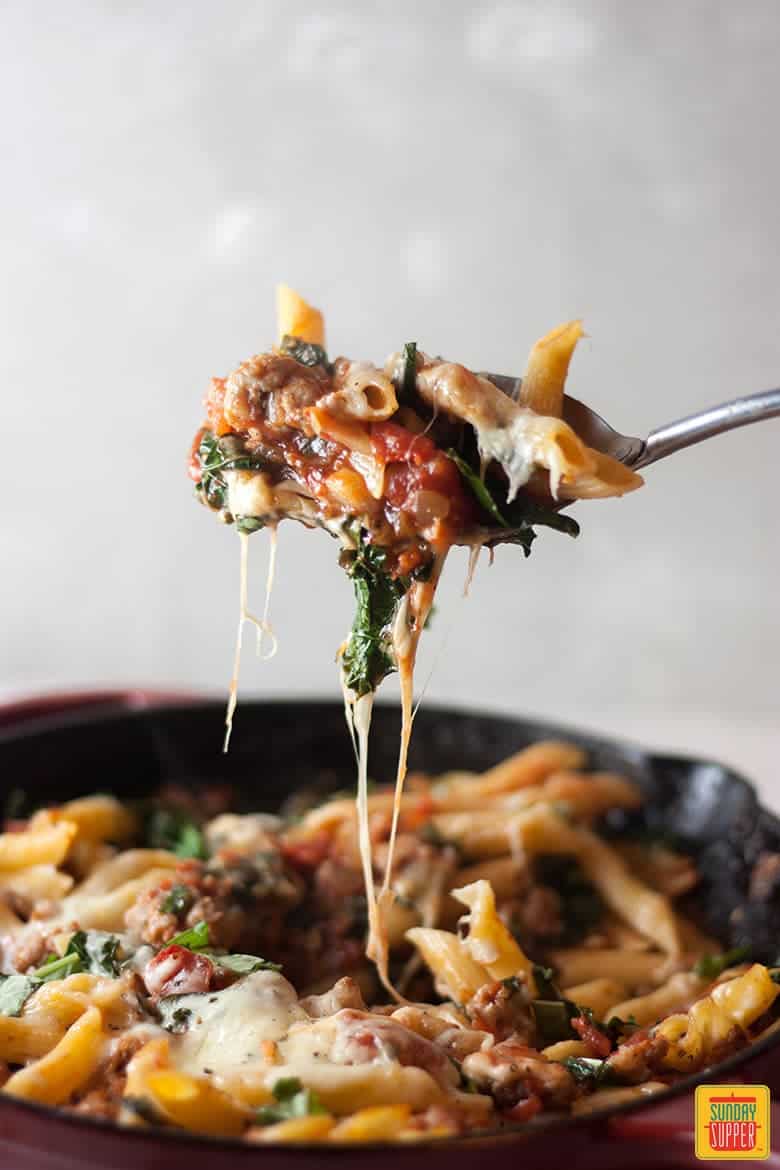 Cast Iron Skillet Pork Chops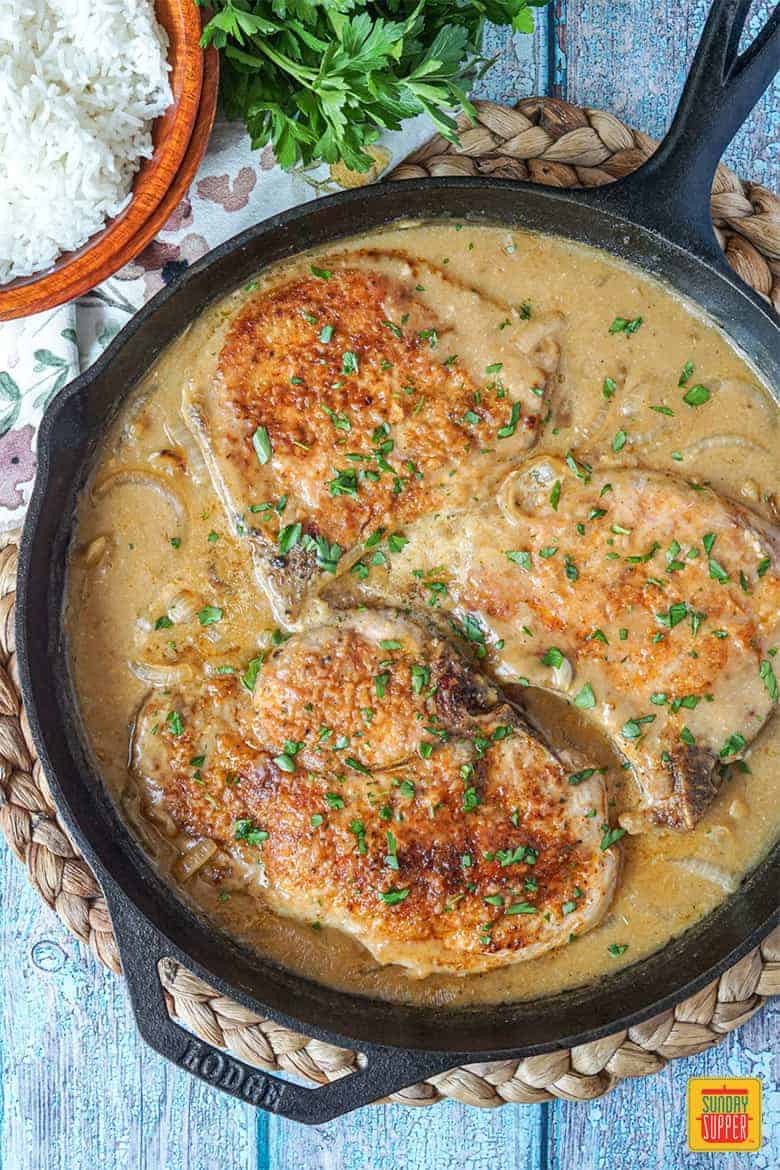 Cast Iron Skillet Steak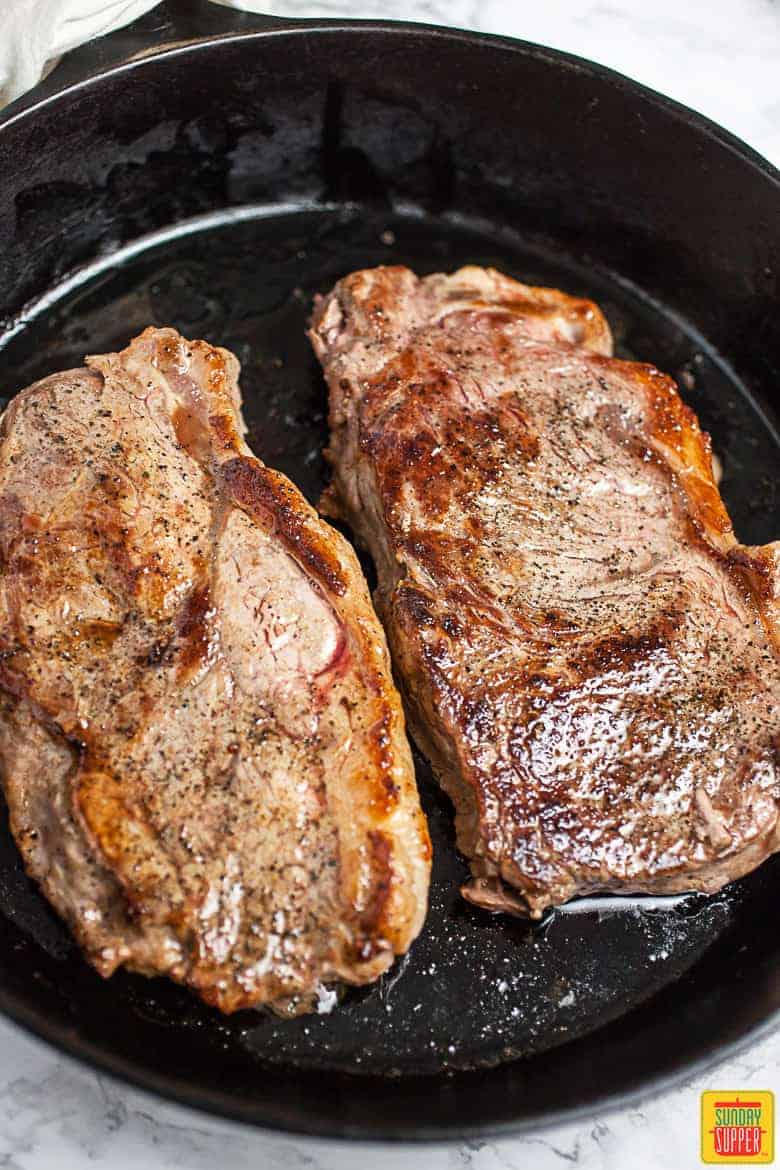 Cast Iron Skillet Chicken Breast
Chicken and Mushroom Skillet
Cast Iron Skillet Side Dishes
You can make delicious, easy side dishes in your cast iron skillet, like classic skillet cornbread or even old fashioned macaroni and cheese! These recipes make especially good side dishes for BBQ: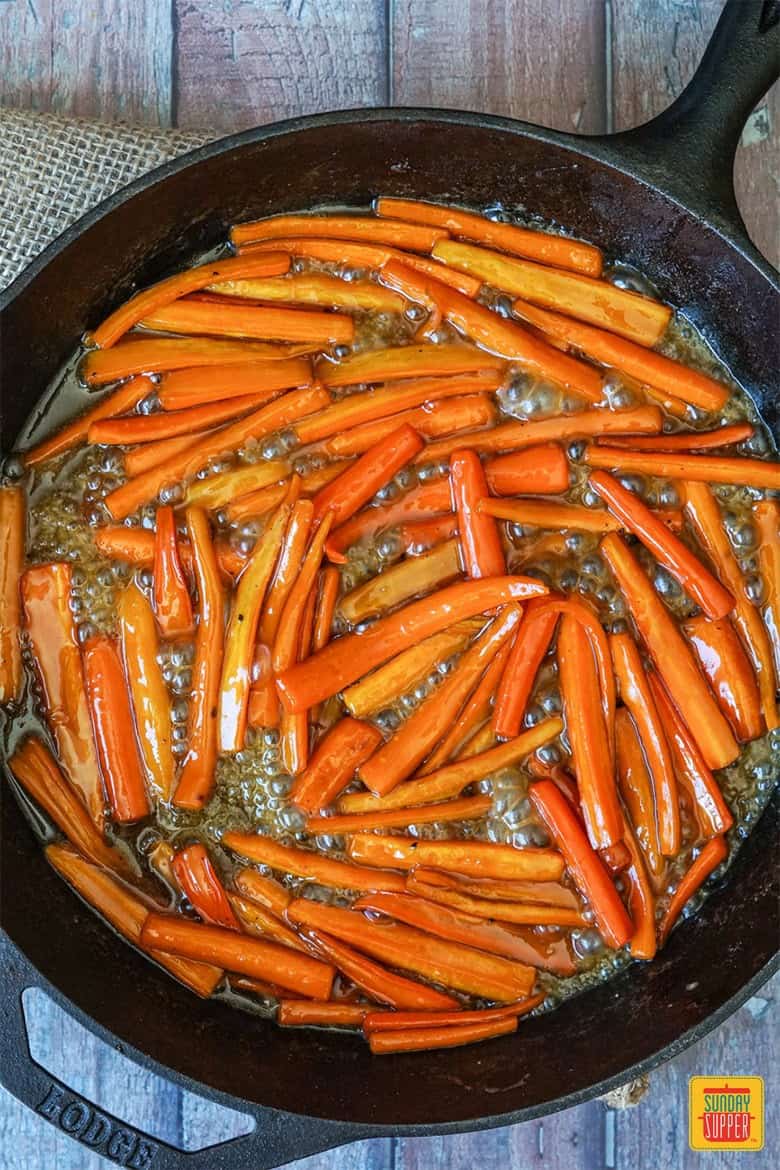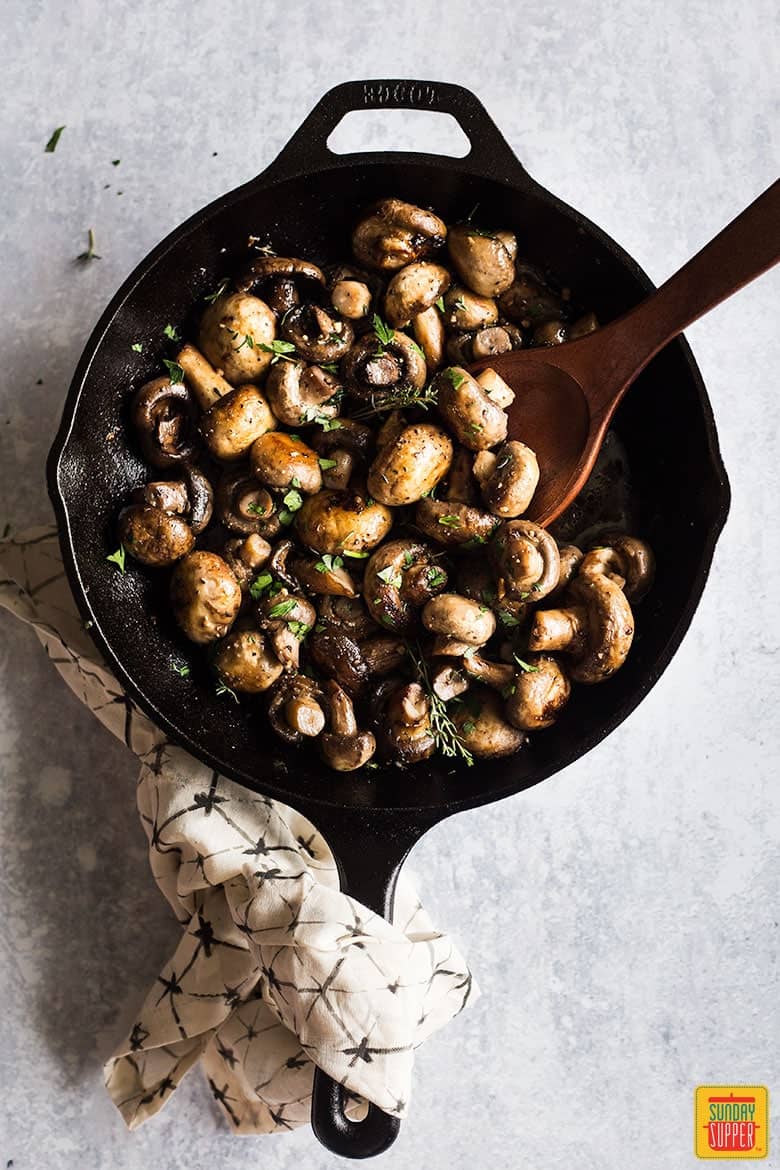 If you like simple cooking, grilling, and BBQ as much as we do, we know you'll love these recipes: