Sunday Supper is an Amazon Associate and may receive compensation for purchases made through affiliate links.
We are a huge fan of dutch ovens and feel Dutch oven recipes are as good as it gets! Many of our most popular recipes all start in a Dutch oven. Dutch ovens produce the most delicious, flavorful recipes, and the best part is they are so easy to use!
What's a Dutch Oven?
A Dutch oven is a heavy cast-iron cooking pot with a lid that is perfect for braising or making stews and soups. Dutch ovens are a great choice for slow cooking comfort food recipes such as Smothered Potatoes and Sausage or even braised beef.
You can make just about anything in them, from roast beef and braised ribs to chicken, soups, and more. They're easy to move from the stove-top to the oven and can handle plenty of heat – usually up to 350°F. Perfect for making easy one-pot meals and delicious family meals.
If you love easy slow cooker recipes, you will definitely love Dutch oven cooking. With so many options on what to make, these cast-iron pots are a game-changer. You can even make homemade bread in them!
What is a French Oven or Cocotte?
French ovens, also known as cocotte, are large, enameled cast-iron cooking pots. The enameled finish makes French ovens easy to clean, even dishwasher-safe, and able to resist food sticking.
Is a Dutch Oven the same thing as a French Oven?
The difference between Dutch ovens and French ovens is the enameled finish. Dutch ovens are bare cast iron, while French ovens have an enameled finish. Otherwise, Dutch ovens and French ovens are identical, and the terms are often interchangeable.
However, it's good to know the difference! A bare cast-iron oven is perfect for cooking at higher temperatures, such as over open flame. Enameled French ovens are just what you need for cooking at home, especially if you prefer to use your dishwasher.
Many brands you buy today are actually French ovens, with enameled cast iron. However, you will still see them referred to as Dutch ovens.
What is the best Dutch oven?
The two most popular Dutch oven brands are the Le Creuset Dutch oven and the Staub Dutch oven.
Le Creuset Dutch ovens are a popular choice. Their cast iron handles make them easy to transfer from the stovetop to the oven, and they have heavy, tight-fitting lids.
Staub Dutch ovens are a good choice as well. They are dishwasher-safe, made in France, and come in a variety of beautiful colors to complement any kitchen.
If you are looking for a lower price point, try a brand such as Lodge. Lodge Dutch ovens have a good reputation offered at a lower price point. Other brands with a similar price point include Cuisinart and Uno Casa.
Dutch Oven Beef Recipes
Cast-iron ovens are perfect for cooking beef! You can easily make a delicious pot roast Dutch oven recipe or even a full beef roast in a Dutch oven.
In fact, one of my all-time favorite Dutch oven roast beef recipes is this Dutch Oven Pot Roast. It is a perfect, fork-tender roast beef recipe that's great for a cold night.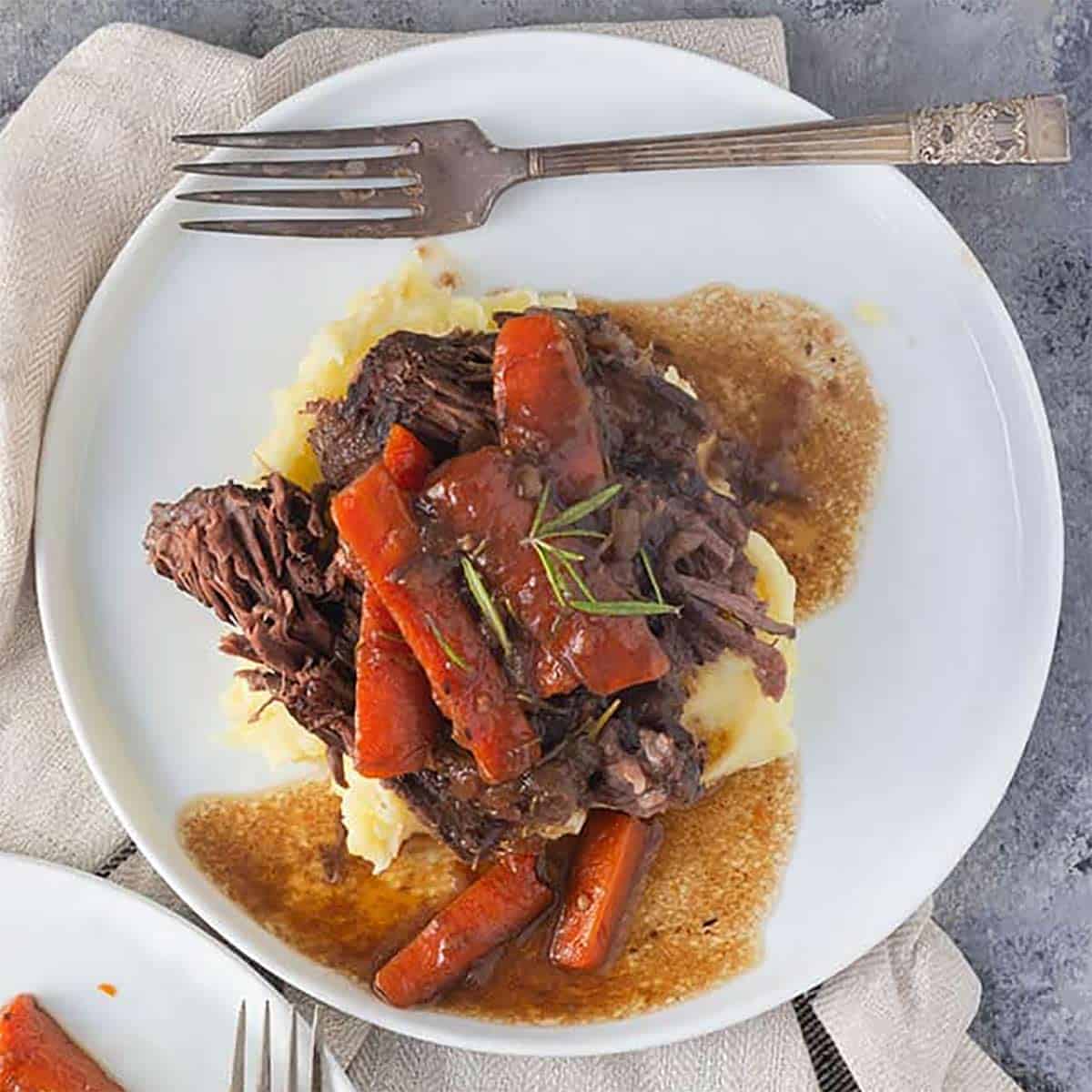 I even use my oven to make recipes like Boeuf Bourguignon and Homemade Bolognese Sauce. The best part about cooking in a cast-iron pot is that you can make just about anything in it, stews and sauces included!
Dutch oven uses are endless – you can even make One Pot Chili Mac and Cheese in one! They're just what you need for making tasty, fall-off-the-bone short ribs, too. Korean Braised Short Ribs are my Dutch oven ribs recipe of choice.
My most favorite of all easy Dutch oven recipes maybe this recipe for roast beef in a Dutch oven – our Beef Chuck Roast recipe. This fall-apart, delicious pot roast recipe is too good to be true. It's so flavorful, your mouth will start watering just from the smell of it cooking!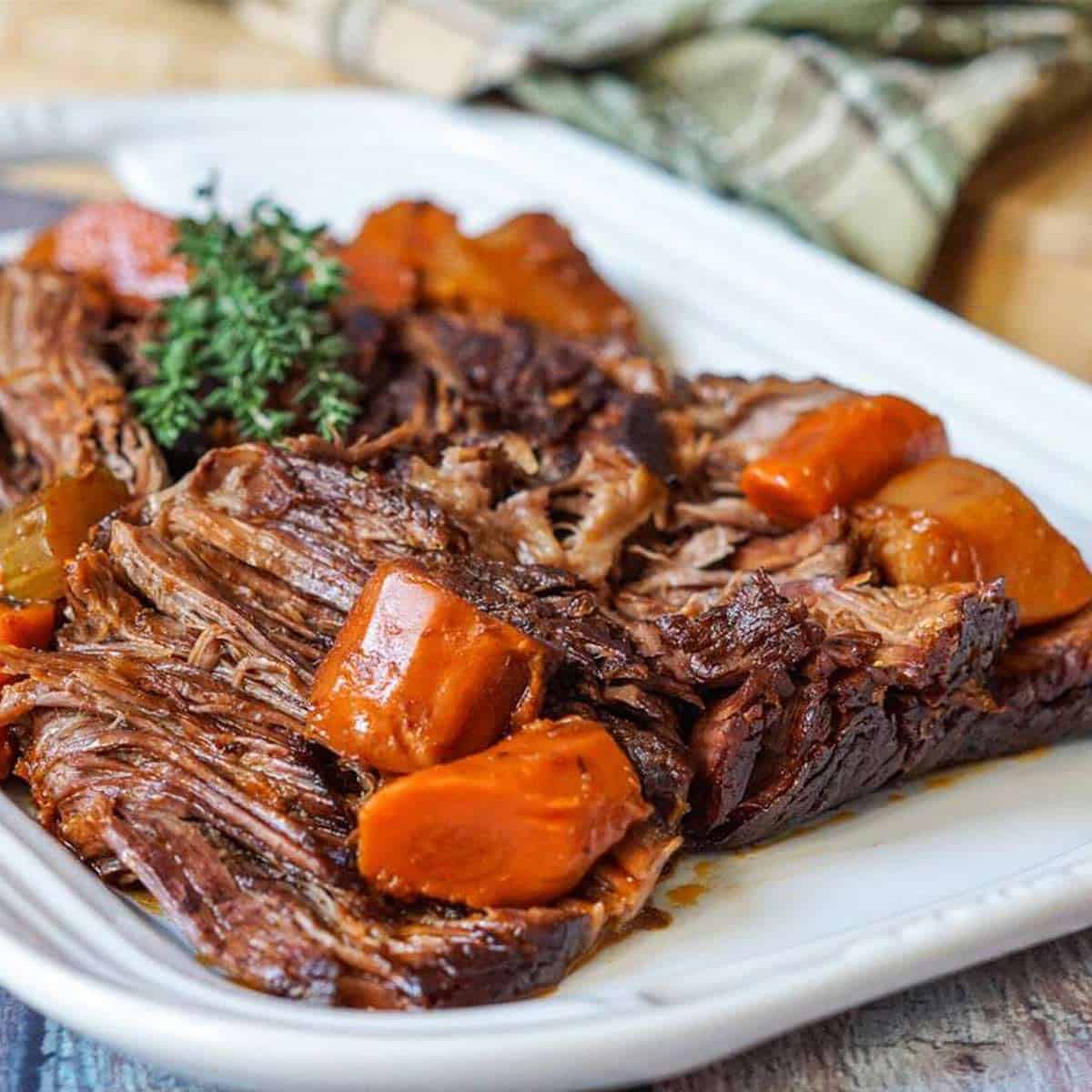 Dutch Oven Chicken Recipes
Many of the best cast-iron Dutch oven recipes are chicken dinners. My top choice is this Chick-fil-A Chicken Noodle Soup recipe. This is the best homemade chicken noodle soup you will ever try! It's healthy, hearty, and comforting… and you can make it all in one pot!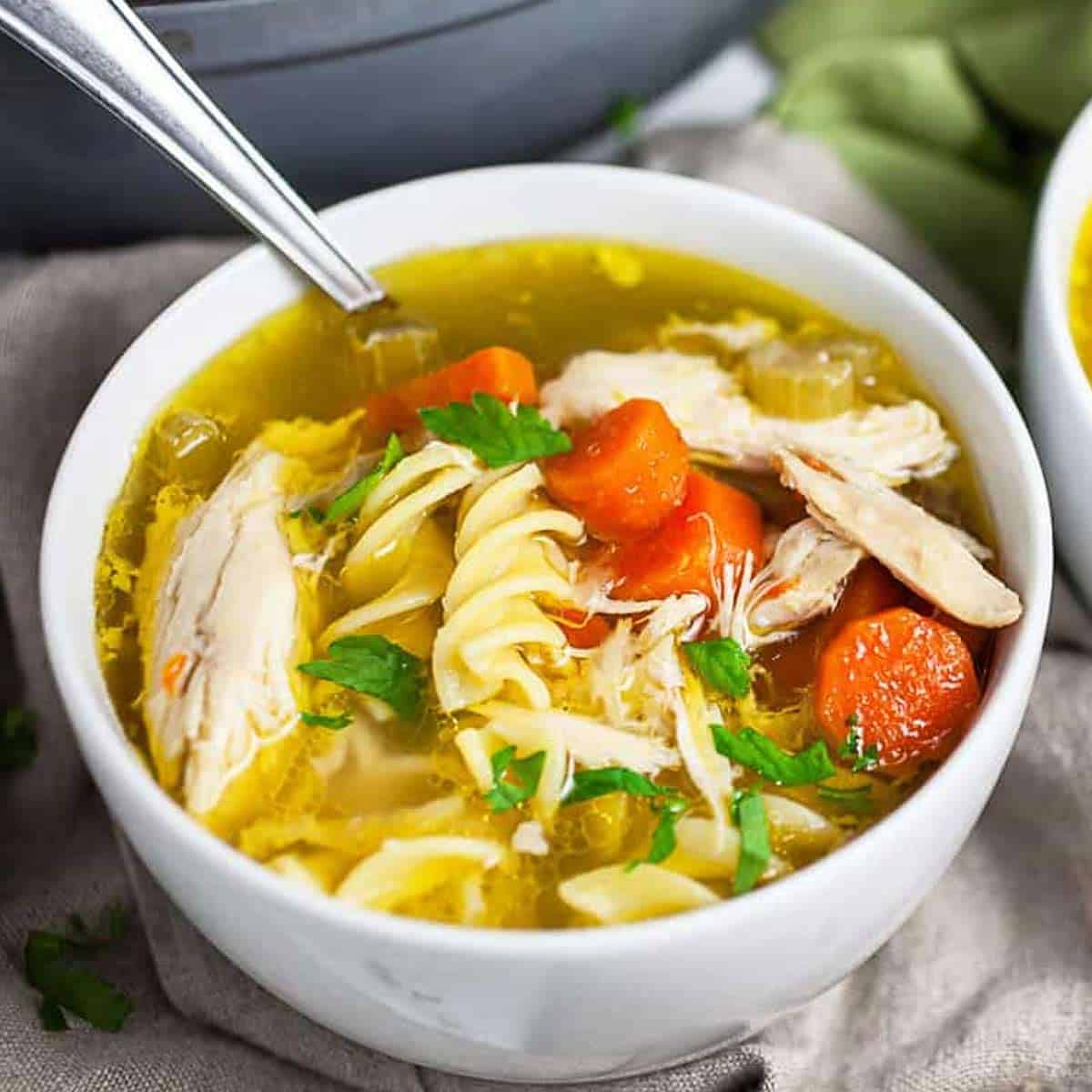 You can even make Dutch oven chili with chicken. Give our Best Chicken Chili recipe a try, and you'll want to make it this way every time! There is nothing quite like a delicious bowl of slow cooker chili, especially after a long day. Your whole family will appreciate it!
Another favorite choice is this incredible Chicken and Leek recipe. It is creamy and so flavorful. You can use it to make other recipes, too, like chicken leek pie!
One of the best Dutch oven recipes is this One Pot Chicken Orzo Pasta. It is so easy to make in just one pot, and is full of simple, delicious ingredients! The best part about one-pot meals like this, aside from their amazing flavor, is the easy clean-up.
Dutch Oven Soups
A cast-iron oven even works for making soups! Italian Vegetable Soup is easy to make, with fresh vegetables and essential Italian spices. You will love how much flavor goes into this easy soup recipe!
My personal favorite is this easy Shrimp Bisque recipe. You can easily make this in creamy shrimp bisque in a Dutch oven. The amount of flavor in this simple seafood bisque is unreal! It takes under an hour to make and is so creamy and flavorful.
If you love seafood chowder, you need to try our New England Seafood Chowder recipe. Not only does it taste amazing, with a fresh, creamy, and slightly smoky flavor, but it's super easy to make all in one pot, too.
Recipes – Cast Iron Cooking
We love cooking with cast iron! You get amazing results every time with a cast-iron skillet or cast-iron oven. Try our Best Cast Iron Skillet Recipes and learn about cast iron care, like how to season cast iron and how to clean cast iron, while you're at it!
What's your favorite meal to make in a Dutch or French oven? Is it beef, chicken, soup, or something else? Snap a pic of your home cooking and share it with us on Pinterest. Just leave a comment on our Best Dutch Oven Recipes 📌 pin!
And leave a comment below to let us know what you think! We love to hear from you.