Easter usually means the end of winter and beginning of spring. It brings a sense of new life in the trees and flowers that start to blossom and grow, as well as a time to preserve the winter produce we enjoyed, such as Florida strawberries. Speaking of which, before their season winds down, you can serve up these strawberry Easter treats!  They are a colorful and festive way to celebrate Easter. And what better way to celebrate this family holiday than to share some easy Easter side dishes?


From roasted carrots and potatoes to melon or artichoke salad, Easter side dishes are the star of any family dinner. Everyone thinks it's the ham or the leg of lamb, but that's not true! We know it's the side dishes that are the true star of the table. More stars of the Easter table are our favorite holiday casserole recipes, so we included a couple below for you to enjoy along with our favorite side dish recipes!
1. Garlic Parmesan Roasted Carrots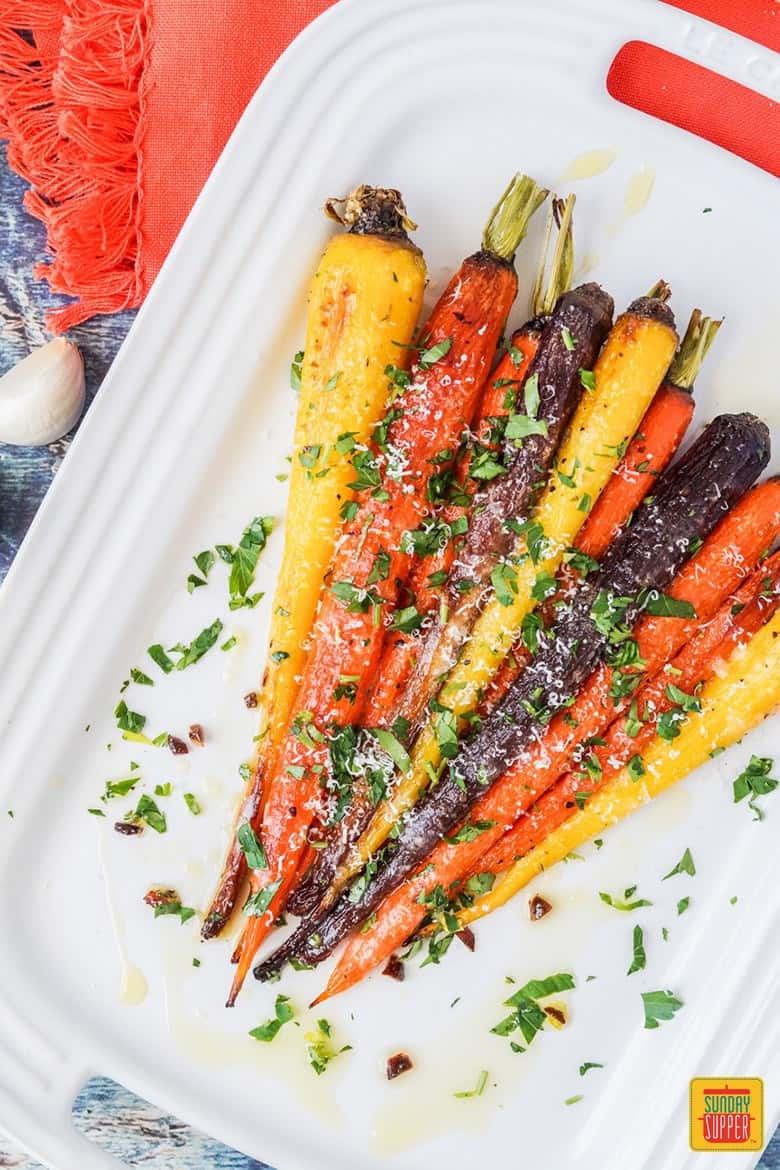 A great way to get kids, both big and little, to eat vegetables is to cover them in cheese! These Garlic Parmesan Roasted Carrots are naturally sweet with the salty kick of a Parmesan coating. Not only are they fun to eat, but roasting them whole makes for a beautiful presentation at your Easter dinner.
2. Asparagus Salad with Rice

Asparagus is synonymous with spring. This tender and delicious vegetable is the star in this Asparagus Salad with Rice. You can use a mix of brown, red, black, or wild rice in this easy salad. If you prepare the rice ahead of time, you can have this side dish on the table in no time.
3. Gluten Free Au Gratin Potatoes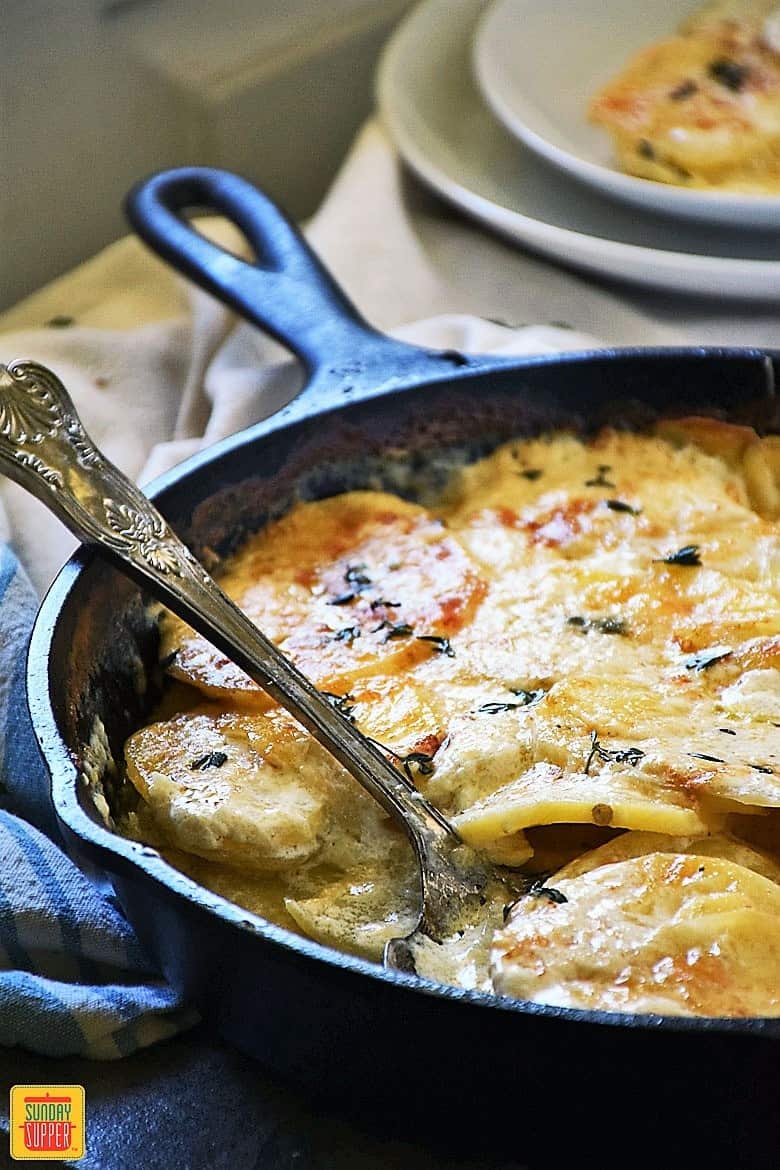 Nothing says Easter dinner better than delicious Gluten Free Au Gratin Potatoes. This classic side dish is creamy, delicious, and truly comforting. It also goes well with any roast you serve up for Easter dinner!
4. Vegetarian Stuffed Mushroom Recipe

You can serve this Vegetarian Stuffed Mushroom Recipe not only as a terrific appetizer, but as the perfect side dish recipe for meat and non-meat eaters alike! These stuffed mushrooms are just that good.
5. Jalapeno Popper Deviled Eggs

An Easter table is not complete without at least one type of deviled eggs. We prefer to serve ours with a little kick! These Jalapeno Popper Deviled Eggs are a flavorful mash up of a deviled egg recipe and creamy, spicy jalapeno poppers. Yeah, we think they're amazing, too!
6. Sweet Potato Mac and Cheese Casserole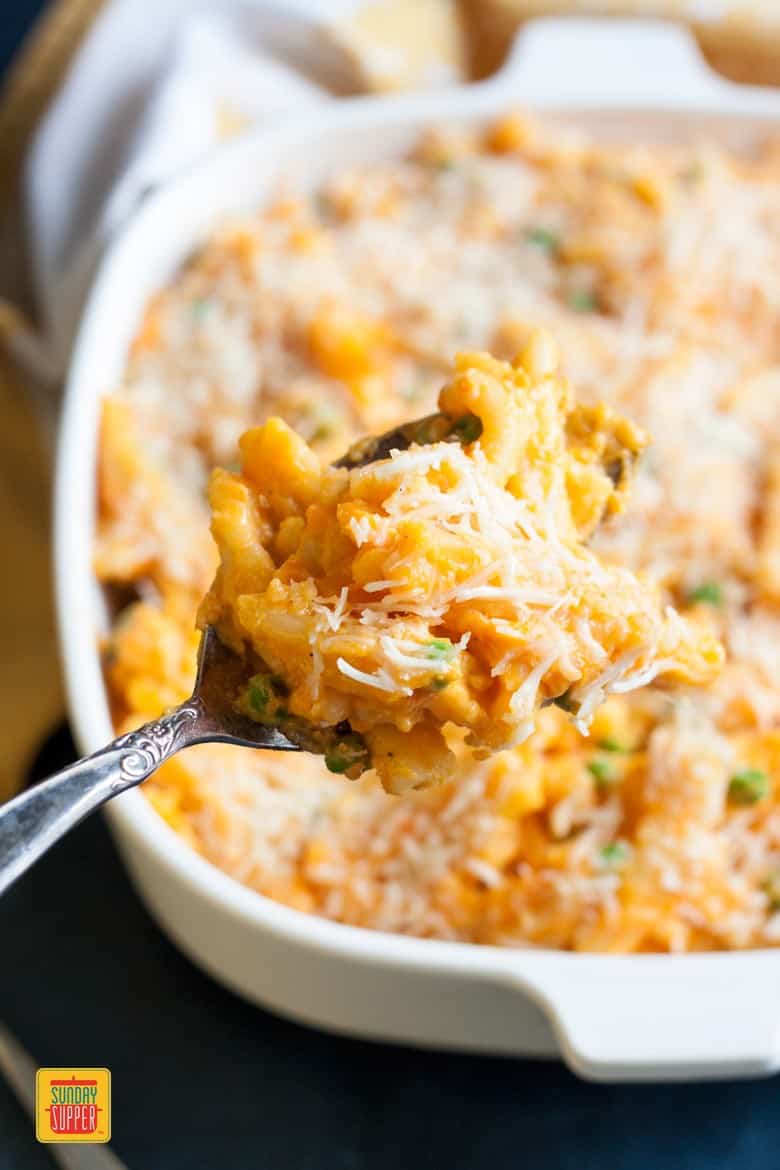 Your guests will ask for this Easter side dish recipe for themselves so have some copies already printed out. This Sweet Potato Mac and Cheese is packed not only with scrumptious macaroni and cheese flavors, but with the earthy taste of sweet potatoes, too!
7. Sausage Breakfast Casserole with Crescent Rolls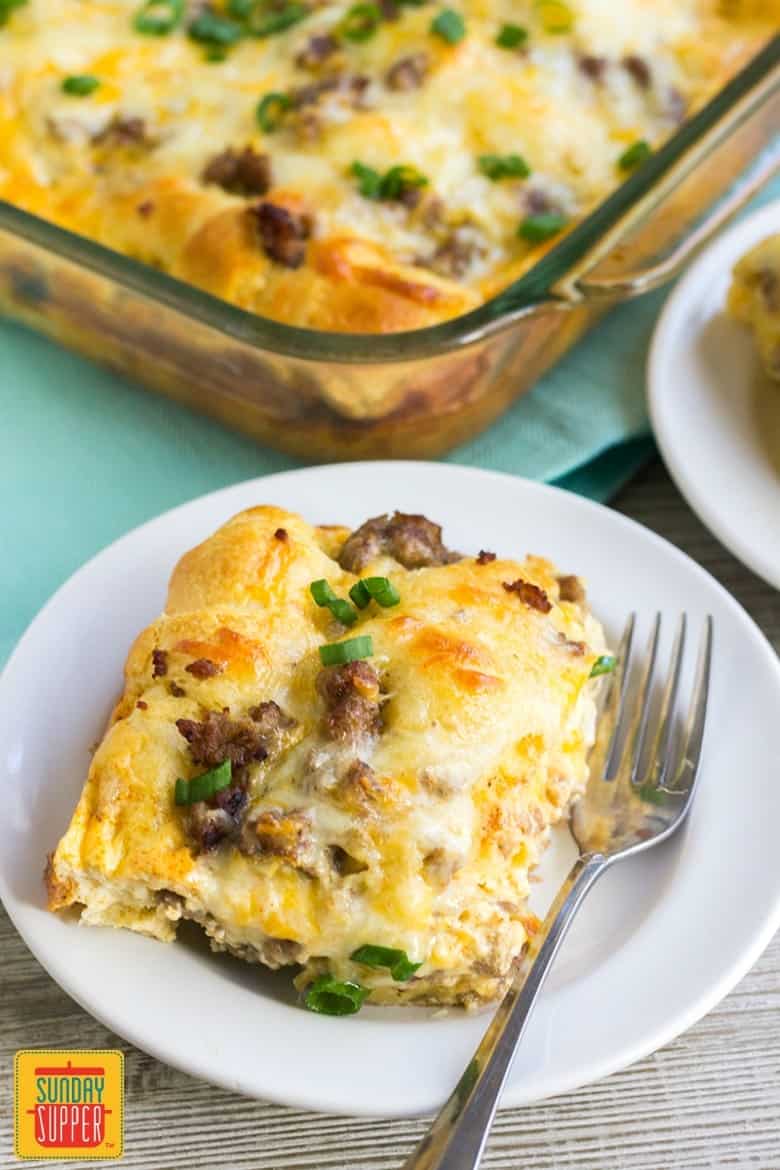 Don't think for one second that easy Easter side dishes are just for dinner! Oh no! We think this Sausage Breakfast Casserole with Crescent Rolls is the perfect side dish for any pancakes or waffles you want to serve your family and friends for breakfast or brunch.
8. Baked Creamed Corn Casserole

Our Easter table was never complete without this comfort food classic. Baked Creamed Corn Casserole has a few simple ingredients and a few simple steps. However, there's nothing simple about its flavor. It's a classic family casserole for any holiday table.
9. Spiced Potato Puff Pastry Baskets

Savory Spin has a wonderful way to put an international flair to your Easter! Instead of folding samosas, she makes Spiced Potato Puff Pastry Baskets. She also calls them deconstructed samosas, but we think it's easier to just call them delicious!
10. Vegan Potatoes and Mushrooms Recipe

We love any and all potato side dish recipes. Especially potato recipes that tout chanterelles and crispy sage like this one from Veggie Society. Oh, and did we mention that her Vegan Potatoes and Mushrooms Recipe has caramelized onions, too? She brought it all to the table with one of our favorite easy Easter side dishes.
11. Melon Salad with Honey Mint Dressing

This Seasons Table uses the whole melon to make this dish, and then uses the melon itself as the serving bowl! Her Melon Salad with Honey Mint Dressing has three ingredients and can be on the table in under 20 minutes.
12. Cornbread Pudding

We are all about re-purposing left overs into something delicious. Pinch and Swirl re-purposes her left over cornbread into Cornbread Pudding. It's packed with flavors and is similar to a strata, only made with sweet skillet cornbread!
13. Blistered Green Beans

Skip the traditional green bean casserole and try something fresh! Two Healthy Kitchens claims this is a perfect side dish recipe for any meal. Blistered Green Beans have simple ingredients but boast complex flavors. The green beans get all caramelized and super delicious in the oven.
14. Parmesan Duchess Potatoes

We love elevated, easy Easter side dishes! The Striped Spatula elevated mashed potatoes into these beautiful Parmesan Duchess Potatoes. With creamy Parmesan cheese in the center and a crispy baked exterior, they will be devoured quickly, so make a double batch.
15. Crispy Herb Roasted Butter Potatoes

We think you can never have too many potato easy Easter side dishes. Especially when they have such great stage presence as these Crispy Herb Roasted Butter Potatoes. We have a tendency to agree with The Forked Spoon when she says that this recipe will be an impressive dish on your Easter dinner table.
16. Gluten Free Biscuits

Add these Gluten Free Biscuits to your holiday dinner menu. They are the perfect addition to a gluten free Easter!
17. Artichoke and Bean Goat Cheese Salad

The Home Cook's Kitchen put spring in a bowl with this salad. Artichoke and Bean Goat Cheese Salad contains some of her favorite spring produce. It's a great salad for Easter, picnics, or any springtime get together.
18. Knotted Orange Sweet Rolls

As far as easy Easter side dish recipes for breakfast go, we know these Knotted Orange Sweet Rolls will vanish from the plate. House of Nash Eats served up some soft butter rolls with a scrumptious orange flavored glaze for a kid friendly breakfast side dish recipe.
19. Roasted Carrots

Don't be fooled by these Roasted Carrots. Unsophisticook made them stealthy healthy by adding a little browned butter and honey to make them irresistible. They're a sure-fire way to get all your kids to eat their veggies.
20. Easter Couscous Salad

Couscous is one of those easy Easter side dishes everyone should know how to make. This Easter Couscous Salad is no exception! I Just Make Sandwiches serves her salad up with fresh herbs, dried fruits, and a light, lemon vinaigrette.
21. Red Cabbage Slaw with Cashews

As if slaw wasn't crunchy enough, Renee's Kitchen Adventures added additional crunch with some buttery, sweet cashews. Red Cabbage Slaw with Cashews is not only one of the easiest, and crunchiest, side dish recipes but goes with just about any meal you're serving up for Easter.
For more side dishes for Easter, check out our best Roast Beef Side Dishes!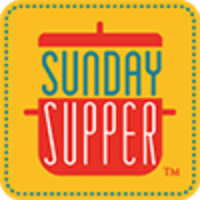 The Sunday Supper Movement is committed to bringing our readers delicious recipes that encourage them to gather and eat together around the family table. Search for your favorite ingredients on our Sunday Supper website. Also check out the Sunday Supper Pinterest boards for plenty more ideas and inspiration.
Sign up for our newsletter to get FREE Sunday Supper recipes delivered right to your inbox!

Sign up for our weekly newsletter!
Get free recipes delivered to your inbox every week!
Thank you for joining the Sunday Supper family!
Something went wrong.