Sunday Supper is an Amazon Associate and may receive compensation for purchases made through affiliate links.
We have all the easy and delicious Easter side dishes right here! These are the perfect Easter side dishes for ham.
Easy Easter recipes like jalapeno popper deviled eggs and cheesy scalloped potatoes make planning Easter dinner simple. Pull out your favorite plates and set the table. These Easter side dish ideas will get you excited for the holiday!
Basically, we have all your Easter dishes all in one place, right here!
Easter Food Traditions
The highlight of the Easter table every year is a delicious Easter ham recipe. We have just the recipe for you to share with your family.
Whether you like a traditional glazed ham recipe or want to try an easy instant pot ham or give an air fryer ham a whirl, we have you covered.
The easiest and tastiest ham recipe we have ever made is our Instant Pot Brown Sugar Glazed Ham Recipe. We guarantee this will be a favorite on your holiday table.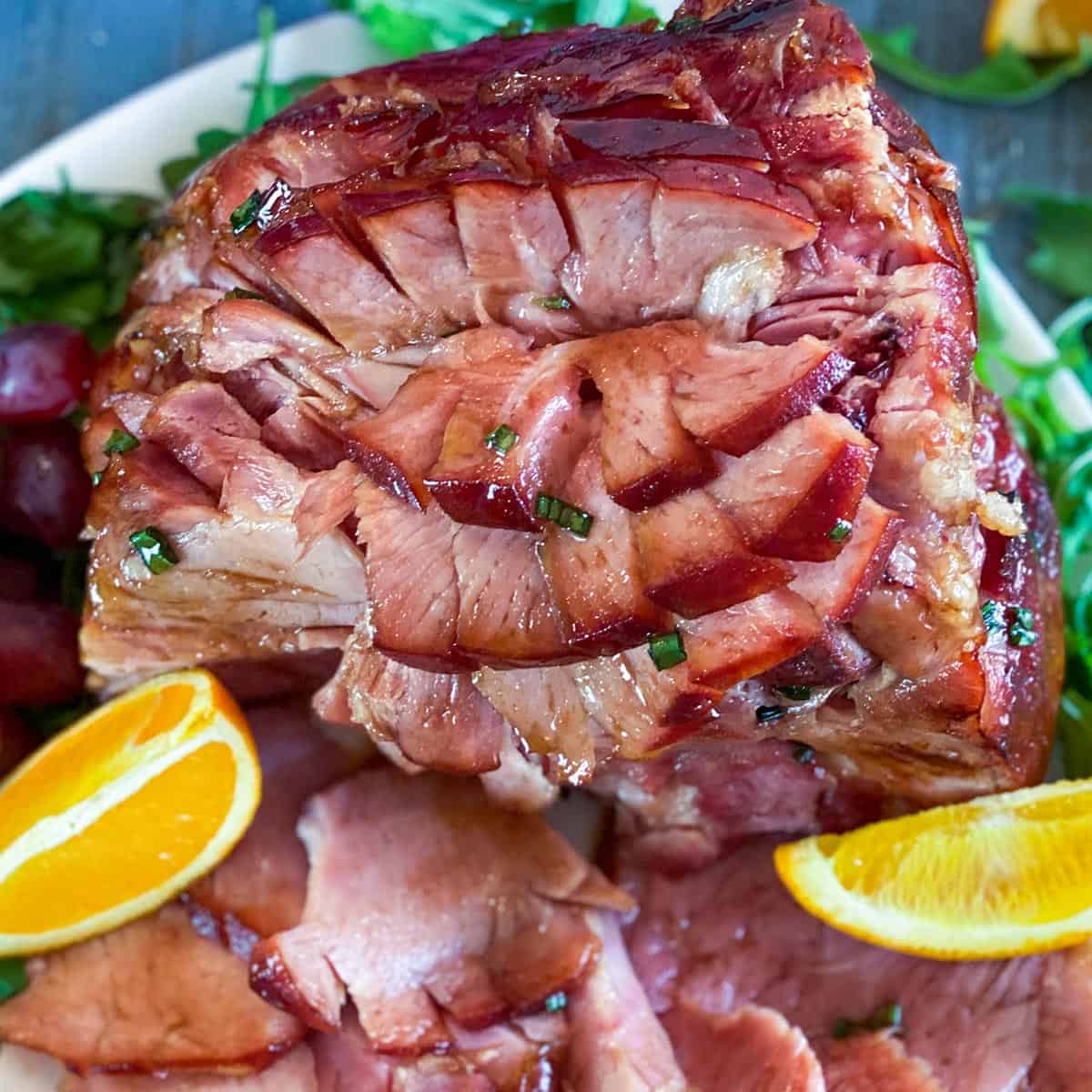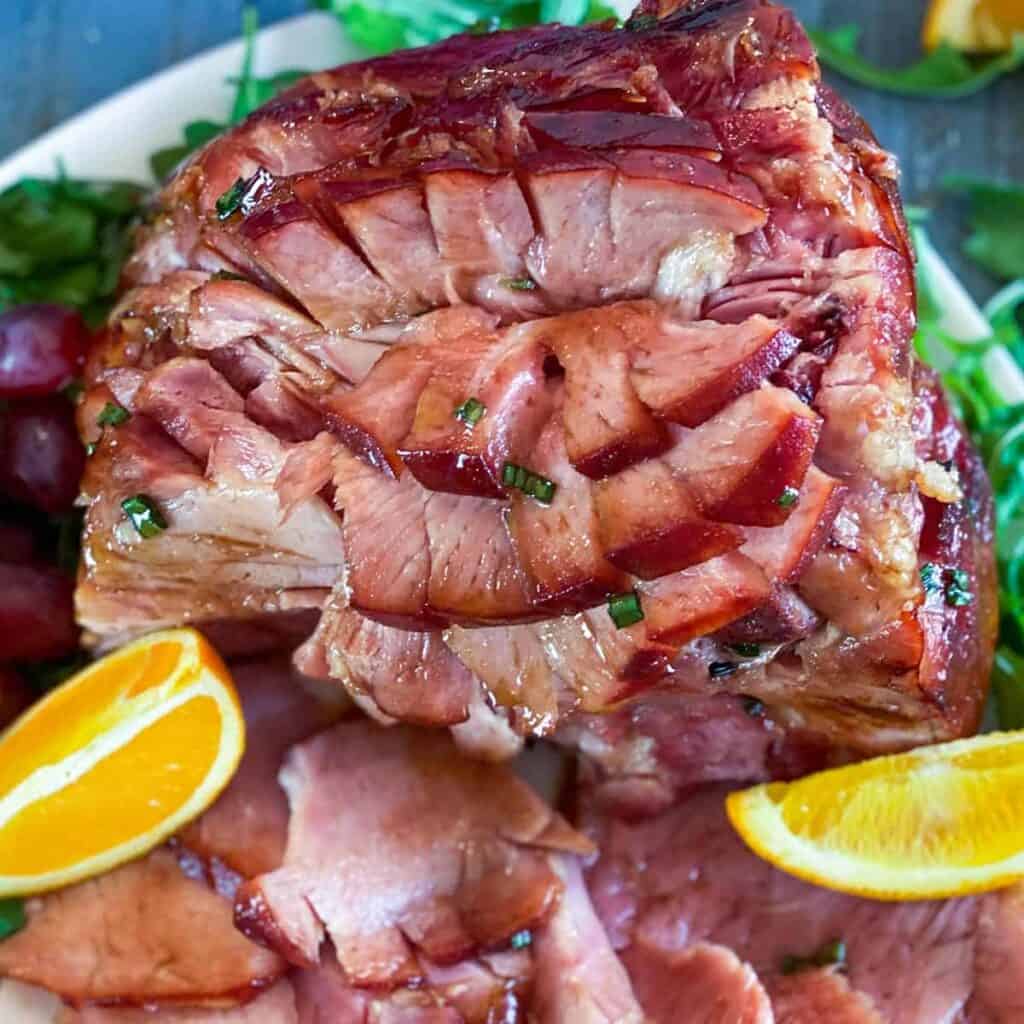 Did you know that you can even make a delicious ham recipe in your Air Fryer? We are in love with our Air Fryer Ham Recipe. It makes the juiciest ham in no time at all.
Best Vegetable Easter Dinner Side Dishes
I always look forward to Easter dinner for the fresh Spring recipes! One of the favorites that I look forward to every year is this recipe for Parmesan Garlic Roasted Carrots.
Not only are they colorful and beautiful, but they taste amazing. Even better if you make them using garlic herb butter!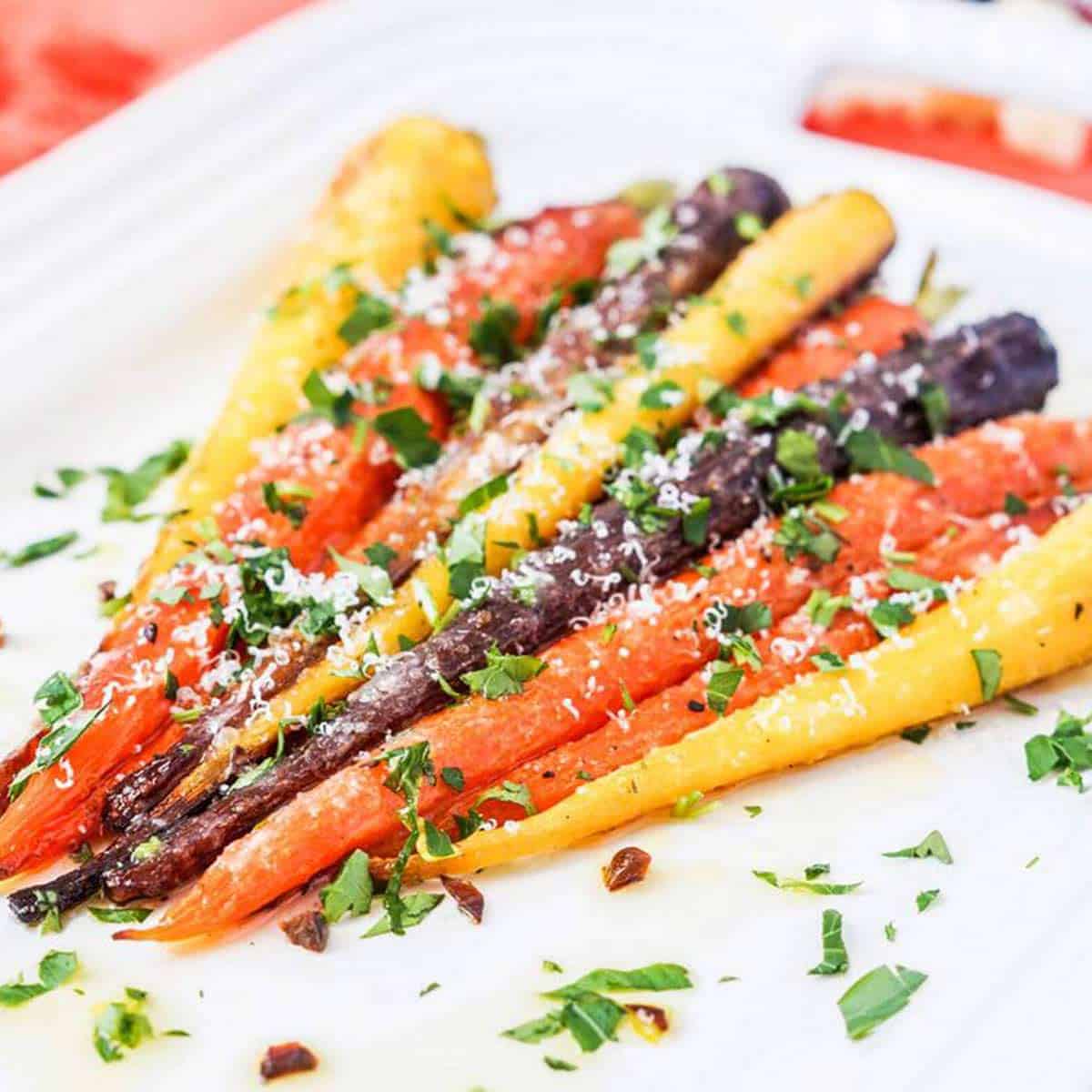 Carrots are a staple when it comes to Easter sides. One of the best carrot recipes is for these Brown Sugar Glazed Carrots.
They're one of the best easy side dishes for ham to whip up for the holidays. It is just 4 ingredients and 15 minutes of prep and cook time, and they taste amazing.
What would Easter be without some good old-fashion green beans? You have to try this Green Bean Almondine recipe – you will want to make it every year. It is that delicious.
If you're like me, asparagus is a must for Easter. April is the best time of year for fresh asparagus – it's the peak of asparagus season! – so Easter is the perfect time to cook up your favorite asparagus dishes.
My favorite asparagus recipe to make as an Easter side is Air Fryer Asparagus Fries. You will not believe how crispy and delicious this air fryer recipe is!
Serve these easy asparagus fries as an Easter side dish with some lemon garlic aioli, and everyone will be blown away.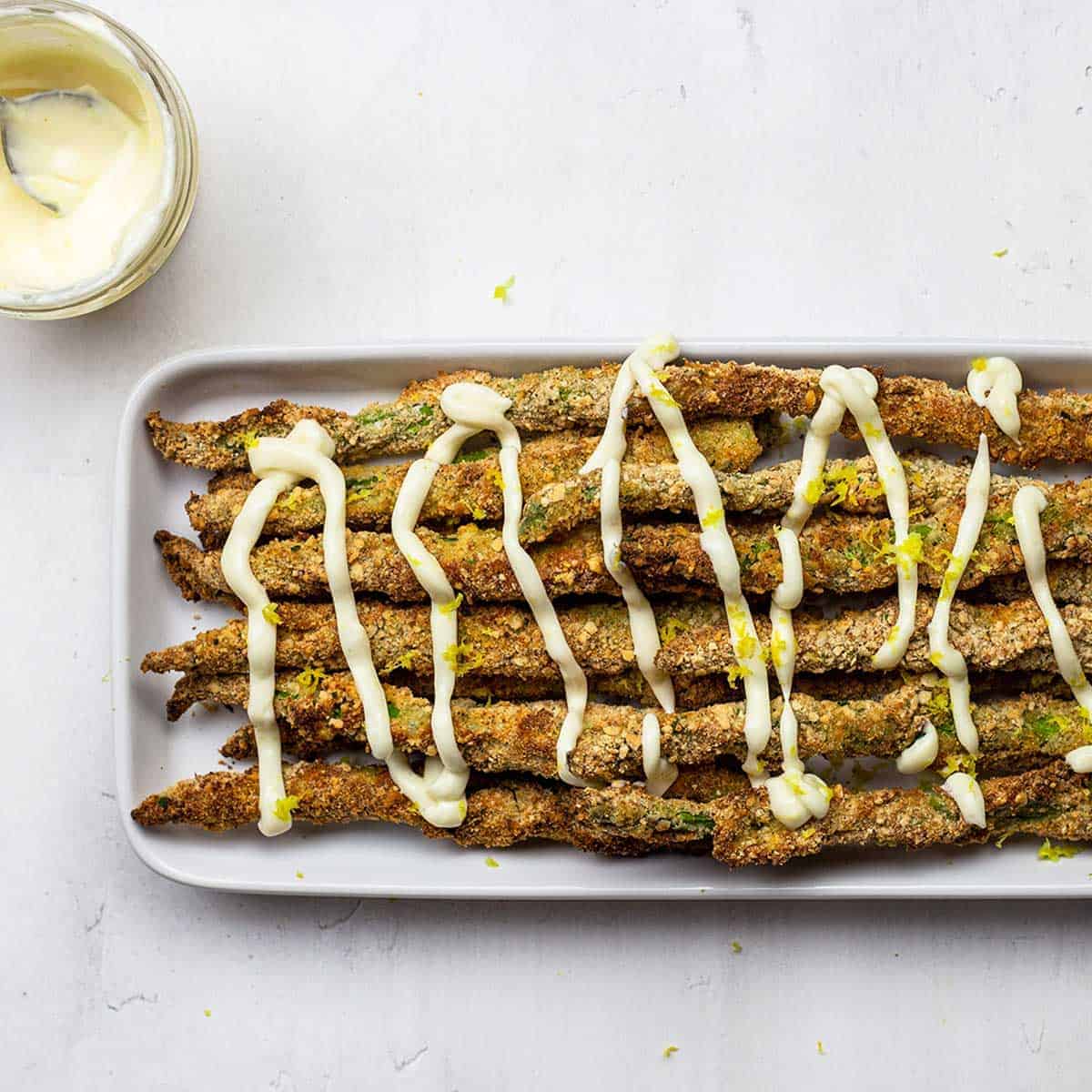 One of my all-time favorite Easter dinner sides is this recipe for Garlic Butter White Button Mushrooms.
This delicious button mushroom recipe goes with everything but is especially delicious with Parmesan carrots. It's the perfect addition to your Easter dinner menu!
Easter Salad Recipes and Deviled Eggs
Every Easter dinner needs at least one fresh Spring salad recipe! My personal favorite is this Orange and Fennel Salad, especially over spring mix lettuce.
The sweet fennel and zesty orange pair deliciously with Easter ham. It's a perfect match!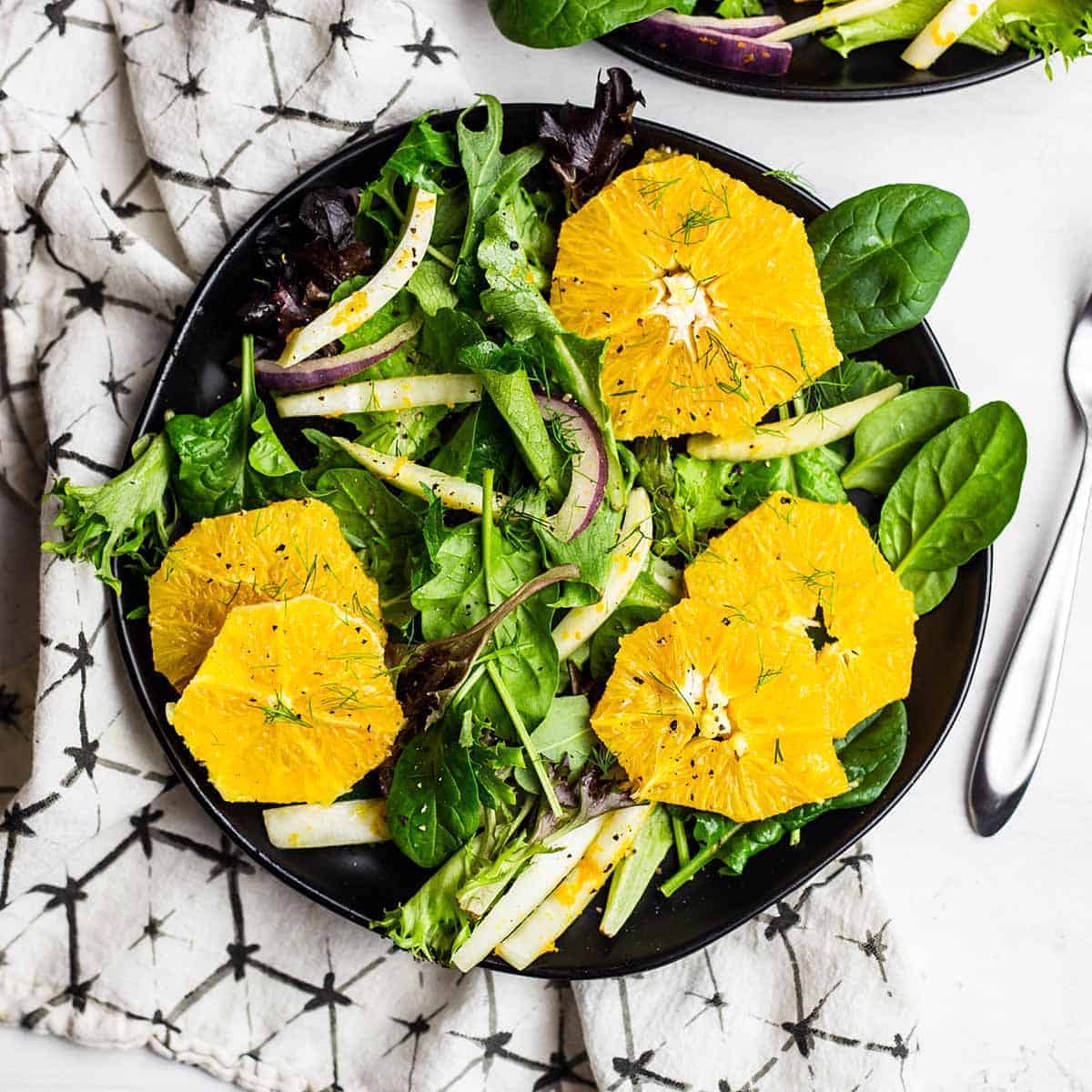 Last Easter I served Lemon Orzo Pasta Salad, and it was a hit with everyone at the table. You WILL be asked for the recipe if you share this amazing salad with your Easter dinner side dishes!
A good deviled egg recipe belongs on every dinner table for Easter! I love these Bacon Jalapeno Deviled Eggs with Cream Cheese.
They'll remind you of a jalapeno popper recipe, with cream cheese, jalapeno, and cheddar cheese. All this deliciousness in the form of spicy deviled eggs! It's perfect for your Easter side dishes, and works as an appetizer, too.
I love experimenting with different deviled egg recipes, and one of my favorites to make is Avocado Deviled Eggs. These little eggs are delicious!
They're one of my all-time favorite healthy Easter side dishes. I know you'll love them, too.
Potato Side Dishes for Easter
Cheesy Scalloped Potatoes are a classic for make-ahead Easter side dishes. They are perfect to serve with ham or roast beef and taste amazing. I love how cheesy they are and bet you will, too!
One of my new favorite easy ham dinner sides is Marquis Potatoes (Pommes Marquise). These fancy whipped potatoes may look complex and elegant, but they're actually really easy to make.
Plus, you can fill them with whatever kind of gravy you like!
Creamy Mashed Potatoes belong at every table for Easter. I like to make Instant Pot Mashed Potatoes, but also sometimes make Irish Mashed Potatoes, too.
All three options are great choices for your Easter dinner menu!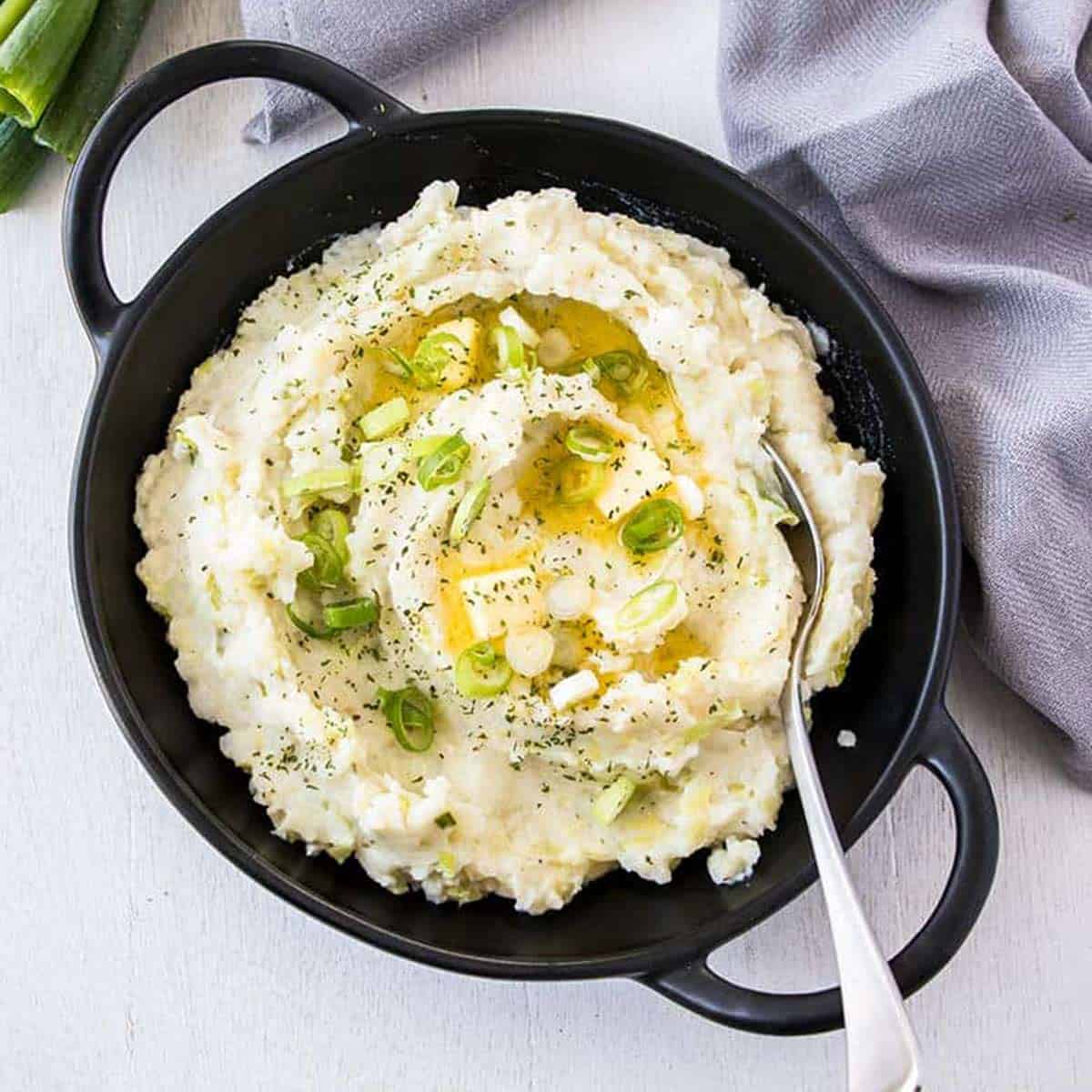 Gluten-free Au Gratin Potatoes are a hit at the dinner table every time, but especially as an Easter side. They're the perfect scalloped potato option for your gluten-free friends and family, but everyone loves them.
They're so easy to make, and are just plain delicious!
Best Casserole Recipes for Easter
One of the best casserole recipes that I make every year is gluten-free Green Bean Casserole. Everyone at the table always wants seconds! It's one of the best side dishes with ham or roast beef.
Cauliflower rice is a great choice for a low carb dinner on Easter – plus, it's really easy to make and delicious. Loaded Cauliflower Rice Casserole is one of my favorite uses of cauliflower rice, especially as an Easter side!
One of the best Easter food ideas is Baked Creamed Corn Casserole. This easy casserole recipe is full of flavor and beautiful on a plate with green beans and slices of ham.
Southern Sweet Potato Casserole with pecan topping is a casserole recipe I swear by for every holiday, including Easter.
This amazingly delicious sweet potato casserole recipe is one of the best make-ahead Easter side dishes – one bite, and you will know why!
Looking to try something new? Cauliflower Cheese Casserole is another perfect use of cauliflower in the form of a deliciously cheesy casserole recipe. Next to this Tomato Pasta Bake, it's one of my personal favorites!
Split Pea Soup is a great way to use up those Easter ham leftovers.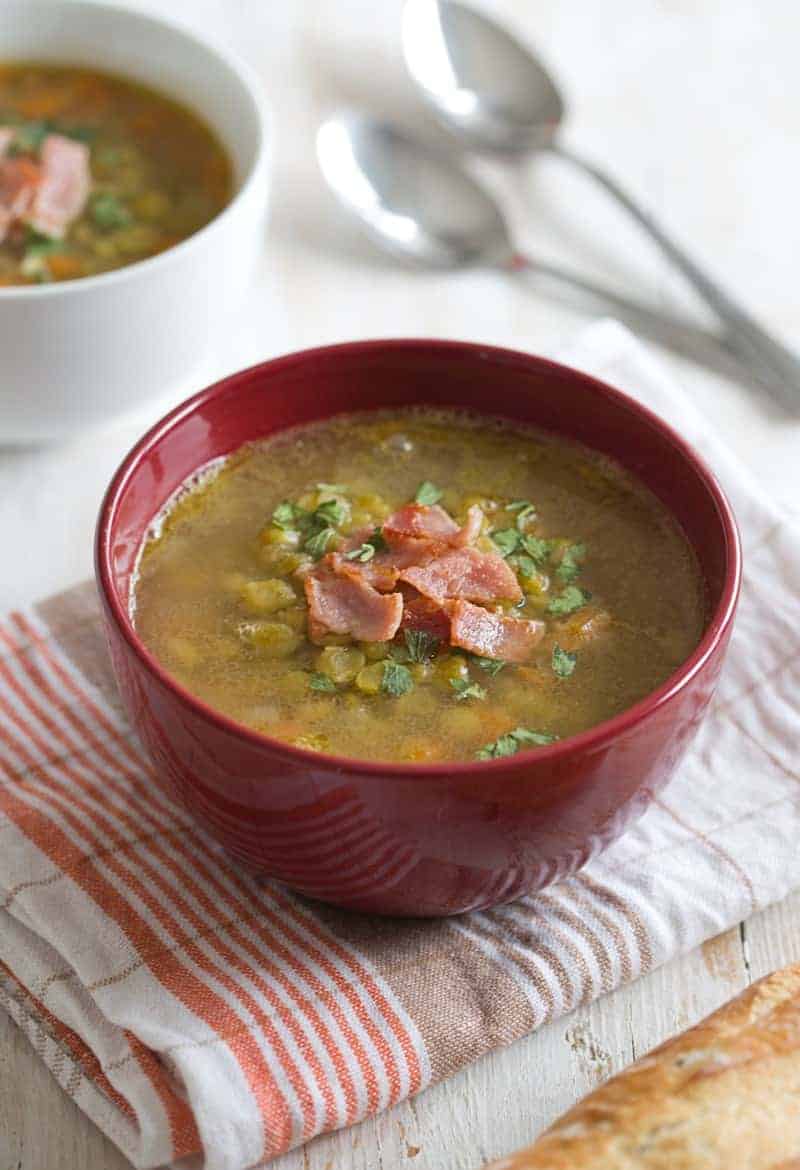 Add even more to your Easter dinner menu!
Every holiday dinner plan, including your Easter dinner menu, needs drinks, desserts, and some gluten-free options.
Try our Simple Mixed Drinks for Any Occasion, including recipes like Rose Sangria with Summer Berries and non-alcoholic Watermelon Mint Lemonade.
What are your Easter food traditions? What would you like to see us make next? We would love to hear from you.
Leave a comment below with your favorite Easter dinner ideas! And be sure to save our Easy Make-Ahead Easter Side Dishes📌 on Pinterest for later!