We love Caesar salad as a side dish, but add some steak and your Grilled Steak Caesar Salad becomes a main course, healthy and filling! Best of all, this is super easy, with the Caesar dressing doubling as the marinade for tender and flavorful steak.
Recipe courtesy of Certified Angus Beef® brand. We are delighted to share it here on Sunday Supper Movement. Find more of their wonderful #BestBeef recipes at https://www.certifiedangusbeef.com/recipes
Ready to make Grilled Steak Caesar Salad? Here's the recipe:
Grilled Steak Caesar Salad
Author:
Ingredients
1 pound Certified Angus Beef ® ball tip, tri-tip or round tip steak cut 1/2-inch thick
1 cup Caesar salad dressing, divided
1 head Romaine lettuce, torn into pieces
1/2 small head radicchio lettuce, torn into pieces
1 cup seasoned croutons
1/4 cup grated Parmesan cheese
Instructions
Place steak in zipper-locking plastic bag. Pour 2/3 salad dressing over beef. Close bag forcing out air; refrigerate and marinate 1 1/2 to 2 hours.
Remove beef from marinade; discard marinade. Broil or grill steak to desired doneness; let rest for 3 to 5 minutes. Slice across the grain into 1/4 x 1 inch strips.
In large bowl, toss, Romaine, radicchio and croutons with remaining Caesar dressing. Add beef. Sprinkle with Parmesan and serve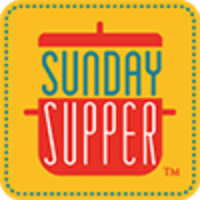 The Sunday Supper Movement is committed to bring our readers delicious recipes that encourage them to gather and eat together around the family table. Search for your favorite ingredients on our Sunday Supper website. Also check out the Sunday Supper Pinterest boards for plenty more ideas and inspiration.
And sign up for our newsletter to get great Sunday Supper recipes delivered right to your inbox every Thursday!

Love beef? Check out these Sunday Supper Recipes: