These Hawaiian Pizza Pull Apart Sliders are extremely easy to pull together. They're great for a quick weeknight dinner as well as for appetizers or snacks for a casual weekend get together.  If you're feeling ambitious, make your own Hawaiian Dinner Rolls to use for this recipe. Otherwise, a package of store-bought rolls will be perfectly acceptable.
Origin of Hawaiian Pizza
Did you know Hawaiian Pizza didn't actually come from Hawaii? It was invented in Canada by a man who came from Greece! Nevertheless, I love the sweet and salty combination, and it is one of my favorite pizza toppings. Paired with soft and fluffy Hawaiian dinner rolls, these Hawaiian Pizza Pull Apart Sliders are perfect for any occasion and take just 15 minutes to prepare.
Hawaiian Pizza Pull Apart Sliders Recipe Tips
I used King's Hawaiian honey wheat dinner rolls for this recipe. However, any variety of Hawaiian dinner rolls would work. If you don't want to use a sweet dinner roll for this recipe, feel free to use regular dinner rolls that's similar in shape and size.
I used canned pineapple for this recipe, but feel free to use fresh pineapple if preferred. The type of canned pineapple I bought was called Pineapple Tidbits, larger than crushed pineapple but smaller than pineapple chunks, and are the perfect bite size.
If you feel the urge to get deli slices of Mozzarella, feel free to substitute about 4 ounces for the shredded type. Slices will give you the cheese pull when pulling these sliders apart.
Adjust the extra seasoning of oregano and crushed red pepper to your taste. Watch out for the red pepper, it can really pack a punch in these pull apart sliders.
If you're looking for something quick and easy on a busy weeknight, these Hawaiian Pizza Pull Apart Sliders will be your friends. You can stop by the grocery store on the way back from work for the ingredients and have dinner ready in just 15 minutes. And with just one baking pan to wash, you'll be relaxing on the couch in no time. Enjoy!
Looking for more delicious sliders or appetizers? Be sure to check out the recipes below!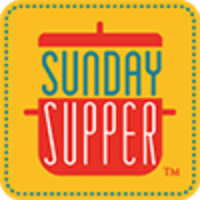 The Sunday Supper Movement is committed to bringing our readers delicious recipes that encourage them to gather and eat together around the family table. Search for your favorite ingredients on our Sunday Supper website. Also check out the Sunday Supper Pinterest boards for plenty more ideas and inspiration.
Sign up for our newsletter to get FREE Sunday Supper recipes delivered right to your inbox!