It's that time of the year again! The new year is here, and it's colder than ever. Take the edge off of that winter chill with the fresh, summery flavor of strawberries! Strawberries suit both sweet and savory dishes, and they're highly nutritional, too. These healthy family recipes highlight strawberry dishes from breakfast to dessert.
Strawberries are naturally sweet, and good for you, too. We here at Sunday Supper Movement can't get enough of them, especially because they can be easily preserved!
1. Strawberry Quinoa Salad

This strawberry quinoa salad is a refreshing, easy to make dish that your family will love!
2. Healthy Strawberry Oatmeal Bars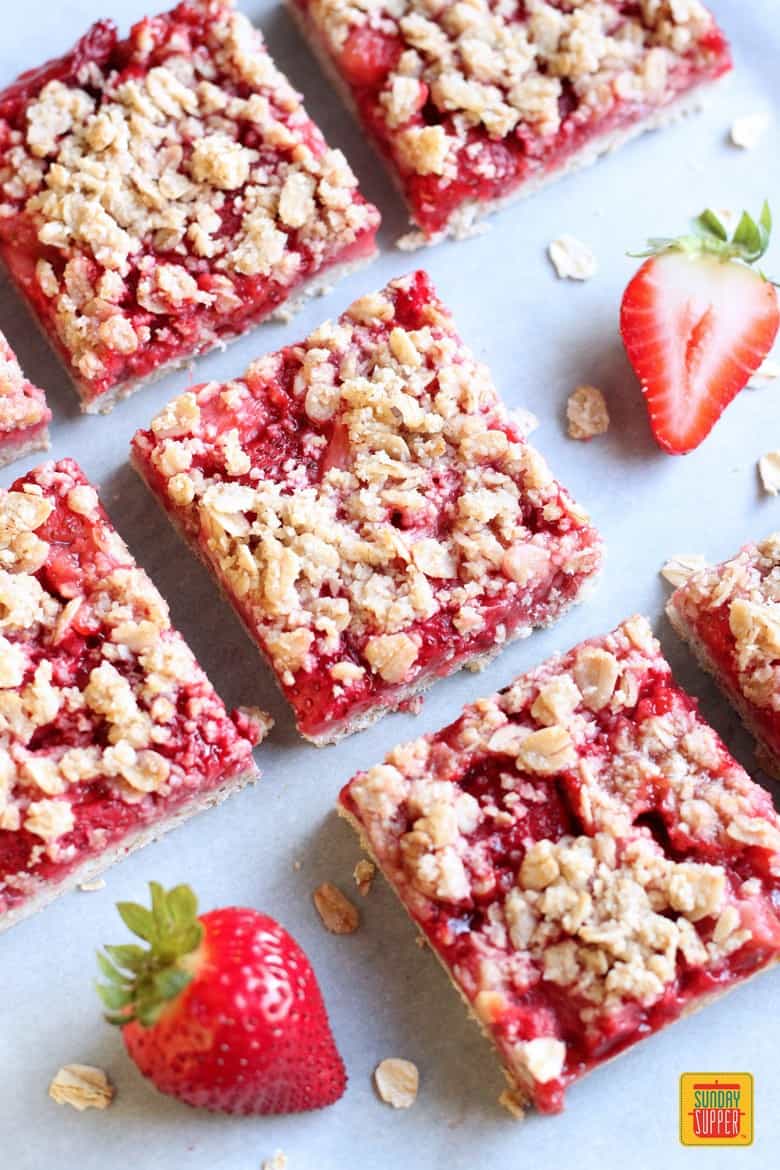 Healthy strawberry oatmeal bars are an easy, tasty treat, perfect for breakfast!
3. Strawberry Panna Cotta Recipe

This creamy strawberry panna cotta recipe is packed with bright strawberry flavor. It's one of our personal favorites!
4. Strawberry Yogurt Waffles

These strawberry yogurt waffles, made with honey yogurt and fresh strawberries, bring a tasty and fresh start to any day!
5. Strawberry Oatmeal Muffins with Rhubarb

Strawberry oatmeal muffins with rhubarb are healthy and gluten free. They are so sweet without any added sugar!
6. Instant Pot Strawberry Trail Mix Oatmeal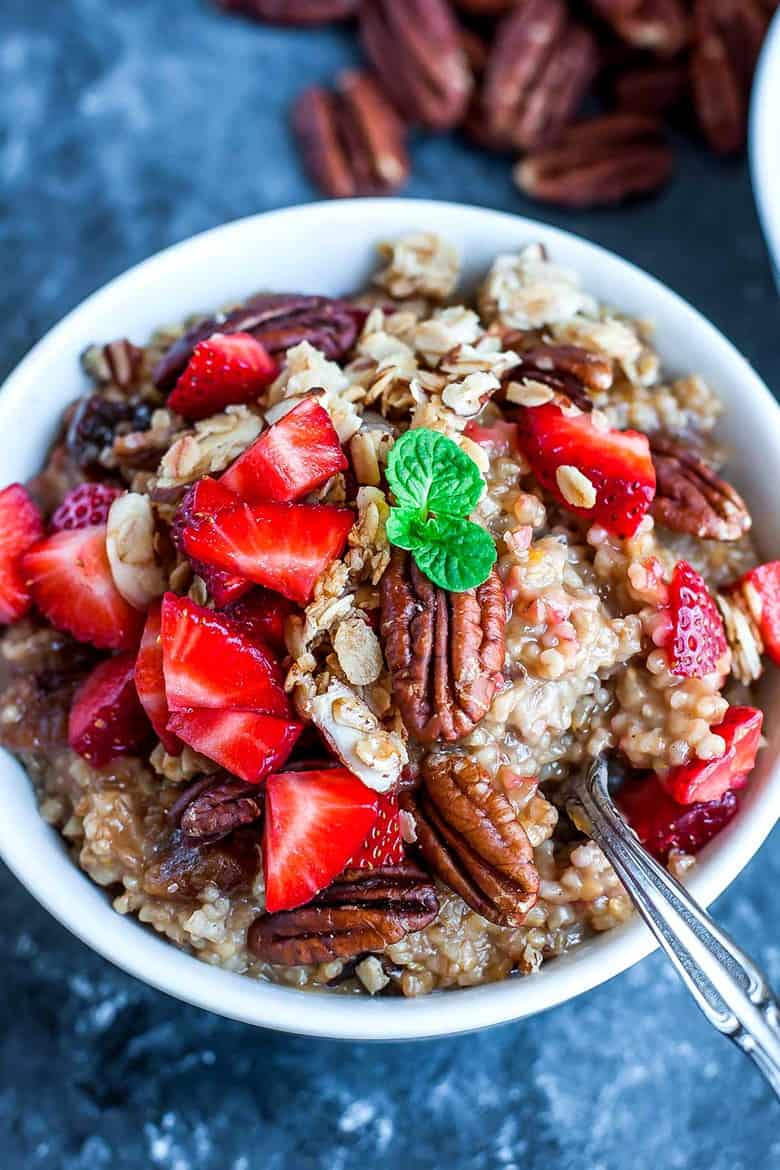 This instant pot strawberry trail mix oatmeal is easy and quick to make. The fresh strawberries really make this dish pop!
7. Strawberry Cheesecake Overnight Oats (No Bake)

Strawberry cheesecake overnight oats are so easy to make ahead! You won't need an oven for this guilt-free treat.
8. Strawberry Apple Fruit Leather Recipe

Do your kids love fruit leather? Make snack time healthy with this strawberry apple fruit leather recipe!
9. Strawberry Lemon Poppy Seed Vinaigrette

Try a new dressing on your favorite salads with this strawberry lemon poppy seed vinaigrette. It's gluten and dairy free!
10. Strawberry Bacon Brie Salad

You'll want to add this salad to your collection of healthy family recipes! This strawberry bacon brie salad is loaded with fresh strawberries, bacon, brie, and pecans. Yum!
11. Strawberry Caprese Pasta Salad

Strawberry caprese pasta salad puts a refreshing twist on the traditional caprese. Using sweet strawberries instead of tomatoes is what makes this dish really stand out!
12. Loaded Strawberry Fields Salad

This Loaded Strawberry Fields Salad to be fresh, healthy, and filling, too!
13. Easy Strawberry Avocado Pasta Salad

This easy strawberry avocado pasta salad is a summery, satisfying, good-for-you pasta salad that you can enjoy right now.
14. Pork Chops with Balsamic-Strawberry Sauce

Pork chops with balsamic strawberry sauce is an easy, fresh recipe that takes just 30 minutes to make! A must for your collection of healthy family recipes.
15. Strawberry Shortcake Smoothie

This strawberry shortcake smoothie is gluten and dairy-free, with no added sugar!
16. Strawberry Lemonade Ice Pops

These strawberry lemonade ice pops are a healthy dessert or snack! Not to mention, they are deliciously easy to make.
17. Chocolate Paleo Magic Cookie Bars with Strawberry

Chocolate paleo magic cookie bars with strawberry are a healthy treat that will surprise you! This recipe is gluten free, and deliciously full of hazelnut, dark chocolate, and strawberry goodness.
18. Vegan Strawberry Ice Cream (No Churn)

You won't need an ice cream maker to make this deliciously healthy, dairy free vegan strawberry ice cream.
Wild Rice Salad with Strawberries is life changing once you take a bite!


The Sunday Supper Movement is committed to bringing our readers delicious recipes that encourage them to gather and eat together around the family table. Search for your favorite ingredients on our Sunday Supper website. Also check out the Sunday Supper Pinterest boards for plenty more ideas and inspiration.
Sign up for our newsletter to get FREE recipes delivered right to your inbox!

Sign up for our weekly newsletter!
Get free recipes delivered to your inbox every week!
Thank you for joining the Sunday Supper family!
Something went wrong.