This post may contain paid links. If you make a purchase through links on our site, we may earn a commission.
Make planning dinner simple with this collection of Easy Make Ahead Freezer Meals! Everything from empanadas to the classic traditional lasagna recipe.
We all struggle sometimes with answering the "What's for dinner?" question. Sometimes you just want to give in and order pizza, especially after a busy day. But you don't need to do that!
There are plenty of easy and healthy make-ahead meals you can prepare instead. Having dinner in the freezer, ready to go, makes planning what to eat so simple! Not only will your family thank you, but you'll thank yourself, too.
Easy Pasta Dinners
Pasta is one of my personal favorite make-ahead meals. There are so many types of pasta you can choose from! When it comes to freezing, pasta casseroles like lasagna and ziti are the best to choose from.
Lasagna Recipes
The best part about making lasagna freezer meals is that you can generally prep the meat sauce ahead of time to cook with the noodles when you're ready. Or, you can make the whole dish ahead of time, and then freeze it to heat up later!
Penne and Ziti Recipes
Like lasagna, ziti is a perfect choice for freezing. So are penne pasta dishes like our Chicken Glorioso and Sausage and Kale Pasta Dinner! I guarantee you and your family will love these dishes. They're always a hit at my house!
For more pasta dishes to freeze, try our Pulled Pork Stuffed Shells. Or, cook up a batch of our Homemade Bolognese Sauce to freeze, then serve over pasta or even in Bolognese Sliders for dinner!
And, if you're making pasta, definitely cook up a batch of our Air Fryer Meatballs. Not only are these the most delicious meatballs you will ever eat, but they freeze well, too!
Meat Pies and Empanadas Recipes
Meat pies are one of the best freezer dinners you can make ahead of time! Prepare the fillings, then bake later in the dough. Or, make everything ahead of time and freeze after cooking.
Either way you make them, they're guaranteed to do well in the freezer!
My personal favorite are our Puerto Rican Beef Empanadas. They freeze incredibly well and taste amazing! The best part about making empanadas is that they aren't just for dinner.
You can make empanadas for lunch or even dessert. Dessert empanadas freeze just as well, too! Try our Caramel Apple Hand Pies or give our Pumpkin Empanadas a try. I know you'll love them!
Easy Soups, Stews, and Chili Recipes
Soups, stews, and chili make some of the best comfort food recipes. Even better when you can make them ahead of time! The good news is that they freeze really well, as long as they don't use a lot of dairy.
Stew and soup with a broth base freeze better than those with a creamy base. Dishes like Shrimp Bisque won't freeze as well as beef stew, for example. (But you should totally give our shrimp bisque a try – it's SO good.)
Soups
My personal favorite soup to make ahead of time and heat up later is our copycat Chick-fil-A Chicken Tortilla Soup Recipe! It's SO flavorful, and really easy to prepare ahead of time. In fact, you can use leftover chicken and canned vegetables to make it!
Stews
Beef stew is one of the best make-ahead freezer meals you can make! It's a "set it and forget it" kind of recipe, especially our Instant Pot Beef Stew.
For stew meat, I recommend using beef chuck roast. It's the best kind for stews and pot roasts!
Chili
Chili is the type of dish you can set and forget, then freeze in big batches for later. The best part about making chili is that you can really use whatever you like to make it.
One of our personal favorites is our easy ground beef chili recipe! It's a high protein dinner that's packed with flavor and will leave you feeling great after eating it.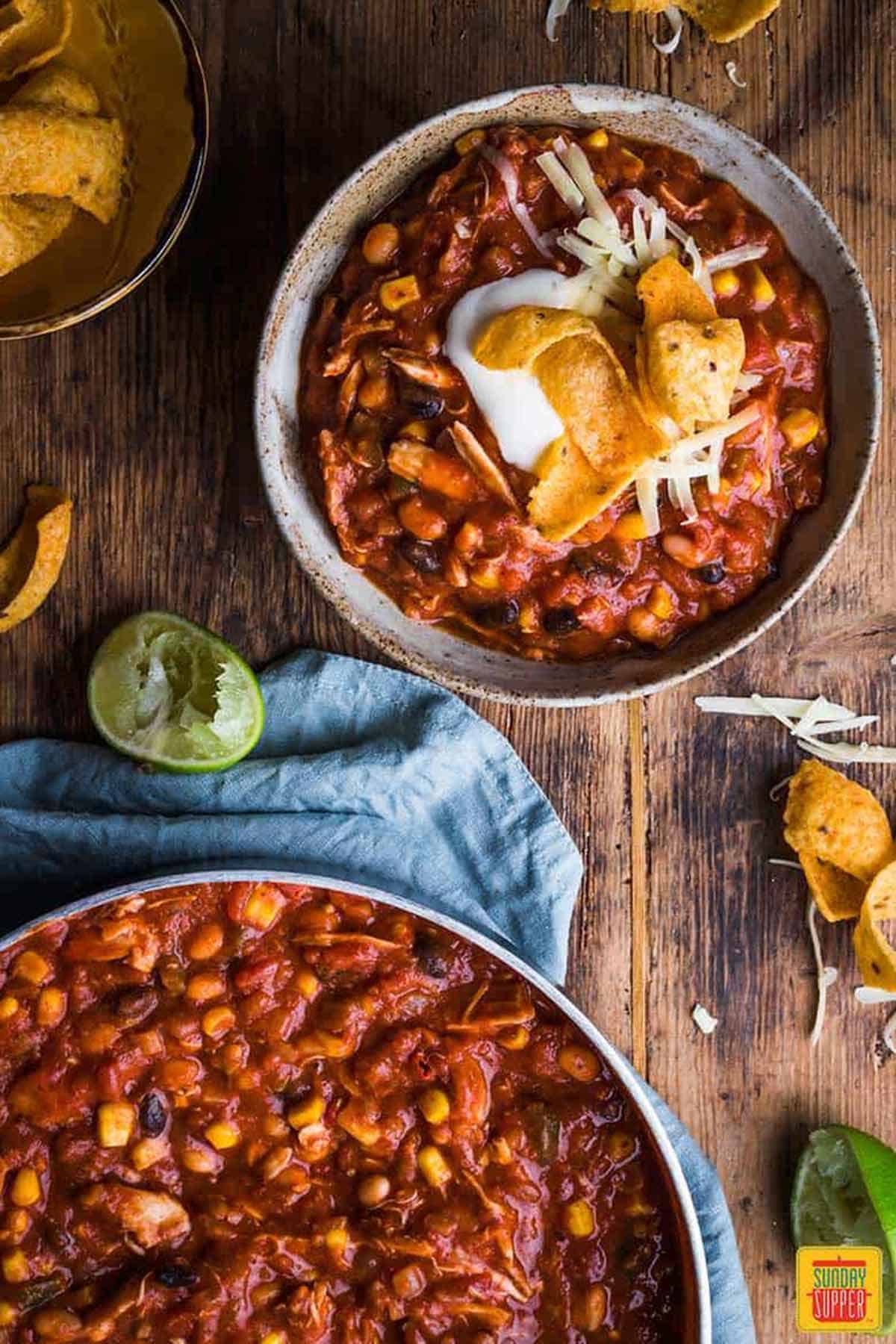 Taquitos, Fajitas, and Enchiladas
Some of our favorite meals to freeze are taquitos, fajitas, and enchiladas! These easy dinner recipes are super simple to whip up ahead of time, hold up well in the freezer, and taste fantastic.
Taquitos are especially good for freezing, and make a great lunch or snack for later, too! The ingredients are so easy, you can even use leftover chicken to make them. The rest is just seasoning, cheese, salsa, and tortillas!
More Easy Dinner Recipes to Try
Did you try our easy make-ahead freezer meals? What's your favorite dish? We love to hear from you! Leave a comment below or share your photos of our recipes with us on Pinterest!