Sunday Supper is an Amazon Associate and may receive compensation for purchases made through affiliate links.
Add brightness and color to your table this year with our list of the best holiday salads! From main course salads to side dish salad recipes, these holiday salad recipes are just what your holiday table needs this year!
Enjoy new favorites like our take on Ina Garten's roasted artichoke hearts salad, or a colorful spinach pomegranate salad. You are sure to find your new favorite accompaniment salad for the holidays on this list!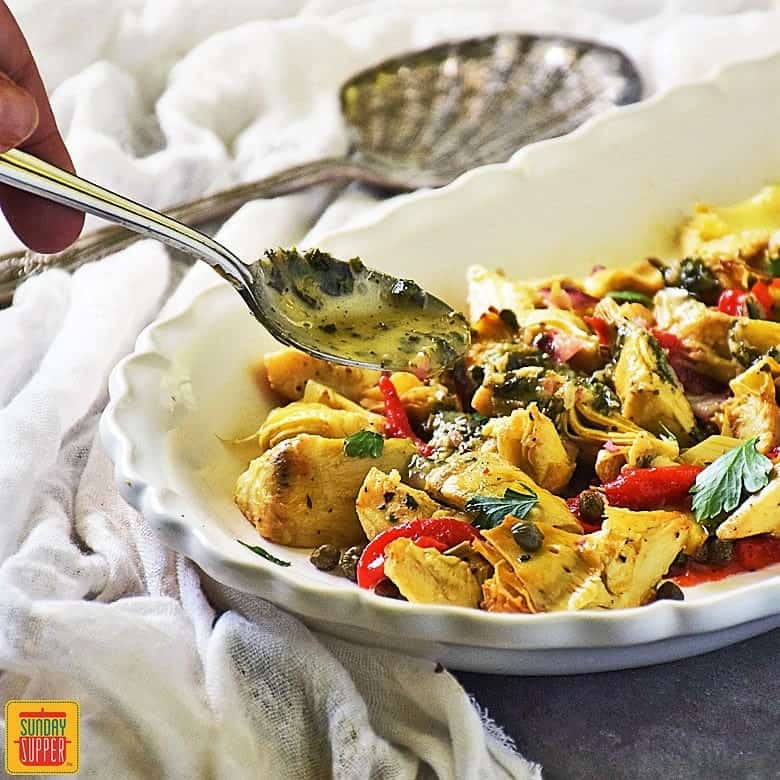 The Best Easy Holiday Salads
A full holiday table feels complete when it has plenty of side dishes like these dinner salad recipes. Try serving these holiday salads alongside your charcuterie and other favorite easy buffet menu ideas. They really brighten up any table!
These are the best salads for Thanksgiving side dishes, Christmas salad recipes, Easter dinner (try our asparagus salad with rice!), and every holiday in-between.
We know you will love these main course salads as much as we do!
What makes a good salad?
Whether you're preparing salad for the holidays or just to enjoy for lunch, the key to making a good salad is to mix it up!
A variety of ingredients makes any salad recipe interesting and will make it a side dish people gravitate to instead of something just to fill your plate. The best holiday salads are colorful and full of flavor; they're more than just lettuce with some veggies tossed in!
To make your salad the best it can be, try using ingredients like:
Fresh berries or fruits (in the summer, you can even use watermelon)
Homemade salad dressing
Nuts or seeds
Cheeses like Parmesan, feta (try our tomato cucumber feta salad!), or even goat cheese
You can use more than just lettuce to make your salads pop, too! Try ingredients like wild rice, quinoa, or lentils to change things up.
These holiday salads are our favorites because they put a twist on the traditional! They're beautiful, easy salad recipes everyone at the table will appreciate.
Side Dish Salad Recipes for the Holidays
Broccoli Apple Salad
Our Broccoli Apple Salad is absolutely delicious! Make it with deli turkey for a complete meal that's quick and easy, or skip the turkey to make it a vegetarian side dish salad everyone will want more of. You can even use Thanksgiving leftover turkey for this recipe!
Ina Garten Roasted Artichoke Hearts Salad
Inspired by Ina Garten's roasted artichoke salad recipe, our Roasted Artichoke Hearts Salad is one of the prettiest and easiest salads you will ever make! Get the recipe cards ready: your guests will want to take this one home!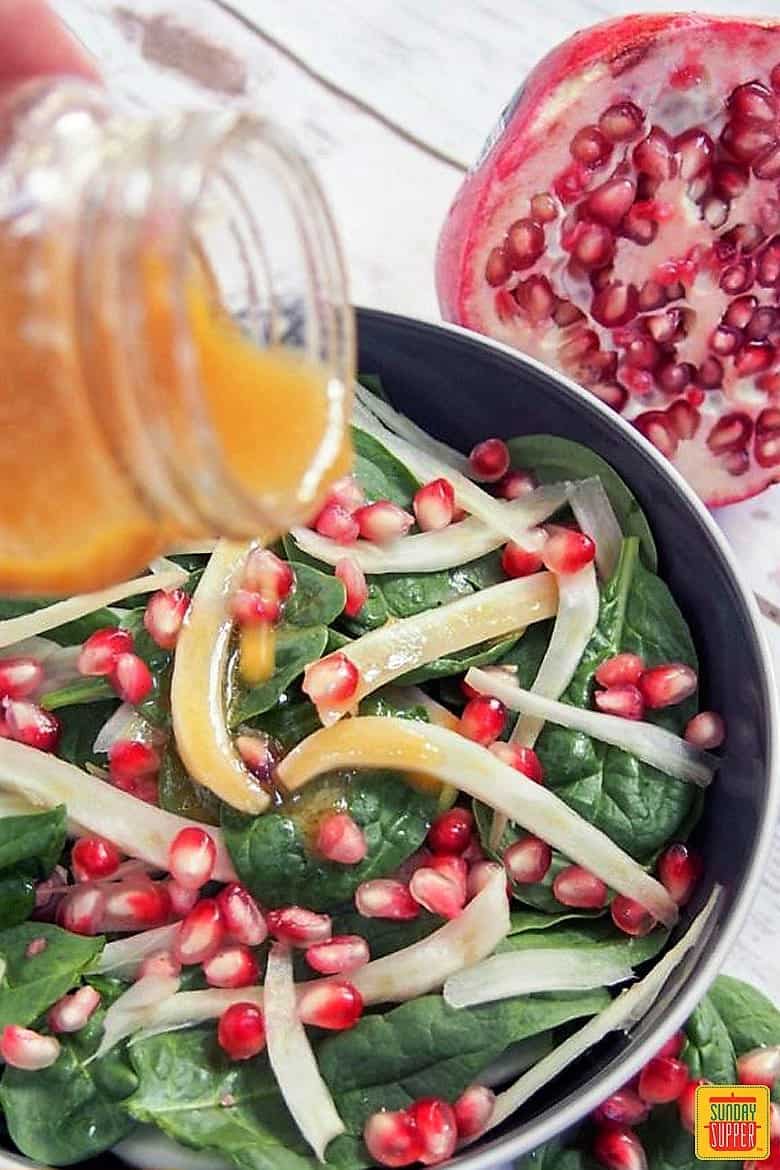 Spinach Pomegranate Salad
Our Spinach Pomegranate Salad is the perfect addition to your holiday table! With bright, festive colors and only a few simple ingredients, it is one of the best green salad recipes for the holidays.
Roasted Brussels Sprouts and Wild Rice Salad
You are going to love this Roasted Brussels Sprouts and Wild Rice Salad! Cranberries, pecans, Parmesan cheese, and a homemade balsamic mustard vinaigrette make it one of the best salad recipes for the holidays and one of our favorite side salad recipes, period.
Fresh Vegetable Salad with Creamy Balsamic Dressing
The homemade salad dressing in this Fresh Vegetable Salad with Creamy Balsamic Dressing makes it one of our favorite garden salad recipes! This is one of the best keto salad recipes, too, because it uses sunflower seeds as a topper. Yummy and perfect for a keto diet!
Strawberries and Wild Rice Salad
Get ready for one of the best salad recipes EVER! Our Wild Rice Salad with Strawberries is loaded with good-for-you ingredients. Homemade vinaigrette dressing and just a few simple ingredients make this wild rice salad recipe really shine!
Wild Rice Salad with Strawberries
Asparagus Salad with Rice
Make-ahead Asparagus Salad with Rice and eggs is bright, easy to make, and so delicious! Serve this asparagus salad recipe alongside your Easter ham or for any holiday you please. Everyone at the table will love this deliciously easy salad recipe!
Asparagus Salad with Rice
Strawberry Feta Quinoa Salad
With a plate arranged this beautifully, everyone at the table will be blown away by this Strawberry Feta Quinoa Salad! This healthy salad recipe is perfect to brighten up your holiday table with its plump strawberries and bright parsley. It's one of our favorite salad recipes for lunch and for a holiday dinner!
Watergate Salad
Also known as Pistachio Salad, Pistachio Fluff, Pistachio Delight, or even just Green Fluff, this Watergate Salad makes the perfect side dish salad recipe or dessert salad! It's sweet, crunchy, and so yummy! Get the recipe from Flavor Mosaic below.
Cranberry Fluff Salad
You need to try Cranberry Fluff Salad this holiday season, but especially with your Thanksgiving side dishes! Full of cranberries, pineapple, marshmallows, and whipped cream, this easy cranberry salad is a must-have. Get the recipe from That Skinny Chick Can Bake below!
More Easy Holiday Recipe Collections to Enjoy
Our Favorite Holiday Recipes
What's your favorite holiday salad recipe? Let us know in the comments below what holiday salads you make every year! We love to hear from you.
Post updated 11/22/2019.