Sunday Supper is an Amazon Associate and may receive compensation for purchases made through affiliate links.
Braising beef is easy to do and budget-friendly, but it's also tender and delicious, making it a wonderful choice for an elegant dinner recipe. Whether you're cooking a big holiday meal or want to make something special for your family, braised beef is a classic choice. But what's the best way to braise beef? Learning how to braise beef is simple, and the steps work for every cut.
When you're considering how to braise beef, you may ask questions like what is the difference between braising and roasting? Or what are the serving suggestions for braised beef? We'll cover everything you need to know about how to braise beef in our guide below so you can learn how to braise beef masterfully.
What is Braising?
What does it mean to braise beef? Braising is a method of cooking that combines time, heat, and moisture to break down the connective tissue of a cut of meat, making it tender. It's the perfect way to cook tougher, budget-friendly cuts of meat! Both cooking meat in a slow cooker and pressure cooking are ways to braise beef, so braised beef is frequently referred to as pot roast.
Examples of braised beef include ribs, brisket, beef stew, and pot roast! Once you know how to braise beef, braising becomes an easy step-by-step process you can apply to all braised beef recipes.
What is the difference between braising and roasting?
Both braising and roasting recipes typically call for cuts of meat for roasts, so what is the difference between braising and roasting? 
Braised beef is cooked in liquid, typically slowly and on low heat in a covered pot. Braising leaves beef melt-in-your-mouth tender, so it's perfect for stews and pot roasts. Dishes like this easy slow cooker roast beef recipe are great examples of how to braise beef.
Roast beef uses dry heat and is typically made in the oven on a roasting rack. Roasting gives beef a well-browned crust on the outside, leaving the beef tender and juicy towards the center. Dishes like a classic standing rib roast and whole beef tenderloin are prime examples of how to roast beef.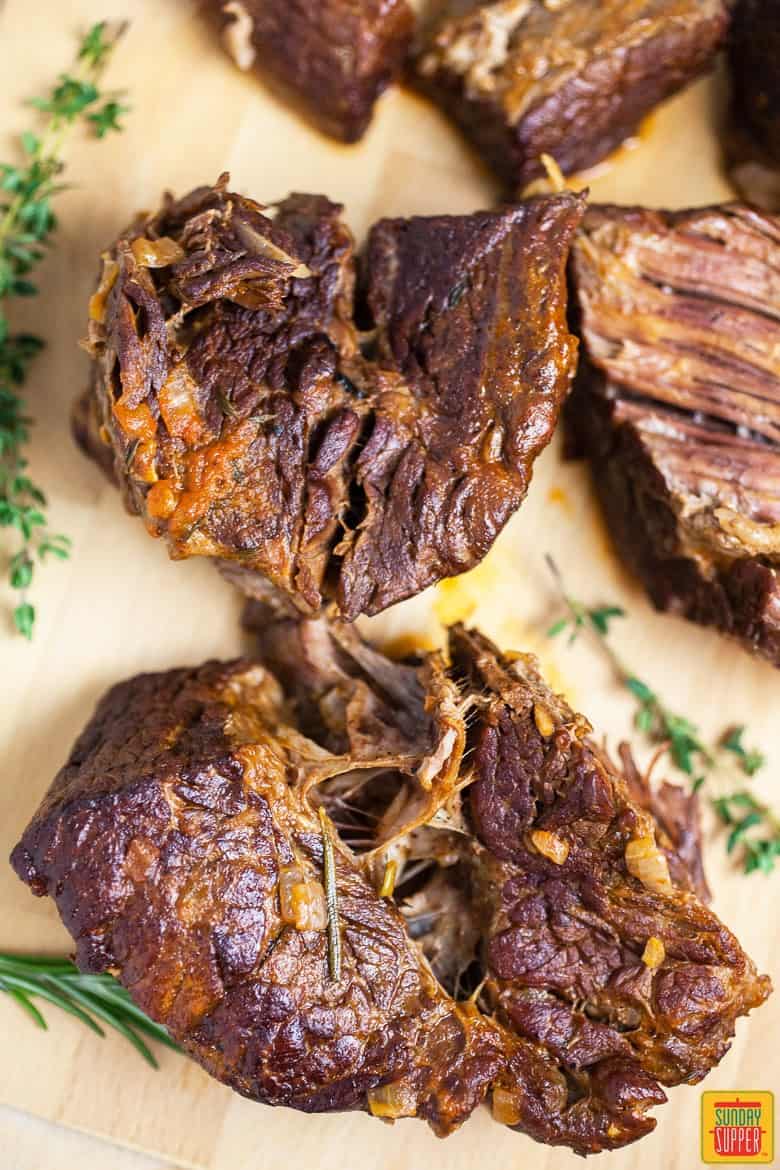 How do you make braised beef?
By following just a few steps, you can learn how to braise beef easily!
Preheat a heavy-bottom pot over medium-high heat on your stove top.
Season roast to your liking with salt and pepper.
Add a little oil to the pot, then add the roast. Sear on two sides.
Remove roast from the pot and add vegetables of your choice. Carrots, onions, and celery go well with braised beef recipes. Cook until browned.
Add 2 to 3 Tbsps. of tomato paste (optional) and 1 to 2 cups of liquid such as wine, stock, or water. Stir in the browned bits from the bottom of the pot.
Return your roast to the pot. If using a slow cooker, move your roast and the pot contents to the slow cooker instead. Add more liquid so the bottom half of the roast is covered.
Cover tightly with a lid and place in oven set to 300°F. If cooking in your slow cooker, set it to low.
Cook for approximately 6 to 8 hours depending on the size of your roast. Braised beef is ready when it is tender and pulls apart easily with a fork.
The free Roast Perfect App makes it easy to select the right size beef roast, and which cut of beef to use for braising, for the number of people you're serving!
We recommend using Certified Angus Beef® for maximum flavor and tenderness!
Certified Angus Beef® brand is on an entirely different level from other beef brands: every cut of their beef is judged for quality on 10 factors, which is why no other brand of beef is as tender, juicy, or flavorful! For more Roast Perfect recipes, visit the Certified Angus Beef® brand website.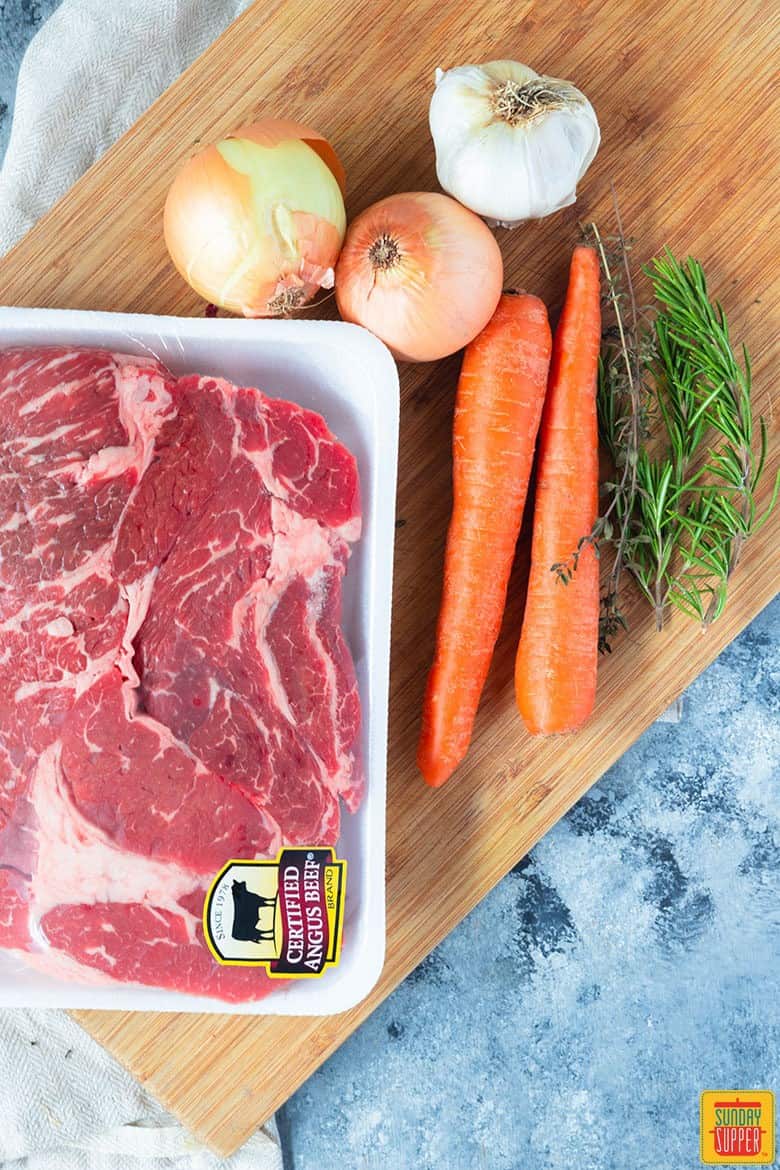 Serving Suggestions for Braised Beef
Now that you know how to braise beef, what braised beef recipe will you prepare first? Here are our serving suggestions for braised beef!
**** Pin HOW TO BRAISE BEEF to save for later ****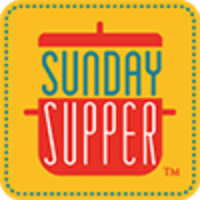 The Sunday Supper Movement is committed to bringing our readers delicious recipes that encourage them to gather and eat together around the family table. Search for your favorite ingredients on our Sunday Supper website. Also check out the Sunday Supper Pinterest boards for plenty more ideas and inspiration.
Sign up for our newsletter to get FREE Sunday Supper recipes delivered right to your inbox!