Can you freeze strawberries? Yes! Yes you can! We're going to show you how to perfectly freeze your own batch of strawberries with our easy guide on How to Freeze Strawberries.
You can celebrate strawberry season all year long! By freezing your own strawberries, you'll save money and you'll always have high-quality berries on hand. It's easy to do, and perfect for all of your favorite strawberry recipes!
Frozen strawberries work just as well as fresh strawberries in your favorite strawberry recipes—especially strawberry dessert recipes or strawberry cocktail recipes. I love to have them on hand!
When is strawberry season?
First things first: when is the BEST time to buy strawberries? Well, that depends entirely on where you are!
Strawberry season shifts depending on which part of the country you are shopping in. In Florida, for example, strawberry season is Winter through early Spring, while in California, strawberry season runs from late Spring through the Fall. Most strawberries in the U.S. are grown in California or Florida, so which side of the country you're on determines the peak time to buy strawberries!
How long do strawberries last?
You can extend the shelf life of strawberries by giving them a quick vinegar bath. The key to keeping strawberries fresh is to kill any spores on the berries. The pH in vinegar does a great job of that.
Follow the directions below to learn how to give your strawberries a vinegar bath and extend their shelf life up to two weeks!
How to Wash Strawberries
To properly wash strawberries:
Place them in a colander and rinse with cold water.
Dry the strawberries immediately by patting them with a paper towel.
A vinegar bath can keep your strawberries fresh longer and ensures they're perfectly clean before freezing, as vinegar is a bacteria killer! For washing strawberries with vinegar, fill a bowl with a 1 to 6 ratio or so of vinegar and water (I find 1/4 cup vinegar and 1 1/2 cups water works well, as recommended by Shari's Berries).
Drop the berries in the mixture and let them soak for a good few minutes, then follow the steps above by rinsing them in a colander with cold water.
Pat them dry. You are ready to freeze your strawberries
Tips for freezing strawberries:
Giving your strawberries a good wash ensures they'll be clean when you freeze them, which is important!
Before freezing strawberries, we recommend washing them off with either of the methods above.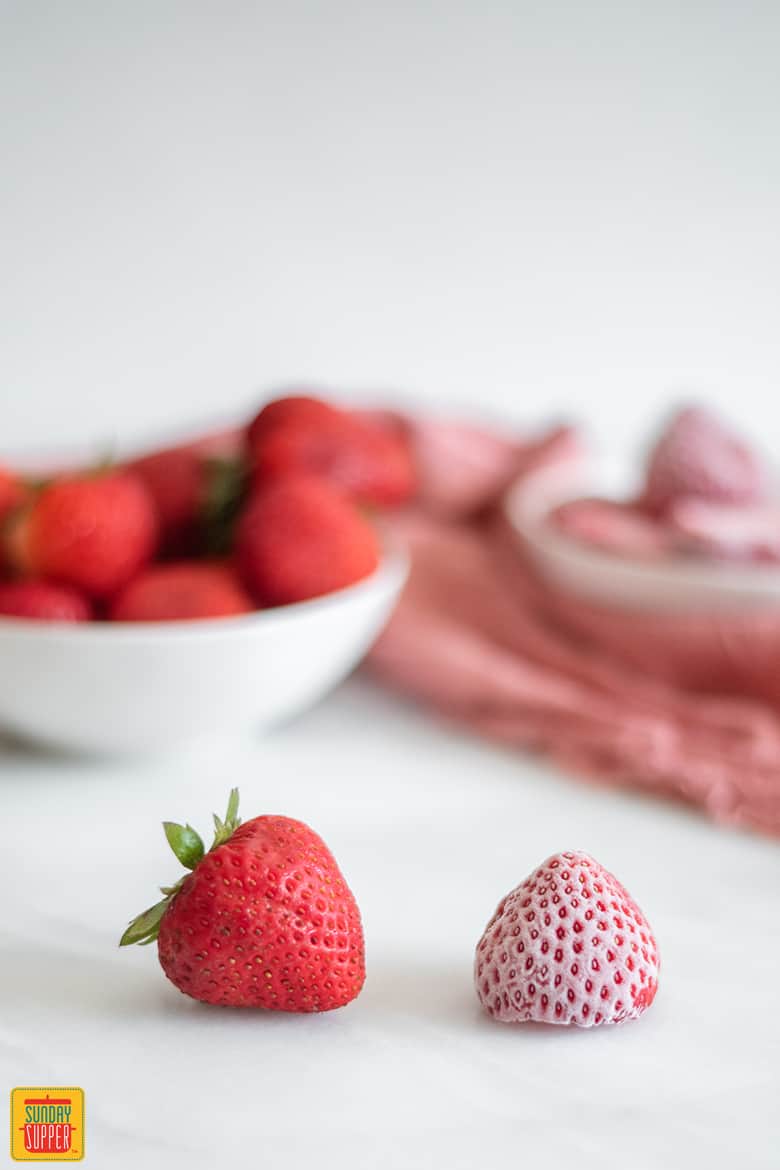 How to Freeze Strawberries
My favorite method of freezing strawberries is to freeze them whole and without any additional sweeteners. Cut off the leaves and stem, and place the strawberries in a single layer on a baking sheet. Place in the freezer until completely frozen before transferring to a ziplock bag. This is an important step so the frozen strawberries don't stick together!
Time needed for freezing: 8 hours.
Ready to Freeze Strawberries? Here's how to do it!
Clean the Strawberries

Rinse the strawberries in a colander and pat dry with a paper towel.

Cut off the leaves and stem

No need to keep those when freezing.

Place strawberries in a single layer on a baking sheet in the freezer until frozen

This helps prevent the strawberries from sticking together, so don't skip this step!

Transfer strawberries to a ziplock until ready to use!

Perfect for all your favorite strawberry recipes.
How to Store Strawberries
Once you've frozen your strawberries, you can simply store them in a ziplock bag in the freezer until you're ready to use them. I like to portion them out into smaller baggies so I can remove just what I need for my frozen strawberry recipes.
For storing fresh strawberries before freezing, you can keep them in a well-sealed lidded container lined with a paper towel. This should ensure your strawberries last a while before you need to freeze them!
Uses for Frozen Strawberries
Once you have your frozen strawberries, there are endless possibilities for what you can make with them! I've pulled together a few ideas below but, if you think of other frozen strawberry recipes that I've missed, make sure to leave me a note in the comments so I can try it out!
Frosé Rosé

Strawberry Dole Whip

Strawberry Shortcake Ice Cream Cake

Homemade Strawberry Sauce
Sign up for our weekly newsletter!
Get free recipes delivered to your inbox every week!
Thank you for joining the Sunday Supper family!
Something went wrong.