Sunday Supper is an Amazon Associate and may receive compensation for purchases made through affiliate links.
When it comes to football party finger food, there's nothing better than classic potato skins made with Idaho® Potatoes! So today, we are going to show you how to make potato skins at home in an easy to follow step-by-step tutorial.
This easy football food is a must at your next tailgate party or to make for your crew during the big game this season.
You see them on the menus at restaurants all the time, but have you ever asked yourself how to make potato skins at home? Making potato skins at home is easy! And the best part is, once the potato "shell" is prepared, you can top them with any filling you like!
We love them fully loaded. So for the tutorial, that's how we are going to show you how to make them. But, you can let your imagination run wild and stuff them with an almost endless combination of fillings!
They make a great addition to your game time grub menu because you can prep the potatoes ahead of time and fill them right before serving. While they are easy to make, making potato skins at home does require a little preparation. So, be sure to plan ahead!
Prepping the Potatoes
Look for the russet variety which is best for potato skins. Find them in the produce section of your grocers.  
Prep the potato skins by starting with a good wash and dry. Make sure you use a produce brush and scrub the potatoes well. Then, inspect them thoroughly. If you see a soft spot or a blemish, you may want to choose another potato.
Once the potatoes are all spic and span, bake them until they are soft. Begin that process by preheating the oven to around 375 degrees to 400 degrees F.
We like to keep the skins soft and pliable, so we prick each potato with a fork a couple of times, then wrap each one up in aluminum foil. Once they are wrapped, they go into the oven straight on the middle oven rack. Bake time will vary with the size of your potato, but as a general rule of thumb, if you can squeeze them easily, they are baked through.
Allow potatoes to cool enough so that they can be easily handled. They do not have to be completely cooled, just enough to handle without burning your fingers. If you are short on time, you can bake your potatoes in the microwave, but we prefer the oven method better.
How to Make Potato Skins
When the potatoes are baked and cool enough to handle, cut each one in half long ways with a sharp knife.
Then using a spoon (we used a metal teaspoon), scoop out the inside pulp to about ¼″ to a ⅛″ from the skin. Be sure to leave enough potato inside to keep the skins sturdy.
Next, preheat your oven to 425 degrees F. Lay the potato skins, cut side down on a baking sheet (skin side up).
Then brush tops with olive oil and give them a good sprinkling of coarse salt ( kosher salt works great for this). Bake them in preheated oven for about 10 minutes. This will help the skins get crispy on the outside!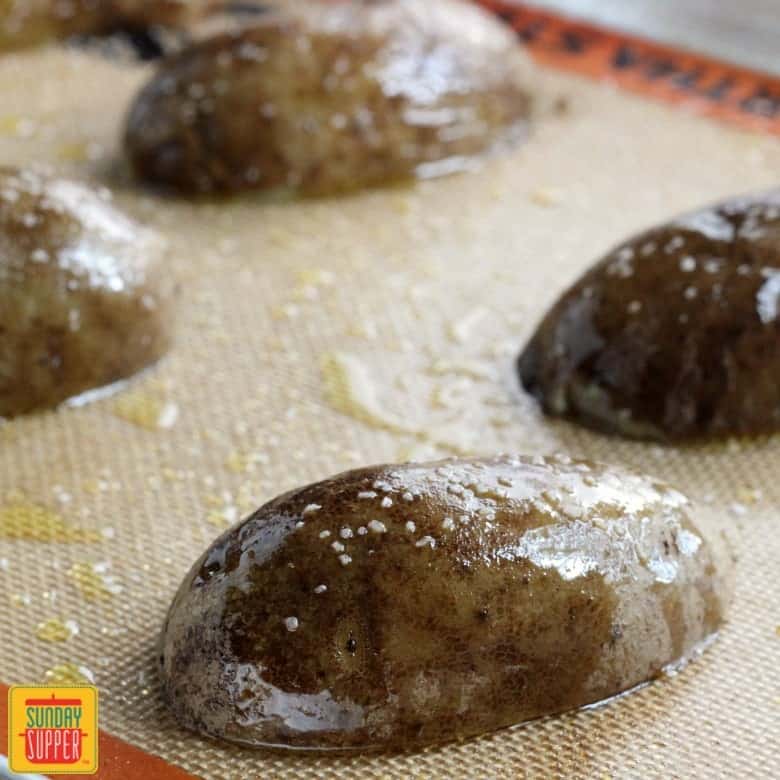 While the skins are crisping up in the oven, gather up whatever fillings you like. We like the classic version, so we're making these skins fully loaded with cheddar cheese, bacon, green onions, and sour cream. YUM!
When the skins are done, take them out of the oven, and flip them over, pulp side up. Season with salt and pepper then top each one with cheese and bacon. Pop them back into the oven for another 5 – 10 minutes, or until the cheese is melted.
Once the cheese is melted, take the potato skins out of the oven and arrange on a serving platter. Then, top each potato skin with a spoonful of sour cream and sprinkle on green onions! Enjoy!
More football food recipes:
Chili Cheese Potato Skins – cheddar cheese, sour cream, and green onions
Fully Loaded Potato Skins – cheddar cheese, bacon, sour cream, and green onions (see recipe below!)
How To Make Potato Skins
When you need easy football food for the big game, make Fully Loaded Potato Skins at home! It's easy! Idaho® Potatoes, cheddar cheese, bacon, sour cream and green onions make this football party finger food irresistible.
Ingredients
4

Potatoes

Baked russet variety, cooled enough to handle (see note 1)

olive oil

kosher salt

to taste

black pepper

to taste

1 ½

cups

cheddar cheese

shredded

½

cup

bacon

fully-cooked and chopped

1

cup

sour cream

¼

cup

green onions

chopped
Instructions
Preheat oven to 425 degrees F.

Cut baked Idaho® Potatoes in half lengthwise. With a small metal spoon, carefully scoop out pulp to within ½″ to ¼″ of skins. (Reserve potato pulp removed for another time).

Lay scooped out potato skins, cut side down, on a baking sheet. Brush olive oil onto the skins and sprinkle with kosher salt.

Bake in oven for 10 minutes.

Turn the skins over, cut side up, and divide cheese evenly between them. Top cheese with bacon on each potato skin.

Return to oven and bake an additional 5 – 10 minutes or until the cheese is melted.

Take out of oven and arrange on serving platter. Garnish with sour cream and chopped green onions.
Notes
We recommend using Idaho® Potatoes for best results
Nutrition
Calories:
210
kcal
Carbohydrates:
14
g
Protein:
8
g
Fat:
13
g
Saturated Fat:
8
g
Cholesterol:
38
mg
Sodium:
177
mg
Potassium:
509
mg
Fiber:
2
g
Sugar:
1
g
Vitamin A:
425
IU
Vitamin C:
13
mg
Calcium:
219
mg
Iron:
3.7
mg
Did you try this recipe?
Tag #SundaySupper on social and leave a comment below!