In this Indian-Spiced Pork Chop Potato Skillet, you cook the chops till tender in a spiced tomato onion sauce. Add potatoes and you have a full meal in one pan.
I've spoken before on my own blog about what an adventurous eater my mom is. Such a role model! She just can't pass a road stand or food stall without trying whatever they are serving up. Of course, being from southern Louisiana, eating spicy is in our blood. But when we moved to Trinidad, the flavors and spices we were introduced to, and that she began to use in her cooking, increased exponentially.
At the ripe old age of five, I was already a curry addict. After three years we moved on to the next country but Mom kept making curry. It was a true family favorite. The meat might vary – beef or chicken or pork -but there had to be potatoes and, since that was the tradition, she served it over white rice.
This recipe isn't strictly a curry but it certainly has many of the same flavors and the same delightful aroma. I adapted it from this Keralan pressure cooker recipe to go with the Keralan appam I made for a Bread Bakers event last week, so I skipped the rice. Appam looks like a lacy crepe and it's made with a fermented rice batter, so I figured I did have rice, just in another form. You can serve it with rice if you want to, but it's a great one-pan skillet meal without it though, thanks to the potatoes!
Indian-Spiced Pork Chop Potato Skillet
This Indian-Spiced Pork Chop Potato Skillet cooks the chops till tender in a spiced tomato onion gravy. Add potatoes and you have a full meal in one pan.
Ingredients
4

thick pork chops – about 225g or 1/2 lb each

3

tablespoon

vinegar

1

teaspoon

sugar

1

teaspoon

salt

plus extra to taste

1/2

teaspoon

freshly ground black pepper

2

tablespoons

olive oil

3

medium 350g before peeling onions sliced thin

2

ripe beef steak or other tomatoes

cored and chopped (about 1 1/4 lbs or 600g whole)

5

medium potatoes

peeled and cubed (about 1 3/4 lbs or 790g whole)

1

stick cinnamon

3

cloves

3

green cardamom pods

1

teaspoon

ground cayenne

1

teaspoon

ground coriander

1/4

teaspoon

turmeric

Chopped green onions or cilantro to garnish

if desired.
Instructions
Use a mallet to pound the meat part of the pork chops flat. Sprinkle them with the vinegar and season with the salt, sugar and pepper. Cover them with cling film and leave to marinate in the refrigerator for several hours, or even overnight.

Heat one tablespoon of oil in your skillet and fry the chops two at a time over a high heat until browned on both sides. This should just take 3-4 minutes a side. Remove the chops to a clean plate.

Drizzle in the second tablespoon of olive oil and add in the onions. Turn the fire down to medium and cook the onions for 5-6 minutes or until softened, breaking apart the slices with your stirring spoon.

Add tomatoes and spices and stir. Return the chops to the pan and cover with a lid. Simmer for 30 minutes, checking occasionally and added more water as needed so it doesn't go dry.

Add in the cubed potatoes and cook for another 15 minutes or so, until the potatoes are tender, adding a little more salt, if necessary.
Pin it!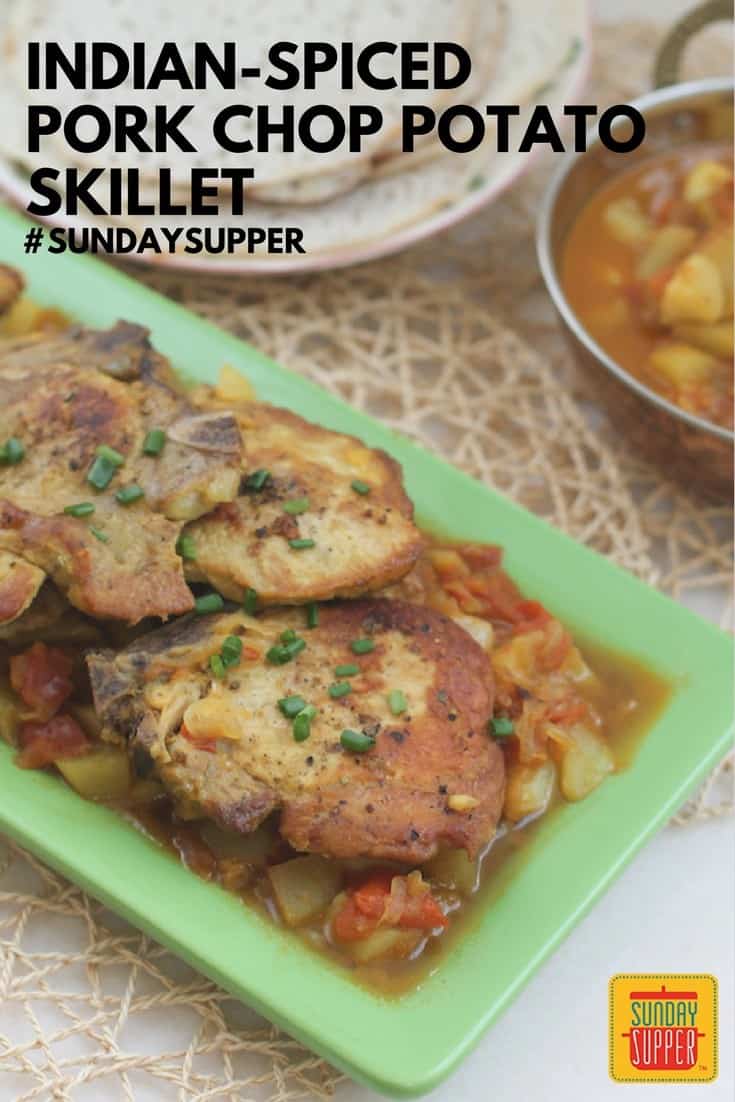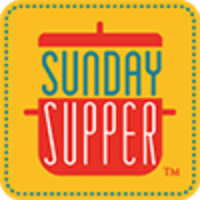 The Sunday Supper Movement is committed to bringing our readers delicious recipes that encourage them to gather and eat together around the family table. Search for your favorite ingredients on our Sunday Supper website. Also check out the Sunday Supper Pinterest boards for plenty more ideas and inspiration.
Sign up for our newsletter to get FREE Sunday Supper recipes delivered right to your inbox!