2017 is going to be fabulous!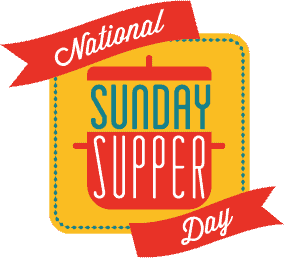 Last year's great inaugural celebration of National Sunday Supper Month in January and National Sunday Supper Day on the second Sunday of the month were everything we hoped they would be, with hundreds of folks taking the pledge to eat together at least once a week in 2016. For 2017, we are planning a delicious kickoff on January 1st, with Easy Supper Recipes. There will be fun activities all month long to celebrate Sunday Supper's 5th anniversary.
We are thrilled that every January is officially a time to honor meals at the family table. Special attention will be paid on Sunday Supper Day, the second Sunday of every January. Isabel Laessig, better know as Family Foodie, is passionate about her family and believes that we can empower our families by nurturing them around the family table. Making a vow to eat together on Sunday evenings soon grows into more family meals.
Don't get too hung up on the formal table. Sunday Supper can be a moveable feast, especially on football days. We do love a tailgate. Go on a picnic or eat in the backyard. Move the meal to Grandma's house every now and then, or maybe even travel to a college kid's apartment. What's important is that your family is together.
Brands joining in on the fun for National Sunday Supper Month and National Sunday Supper Day!
Get Involved with Sunday Supper Month
Take the Sunday Supper Month pledge to spend time around the family table by committing Sunday as family day.
Follow the hashtag #SundaySupper on Instagram for daily tips on how to make mealtime nutritious and fun. Don't forget to join the weekly #SundaySupper chat at 7 p.m. Sundays on Twitter. We will be kicking off the month with a Sunday Supper event that includes dozens of our member bloggers.
Celebrate National Sunday Supper Day on Jan. 8 with a special Sunday Supper event. Check back for more details!
Take our National #SundaySupper Month Photo Challenge and post fun photos of your family, your home and what you are making. Tag your photos #SundaySupper and @SundaySupperFam.
The new year is going to start on a high note, thanks to National Sunday Supper Month. Stay tuned for exciting events and fabulous giveaways by subscribing to our newsletter below! We may also have some surprises along the way…shhhh.
Subscribe to the Sunday Supper newsletter for updates.