Thick rich lemon curd is sweet and tart, perfect for spreading on toast or filling a sponge cake. Or just eating with a spoon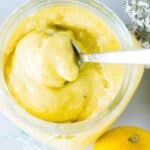 Welcome to part one of a new series, Improve Your Food Photography, with food styling and photography expert, Kita Roberts. Today she talks about the challenges of photographing a mostly monochromatic dish like lemon curd and photo styling with recipe ingredients that help tell its story.
Hi guys, I'm Kita, and I am new to the Sunday Supper space. I have been food blogging since 2010 at Pass the Sushi and launched Girl Carnivore in 2014. I have had a camera in my hand since high school, where I helped run the film photo lab. I took some time off, but in the past few years have reignited my passion for photography and worked to transition from quick snaps of supper to actual photographs that capture the mood, feeling, ambiance, and the story of the dish I am putting in front of you. Most of all, I have worked to build a consistent portfolio of top quality imagery to showcase to a bigger audience.
As I type this, I am sitting in a cafe in Pennsylvania working for the weekend. I have the morning off before I return to event coverage for a restaurant and shopping center that I have been working with for almost two years now. My food blog is my play place, the place where I cook from my kitchen and practice the skills I need for my work as a professional photographer. I think that food blogging is a dynamic job that requires a lot of skills, some that we are challenged to master (unless anyone is willing to be my editor and virtual assistant) and other skills that we need to choose whether to prioritize and to build upon. Photography may not be your thing, and that is ok. Photography may be something you want to learn more about. Either way, I hope that the series of articles we have planned for this space unveils something for you and you leave knowing a little more. Most of all, as always, chime in and let me know. Talking to a notepad in a crowded coffee shop looks cool, but these conversations work best if we all participate and you leave feedback.
When I flip through food magazines and dig for inspiration for my next creation, I look for more than just the recipe. I look at the images and try to see what the story is. The best magazines, images, and artists are showing you more than just a recipe for the basic lemon curd. They are inviting you in and letting you pull a chair up to their space. The food is the star, but creating the environment in which it exists is part of the fundamentals of building the story of the dish, and pulling your readers in, captivating them.
Before we get into the technical, let's start covering some basic things. What makes good photos? Good light and pretty things. Today, I am using some homemade lemon curd as the pretty thing.
Lemon curd. Wow, that's not exactly the most photogenic thing, albeit, delicious. Lemon curd is one of the most delightful things you can create, but it's a thick mass and requires a container, which causes reflections and dang, it can be hard to capture.
So what do you do?
Go back to the story. With a recipe for lemon curd, it's a chance to build a story in the details.
Vanilla Bean Lemon Curd
Thick rich lemon curd is sweet and tart, perfect for spreading on toast or filling a sponge cake. Or just eating with a spoon
Print
Pin
Ingredients
5

large egg yolks

3/4

cup

sugar

4

lemons

zested and juiced

1

vanilla bean

pinch

of salt

8

tablespoons

butter
Instructions
Whisk the egg yolks and sugar in a heavy bottomed pan until pale and frothy.

Add the lemon juice and zest.

Carefully, with a sharp knife, split the vanilla pod in half.

Scrape the paste from the inside and add to the egg mixture.

Add the pod and a small pinch of salt as well.

Heat the mixture over medium heat, stirring constantly until it has thickened and coats the back of a spoon with a thick rich layer.

Remove from heat and whisk the butter in, one tablespoon at a time until it is has melted smoothly into the curd.

Allow to sit for 20 minutes before removing the vanilla pod.

Cover, with plastic wrap directly touching the surface, and chill until set, or at least one hour.
Notes
Preparation/cooking time does not include chilling.
Nutrition
Calories:
190
kcal
|
Carbohydrates:
24
g
|
Protein:
1
g
|
Fat:
12
g
|
Saturated Fat:
7
g
|
Cholesterol:
30
mg
|
Sodium:
101
mg
|
Potassium:
75
mg
|
Fiber:
2
g
|
Sugar:
20
g
|
Vitamin A:
360
IU
|
Vitamin C:
28.6
mg
|
Calcium:
17
mg
|
Iron:
0.3
mg
You only have three or four photos to showcase your finished dish (though; your blog may have step by step in between). Let's focus on one killer shot of the finished curd (all thick and amazing and waiting to be slathered on top something, but let's be honest, hard to showcase through the lens), and build upon the images by filling in space with the simple natural ingredients that create the curd. Leverage the lemons, eggs, sugar to tell the story. These details are the simple things you can add to make the photos feel real.
Because lemon curd is fresh and bright, I used a marble slab, white bounce, and background to really build a clean frame for the overall story. I fill in the negative space with fresh lemons and light airy baby's breath. These items aren't arbitrary; I am trying to create an image that highlights the freshness of everything and the season without needed to explain anything further. Let the picture do it.
That's all this shot is. Two pieces of foam core and fresh ingredients.
Before we delve into the heavy mechanics of the camera, let's work on framing some really great shots. Next time you set your imaginary little table for your readers, look at the picture and ask yourself if everything you have picked to showcase in it tells the story of the dish. Do the garnishes fit? Are the items filling the frame a part of the story and do they build upon it or are they just there because the scene felt empty. Use the space in the frame to create the environment that the dish exists in. Is it a warm, comforting soup scene with thick textiles and heavy dishes or a light, airy macaron that is delicate and soft?
Think about these things and show me how you can build this scene – tag me on Instagram for feedback and let's work on these photos together!
Can't wait to talk more about photography with you soon!
Sign up for our weekly newsletter!
Get free recipes delivered to your inbox every week!
Thank you for joining the Sunday Supper family!
Something went wrong.