This post may contain paid links. If you make a purchase through links on our site, we may earn a commission.
Everyone loves a good picnic and we have the best picnic food ideas to make your day complete. Picnic food for kids needs to be easy to prepare and oh so delicious!
Pack the perfect picnic food recipes with picnic essentials and amazingly tasty food! From simple sandwiches to homemade pasta salad, these simple picnic food ideas are just what you need for a fun day outside.
What to Bring to a Picnic
When you're packing for a fun day outdoors, don't forget these picnic essentials! These items are just as important as easy picnic food. Follow this checklist to make sure you have everything you need in your picnic basket for a stress-free trip:
Disposable utensils, plates, and cups
Trash bags for easy cleanup
Roll of paper towels, napkins, or a few kitchen towels
Baby wipes or hand sanitizer
A small cutting board and knife
Bottle opener
Cooler for cold drinks, or thermoses
Ice packs for cold food
Bags or containers for food
Extra seasoning and condiments
Picnic blanket
Bug spray
Sunscreen
We also recommend bringing first aid supplies, just in case. And for an extra fun day, don't forget to take pictures (and share them with us on social media, we would love to see your picnic fun)!
Picnic Food Ideas
Whether you're in the mood for easy summer appetizers, finger foods, simple sandwiches, homemade pasta salads, or the perfect drink to take on a picnic, we've collected the best picnic food ideas to make it easy for you!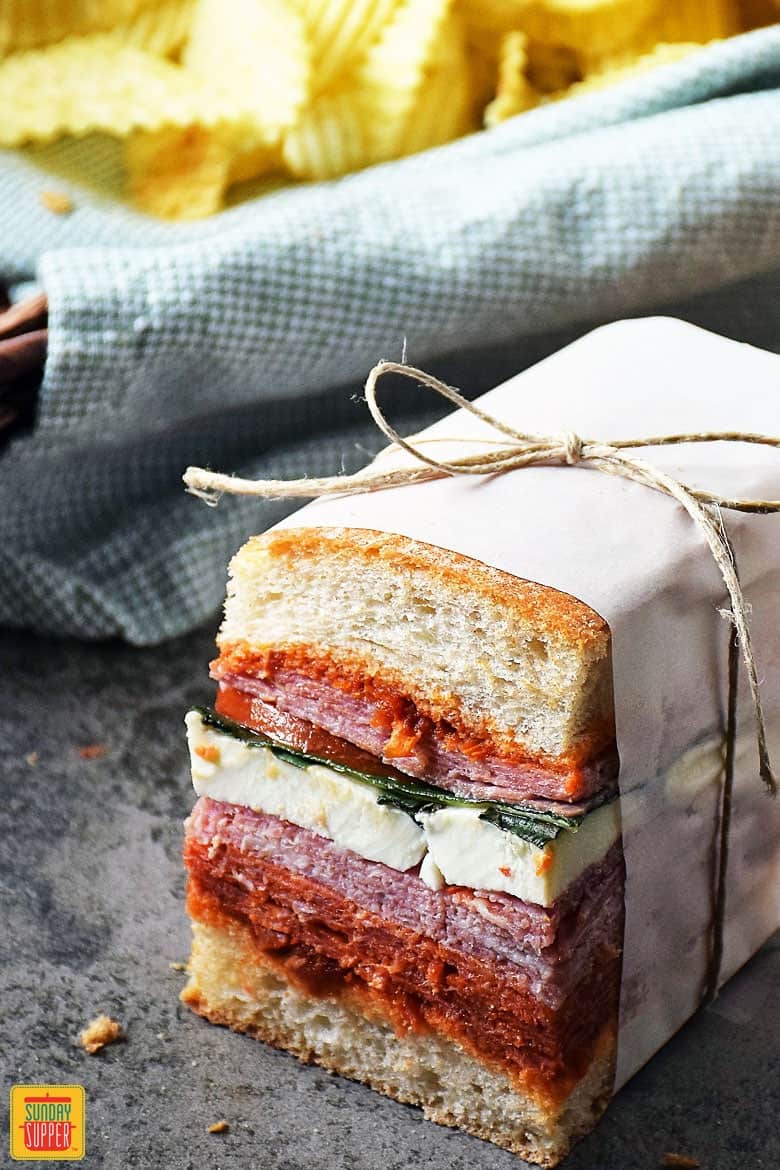 Italian Pressed Sandwich
Deli meats and cheese stacked between hearty ciabatta bread makes for a delicious Italian Pressed Sandwich! This on-the-go simple sandwich recipe is a must for any picnic basket.
Cold Chicken Spinach Pasta Salad
It isn't a picnic without homemade pasta salad! Try this Cold Chicken Spinach Pasta Salad from Carmy. It's an easy meal prep recipe perfect for a picnic!
Spanish-Style Potato Salad
Spanish Potato Salad gets its incredible flavor from smoked paprika and Spanish olives! Try it out and we know it will quickly become one of your favorite picnic foods.
Indian Street Tacos
Beyond Mere Sustenance packs her picnic basket with these Indian Street Tacos with Grilled Shrimp! They're made with garam masala, lime marinated shrimp, and a mango and tomato salsa. Yum!
Curry Chicken Salad Sandwich
Girl Heart Food makes a Curry Chicken Salad Recipe with Apple that is absolutely one of our favorite picnic food ideas. We love the incredible flavor in this chicken salad sandwich recipe!
Lemon Orzo Pasta Salad
With plenty of bright greens, crumbled feta cheese, and fresh lemon dressing, this Lemon Orzo Pasta Salad is easily one of our favorite picnic side dishes.
Vegan Bhaji Burger
Little Sunny Kitchen makes a Vegan Bhaji Burger that's out of this world! Red onion, sweet potatoes, and carrots give this easy burger recipe its incredible flavor. This is easily one of our favorite picnic food suggestions.
English Tea Sandwiches
Beautiful English Tea Sandwiches are one of our favorite sandwich ideas for lunch. They are easy picnic finger foods you'll want in your basket!
Chocolate Chip Cookie Bars
It's important to pack picnic food for kids, too! That's where these Chewy Chocolate Chip Cookie Bars from Little Sweet Baker come in to save the day. Of course, we know for a fact the adults are going to love these chocolate chip bars, too!
Creamy Orange Fruit Salad
The Cozy Cook makes this Creamy Orange Fruit Salad with mandarin oranges, pineapple, coconut, and orange-flavored cool whip! Don't forget the cherry on top. We love this ambrosia salad for a picnic!
Watermelon Mint Lemonade
Cool off with this Watermelon Mint Lemonade! Made with sweet watermelon, tart lemon, and a hint of mint, this watermelon lemonade recipe will be the hit of the picnic.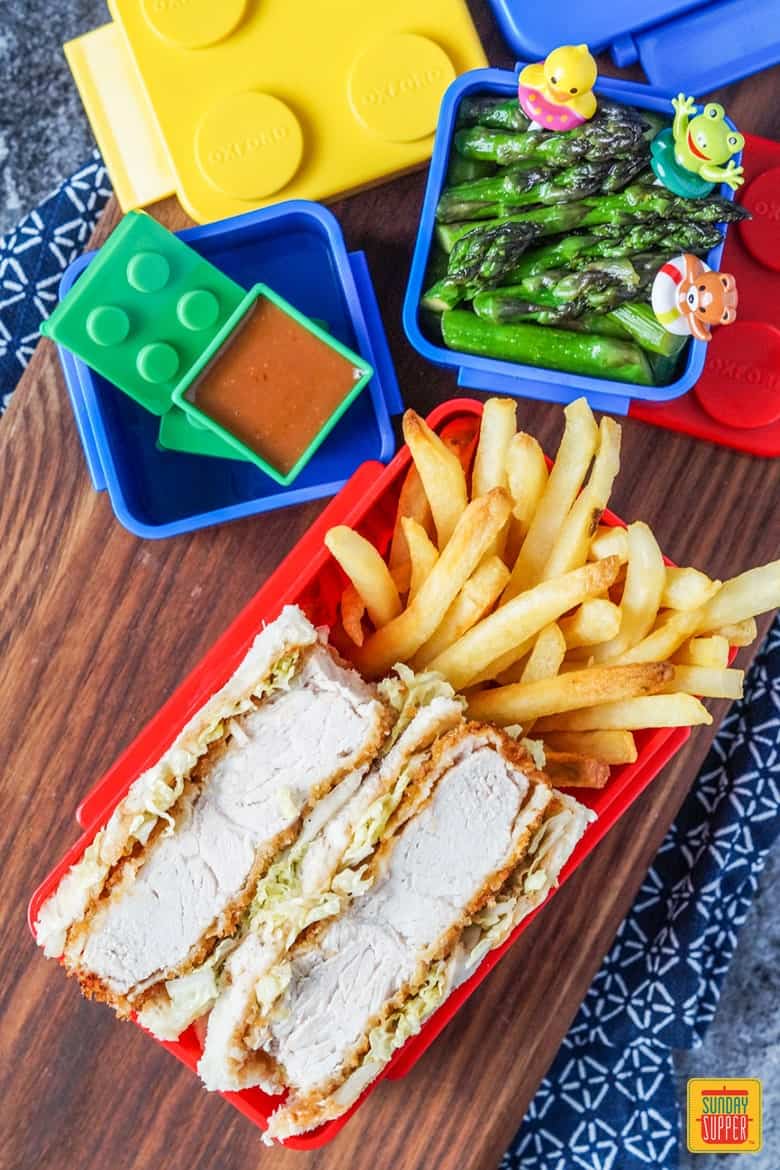 Katsu Sando (Japanese Pork Cutlet Sandwich)
The best part about this Japanese Katsu Sando is that you can dress it up or down for children and adults alike! Fried panko-crusted pork and a tangy Katsu sauce make this one of the best picnic foods around.
Shortcut Skillet Fried Chicken
What would a picnic be without fried chicken? This Shortcut Skillet Fried Chicken recipe from Food Meandering is a delicious addition to any picnic basket, and definitely one of our picnic essentials.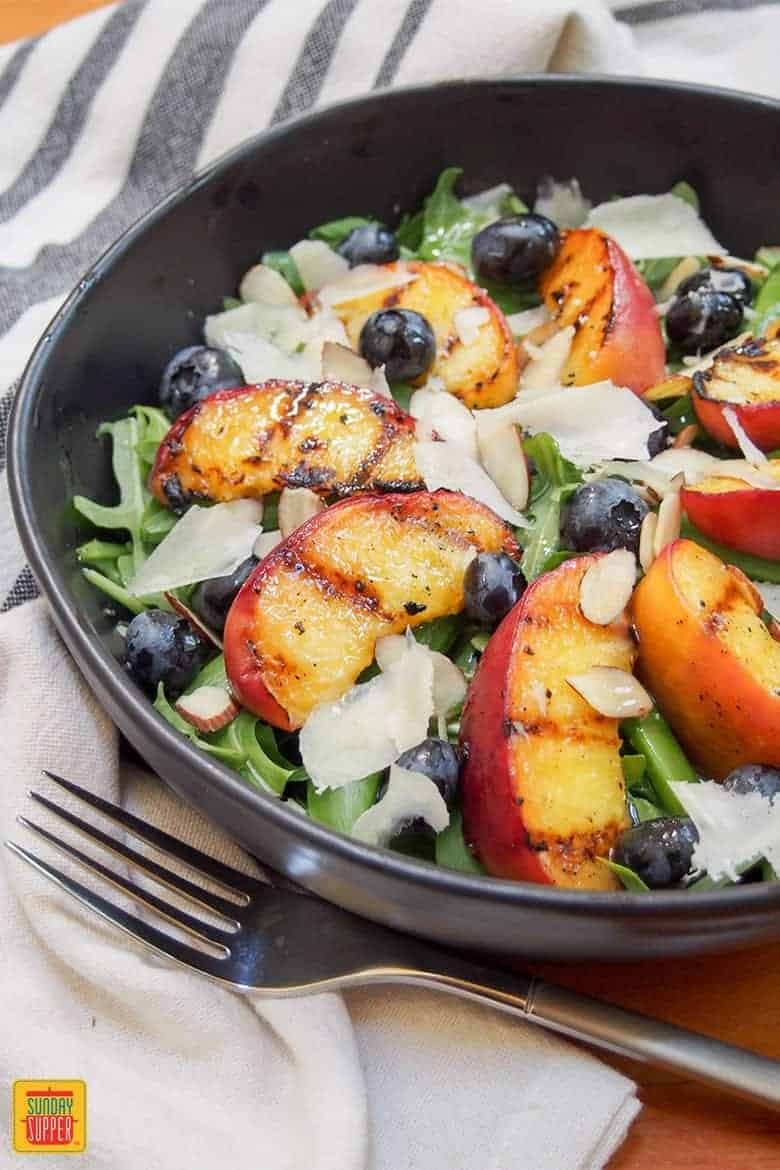 Grilled Peaches Salad
Nothing says summer like fresh peaches! Combine your favorite summer flavors with this Grilled Peaches Salad recipe. It's a light, flavorful, and easy picnic food! Don't have peaches? Try making it with pineapple!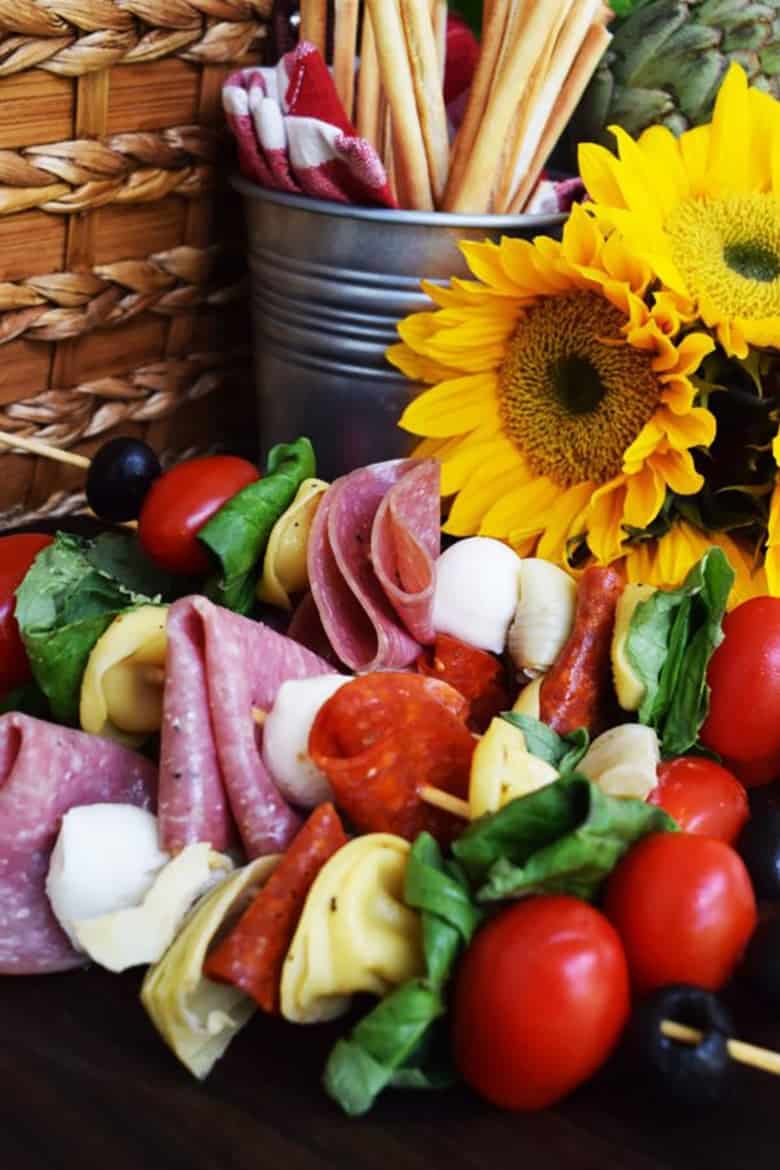 Antipasto Skewers
These Antipasto Skewers, made with tortellini, salami, pepperoni, mozzarella, and more in a zesty Italian dressing, are the perfect simple picnic food! Grab the recipe from Soulfully Made.
Strawberry Quinoa Feta Salad
Bright, easy to make, and delicious, this Strawberry Quinoa Feta Salad is one of our favorite cold picnic foods. It's a colorful strawberry salad recipe we know you'll love!
Keftedes – Greek Meatballs
These Keftedes – Greek Meatballs – from Supergolden Bakes are one of our favorite easy picnic foods! They're both crispy and juicy, and pair deliciously with tzatziki or a Greek Cauliflower Rice salad.
Jalapeño Popper Deviled Eggs
For us, no picnic basket is complete without deviled eggs. We love these Jalapeño Popper Deviled Eggs for any occasion, but especially picnics! This is a staple on our picnic food list, and we think it will be on yours, too!
Lemon Blueberry Muffins
Homemade Lemon Blueberry Muffins from A Baking Journey is one of our favorite easy snack ideas for picnics! We love these homemade muffins, especially topped with lemon blueberry glaze.
Try these other picnic food ideas!
For more simple picnic foods you'll love, try these recipes:
What are your favorite picnic food suggestions from this list? Let us know your picnic essentials in the comments below!
This post was updated on November 12, 2019.