For today's Weekday Supper, our Sunday Supper contributor, Kim Watkinson shares a tangy maple-roasted carrot salad and her review of Ina Garten's latest cookbook, Cooking for Jeffrey.
Emmy award-winning, New York Times bestselling author and cook, Ina Garten aka the Barefoot Contessa has delivered another sensational read and round of recipes! Cooking for Jeffrey is her latest cookbook. Or shall I say love story interspersed with sensational recipes? The cookbook is dedicated to her brilliant husband, Jeffrey Garten. (former dean of the Yale School of Management, White House foreign policy consultant to numerous presidents, Lehman Brothers Asian development maestro, and former board member of Toyota … You get the picture.)
"Cooking is one of the great gifts you can give to those you love." ~Ina Garten
In Cooking for Jeffrey, Ina Garten describes the first meeting with her future husband at Dartmouth College. And the awkward first date. She details the wonders of exploring food in France … and cooking in tents! Ina Garten treats us also to insights of moving from her cushy White House job to fame as the Barefoot Contessa.
The tone of Cooking for Jeffrey is as genuine as the black-and-white photos of the twosome. Fans of the Barefoot Contessa Food Network TV show will immediately recognize her humble yet eloquent expression. If (for some strange reason) Ina Garten's voice and demeanor do not draw a reader or viewer in, her recipes will.
For many moons, I've been a Barefoot Contessa fan. I love her Plain Pound Cake. The cake is anything but plain. Surprisingly, the pound cake reminds me of Castella. (A cake introduced to the Japanese in the 1600s by the Portuguese.) It's slightly denser but the notes of luxurious butter bring me back home to Tokyo. My rendition is at NinjaBaker.com.
Another fave is her Banana Cake from Ina Garten's How Easy Is That? The banana is not overpowering. Lightness informs the moist cake. Frosted with chocolate, Ina Garten's banana cake is sheer perfection.
I'm looking forward to making Pecan Rum Raisin Ice Cream and the Vanilla Cream Cheese Pound Cake from Cooking for Jeffrey. However, I decided to start with a healthy choice: the Maple-Roasted Carrot Salad.
Like the Japanese tea ceremony, the Maple-Roasted Carrot Salad commands consideration. No short cuts. Love is poured into preparation of the freshest ingredients. Leafy tops are snapped off of carrots. Once scrubbed clean, the star of the salad is caressed in olive oil. Oven time is diligently watched. After several gentle tosses in the pan, Grade A maple syrup is poured on. Oranges are squeezed to combine with cranberries. Goat cheese, arugula and almonds round off the recipe.
There is a rhythm to Ina Garten's Maple-Roasted Carrot Salad. I resisted at first. Sort of like fidgeting on the straw tatami mat in front of the tea master. Somehow I surrendered. Or did the process envelop me?
It was refreshing to breathe in the fresh-from-the-farm carrots. (Instead of bland pre-cut baby carrots.) After squeezing oranges, an aroma of citrus floated through the kitchen. Even grating garlic with a microplane was a pleasure. Contemplating the pungent bulb, it made me appreciate how little things can carry great power.
My husband is a big garlic fan. Guaranteed happiness. A swell of pride tickled my chest. I wasn't scooping up ready-made chopped garlic. He was going to get the freshest and best of everything with this salad.
Before serving Ina Garten's Maple-Roasted Carrot Salad, I took a big bite. It is a good thing that the recipe yields generous portions. I echo the Barefoot Contessa's sentiments: "This (Maple-Roasted Carrot Salad) may be my favorite salad ever."
Like the Japanese tea ceremony, bitter is tempered by sweet. Bold arugula follows a bite of orange. At the masterful hands of the Barefoot Contessa, another parade of flavorful ingredients adds complexity to her Maple-Roasted Carrot Salad. (Wonder if a nuclear energy expert in the Ford White House rubbed off. Ina Garten's Maple-Roasted Carrot Salad is a combustion of deliciousness.)
The dance of kosher salt, orange juice and cranberries and homemade salad dressing is also absolutely superb. Again, bold flavors contrast with subtle ones. Goat cheese bits and Marcona almonds add interesting textures too. Soft, crunchy, salty, slightly chewy … supercalifragilisticexpialidocious delicious!
Making everything with fresh ingredients improves taste. Memo to self: Extra time washing and cutting fresh veggies is worth it! (And rewarding to receive the ultimate praise from my husband, "Very tasty.") Never would I dream of baking a chocolate cake with second-rate chocolate. Perhaps that habit of using only the freshest and best can translate to savory dishes.
Speaking of chocolate, on my to-do list along with the aforementioned desserts is the Barefoot Contessa's Devil Food Cake with Coffee Meringue Buttercream. It's the deliriously delicious looking cake on the cover of Cooking for Jeffrey. There is an equally delectable photo alongside the recipes for the cake and frosting.
Are you a foodie with a penchant for cookbooks with colorful photos of divine desserts and dishes? Cooking with Jeffrey is for you. Fans of Food Network's The Barefoot Contessa will appreciate her personal stories, too. As one who is fascinated by history and successful people, I was inspired by Ina Garten's path to fame. Jeffrey was apparently the instigator of the Barefoot Contessa's career in food. "It was Jeffrey who encouraged me –'Pick something you love to do. If you love it, you'll be really good at it.'"
Ina Garten is very good at sharing her heart and recipes. Hopefully; there will be a Cooking for Jeffrey Part 2 soon! Meanwhile, make sure you scroll down and enter the lucky draw to win a copy of this one.
Maple Roasted Carrot Salad
Wow your friends with this delicious Maple Roasted Carrot Salad
Print
Pin
Comment
Servings:
4
as a light meal, 6 as a side dish
Ingredients
2

pounds

carrots

preferably with leafy tops

Good olive oil

Kosher salt and freshly ground black pepper

1/4

cup

pure Grade A maple syrup

2/3

cup

dried cranberries

2/3

cup

freshly squeezed orange juice

2 oranges

3

tablespoons

sherry wine vinegar

2

garlic cloves

grated on a Microplane

6

ounces

baby arugula

6

ounces

goat cheese

such as Montrachet, medium-diced

2/3

cup

roasted

salted Marcona almonds
Instructions
Preheat the oven to 425°F.

Trim and scrub the carrots. If the carrots are more than 1 inch in diameter, cut them in half lengthwise. Cut the carrots in large diagonal slices 1 inch wide 2 inches long (they will shrink when they roast) and place in a medium bowl with 1/4 cup of olive oil, 1 teaspoon salt, and 1/2 teaspoon pepper.

Toss well and transfer to two sheet pans. (If you use just one, they'll steam instead of roasting.) Roast for 20 minutes, tossing once, until the carrots are tender.

Transfer all the carrots to one of the sheet pans, add the maple syrup, toss, and roast for 10 to 15 minutes, until the edges are caramelized. Watch them carefully! Toss with a metal spatula and set aside for 10 minutes.

Meanwhile, combine the cranberries and orange juice in a small saucepan, bring to a simmer, then set aside for 10 minutes.

In a small bowl, combine the vinegar, garlic, and 1/2 teaspoon salt.

Whisk in 3 tablespoons of olive oil.

Place the arugula in a large bowl and add the carrots, cranberries (with their liquid), goat cheese, almonds, and the vinaigrette.

Toss with large spoons, sprinkle with salt, and serve at room temperature.
Notes
©Ina Garten 2016 - Published by permission.
Nutrition
Calories:
838
kcal
|
Carbohydrates:
58
g
|
Protein:
93
g
|
Fat:
25
g
|
Saturated Fat:
11
g
|
Cholesterol:
250
mg
|
Sodium:
508
mg
|
Potassium:
2390
mg
|
Fiber:
8
g
|
Sugar:
41
g
|
Vitamin A:
39420
IU
|
Vitamin C:
40.9
mg
|
Calcium:
250
mg
|
Iron:
4.3
mg
Editor's note: This recipe is printed courtesy of the publisher. No compensation was received from the publisher for the review. Links to Cooking for Jeffrey: A Barefoot Contessa Cookbook are affiliate links.
Many thanks to the publisher Clarkson Potter who is sponsoring one copy of this wonderful cookbook for a giveaway, open to US residents only. Please check out the book on Amazon and leave a comment on the post – What recipe from Cooking for Jeffrey would you try first? – to enter. The rafflecopter has several options for earning more chances to win! The more you do, the better your chances. No purchase necessary. The winner will be notified by email. If the winner does not respond in 48 hours, an alternate winner will be selected.
Weekday Supper recipes are great for when life gets busy!  It's easy to find them. Search the #WeekdaySupper hashtag across social media or click here for more on our Sunday Supper website. Also check out the Weekday Supper Pinterest board for plenty more ideas and inspiration.
And sign up for our newsletter to get great recipes delivered right to your inbox every Thursday!


Pin the giveaway!
Pin the recipe!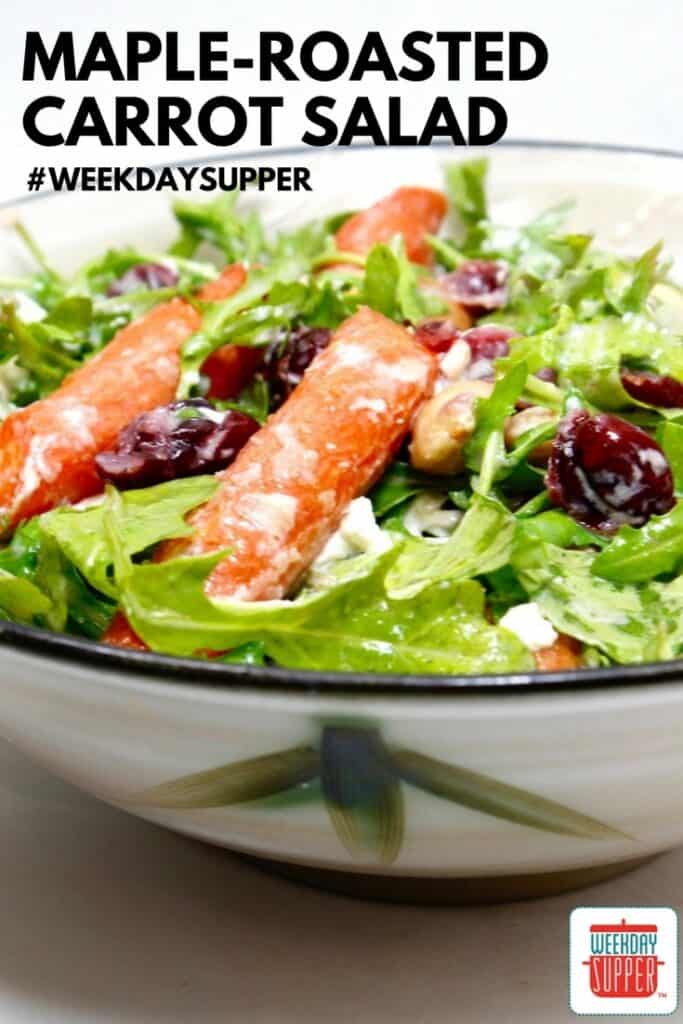 Sign up for our weekly newsletter!
Get free recipes delivered to your inbox every week!
Thank you for joining the Sunday Supper family!
Something went wrong.