In this meatless dish, mashed cauliflower helps mask a vegetable that often turns noses, and the chewy, meaty texture of roasted portobellos satisfies your most carnivorous eaters.
Mashed Cauliflower and Arugula Stuffed Portobellos
by Run DMT
Ingredients:
1/4 cup olive oil
4-6 large cap Portobello mushrooms
5 ounces arugula
1 teaspoon fresh garlic, minced
1 head of cauliflower
1/4 cup parmesan cheese, grated
Salt and pepper, to taste

For more easy and fresh meal options to fit your busy schedule, check out this week's #WeekdaySupper menu.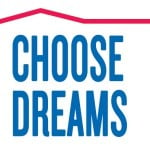 We are partnering with American Family Insurance for the #ChooseDreams initiative. For even more inspiration, follow the Family Favorites Turned Healthy #ChooseDreams Pinterest board, or connect with American Family Insurance on Facebook, Twitter, Pinterest, Google+, YouTube, or LinkedIn!