Bright, fresh strawberries take the lead in these Fresh Strawberry Desserts! Fresh strawberry recipes are perfect for adding a little color to the table in winter or springing into summer with everyone's favorite berry!
Fresh strawberries are easy to use in your favorite dessert recipes thanks to their natural sweetness! These fresh strawberry desserts are always favorites, and make some of the easiest desserts.
From chocolate-dipped strawberries to strawberry ice cream cake, fresh strawberries make up some of the best desserts. Even strawberry swirl cheesecake uses fresh strawberries in the easy homemade strawberry sauce!
Best Desserts with Strawberries
Desserts with strawberries are the best way to simplify dessert and let fresh flavors shine! What could be better than bright, fresh strawberries in easy dessert recipes with few ingredients?
From chocolate-dipped strawberries to tart, pie, and even cake recipes, these strawberry dessert recipes are some of the easiest desserts to make. Desserts are a great way to use more of everyone's favorite berry!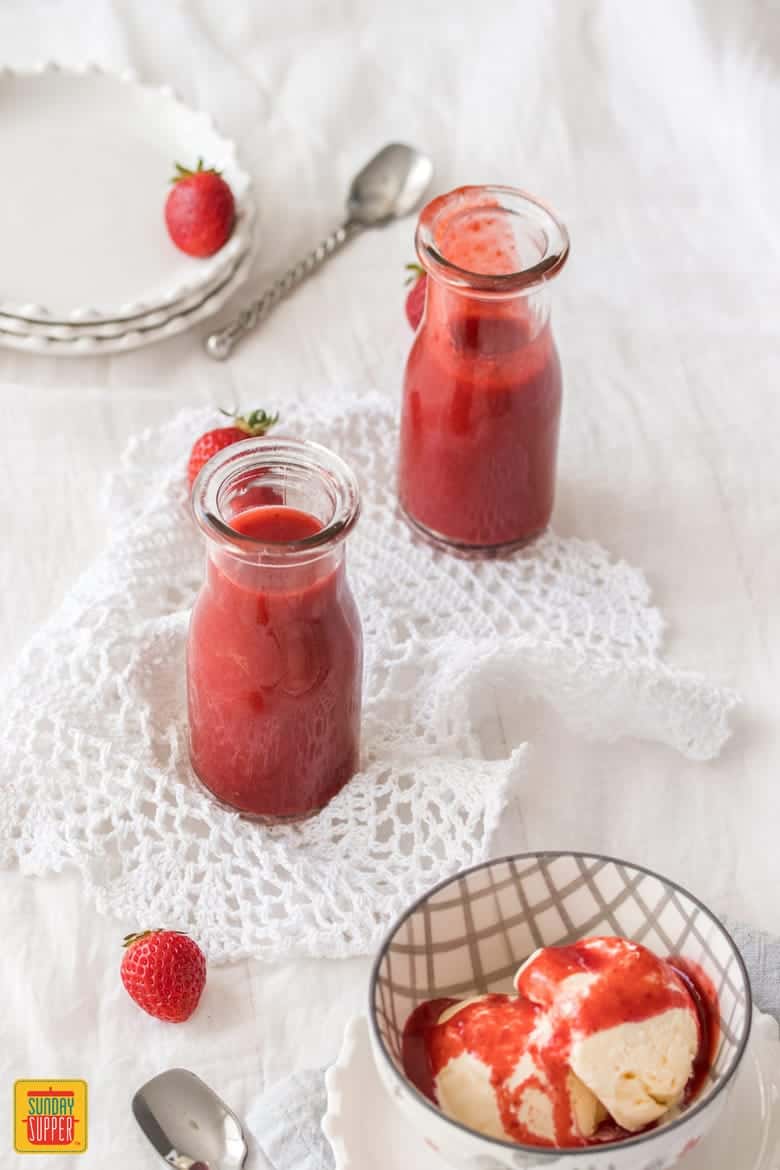 My personal favorite is our homemade strawberry shortcake biscuits recipe! The taste of fresh strawberries with whipped cream in homemade shortcake biscuits is irresistible.
Anyone of these fresh strawberry desserts brightens up the table! Try our strawberry swirl cheesecake for the holidays, or easy dole whip recipe to cool down for the summer.
No matter what time of year it is, these easy strawberry dessert recipes are the best around!
Fresh Strawberry Desserts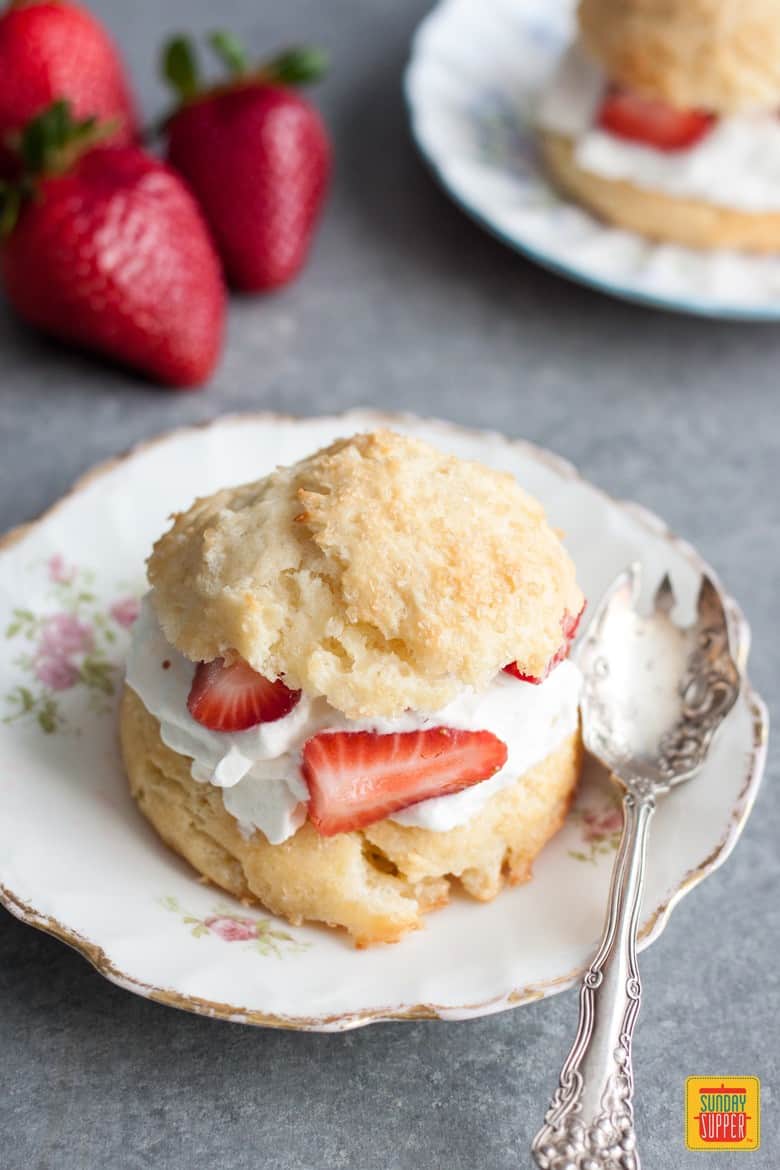 Best Homemade Strawberry Shortcake Biscuits
Strawberry shortcake biscuits are one of the easiest desserts you can make using fresh strawberries! This delicious homemade strawberry shortcake recipe is filled with fluffy whipped cream and sweet, juicy strawberries.
After trying these homemade strawberry shortcake biscuits, you'll never want to buy strawberry shortcake at the store again. This is my favorite of all of our strawberry dessert recipes. It's so simple, and the flavor of the fresh berries really shines!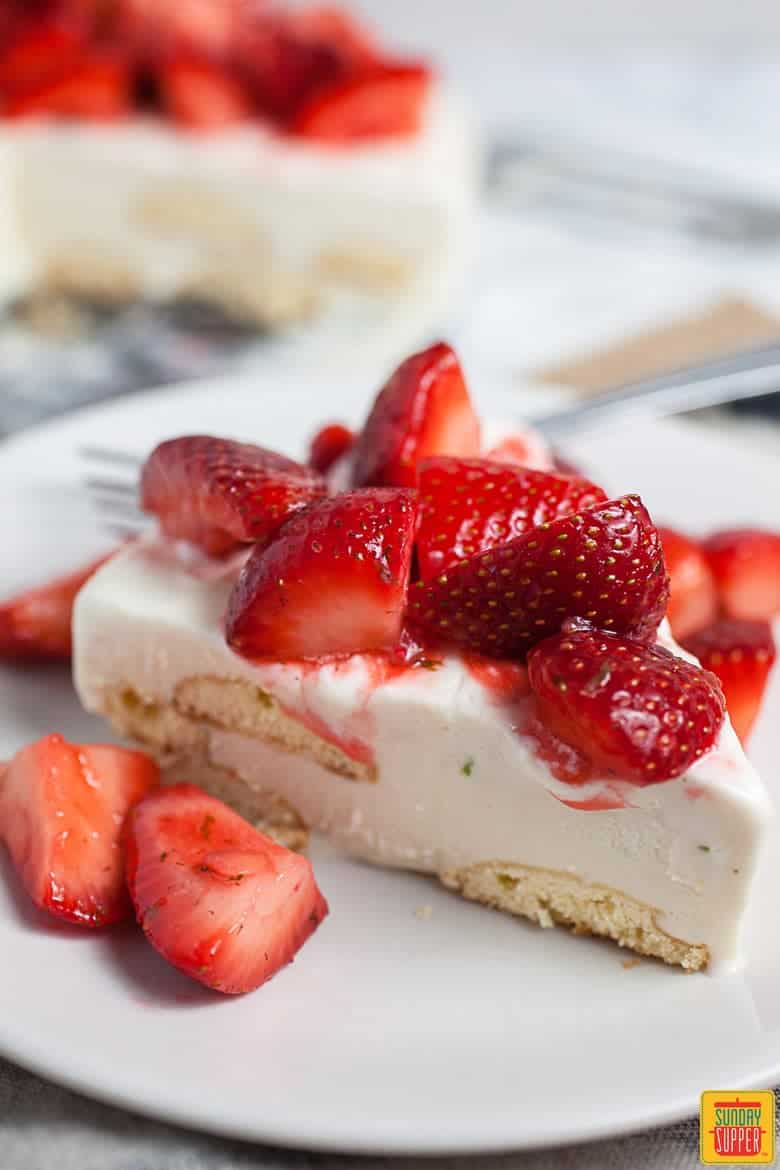 Easy Carlota de Limón
Sweet and tangy Carlota de Limón is a NO BAKE Mexican dessert recipe with layers of Maria biscuit cookies, condensed milk, dulce de leche, and lime juice!
Top it off with fresh strawberries soaked in lime juice and zest, and this Charlotte Russe-style dessert is irresistibly good.
Decadent Strawberry Swirl Cheesecake Recipe
Beautiful strawberry swirl cheesecake with fresh homemade strawberry sauce is irresistible! This is one of our favorite strawberry dessert recipes for its decadence and elegant appearance.
Everyone loves this strawberry cheesecake recipe! It's an easy cheesecake recipe anyone can make, even if you're a total beginner. Plus, the flavor from our strawberry sauce recipe paired with fresh strawberry slices is just amazing!
Strawberry Ice Cream Shortcake
This cake is for all you strawberry shortcake and ice cream lovers! Strawberry Shortcake Ice Cream Cake is the most delicious combination of strawberry ice cream and strawberry shortcake.
The best part? This is an easy no-bake strawberry dessert! You can make Strawberry Ice Cream Shortcake with just a few simple ingredients and no oven. This is one of our favorite fresh strawberry desserts for birthday parties!
Homemade Strawberry Dole Whip Disney Recipe
This easy strawberry no-bake dessert recipe has just two ingredients: strawberries and milk! Homemade Strawberry Dole Whip is just like the classic Disney dole whip recipe, but with fresh strawberries.
Since this is a no-bake strawberry dessert, it's one of the easiest desserts you can make, too! All you need is a blender.
Low Carb Cake with Strawberry Glaze
Everybody loves this low carb cake with strawberry glaze! This easy strawberry recipe is one of our favorite healthy strawberry desserts.
It's super simple and low carb, so you can treat yourself to something nice while keeping up with your goals. Cake on a low carb diet is possible with this easy strawberry dessert recipe!
Strawberry Dump Cake with Bananas
Quick and easy strawberry dump cake with bananas is a miracle dessert – seriously! You can prepare it with hardly any effort in under an hour. The result is delicious!
Dump cake is one of the easiest desserts you can make, and this one is one of our all-time favorite fresh strawberry desserts. Strawberries and bananas go together deliciously in this easy dump cake recipe!
Chocolate Covered Strawberries
Follow our guide on how to make chocolate-covered strawberries, and you'll have an amazing, easy strawberry dessert recipe in no time!
You can make these easy chocolate-dipped strawberries in less than 10 minutes with just two ingredients. You could even follow this guide using our ganache recipe!
Strawberry Lemon Cake (Gluten-Free)
Rich strawberry lemon cake has strawberry syrup and frosting that makes it extra special. Plus, it's gluten-free!
You are going to love this easy gluten-free cake recipe with fresh strawberries. It really is that delicious! It's perfect for a gluten-free birthday cake or for any party with gluten-free guests.
Fresas con Crema Recipe
Fresas con Crema is an easy Mexican strawberries and cream dessert we know you will love!
Rich and smooth Mexican sweet cream with fresh, vibrant strawberries and orange juice and zest. This easy, no-bake dessert recipe is easily one of our favorites!
Spider-Man Web Berry Dessert
One of the easiest dessert recipes you could ever possibly make! And so wholesome, too. With three types of fresh berries, this easy strawberry dessert recipe is a great choice.
Kids love this simple strawberry dessert!
How to Keep Strawberries Fresh
Store fresh strawberries in a paper towel-lined air-tight container in the refrigerator for about 7 days.
When ready to use your fresh berries, wash them under cold water in a colander. Do not cut off the green leaves (calyx) until ready to use.
Freezing Strawberries
Follow our guide on How to Freeze Strawberries to easily freeze and store your berries to use all year long. You can make even more use out of your fresh strawberries by freezing them!
Home-frozen strawberries are perfect for these fresh strawberry desserts, too, or work wonderfully for frozen desserts and strawberry smoothies!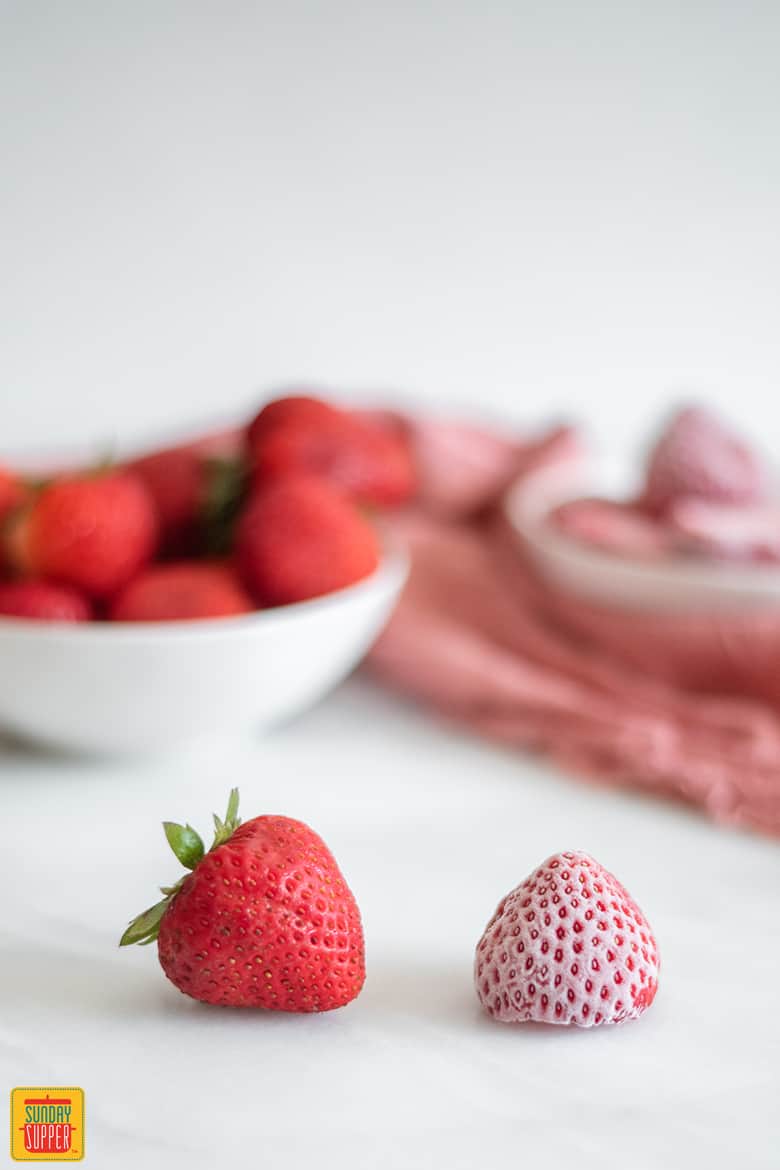 📌 Pin Fresh Strawberry Desserts:
Which one of these fresh strawberry desserts is your favorite? It's hard to choose from these easy strawberry dessert recipes!
We would love to know what your favorite is. Let us know in the comments below! Or, snap a pic and share your favorite recipe with us on Pinterest by following the pin link above.
Other Fresh Strawberry Recipes to Enjoy
Fresh strawberries are good in everything from breakfast to dinner! Here are some of our favorite ways to use strawberries for breakfast:
And try some of our favorite strawberry salad recipes:
More of the Easiest Desserts
Looking for more easy desserts? Here are some of our easiest dessert recipes: