Sunday Supper is an Amazon Associate and may receive compensation for purchases made through affiliate links.
Peach vs Nectarine: What makes them different? Summer wouldn't be complete without peach cobblers and pies. Every year, I look forward to peach season and the arrival of these plump, juicy, and nectareous fruits. They are delicious as is and wonderful in all kind of dishes, both sweet and savory. In this post, learn about the differences and similarities between Peach vs Nectarine. Which is your favorite?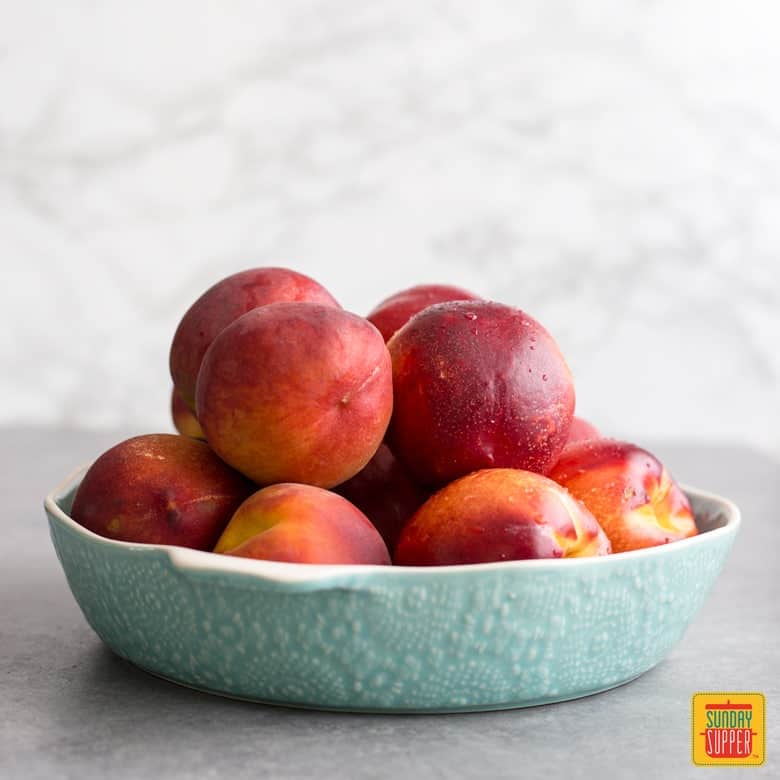 Growing up in Vietnam, I am used to seeing the white peach variety with very fuzzy skin. It's not surprising that peaches are popular in Vietnam as the fruit is native to its neighboring country, China. However, there are hundreds of peach varieties grown and flourished in the United States, along with thousands of varieties globally. And among these are the nectarines.
Peaches and Nectarines are the same species even though commercially they are labeled as different fruits. They both belong in the rose family, along with the cherry, apricot, almond and plum, all the stone fruits. Hence, peaches and almond go wonderfully together.
The Difference between Peach vs Nectarine
The main difference between a peach and a nectarine is the physical appearance. Peaches have fuzzy skin and nectarines have smooth shiny skin. Genetic studies suggest that nectarines have a recessive gene variant, whereas peaches have a dominant gene variant for fuzzy skin. Besides this, they are a lot more alike than different.
The Similarities between Peach vs Nectarine
Both peaches and nectarines come in white and yellow varieties as you can easily spot them in the market. They both can be freestone where the flesh removes easily from the pit or clingstone where the flesh clings securely to the pit. When ripe, they give off a wonderful fragrance and you can easily tell the difference between ripe and unripe. Peaches and nectarines smell and taste the same with such subtle differences that you really won't be able to tell, and therefore can be used interchangeably in cooking.
I've always been partial to white peach since that's the kind I grew up eating. However, when baking and cooking, I will choose yellow peach and nectarine since they add a nice color to a dish. But if you're not doing it for looks, just choose the best fruit you can find for the tasty recipes below.
Delicious Peach Recipes
More about Peaches
📌 Pin it for later!
Did you enjoy this page? Save it on Pinterest for later!