Sunday Supper is an Amazon Associate and may receive compensation for purchases made through affiliate links.
As a mom, one of my joys has been to pass on my kitchen skills to my girls. Some things they learn but do reluctantly, some they come to own. Sometime in her early teens, my elder daughter became the resident pie crust maker. If I needed a pie crust, I'd just ask, and she'd make it for me. It was a system that worked fabulously for many years, until she left home for university.
Suddenly I was back to making my own crusts again. And that was no bad thing. As a pie baker extraordinaire Kate McDermott says, it is a meditation. You just can't rush a flakey pie crust, especially if you live in normally hot places like I do.
For some reason, pie is one of those things that seem to divide the baking world. Some of us get it, some of us don't. Fortunately, Art of the Pie is for all of us. Experienced pie bakers will love the creative recipes and the fresh ways to crimp or vent. But starting from the (17-page!) introduction, Kate's rules for pie making and life are the calm and knowledgeable words of a wise woman as well as an experienced pie baker. Her instructions regarding measuring ingredients and the equipment you'll need are thorough. I'm pretty sure even a nervous pie maker would relax at Kate's reassuring "you got this" tone.
Chapter one is all about pie dough. Kate shares seven all-purpose flour dough recipes, six gluten-free dough recipes, and two she calls crumbly and sweet, with tips for making each the best it can be. There's even a vegan gluten-free option. Now everybody can eat pie!
Moving on to Chapter two, Kate is equally as informative about fruit, sweeteners, seasoning, and thickeners. I've been baking pies for years and now I have another thickener in my stash – tapioca – which is particularly good for fruit pies. She shares recipes for fruit fillings that can be made into traditional or hand pies.
The chapters that follow are The Quintessential Apple Pie; A Berry Pie for Julia, Sweet as a Peach (and Other Stone Fruits); Old-Fashioned Rhubarb and Citrus Pies; Creamy, Nutty, Cool and Yummy; and, finally, Savory Supper Pies.
I love the stories that are interspersed between the recipes, especially the one that introduces A Berry Pie for Julia, about Kate's afternoon with Julia Child. By the time I closed the book – yes, I read cookbooks all the way through like novels – I felt I knew Kate as a friend. A friend who was going to show me how to improve my own pies and keep everything chilled, especially myself.
You may also like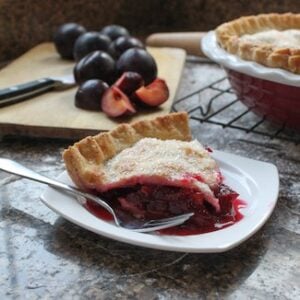 Perfect Plum Pie
This Plum Pie is perfection on a plate
🥘 Ingredients
For the dough
2 ½

cups

all purpose flour

½

teaspoon

salt

8

tablespoon

butter, salted or unsalted butter

8

tablespoons

shortening

½

cup

water
For the plum pie filling
6

cups

plums

¾

cup

sugar

¼

teaspoons

nutmeg

⅓

teaspoons

salt

2

tablespoons

Cointreau

⅓

cup

flour

1

tablespoon

quick-cooking tapioca

2

teaspoons

sugar

for sprinkling on top
Egg Wash
1

egg white plus 1 tablespoon

15ml water, fork beaten
🔪 Instructions
To make the pie crust
Put all the dough ingredients but the ice water in a large bowl.

With clean hands, quickly smoosh the mixture together, or use a pastry blender with and up and down motion, until the ingredients look like cracker crumbs with lumps the size of peas and almonds.

Sprinkle ice water over the mixture and stir lightly with a fork.

Squeeze a handful of dough to see if it holds together. Mix in more water as needed.

Divide the dough in half and make two chubby discs about 5 inches (12cm) across.

Wrap the discs separately in plastic wrap and chill for an hour.
To make the filling
Once the dough has been chilled, preheat the oven to 425°F (225°C).

In a medium bowl, place the plums, sugar, nutmeg, salt, Cointreau, flour, and tapioca, and mix until the fruit is well coated.
To roll out the pie crust
Take out the dough discs and let them temper until they feel slightly soft to the touch and easy to roll out. Unwrap one disc and place it on a well-floured board, pastry cloth, parchment paper, or plastic wrap.

Sprinkle some flour on the top of the disc. Thump the disc with your rolling pin several times. Turn it over and thump the other side.

Sprinkle some flour onto the top of the dough as needed to keep the pin from sticking, and roll the crust out from the center in all directions.

When the dough is 1-2 inches (3 to 5 centimeters)larger than your pie pan, brush off the extra flour on both sides.

Fold the dough over the top of the pin and lay it in the pie pan carefully.

Don't worry if the crust needs to be patched together. Paint a little water where it need to be patched and "glue" on the patch piece.
To assemble the pie
Pour the filling into the unbaked pie shell and dot with the knob of butter, cut into pieces. It's okay to tear pieces off with your fingers as well.

Roll out the remaining disc of dough, lay it over the fruit, and cut 5-6 vents on top, or cut strips and make a lattice top. Trim excess dough from the edges and crimp.

Lightly brush some of the egg wash over the entire pie, including the edges.

Bake for 20 minutes at 425°F (220°C).

Reduce the heat to 350°F (175°C) and bake for 30-35 minutes more.

When there are about 10 minutes of bake time left, open the oven, pull the pie out, and quickly and even sprinkle the top of the pie with sugar.

If the filling is not making steady bubbles, turn the heat back up to 450°F (230°C) for 5 minutes to help it along.

If needed, cover the pie loosely with a vented piece of aluminum foil, shiny side down, before you turn the heat up.

Remove the pie from oven and cool as long as you can before serving, so the filling can set up.
Nutrition
Calories:
331
kcal
Carbohydrates:
55
g
Protein:
4
g
Fat:
11
g
Saturated Fat:
3
g
Sodium:
196
mg
Potassium:
193
mg
Fiber:
2
g
Sugar:
26
g
Vitamin A:
340
IU
Vitamin C:
9.4
mg
Calcium:
11
mg
Iron:
1.8
mg
Did you try this recipe?
Tag #SundaySupper on social and leave a comment below!
Sign up for our newsletter to get great recipes delivered right to your inbox every Thursday!


Pin it!