Sunday Supper is an Amazon Associate and may receive compensation for purchases made through affiliate links.
Most people know about Chinese New Year (and if you'd like to know more, especially about the food, see this post we shared a couple months ago), but have you heard of Nowruz, the Persian New Year?
Nowruz (from now meaning "new" and ruz meaning "day" or originally "light") is the celebration of the Spring Equinox.
Photos by Caroline Williams
It originates in Iran, but is celebrated by a number of countries in the region, and is recognized by the UN. You'll find events for the festival in a number of major cities around the world, but even if you don't have one near you, you can enjoy some of the foods for Nowruz at home.
One classic is Persian herb rice with fish, sabzi polow mahi, which combines some of the most symbolic foods for Nowruz into a delicious, fresh and healthy meal. I am sharing that recipe today.
Nowruz is an ancient tradition, and as such the way it is celebrated varies from one place to another, but there are some things that are common.
Spring cleaning, various festivities, visiting family and neighbors and a decorative centerpiece in homes and public places (Haft Seen in Iran) are part of most. Foods also vary, but many are symbolic such as eggs representing fertility, herbs for rebirth and fish for life.
The various visits to friends and family are often accompanied by cookies and other sweet treats. Legend goes that one of the Persian kings discovered sugar on Nowruz.
In fact, our word candy comes originally from the Persian word qand or cane sugar.
Along with the Persian herb rice with fish, a Persian herb frittata called Kuku sabzi, a noodle soup, is typical for the first day of Nowruz. Dolme barge mo, stuffed grape leaves, are an Azeri tradition for just before Nowruz.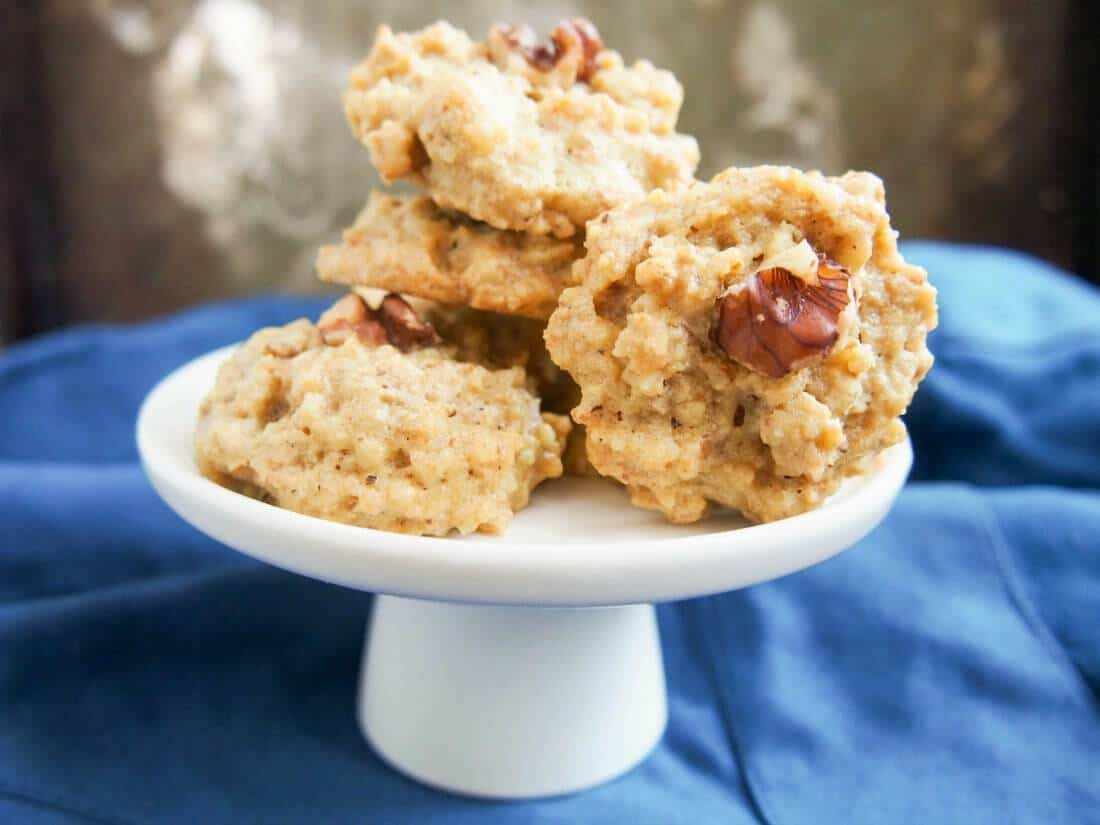 Persian herb rice with fish is easier than you might think and the perfect way to celebrate Nowruz, or just have a really tasty Weekday Supper, or even Sunday Supper.
The fish part varies a lot from one house to another – smoked fish is quite common, while others bake or fry.
I've gone for pan-frying fish fillets dredged in a seasoned flour for some delicious, complementary flavors and colors. It's both easy and tasty.
It seems the more traditional way to cook the rice is to layer the rice and herbs, but I went for the easier and quicker mixing through.
One of the classic aspects of many Persian rice dishes is a crust on the bottom of the pan, that becomes the top when you tip it out, and there's a little of that here that is a lovely contrast to the tender fish and soft rice below.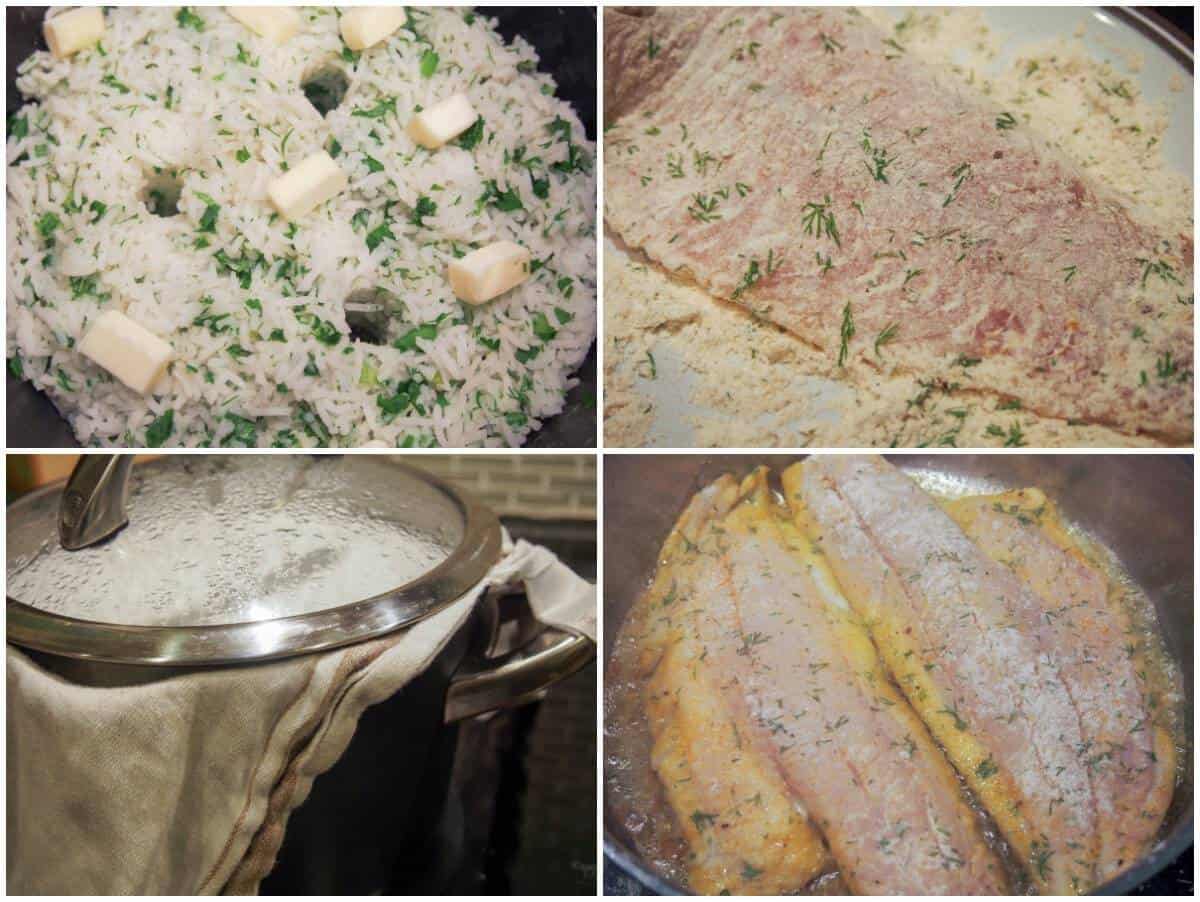 Colorful, flavorful, and something the whole family can enjoy, sabzi polow mahi makes a great dinner. I know we will definitely be having again.
Persian Herb Rice with Fish – Sabzi Polow Mahi – for Nowruz
Persian Herb Rice or Sabzi Polow is a traditional Iranian dish usually served with fish, especially on Nowruz, the Persian New Year.
🥘 Ingredients
For rice –
1

cup

long grain/basmati rice

2

tablespoons

finely chopped cilantro

2

tablespoons

finely chopped parsley

2

tablespoons

finely chopped dill

2

tablespoons

finely chopped green onions/scallions

or chives

1

teaspoon

salt

1 ½

tablespoons

olive oil or vegetable oil

1

tablespoon

butter

cut into chunks
For fish –
1.25 – 1.5

lb

firm fish fillets

e.g. pollock, haddock (salmon would also work – I used pollock)

2

tablespoons

flour

¼

teaspoon

salt

or part/all garlic salt

¼

teaspoon

pepper

¼

teaspoon

turmeric

1

teaspoon

finely chopped dill

2 ½

tablespoons

vegetable oil
🔪 Instructions
Wash the rice well in a number of changes of water until the water is almost clear when you rinse (around 4-5 changes of water). Finely chop the herbs and set aside.

Boil a pot of water, at least 3 cups, and add the salt and the rice. Cover and bring to a boil, reduce heat so that the pot doesn't boil over and cook for around 5 minutes.

Test the rice – it should be a little soft on the outside but still firm inside or al dente. Drain in a colander and mix through the herbs.

Return the pot to the heat and warm the oil over a medium heat.

Put the herbed rice into the pot and make three holes in the rice to allow steam to escape. Dot the butter on top, put a cloth over the pan to catch the steam then cover with a lid. Reduce the heat and cook on low for around 30-40 minutes.

Meanwhile, mix together the flour, salt, pepper, turmeric and dill on a plate. Dredge the fish fillets in the seasoned flour on both sides and shake off any excess.

Warm the oil in a large skillet and cook the fish for around 5min on each side, depending on thickness of fillets, until cooked through.

To serve the rice, try to cover the pan with a plate and invert it so you get the crust on top, or else make sure you get the crust from the pan to enjoy alongside everything else.
Nutrition
Calories:
153
kcal
Carbohydrates:
4
g
Protein:
1
g
Fat:
16
g
Saturated Fat:
12
g
Cholesterol:
10
mg
Sodium:
1002
mg
Fiber:
1
g
Sugar:
1
g
Vitamin A:
115
IU
Iron:
0.3
mg
Did you try this recipe?
Tag #SundaySupper on social and leave a comment below!