The name Pickled Strawberry Cocktail is a clue to the not-so-secret ingredient in this unique strawberry cocktail recipe: pickled strawberries! If you are ever unsure about strawberry cocktails because you find them too sweet, then this is the drink for you. The pickled strawberries add a layer of complexity, but it's still full of fruity strawberry flavor. It's a deliciously drinkable way to toast any occasion.
This post is sponsored by Florida Strawberry in conjunction with a social media campaign through Sunday Supper LLC. All opinions are my own.
I know some areas have warmth all year long, but for those of us in the North, this time of year is when we start to get excited to not have to wear a winter coat every day. I love the plants starting to come through and add some much-needed color to our landscape. I also like to introduce some brighter, lighter meals to our menu and get more in the mood for cocktails. And what better way to add some brightness than with a fresh Florida cocktail?
This time of year we get a little sad knowing Florida Strawberry season is coming to an end. But fear not, we have lots of delicious ideas to help you preserve your Florida Strawberries and enjoy those delicious berries all year long.
Florida strawberry season runs from December to April, so now is the perfect time to stock up and preserve them to use in recipes all year long. Strawberries are great in drinks, adding both delicious flavor and color. And while you're at it, why not treat yourself to some strawberry tiramisu or try our strawberry panna cotta recipe alongside a glass. There are many more tasty strawberry recipes to try below as well.
Pickling Strawberries
Pickling isn't just for cucumbers! Pickled strawberries are deliciously sweet and tangy as well as versatile. You can use pickled strawberries in any number of ways to top ice cream, sandwiches, or even in a cocktail recipe like my Pickled Strawberry Cocktail. Pickling strawberries is an easy way to preserve strawberries for future use. To pickle strawberries, you simply submerge the fresh strawberries in a vinegar solution. It really is quick and easy to do!
I found this Bon Appetit recipe for pickled strawberries which seemed like a great base for experimentation. As well as this basic combination, you can also add herbs, vanilla, or make them a little sweet. Then use the pickled strawberries in a whole range of dishes, from salads to desserts and of course drinks.
Freezing Strawberries
Freeze your Florida Strawberries before making this strawberry cocktail. To freeze you want to first wash the strawberries and then remove the green tops, also known as hull the strawberries. For this strawberry cocktail recipe, you may slice the berries before freezing or freeze the strawberries whole. Using frozen strawberries for this strawberry cocktail recipe eliminates using ice which can water down the cocktail.
Pickled Strawberry Cocktail Recipe
Once you've made your pickled strawberries, this strawberry cocktail is really quick and easy to make. Simply put everything in a blender, and blend until smooth. This isn't as sweet as many strawberry cocktail recipes, but for me, that's a good thing. There's a little tang from the pickled strawberries, but also the fragrant fruity goodness you'd expect from strawberries as well. The simple spirit combination is based on some daiquiri combinations and works perfectly with the strawberries.
This Pickled Strawberry Cocktail is a delicious way to toast the end of Florida Strawberry season, not to mention you'll have some pickled strawberries to enjoy year round. So get pickling, freezing and blend up a strawberry cocktail for yourself – Cheers to the Weekend!
Pickled Strawberry Cocktail
This strawberry cocktail is a little different from your average sweet strawberry drink. A little more complex flavor, but full of strawberry goodness.
Keyword:
strawberry cocktail recipe
Ingredients
1

cup

Florida Strawberries

frozen

1/2

cup

strawberries

pickled

2

oz

white rum

2

oz

triple sec

1

tbsp

sugar

1

tbsp

lime juice
Instructions
Place all of the ingredients in a blender and blend until smooth. Divide between two glasses. If you like, line the rim of the glasses with sugar first by rubbing the edge of the glasses with lime, sprinkling some sugar on a small plate and then dipping the rim of the glass in the sugar.
Recipe Notes
We recommend using fresh Florida Strawberries with the Bon Appetit recipe for pickled strawberries, linked above - they can be made between 1 and 5 days ahead. Just use the actual pickled strawberries, not the pickling juice - it can be used for eg salad dressings.
Nutrition Facts
Pickled Strawberry Cocktail
Amount Per Serving
Calories 212
% Daily Value*
Sodium 3mg 0%
Potassium 165mg 5%
Total Carbohydrates 24g 8%
* Percent Daily Values are based on a 2000 calorie diet.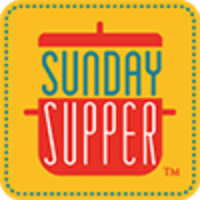 The Sunday Supper Movement is committed to bringing our readers delicious recipes that encourage them to gather and eat together around the family table. Search for your favorite ingredients on our Sunday Supper website. Also check out the Sunday Supper Pinterest boards for plenty more ideas and inspiration.
Sign up for our newsletter to get FREE Sunday Supper recipes delivered right to your inbox!