Sunday Supper is an Amazon Associate and may receive compensation for purchases made through affiliate links.
Try the most Popular Thanksgiving Dishes by putting together one of my best Thanksgiving menu ideas! These perfectly tuned Thanksgiving menus make it easy to prep your holiday dinner ahead of time. Whether you want a classic menu or you want to try something new this year, I have all the best Thanksgiving recipes lined up for you!
Jump to:
Best Thanksgiving Menu Ideas
Every year for Thanksgiving, I like to change up my menu from the usual and experiment with new ways to cook turkey and ham, along with serving fresh side dishes and desserts.
I'm sure you can relate when I say my favorite part of the holidays is spending extra time with my family and friends, so having my menu prepped ahead of time is a must!
That's exactly why I've put together these Thanksgiving menu ideas to share with you. These are my most popular Thanksgiving dishes, all compiled into easy menus for you to work with!
I find having a menu at hand eliminates a big chunk of the stress that can come from cooking for the holidays. It's my hope these fun and delicious Thanksgiving menu ideas will spark inspiration and help you cook up a stress-free holiday dinner everyone at the table will rave about!
Thanksgiving Essentials
Before you get started with one of the menus below, take a look at these links and bookmark them! They are totally essential for cooking for Thanksgiving.
Not sure what size bird to buy? I have a handy chart ready for you!
| Size of Turkey | Feeds… | Roasted at 350°F for… |
| --- | --- | --- |
| 10-18 pounds | less than 10 people | 3-3½ hours (unstuffed) |
| 18-22 pounds | 10 to 15 people | 3½-4 hours (unstuffed) |
| 22-24 pounds | 16 to 20 people | 4-4½ hours (unstuffed) |
| 24-29 pounds | more than 20 people | 4½-5 hours (unstuffed) |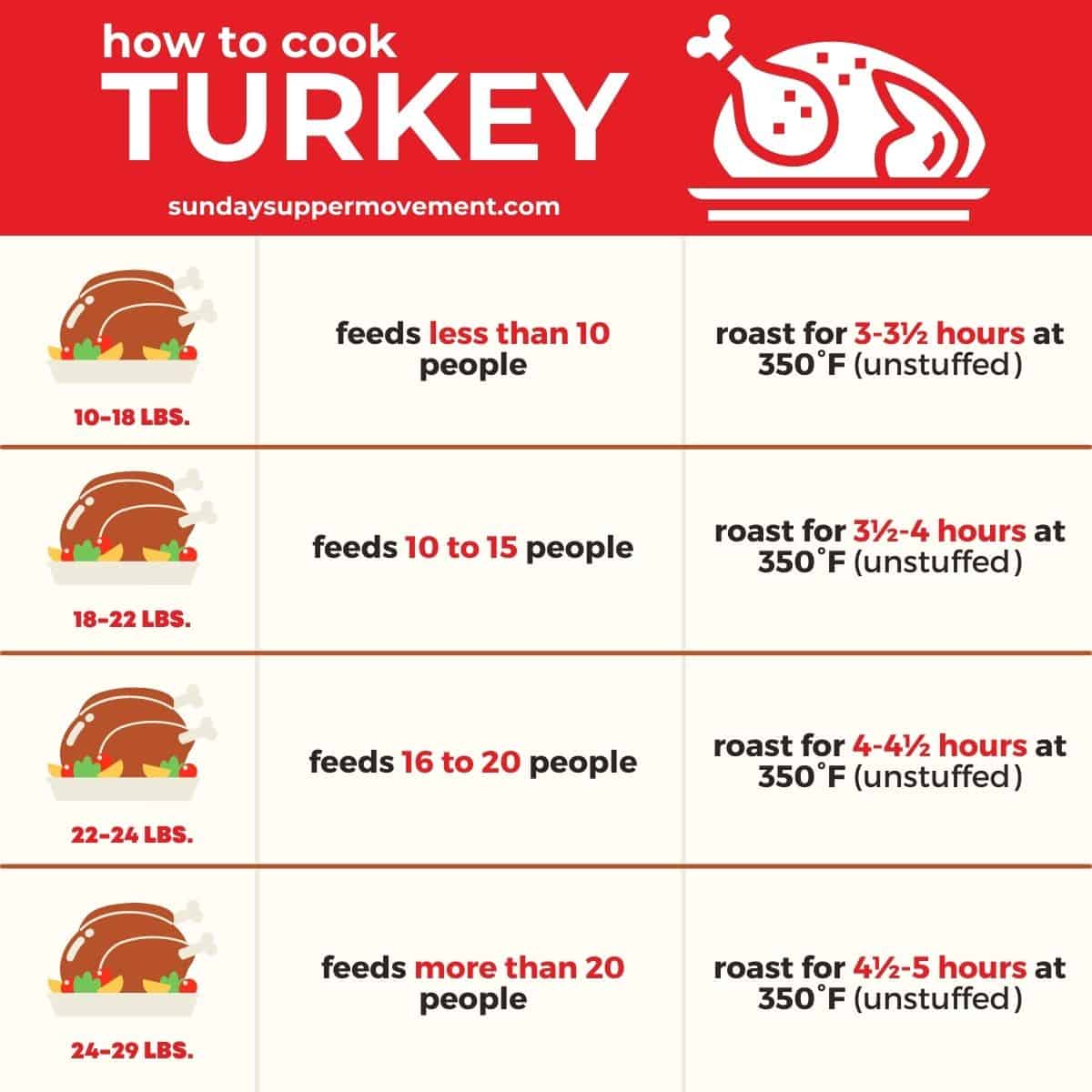 Classic Thanksgiving Dinner
I have the best popular Thanksgiving dishes to create a classic holiday menu! Everyone loves these traditional menu ideas for Thanksgiving. Of course, they all have my own personal spin that makes them extra special. I know you will find a new favorite on this menu!
Turkey
A classic oven turkey recipe with an amazing garlic herb butter spread and citrus stuffing. Truly incredible!
Ham
Honey glazed ham roasted to perfection in the oven. For those who love ham on Thanksgiving, this is the most classic choice!
Sides
Desserts
Thanksgiving on the Grill
Grilling is for more than just the summertime! Living in Florida, I love to grill year-round, especially for the holidays. If you've never had your Thanksgiving on the grill, I highly recommend you give this grilled turkey menu a try.
Turkey
My juicy grilled turkey recipe is perfect for serving Thanksgiving on the grill! It saves room in the oven for you to make your desserts and baked sides, and is so delicious.
Ham
Air fried ham has a crispy skin and the most amazing honey sriracha glaze. It pairs perfectly with all the same sides as grilled turkey and is an excellent choice for ham lovers.
Sides
Desserts
Thanksgiving Dinner for Two
When you want an intimate Thanksgiving dinner for two, this is the perfect menu to follow. Just the right amount of turkey, a good portion of sides, and delectable desserts you and your dinner partner will love.
Turkey
No matter which method you use to make turkey breast, it is the perfect choice for smaller serving size, and it's budget-friendly, too! Each of these three cooking methods make beautiful, delectably moist turkey breast recipes.
Ham
If you're craving ham for your Thanksgiving dinner for two, nothing could be better than my Instant Pot ham recipe with brown sugar glaze. It's my most popular ham dish and is so flavorful! Use a small ham for a small serving size.
Sides
Desserts
Holiday Menu Ideas
For more holiday menu inspiration, take a look at:
Did you try one of my popular Thanksgiving dishes? I would love to hear from you! Leave a comment below and let me know your favorites!
📌 Pin it for later!
Did you enjoy this page? Save it on Pinterest for later!