Who doesn't love a good slider?  Bite-sized, tiny sandwiches, known as sliders, are always fun and satisfy the kid in all of us. Pull apart sliders for a crowd are easy to make and so much fun!


You can take any slider recipe and adapt it to a pull apart recipe. Simply pile all the fixings on the buns and bake a few minutes to heat everything up and melt the cheese.
1. Hawaiian Pizza Pull Apart Sliders

These Hawaiian Pizza Pull Apart Sliders are full of that sweet and salty combination from its namesake, except they're in an easy pull apart slider form. Perfect for an appetizer or a light meal!
2. BBQ Chicken Pull Apart Sliders

BBQ Chicken Pull Apart Sliders are full if tender chicken, delicious barbecue sauce, and Monterey jack cheese.  Not only are these sliders scrumptious but they come together in under 30 minutes making them perfect to feed a large or small crowd.
3. Turkey Sliders Recipe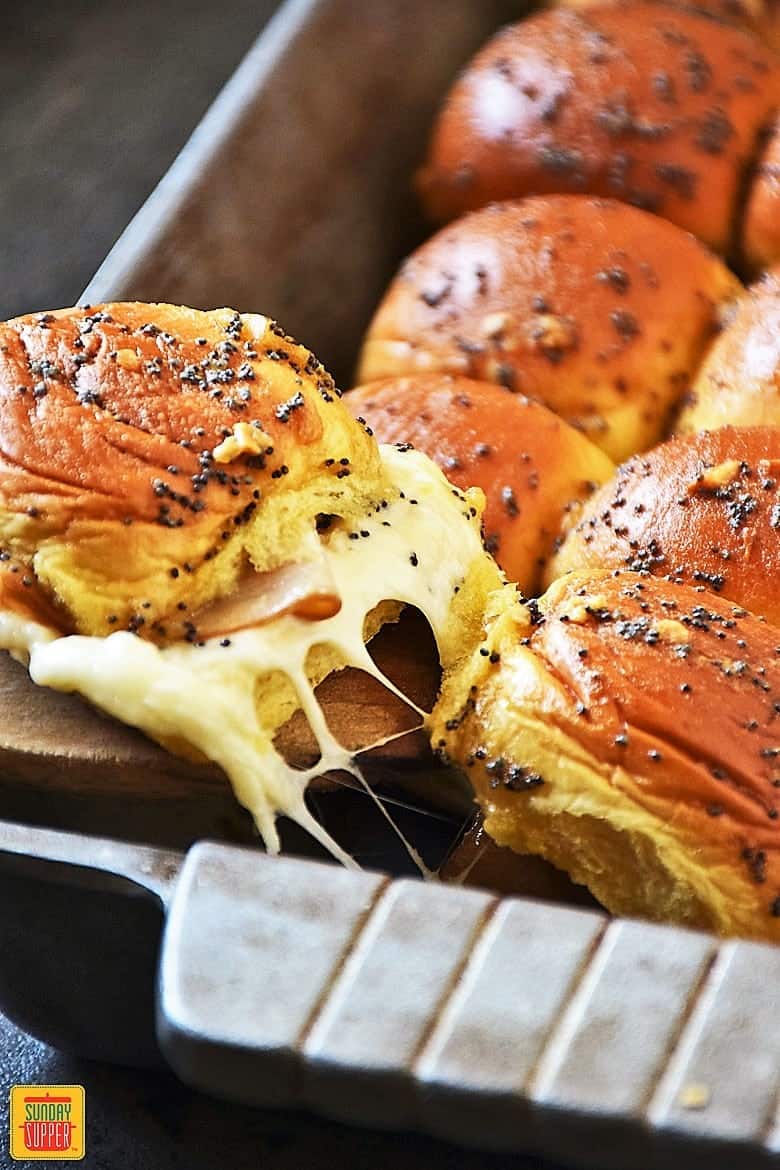 It's time to party with some finger sandwiches! This Turkey Sliders Recipe can easily feed large crowd, or just some really hungry friends.
4. Bacon Cheeseburger Sliders

Bacon Cheeseburger Sliders should be served piled extra high with your favorite toppings. They're the perfect finger food to feed your hungry game day guests.
5. Easy BBQ Beef and Cheddar Sliders

If you have some left-over pot roast or roast beef in the fridge, then you can easily whip up a batch of these beefy sliders from Renee's Kitchen Adventures. Easy BBQ Beef and Cheddar Sliders are fun party food and a delicious combination of family favorite flavors.
6. Baked Ham and Cheese Sliders

We don't know about you, but hot ham and cheese sandwiches, like these from Life Tastes Good, were a childhood lunch staple for us. So, it goes without saying that these Baked Ham and Cheese Sliders, with their mustard glaze and cheesy goodness, are our favorite kind of comfort food.
7. Cheesy Cranberry Bacon and Turkey Sliders

If you're like us, we always have a can of cranberry relish in the pantry. Which is a good thing, because you'll want to make these festive sandwiches from Simple Seasonal. Cheesy Cranberry Bacon and Turkey Sliders have all your favorite holiday flavors in one little slider.
8. Baked Roast Beef Sliders with Horseradish Sauce

An Affair from the Heart knows roast beef and horseradish are a match made in heaven to us. Her Roast Beef Sliders with Horseradish Sauce have thinly sliced roast beef, horseradish sauce, and three kinds of cheese to make them super irresistible.
9. Chicken Parmesan Sliders

These sliders from Flavor Mosaic are truly kid friendly. She turned chicken nuggets into these saucy, cheesy, Chicken Parmesan Sliders perfect for a potluck or game day party.
10. Pesto Chicken Parmesan Sliders

Food Above Gold says that any comfort food can be turned into a slider. Her Pesto Chicken Parmesan Sliders have aromatic pesto flavors and creamy mozzarella for that perfect little bite of comfort.
11. Slow Cooker Creamy Chicken & Bacon Sliders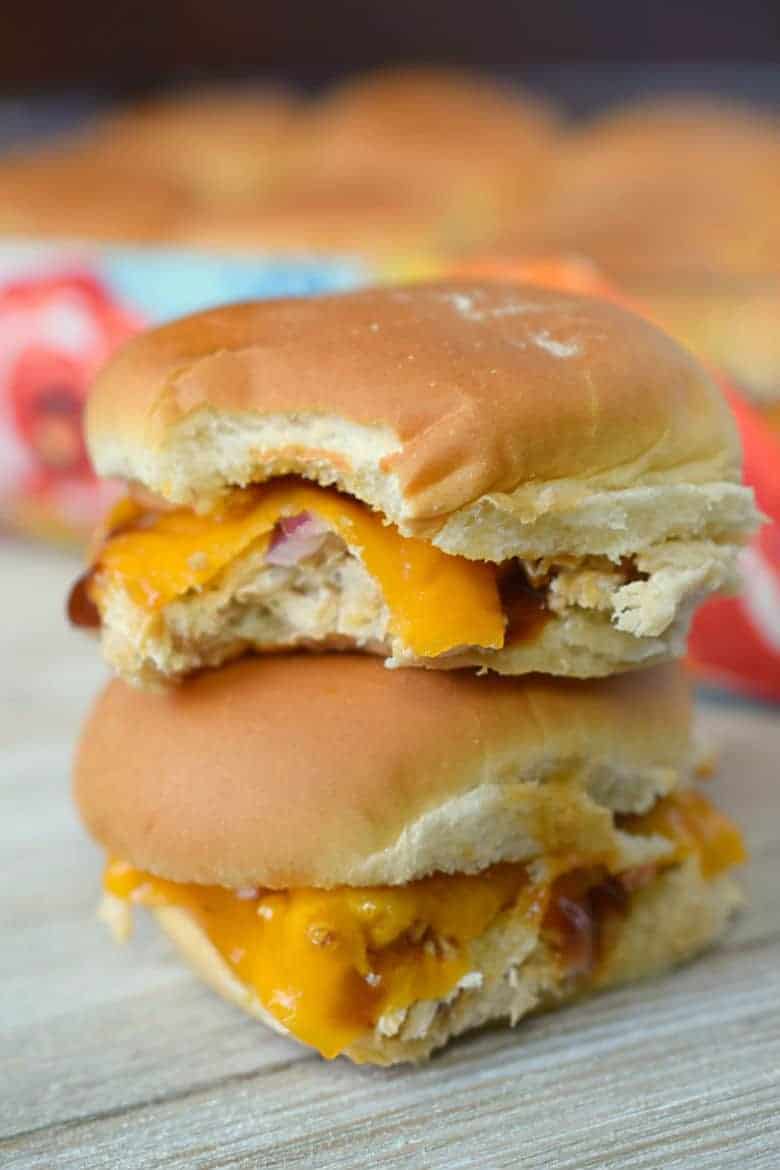 Who Needs a Cape? put on her slow cooker to use for these handy sliders. Slow Cooker Creamy Chicken & Bacon Sliders are filled with cheesy ranch chicken, bacon, and cheddar cheese.
12. Cheesy Stuffed Garlic Bread Sliders

Yes, you guessed right! Tournadough Alli stuffed her sliders with lots and lots of cheese. Her Cheesy Stuffed Garlic Bread Sliders are like super cheesy stuffed garlic bread, and are decidedly delicious!
13. Jalapeno Chicken Sliders

If you're looking for something with a little more kick, then try this slider recipe from Imagelicous. Jalapeno Chicken Sliders only take 5 minutes of prep and 10 minutes of cooking time. A totally mom-friendly recipe!
14. Hawaiian Sweet Roll Sliders

We always appreciate a good make ahead meal like this one from Make Ahead Meal Mom. Her Hawaiian Sweet Roll Sliders are packed with ham and Swiss cheese and can be frozen up to 2 months ahead of time. However, we doubt they'll last that long.
15. Easy Pizza Sliders Recipe

Sugar & Soul Co made these sliders particularly kid friendly. They can even help you make them for dinner! This Easy Pizza Sliders Recipe not only has pepperoni, but it also has bacon, mozzarella, and Parmesan. What's not to love?
16. Old Fashioned Sloppy Joe Sliders

Tornadough Alli turned the ultimate family friend sandwich into a pull apart slider. Her Old Fashioned Sloppy Joe Sliders are a fun, quick, and easy recipe for any night of the week. With an interesting twist on the base, these sliders are on the table in under 30 minutes.
Craving more pull apart slider recipes for a crowd?  Try these Bolognese Pull Apart Sliders and more scrumptious slider recipes!
The Sunday Supper Movement is committed to bringing our readers delicious recipes that encourage them to gather and eat together around the family table. Search for your favorite ingredients on our Sunday Supper website. Also check out the Sunday Supper Pinterest boards for plenty more ideas and inspiration.
Sign up for our newsletter to get FREE recipes delivered right to your inbox!