Sunday Supper is an Amazon Associate and may receive compensation for purchases made through affiliate links.
Hawaiian Roll Slider Recipes are so easy to make and so much fun! Who doesn't love Hawaiian bun sliders?
They make great tailgating recipes and are so customizable! Bite-size, tiny sandwiches, known as sliders, are always fun and satisfy the kid in all of us.
Garlic Butter Slider Topping
You can take your favorite sandwich recipes and adapt them to pull-apart recipes. Simply pile all the fixings on the buns, brush a little garlic butter on top, and bake a few minutes to heat everything up and melt the cheese!
Garlic Butter makes everything better and adds amazing flavor to sliders.
These delicious Hawaiian sandwiches are the perfect solution to planning tailgating party recipes! Football party finger food just doesn't get any better than easy slider recipes.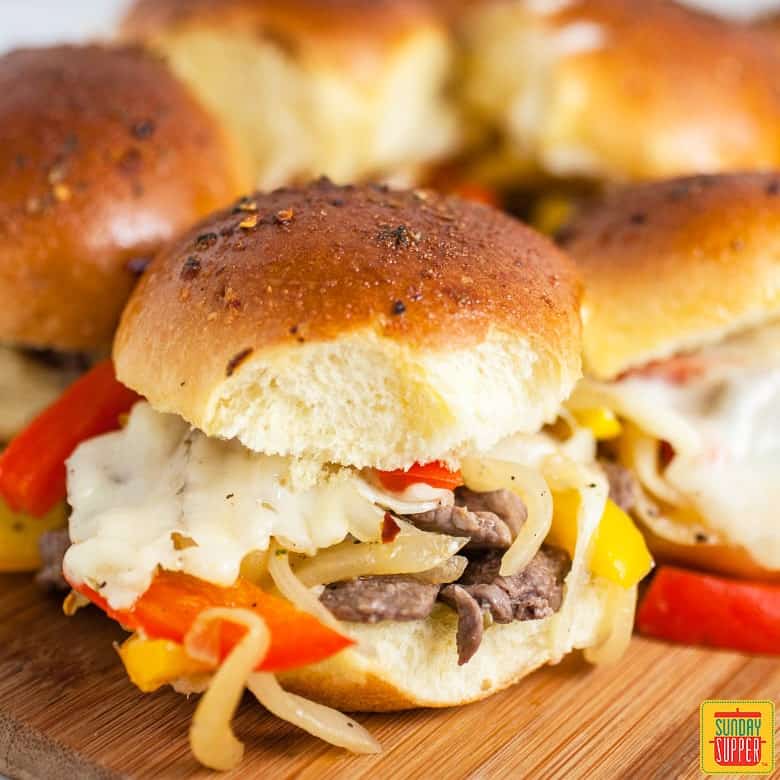 What are sliders?
Slider recipes are bite-size sandwiches on small rolls, such as King's Hawaiian sliders. While you might be familiar with mini cheeseburgers as sliders, you can make Hawaiian sliders with any fixings you like!
You can easily make sliders in the oven, and if you're using King's Hawaiian rolls, you won't even need to take them out of the paper container!
As long as the oven temperature does not exceed 350°F, you can bake Hawaiian roll sliders right in the paper container they come in for easy clean-up. How convenient is that?!
Hawaiian Roll Sliders
When it comes to Hawaiian roll sandwiches, we can't get enough. These delicious, bite-size sandwiches are perfect for parties like birthdays or game day.
These are our favorite Hawaiian sweet roll sliders, and we're sure once you try them you'll have a few new favorites on this list, too!
Hawaiian Pizza Pull Apart Sliders
One of our favorite Hawaiian roll ham sandwiches! Complete with black forest ham and Hawaiian pizza toppings, these Hawaiian roll ham sliders are one of the best.
Bolognese Sandwich Pull-Apart Sliders
The most unique Hawaiian rolls sliders recipe! These little bolognese sandwich sliders bake with hearty beef bolognese sauce and cheese on the inside. You can easily make these on Hawaiian rolls instead of with homemade dough.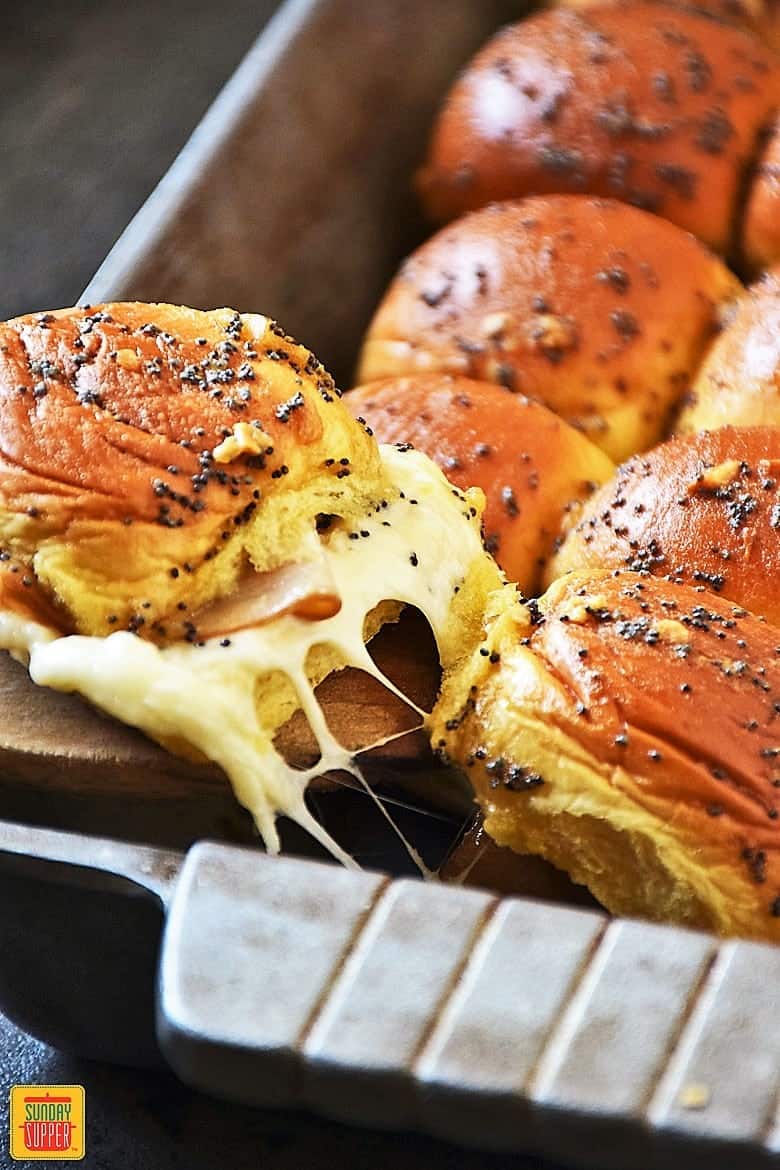 Turkey Sliders
An all-time favorite quick easy sliders recipe. These Hawaiian roll turkey sliders, complete with turkey and cream havarti cheese, are easy, cheesy, and irresistible!
Philly Cheesesteak Sliders
The ultimate Hawaiian sliders recipe for game day! Our Philly cheesesteak sliders have all of the fixings you love in a Philly cheesesteak sandwich stacked on sweet Hawaiian rolls.
Cheeseburger Sliders with Bacon
One of our favorite King's Hawaiian slider recipes, without a doubt. Score big on game day with these bacon cheeseburger sliders! These mini cheeseburgers are easy-to-make and so delicious, you won't want to eat just one or two.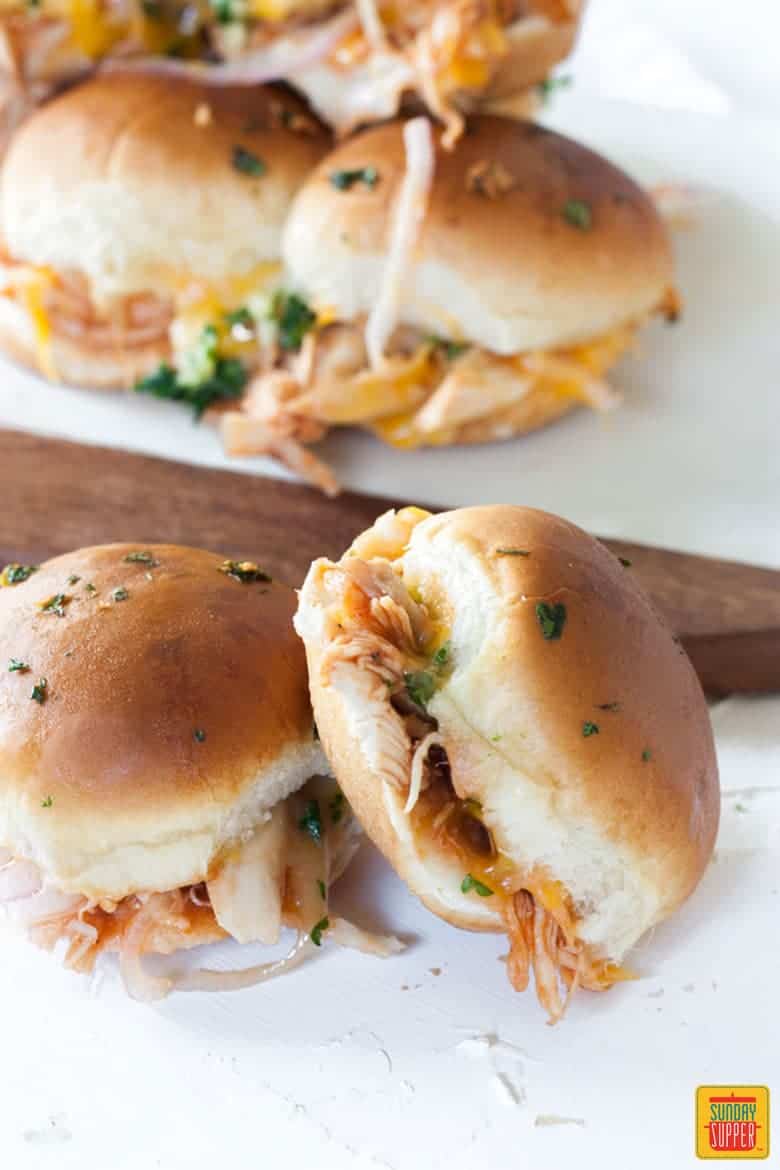 BBQ Chicken Pull-Apart Sliders
Hands down, one of the best Hawaiian bread sliders. These BBQ chicken pull-apart sliders are one of the best crowd feeding recipes. They're ready to go in under 30 minutes, and taste amazing!
How to Make Pulled Pork for Hawaiian Roll Sliders
Follow our guide on how to make pulled pork, and you can make the best BBQ pulled pork sliders! Top off your sweet Hawaiian rolls with our teriyaki pulled pork, extra teriyaki sauce, and some coleslaw, and you'll have an instant game day favorite.
Garlic Butter Ham and Cheese Sliders
The most delicious Hawaiian ham and cheese sliders ever! Topped off with garlic butter, you are going to love these flavorful sliders. One of our favorite Hawaiian slider roll recipes!
More Hawaiian Roll Slider Recipes to Try
Easy Salmon Sliders with Broccoli Slaw
📌 Pin it for later!
Did you enjoy this page? Save it on Pinterest for later!