Sunday Supper is an Amazon Associate and may receive compensation for purchases made through affiliate links.
Find your new favorite easy cocktail recipe HERE! These simple mixed drinks are perfect for any occasion of the year. Whether you're looking for the perfect drink for an outdoor beverage station or the best Fall cocktail for a holiday party, you will find your new favorite drink on this list!
Recipes like a moscato sangria or tropical fruit rum cocktail are perfect for the spring and summer, while a bourbon flip or caramel apple sangria are just what you need for fall and winter. These are the best cocktail recipes for a party, especially for the holidays, like Labor Day!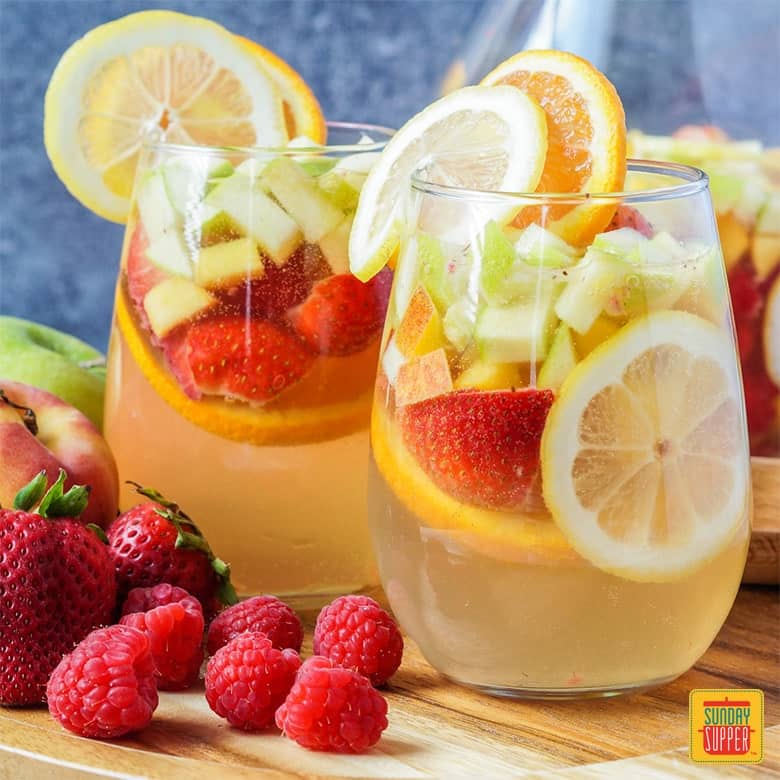 Easy Mixed Drinks for a Party
If you're looking for easy drinks to make, this is the cocktails list for you. From classic cocktails to new and popular cocktails, we have our favorite easy recipes on this list of drinks!
Our favorites range from wine mixed drinks like fruity sangrias and frozen wine slushies, to rum and bourbon cocktails like our tropical fruit rum cocktail and warming winter bourbon flip.
We guarantee you will find a new favorite on this list of the best cocktails!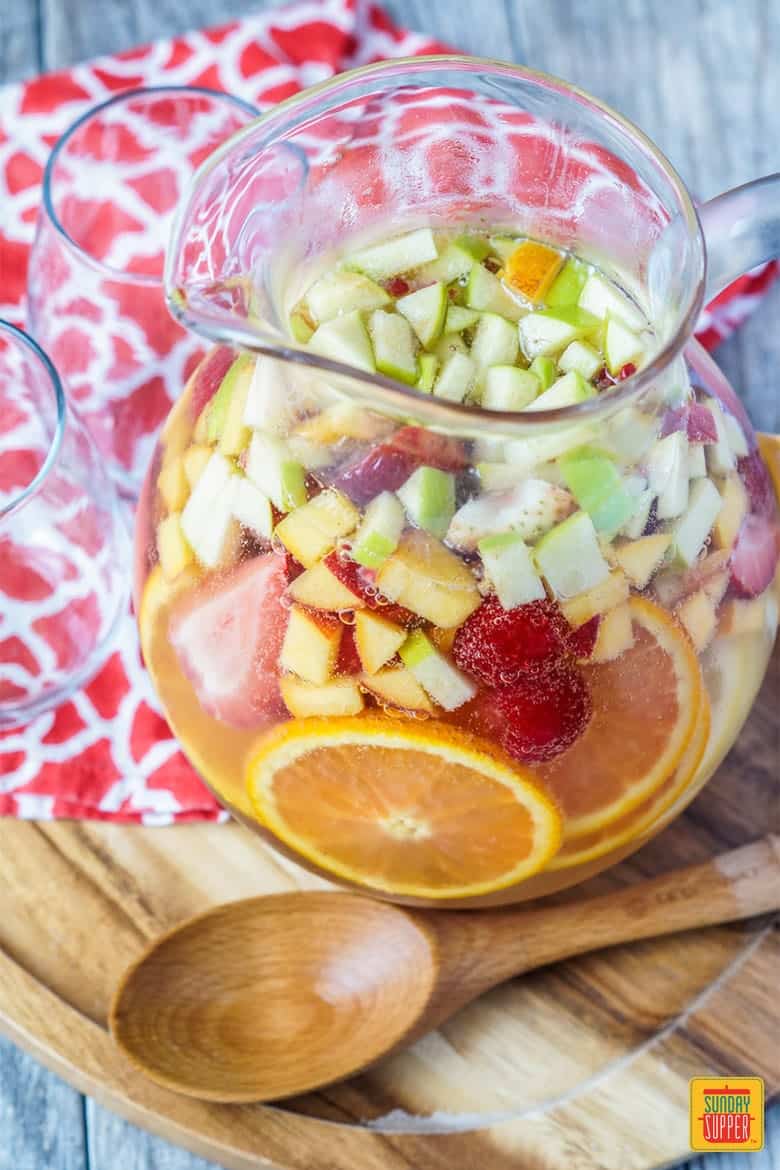 Moscato Sangria
Moscato Sangria is the perfect spring and summer cocktail: it's packed with fresh strawberries, raspberries, apples, peaches, oranges, and lemons along with a splash of brandy and vanilla. One of our favorite refreshing cocktails!
Caramel Apple Sangria (Apple Pie Sangria)
One of our all-time favorite sangria recipes is our Caramel Apple Sangria (Apple Pie Sangria)! You will not believe how easy it is to make this holiday sangria. We love it for Thanksgiving especially!
Rosé Sangria with Summer Berries
Rosé Sangria with Summer Berries is perfect for any backyard party: it's light, beautiful, and full of fresh fruity flavor. We love it during the summertime, but you can make this easy wine spritzer year-round with frozen fruit.
Pimm's Cup Cocktail
Pimm's Cup Cocktail is a Wimbledon classic, but it's also a fun cocktail recipe for parties. It uses Pimm's No. 1, soda, cucumber, mint, strawberries and lemon! Its unique and delicious flavor makes it one of our favorite mixed drink recipes.
Blueberry Fruity Sangria Recipe
What could be better than fresh blueberries in a fruity sangria recipe? Our Blueberry Fruity Sangria Recipe uses Sauvignon Blanc, fresh blueberries, and cranberry blueberry juice for a simple mixed drink that's full of flavor.
Frozen Tropical Fruit Rum Cocktail
Take a trip to the tropics with this Frozen Tropical Fruit Rum Cocktail! It's ready in five minutes and only uses four ingredients, so it's perfect for serving to a crowd. This is one of our favorite sweet alcoholic drinks, and is a real classic!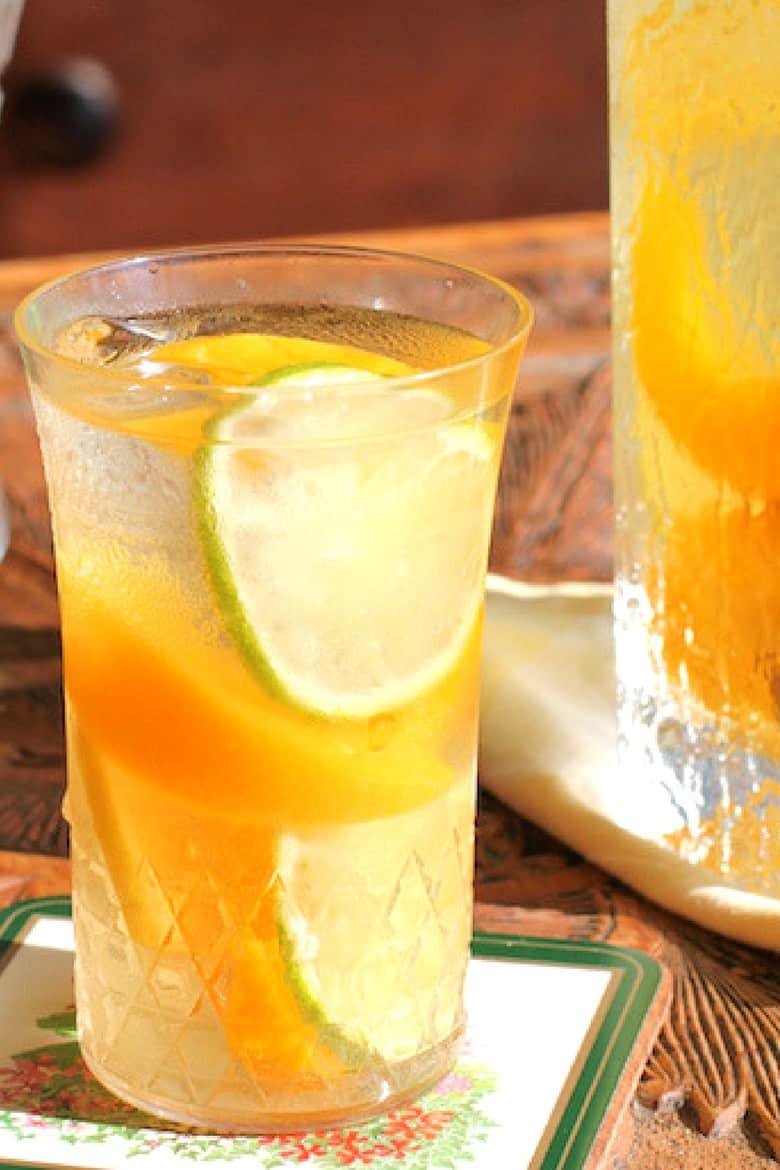 Citrus Peach Sangria
Please your guests (or just yourself!) with this incredibly easy Citrus Peach Sangria, made with peaches, lemons, and limes! It doesn't get any better than wine mixed drinks like this.
Frosé Recipe (Frozen Rosé)
Our Frosé Recipe (Frozen Rosé) is one of our top favorite easy drinks to make and frankly, one of the best drinks out there! This fruity rosé cocktail can be made with any fruit you'd like (we make ours with strawberry and watermelon!). Perfect for the warmer months!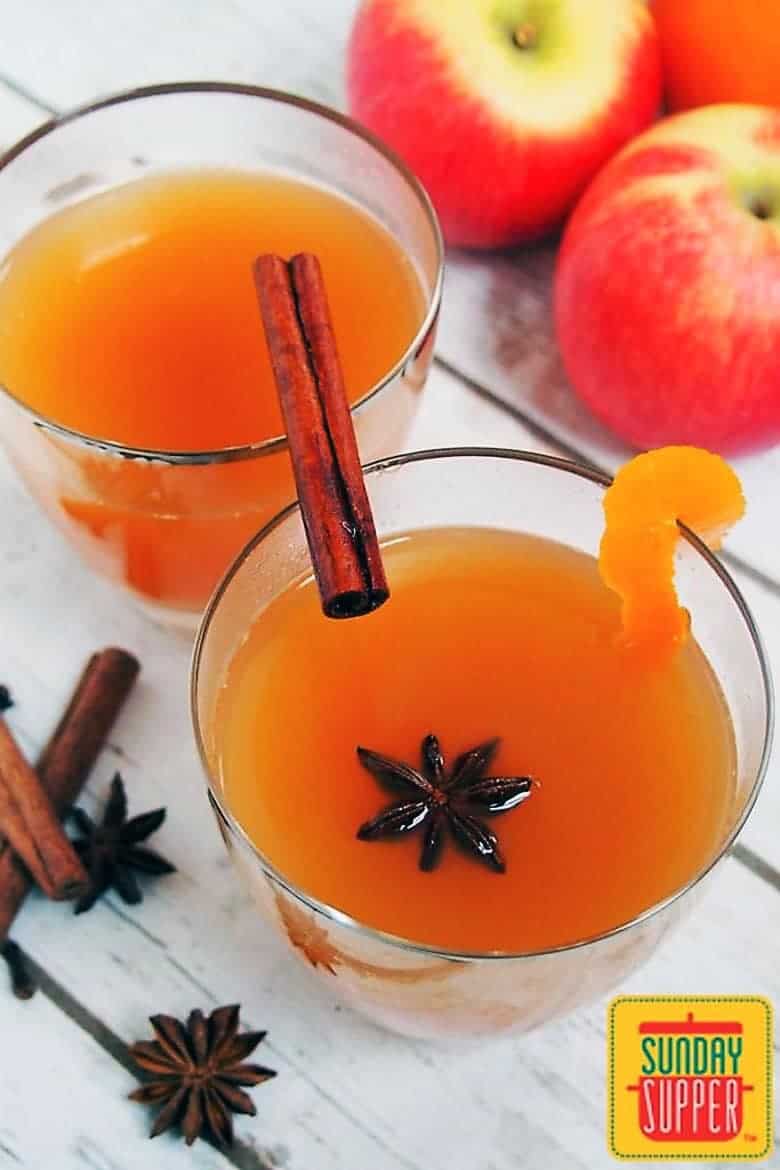 Spiked Mulled Cider
Apple cider gently spiced with a little kick of brandy will become your go-to winter cocktail recipe for any occasion! We love this Spiked Mulled Cider when the weather cools down.
Raspberry Chia Lemonade Spritzer
Joyful Healthy Eats uses CHIA SEEDS to make this Raspberry Chia Lemonade Spritzer a flavorful mixed drink recipe like you've never had before!
Spiked Pomegranate Iced Tea
Add a little color to your traditional iced tea recipe for a beautiful and refreshing addition to your favorite summer alcoholic drinks! Spiked Pomegranate Iced Tea by A Cedar Spoon makes an outdoor party fun.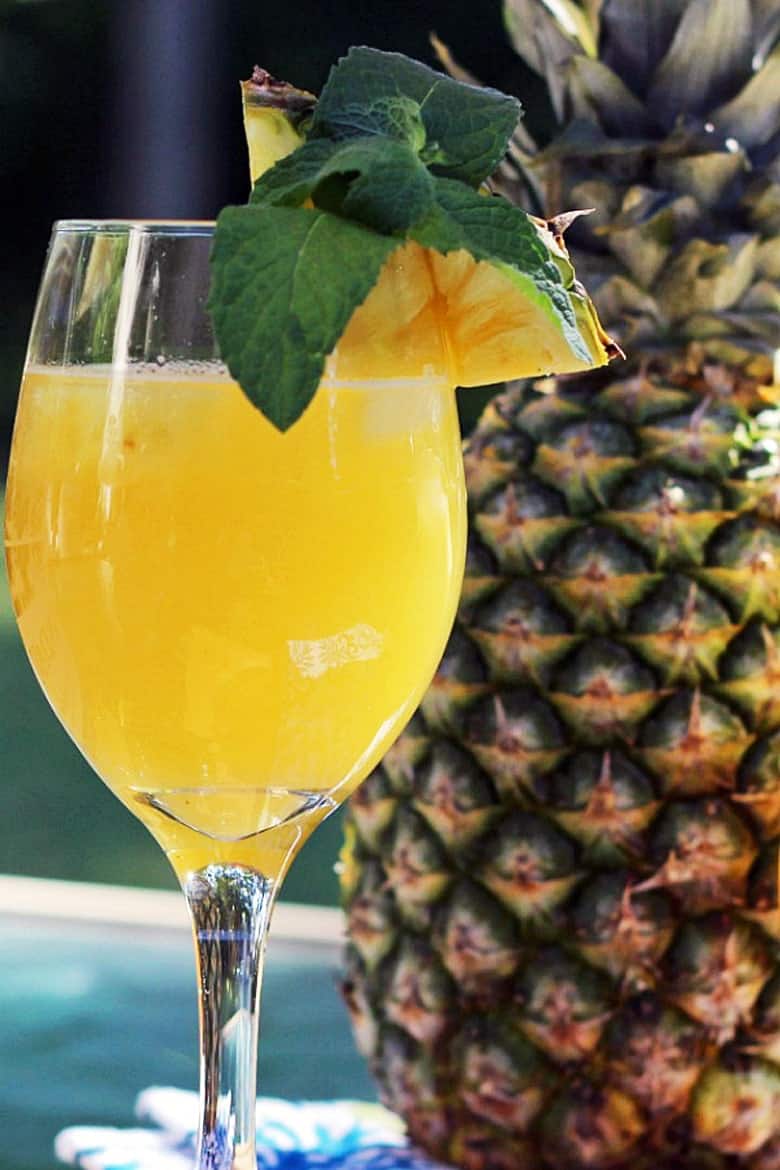 Pineapple Jalapeño Wine Spritzer
This Pineapple Jalapeño Wine Spritzer brings the sunshine with a little kick of jalapeño. This simple drink by Renee's Kitchen Adventures will brighten up your day AND your spring or summer party!
Bourbon Flip Cocktail
What's a flip cocktail? Find out by enjoying our Bourbon Flip Cocktail! This warming mixed drink is perfect for the cooler months and will get you in the winter spirit.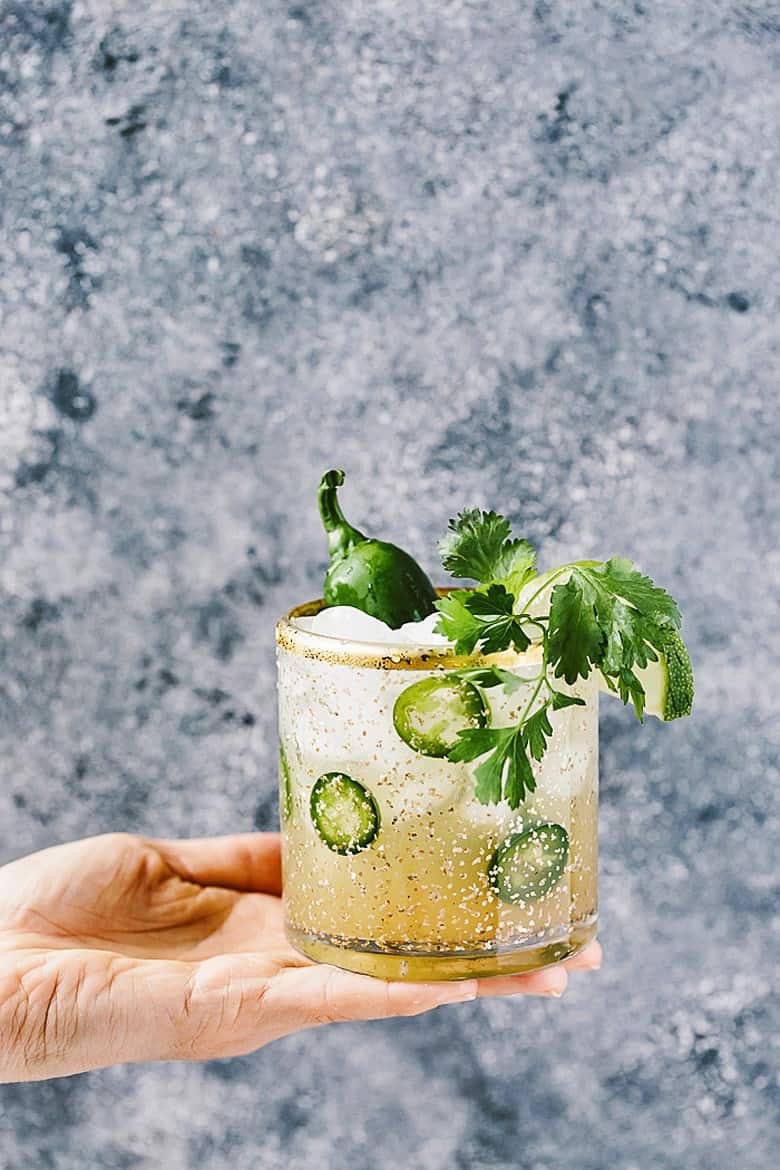 Spicy Jalapeño Margarita
One of the best summer mixed drinks is this Spicy Jalapeño Margarita by Foolproof Living! This is one of our favorite easy drinks for summer. There's nothing like the flavor of a jalapeno margarita!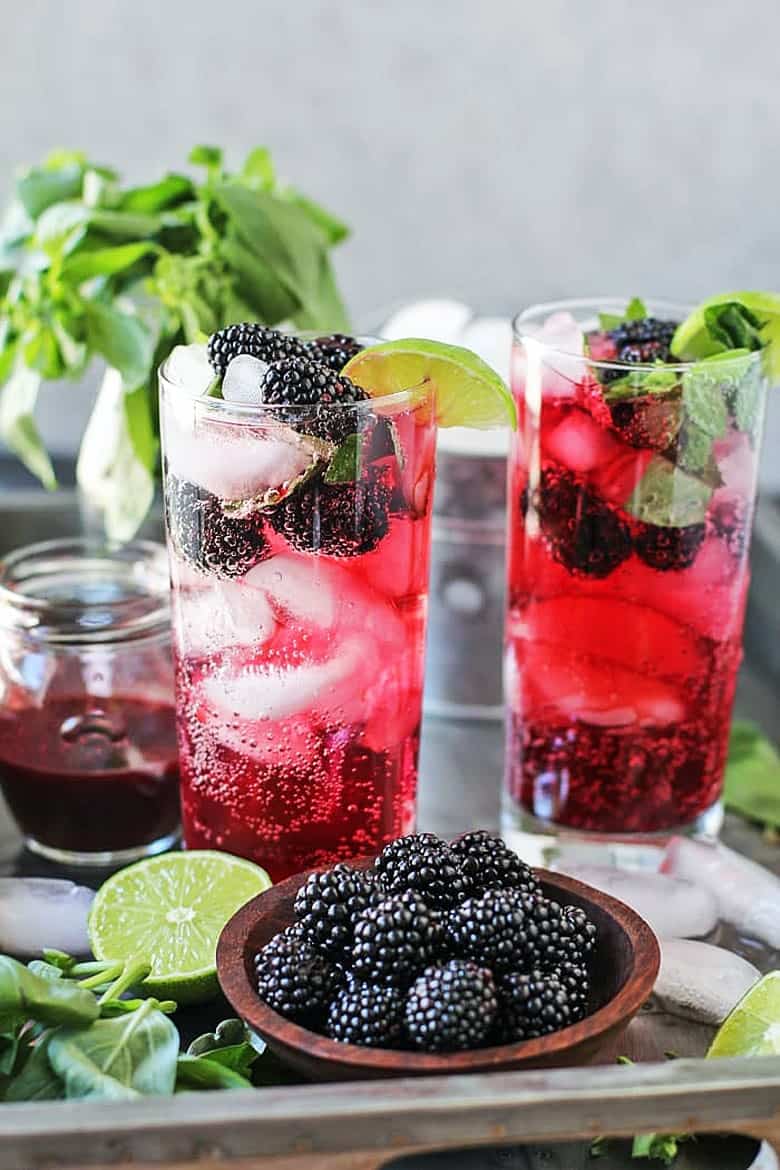 Blackberry Basil Mojito
Enjoy a Blackberry Basil Mojito by The Roasted Root at your next party! Pure maple syrup, fresh blackberries and basil make this an irresistible mixed drink recipe for the summer especially.
What about non-alcoholic drinks?
Try these non-alcoholic drink recipes everyone can enjoy for your non-alcoholic friends and any kids at the party:
What should I serve with these easy mixed drinks?
Here are some of our favorite ideas for easy recipes for large groups:
Did you try one of these easy mixed drink recipes? Let us know in the comments below what your favorites are!
📌 Pin it for later!
Did you enjoy this page? Save it on Pinterest for later!