Sunday Supper is an Amazon Associate and may receive compensation for purchases made through affiliate links.
Wind down after a long day with these Easy Slow Cooker Recipes! From crockpot chicken recipes to slow cooker beef roast recipes, these easy family meals all use simple ingredients and instructions to make weeknight meal prep a breeze.
What could be better than easy weeknight crockpot meals? Our favorite slow cooker family meals are simple but versatile. They're perfect for a busy weekday or even as a part of your Sunday dinner ideas!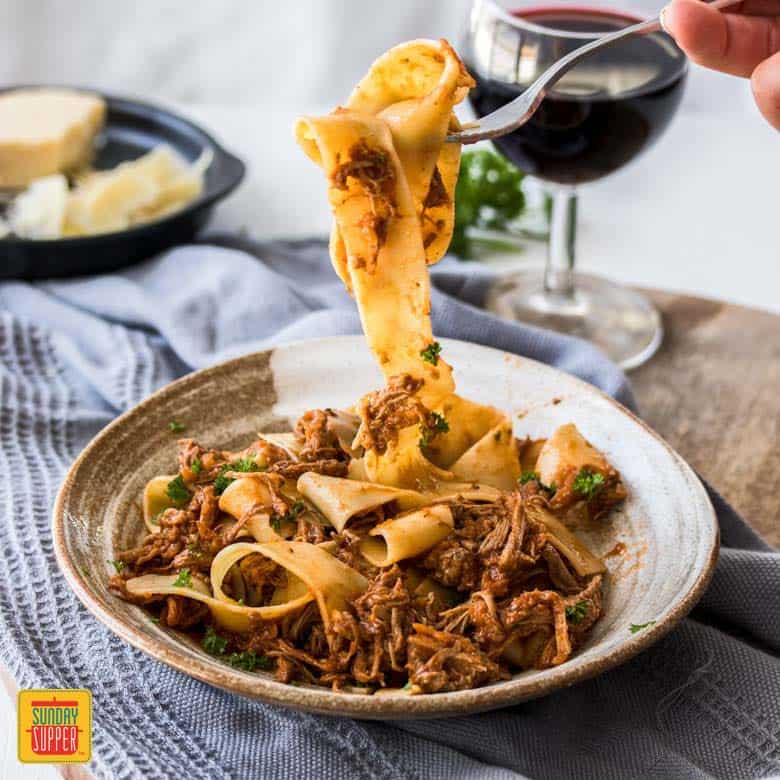 We love simple slow cooker recipes. After a long day, nothing beats easy crockpot meals. You can make just about anything in your slow cooker, from a crockpot whole chicken to slow cooker beef ribs!
If you have yet to treat yourself to a slow cooker, or if you have someone you want to gift a slow cooker to, we have some suggestions for you on the best slow cooker to buy!
We're always making slow cooker family meals – they're easy and satisfying. Having the right slow cooker for what you like to cook makes a difference!
Super Easy Slow Cooker Recipes
Let's get right to it! Here are our best slow cooker recipes for the family. These simple slow cooker recipes are perfect for any day of the week, from Monday to Sunday.
What could be better than delicious, easy weeknight crockpot meals like these?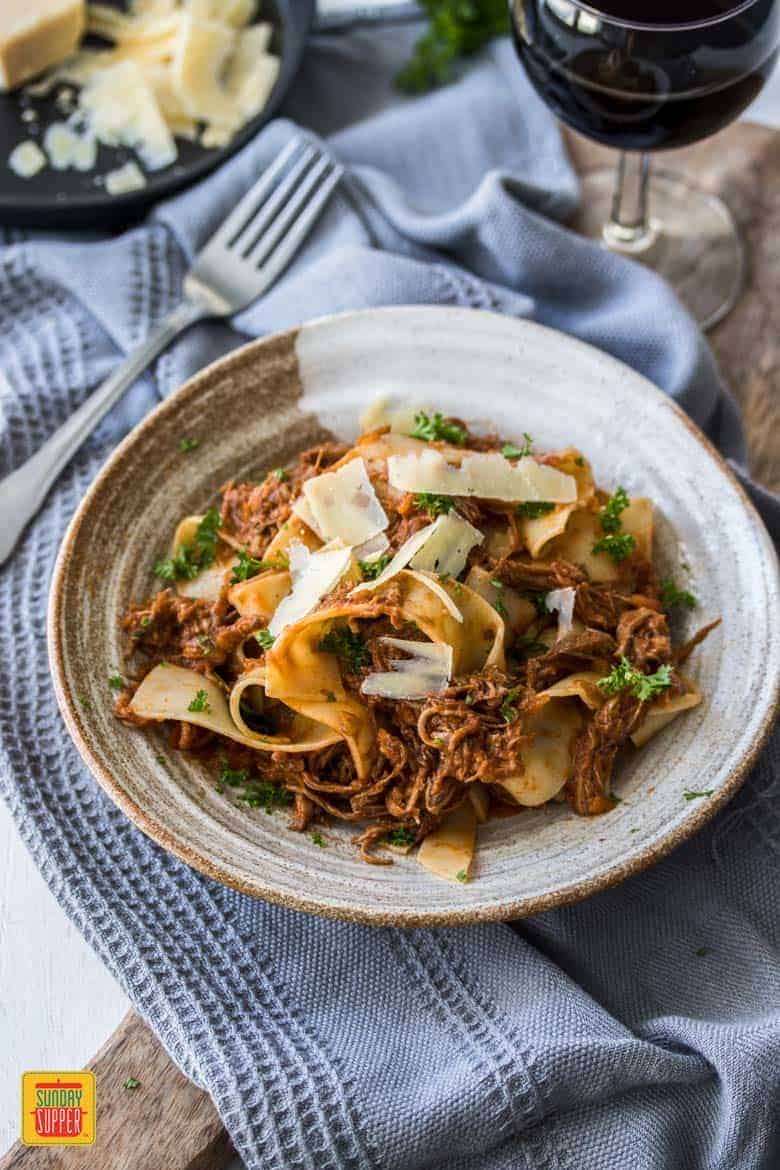 Slow Cooker Beef Ragu
Rich and tender slow cooker ragu cooks in a hearty red wine sauce. It's full of flavor and the perfect comfort food! Complete with thick pappardelle pasta, this slow cooker beef recipe is a must-try.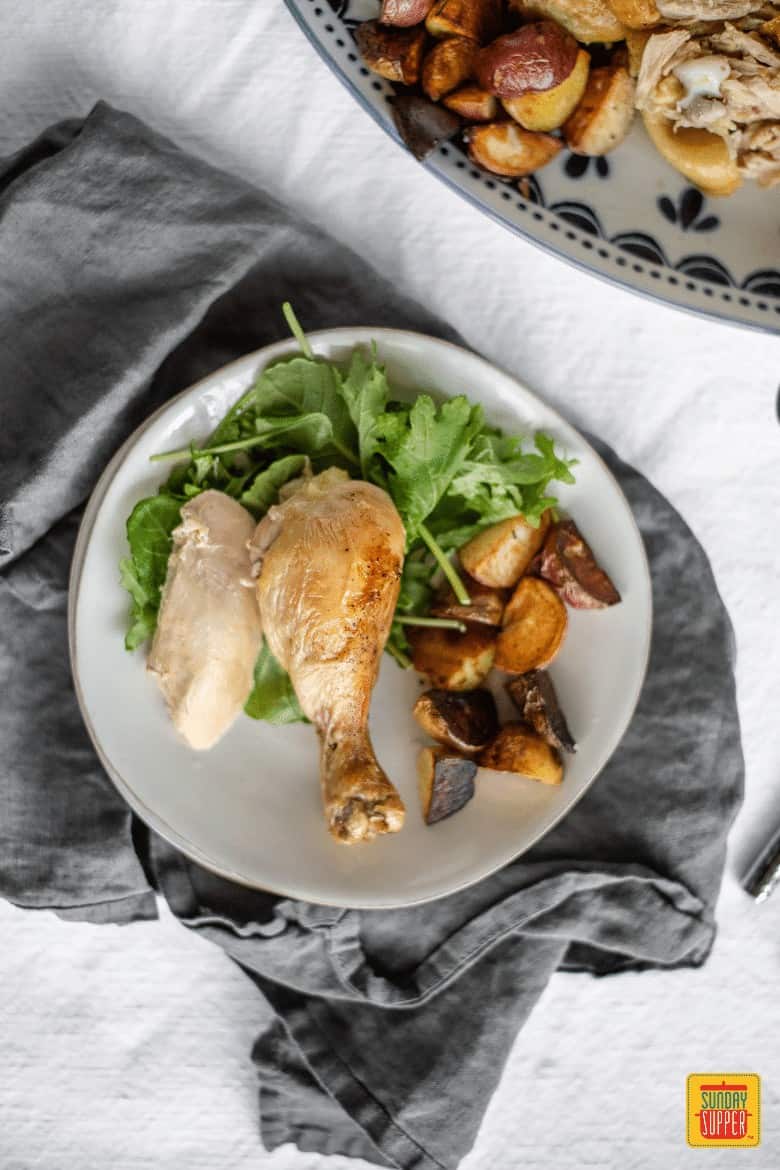 Slow Cooker Whole Chicken
Crockpot whole chicken is perfect for a busy weeknight meal! Juicy and tasty, this easy chicken dinner recipe uses only two ingredients, plus salt and pepper. It doesn't get any easier than slow cooker whole chicken!
Slow Cooker Beef Short Ribs Recipe
Melt-in-your-mouth tender beef short ribs are complete with a flavorful red wine sauce and fresh vegetables! This short ribs recipe falls off the bone and is so delicious. It's one of our favorite slow cooker family meals!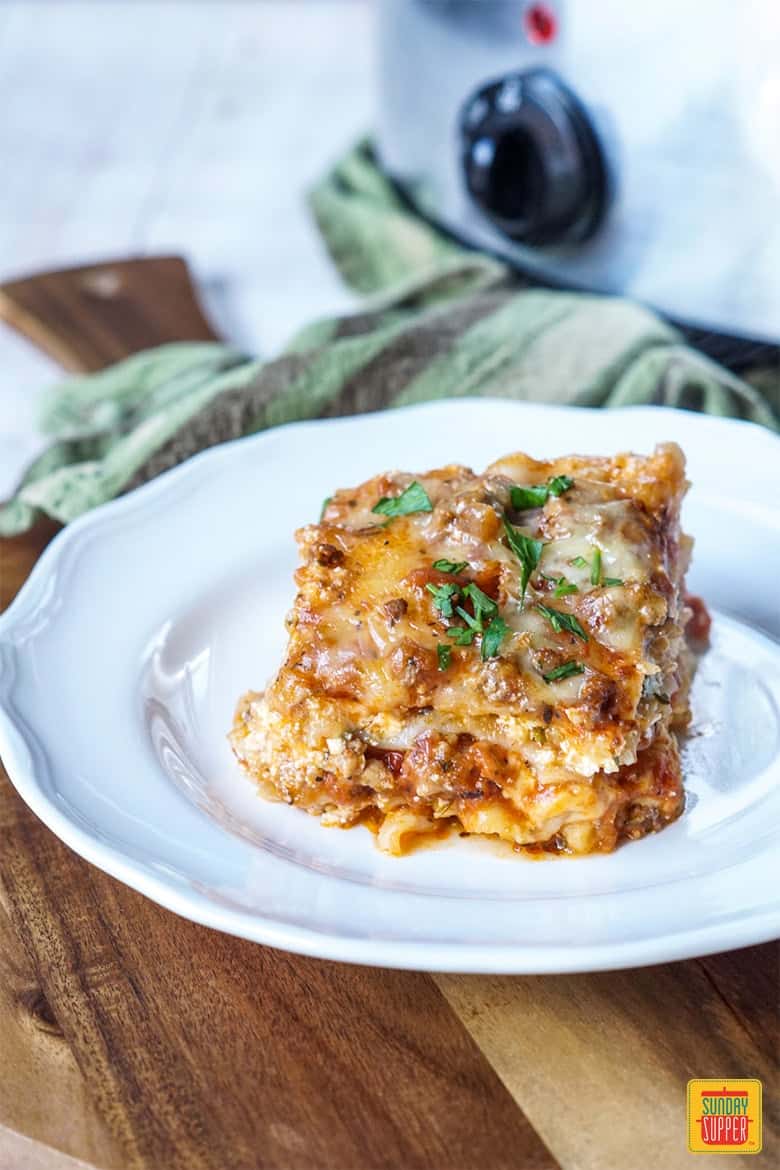 Slow Cooker Lasagna (Crockpot Lasagna)
The easiest way to make lasagna is in the crockpot! Slow cooker lasagna takes just 15 minutes of prep before cooking low and slow with beef, Italian sausage, and three types of cheese. This is one of the most simple slow cooker recipes you can make!
Slow Cooker Vegetarian Chili
Even the meat lovers in your family will love this Slow Cooker Vegetarian Chili! It's full of flavor from veggies, spices, and two kinds of beans. Vegetarian chili is one of our favorite healthy slow cooker recipes, and for good reason!
Slow Cooker Pork Ribs with Bourbon BBQ Sauce
Meet your new favorite game day recipe! This is the perfect football party finger food as well as one of our favorite easy weeknight crockpot meals. Slow cooker pork ribs with bourbon BBQ sauce are fall-off-the-bone tender and stick-to-your-ribs delicious!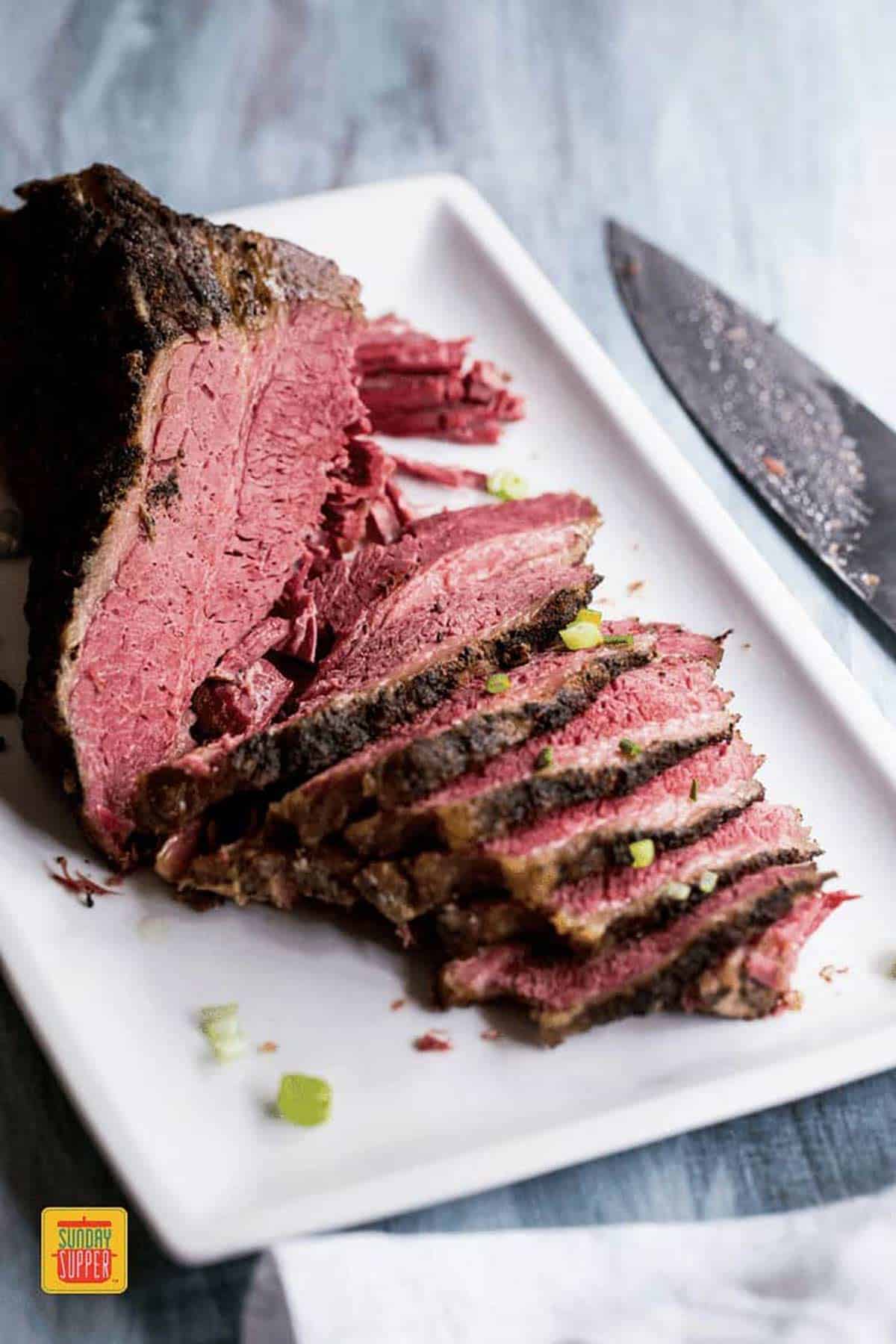 Easiest Slow Cooker Brisket
Tender and savory, this crockpot beef brisket will surprise you with how easy it is to make! This is the EASIEST slow cooker brisket recipe. The best part about crockpot brisket is that you can slice it up and use the leftovers in any way you want: from sandwiches to pizza and everything in-between!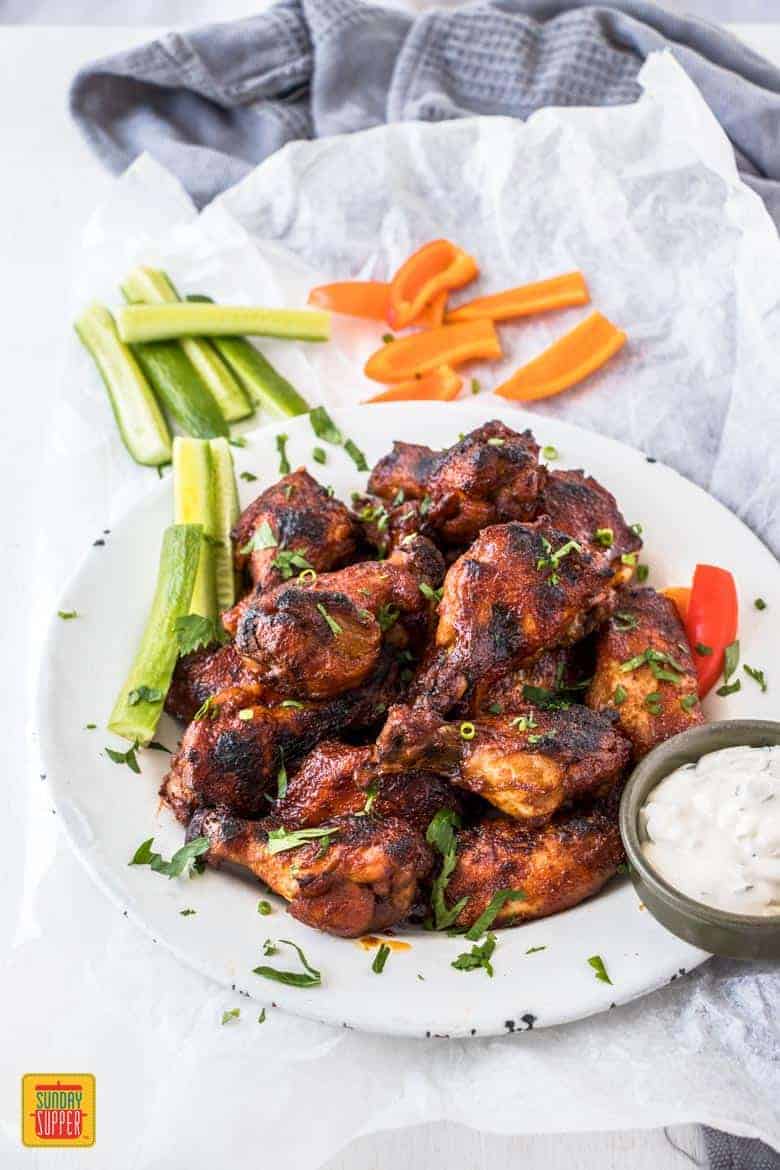 Slow Cooker Wings with Spicy BBQ Sauce
Tender and delicious slow cooker chicken wings with spicy BBQ sauce make an amazing easy weeknight crockpot meal! Full of flavor and easy to make, these slow cooker wings are perfect for a game day party or a family meal.
Slow Cooker Beef Tips and Gravy
Easy, comforting, and flavorful, these slow cooker beef tips and gravy are one of the best slow cooker family meals you can make. We especially love this recipe when the weather cools down. Serve it over some creamy mashed potatoes, and you will want seconds!
Slow Cooker Mississippi Pot Roast
Mississippi pot roast is one of the easiest dinners you can make. It's tender, juicy, and full of flavor from just 5 ingredients! You may never go back to traditional pot roast again after you try our slow cooker Mississippi pot roast.
Slow Cooker Carne Picada Recipe
Slow-cooked beef picada makes for a melt-in-your-mouth dinner recipe the whole family will love! Carne picada is perfect in tacos, burritos, over rice, and in so many more recipes. It's so easy to prepare and so versatile!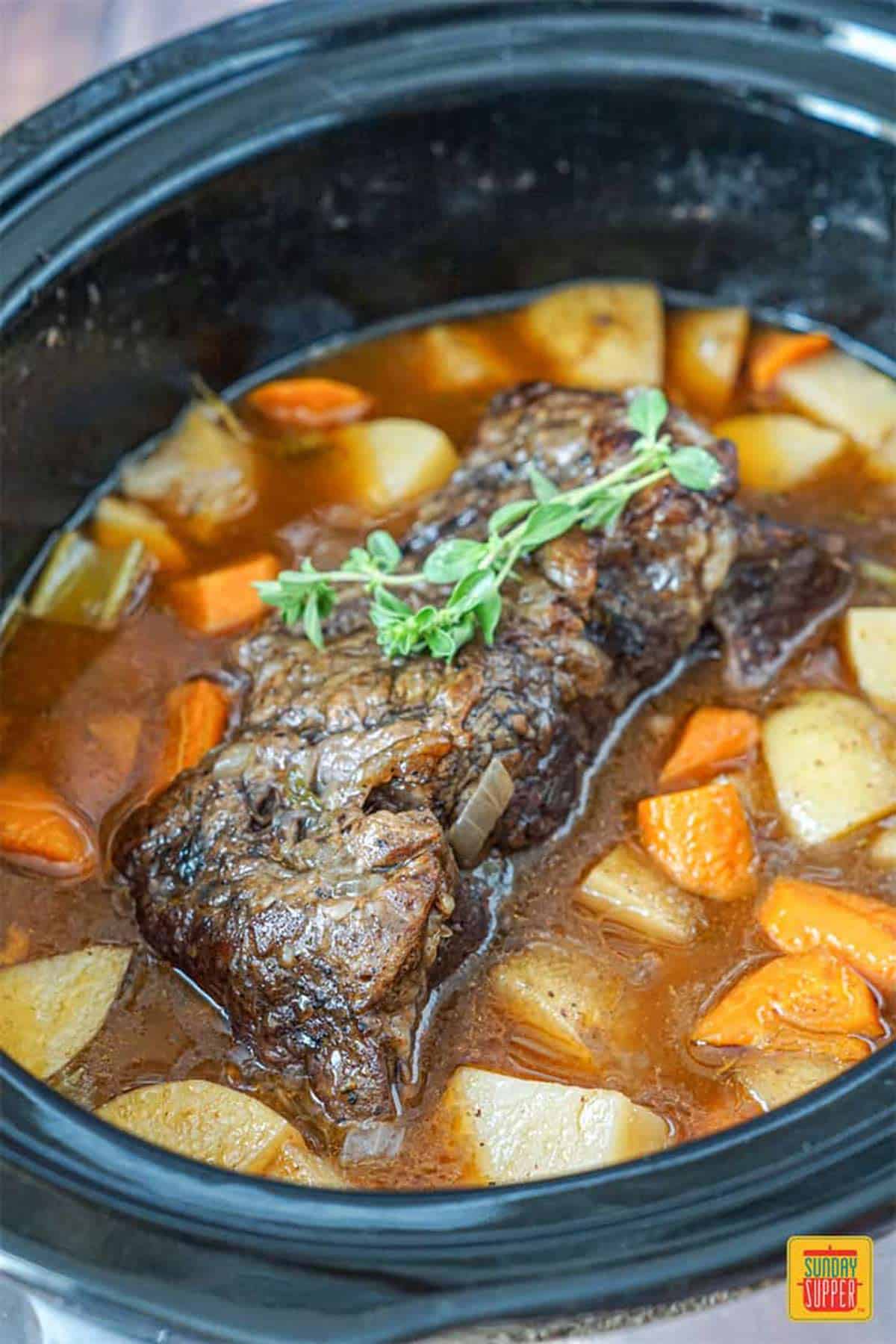 Slow Cooker Chuck Roast
The perfect comfort food to feed a crowd: slow cooker chuck roast! Whether you're feeding a family of four or need to feed a few more, this easy chuck roast recipe is perfect for any occasion. It's a fall-apart roast with tender vegetables in a flavorful slow cooker beef gravy made from the drippings!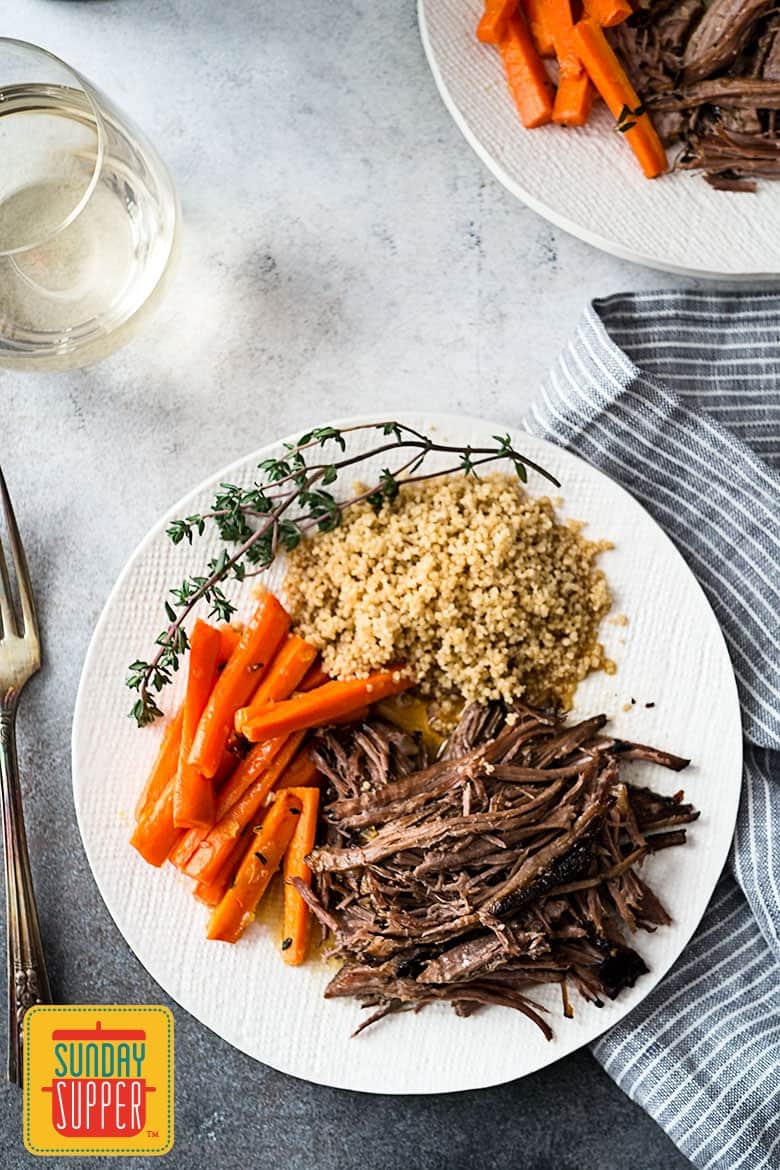 Easy Slow Cooker Roast Beef Recipe
Easily make our slow cooker roast beef with hardly any effort! This tender roast beef recipe basically cooks itself – it takes just 4 steps to make this recipe! Plus, the whole family will love how deeply flavorful it is.
Side Dishes for Slow Cooker Family Meals
Slow cooker family meals call for the perfect side dishes! Here are a few of our favorite suggestions.
Pork Side Dishes for CrockPot Pork Meals
Beef Side Dishes perfect for Slow Cooker Beef
Chicken Side Dishes for Crockpot Chicken