Chicken thighs are definitely the most common dinner item in my house. Crispy chicken skin, tender dark meat, and an affordable price sticker; what's not to love! These Soy Ginger Chicken Thighs take my favorite protein and give them an Asian flare.  While this recipe has so many layers of flavors, it's composed of only a few simple ingredients. This recipe is quick and easy to make which is why it is on Sunday Supper's list of Gluten Free Holiday Recipes.
Gluten Free Soy Sauce
For me, the most important ingredient in my Soy Ginger Chicken recipe is the soy sauce. When I first transitioned to a gluten free lifestyle a few years ago, I thought I already knew how to avoid gluten. Just stay away from wheat, barley, and rye how hard can that be?! What I had no idea of, was the amount of seemingly okay items that secretly have gluten hidden in them. Soy sauce is one of those ingredients. In a traditional soy sauce wheat is one of the main ingredients, which I would never have guessed! Luckily, there are several brands that make gluten free soy sauces. Fortunately, gluten free soy sauce typically says it is gluten free right on the front of the bottle which makes shopping easier. You can also use coconut aminos which is naturally gluten free and has a very similar taste to soy sauce if you don't feel like reading those labels.
Soy Ginger Chicken Recipe Tips
Use bone in-skin on chicken thighs, not only are they generally cheaper, they are extremely flavorful. The combination of soy sauce and crispy chicken skin is one of the best parts of my Soy Ginger Chicken recipe!
Be sure to include the vegetables in the marinade. That way they can be as flavorful as the soy ginger chicken.
Make sure to get a good sear on the chicken thighs. My favorite way to do this is in a cast iron skillet. I get the pan hot and then add the chicken thighs skin down to the dry skillet. Once they're golden brown they're good to be flipped.
When cooking chicken always use a thermometer. Chicken sizes and oven temperatures can vary greatly. So cooking times in recipes are never exact. Avoid drying out your chicken by making sure it reaches 165F on the inside and then letting it rest. This may happen faster in your oven than mine, so always trust the thermometer over a clock.
Soy Ginger Chicken Marinade
What makes this recipe so tasty is the marinade. I love this recipe because it can be made the day of and you only have to marinate for 30 minutes. While 24-hour marinades can be tasty, often times they're not practical. The salt content in the soy sauce speeds up the marinating process too.  There are so many veggies that would pair well with the soy ginger chicken thighs, but my favorite is to use a combination of leeks and bok choy. The leeks cook so quickly that they will be soft and almost charred when the chicken is cooked. As for the bok choy, it's cooking time mirrors that of the chicken thigh. I love a recipe where you can throw everything into the pan and forget about it! This is one of those recipes making it perfect for a quick weekday supper during the busy holiday season. Add this to your Gluten Free Holiday Recipes go-to list!
Check out some of my other one pan dinners (And they're all gluten free!):
Soy Ginger Chicken Thighs
Ingredients
4

Chicken Thighs

1

tbsp Sesame Oil

1

tbsp Minced Ginger

1

tbsp Minced Garlic

1/2

cup Gluten Free Soy Sauce

1

each Leek

1-2

each Bok Choy, Halved or Quartered Depending on Size
Instructions
Combine all ingredients in a mixing bowl
Let sit in the fridge for 30 minutes
Preheat oven to 375F
Heat a skillet
Sear chicken, skin side down for about 5 minutes, until golden brown
Deglaze pan with remaining marinade from mixing bowl
Add the vegetables
Transfer to oven and bake for 40-60 minutes until the chicken reaches 165F
In Loving Memory of T.R. Crumbley
This week is a very special week on Sunday Supper. We are honoring one of our very special members, and good friend, T.R. Crumbley, who passed away earlier this year after a short battle with an aggressive cancer. T.R. had a gluten free recipe blog so we are honoring his memory by sharing Gluten Free Holiday Recipes. T.R. was a beautiful soul. Always happy & positive. T.R. never failed to be the first to reach out and lend a hand, answer questions, or talk about the latest episode of Game of Thrones. Our Sunday Supper chats will never be the same without his clever wit. We miss him very much.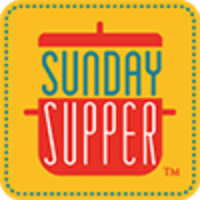 The Sunday Supper Movement is committed to bring our readers delicious recipes that encourage them to gather and eat together around the family table. Search for your favorite ingredients on our Sunday Supper website. Also check out the Sunday Supper Pinterest boards for plenty more ideas and inspiration.
And sign up for our newsletter to get great Sunday Supper recipes delivered right to your inbox!