Sunday Supper is an Amazon Associate and may receive compensation for purchases made through affiliate links.
Our Strawberry Swirl Cheesecake recipe is as easy as it gets! Made with simple homemade strawberry sauce, this is a smooth and creamy baked cheesecake recipe you will love.
It's the perfect dessert for a dinner party. Serve it for a birthday or the holidays. Everyone will love it!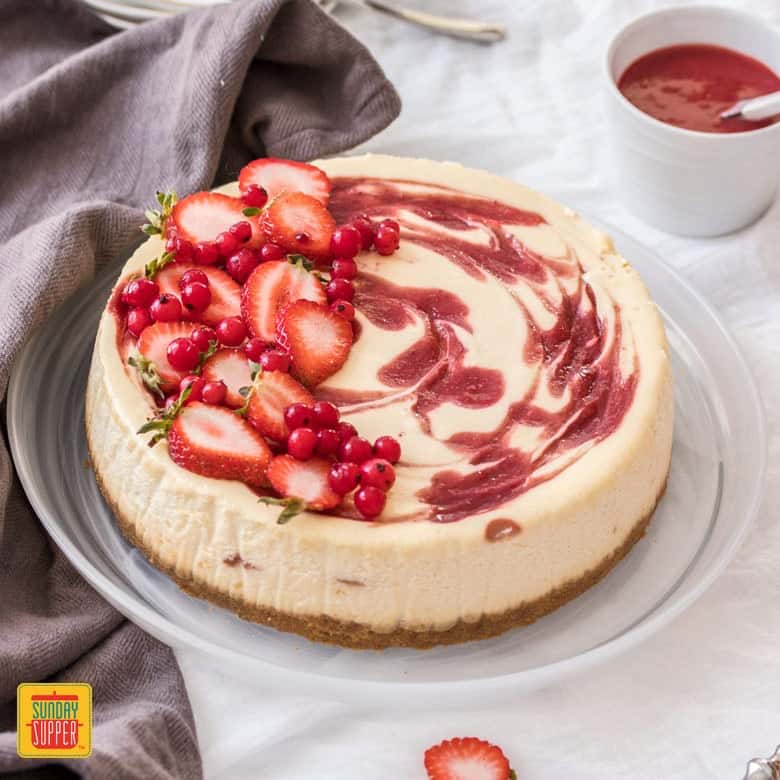 Jump to:
What do I need to make a cheesecake?
An 8″ round springform pan or a regular round cake pan
Parchment paper
Your oven
You will also need the tools to mix the filling. This can be an electric hand mixer or stand mixer. You can use your hand and a whisk, but you will get smoother, easier results using an electric mixer.
A food processor makes the job of making the graham crust a bit easier, but you can also use your hands to make the crust, too.
Making this decadent strawberry swirl cheesecake is much easier than your typical recipe. There is no water bath, and the mixture is easy to mix together with an electric mixer.
Even if you're a beginner to making homemade cheesecake from scratch, we guarantee you will be able to make this strawberry cheesecake stress-free and that it will turn out beautifully!
Why is my cheesecake too liquidy?
If you over-mix your batter, it will come out too liquidy and soft. Carefully mix the batter with an electric hand mixer or stand mixer.
Do not use a blender or food processor and make sure to only mix as instructed and not for longer.
Can I add a crust to the sides of the cheesecake?
Yes! We have made this cheesecake with just a bottom crust and with crust on the sides, and both ways are delicious.
If you would like to have a crust on the sides, press the graham crackers up the sides of the pan, too.
Best Strawberry Sauce Recipe
What brings this strawberry swirl cheesecake recipe all together is our homemade strawberry sauce recipe.
I love Junior's NYC cheesecake recipes – my favorite has always been the strawberry swirl cheesecake! It is the best cheesecake recipe, but it costs around $70. Who wants to spend that kind of money when you can make it for so much less and it is just as delicious?
This strawberry swirl cheesecake is so easy, and the flavor is incredible. You will feel like you are eating that $70 cheesecake – for the tiniest fraction of the cost. It is amazing!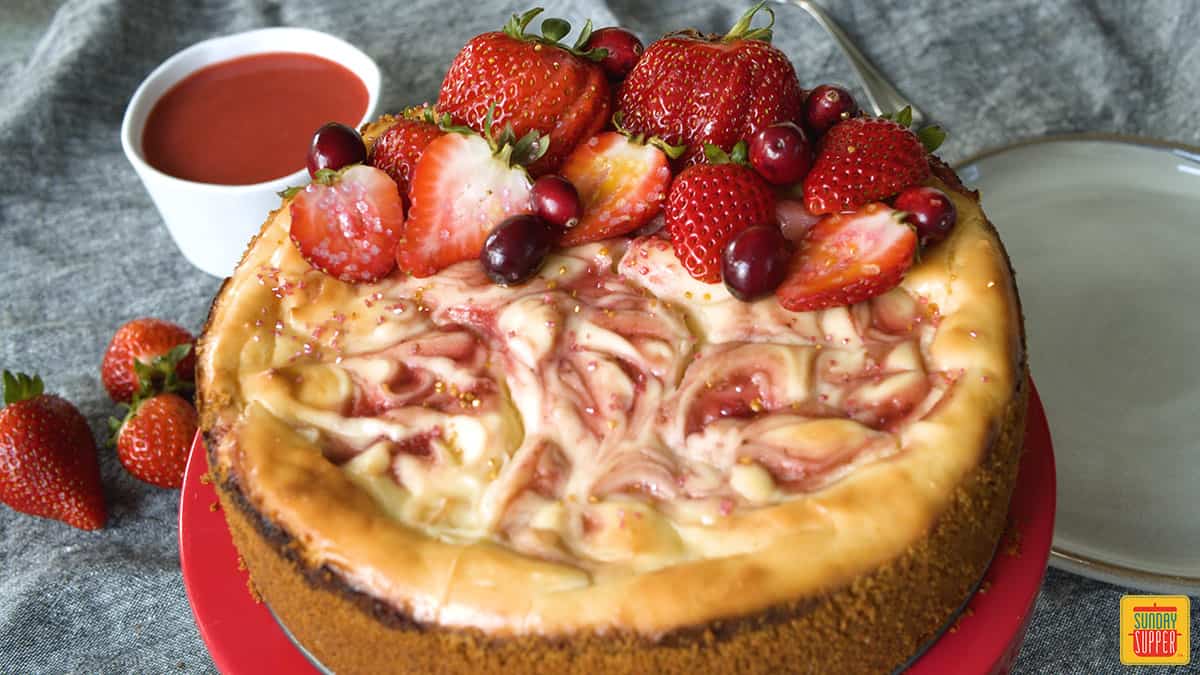 How can I stop my cheesecake from cracking?
The trick to stop your cheesecake from cracking is to allow it to cool slowly. You do this by allowing it to cool in the oven for half an hour after the oven has been turned off.
Then, remove it from the oven and let it come to room temperature. Finally, cover the top and place it in the fridge to finish cooling.
What I love most about this recipe is that there are no fancy steps. No bain-marie, and no water bath! This makes the cheesecake so simple, even for a total beginner.
What can I use if I don't have a springform pan for cheesecake?
No! You can use a regular 9×11″ cake pan or even a tin foil pan.
The only difference is that springform pans make releasing the cheesecake from the pan once it's done cooling a bit easier. You can also cut the cheesecake into pie bars – it is just as delicious this way!
To use a regular cake pan: Line the inside of your cake pan with parchment paper. This makes it easier to lift the cheesecake out of the pan once it's done chilling.
To use a tin foil pan: After the cheesecake finishes chilling, cut into squares and serve as bars.
After trying this method, one of our readers had this to say:
Thank you so much for the tips and your help! It came out amazing and I'm so happy.

Alicia A.
How do you transfer a cheesecake from a springform pan?
Springform pans are designed so you can easily remove the cheesecake from the pan. However, if your cheesecake is sticking to the inside or if you just want to be extra careful, you can use a knife to remove it more easily.
Heat a sharp knife under hot water.
Gently run the knife along the inside edge of the pan.
Use the knife to carefully release any sides sticking to the pan.
Unlatch and remove the sides of the pan.
How long can you refrigerate cheesecake?
You can refrigerate for 4-5 days. So, take your time and enjoy eating it for dessert every day! 😉 You might even want a slice for breakfast. We won't tell!
Can you freeze cheesecake?
Yes, you can. Although, from personal experience, there's rarely enough left in my house to do it!
To freeze, place the strawberry cheesecake on a flat plate or the baking tin base. Then wrap it 2-3 times in plastic wrap so that it's very well sealed.
Freeze it for up to a month. Make sure to thaw it in the fridge, and if you're thawing the whole cake. Give it at least 24 hours to make sure it's perfectly thawed.
What is the difference between baked and no bake cheesecake?
Every cheesecake lover asks themselves this question every time they make a cheesecake. Baked and no-bake cheesecakes have a completely different texture.
When making a baked cheesecake, you mix the cream cheese, egg, and other ingredients, without allowing much air in the mixture.
In the no-bake version, you whip the cream cheese and other ingredients and then fold in the whipped cream at the end. This makes for a light and fluffy dessert.
Our new method for a no-bake version is using the Instant Pot: Instant Pot Cheesecake! This method creates the moistest and most decadent dessert. It is a must-try!
While a no-bake cheesecake is light, fluffy, and refreshing, there is nothing like a dense and velvety baked cheesecake. That is where this recipe comes in!
Our Favorite Desserts for a Party
📌 Pin it for later!
Did you enjoy this page? Save it on Pinterest for later!



Save the Video Pin
What makes this the best cheesecake recipe?
It's decadent and so smooth. This strawberry swirl cheesecake is melt-in-your-mouth delicious!
The ingredients to make this homemade cheesecake are so simple. It will surprise you!
There is no bain-marie or water bath, making it as easy as it gets and stress-free!
It's easy to make ahead of time and refrigerator. Serve at a celebration or for dessert the next day!
Take it from our readers! They love this easy cheesecake recipe:
My first time baking a cheesecake. It turned out great – light and creamy!

@jordanmariedelory on Pinterest
Turned out beautifully and tasted amazing!!

@tflaherty8711 on Pinterest
Delicious 🤤 I'll double the crust next time ( I love the crust) but excellent recipe!

@bnaylin on Pinterest
A first ever for me. It was FAB.🤤🤤

@atothicus on Pinterest
Delicious (first piece)! Second piece – tasted even better leaving it in the fridge overnight.

@tiffcrespo on Pinterest
This was my first cheesecake and it was so yummy!! Would definitely recommend making 😊

@yairafalcon on Pinterest
📋 Recipe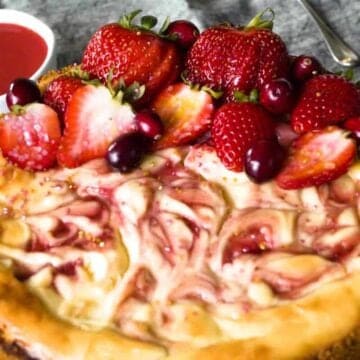 Strawberry Swirl Cheesecake
Beautiful STRAWBERRY SWIRL CHEESECAKE is an easy dessert recipe made with simple homemade strawberry sauce and smooth, creamy baked cheesecake.
Ingredients
¾

cup

Graham crackers

crushed, or up to 1 cup

¼

teaspoon 

cinnamon

¼

teaspoon 

ground ginger

3½

oz

unsalted butter

(melted)

3

packages

cream cheese

(softened; 8 oz. packages)

¾

cup 

superfine sugar

1½

teaspoons 

vanilla extract

2 

large eggs

room temp

1 

egg yolk

room temp

1

cup

light sour cream

room temp (a little less than one cup)

½

lemon

juice and zest

Pinch 

of salt

⅔

cup

strawberry sauce
Instructions
Creating the graham cracker crust
Preheat the oven to 160°C / 325°F / 140°C fan forced. Grease and line the base and sides of an 8-inch round springform tin with baking paper.

Crush graham crackers in a food processor until they are a fine crumb. If you don't have a food processor or blender, put them in a bag and crush them with a rolling pin.

Add the cinnamon and ginger and combine.

Mix through the melted butter.

Press firmly into the bottom of the prepared tin.

Bake for 10 minutes then set aside while you make the filling.
Creating the cheesecake filling
Using a stand mixer with the paddle attachment or an electric hand mixer, beat the cream cheese on low-med speed for about 2 minutes until smooth and creamy. Scrape down the sides of the bowl as required.

Add the sugar and vanilla and beat well. Again, scrape down the sides as necessary.

Mix in the eggs and beat through.

Then, add the extra yolk and beat until fully incorporated.

Add the sour cream, salt, lemon juice, and zest, and beat well. The mixture should now be completely smooth and glossy.

Pour half of the cheesecake mixture over the base.
Putting the strawberry swirl cheesecake together
With a teaspoon, dollop about half the strawberry sauce in small blobs over the top of the cheesecake mixture you just added to the base.

Carefully spoon over the remaining cheesecake mixture.

Smooth out the top just a little, then again use a teaspoon to dollop over the remaining strawberry sauce.

Drag a knife through the little strawberry patches to give it a swirl effect.

Bake for 45-50 minutes on the middle shelf of the oven. There should be a slight wobble in the center.

Turn the oven off and allow the cheesecake to cool in the oven for half an hour with the door closed.

After a half hour, remove it from the oven and let it cool at least a further 45 minutes at room temperature before covering (a plate over the top of the tin is fine) and placing in the fridge to set completely. Let it set for at least 4 hours.

Remove from the pan, serve, and enjoy!
Notes
A great tip to stop a cheesecake from cracking is to allow it cool slowly. You do this by letting it cool in the oven for half an hour after it has been turned off.
Then, remove it from the oven and let it come to room temperature before covering the top and placing it in the fridge to cool completely.
Try our Easy Instant Pot Cheesecake Recipe (Raspberry Cheesecake) next!
Nutrition
Calories:
330
kcal
Carbohydrates:
27
g
Protein:
5
g
Fat:
23
g
Saturated Fat:
13
g
Cholesterol:
98
mg
Sodium:
237
mg
Potassium:
145
mg
Fiber:
1
g
Sugar:
18
g
Vitamin A:
819
IU
Vitamin C:
10
mg
Calcium:
82
mg
Iron:
1
mg
Did you try this recipe?
Tag #SundaySupper on social and leave a comment below!
Some photography by Marie Roffey