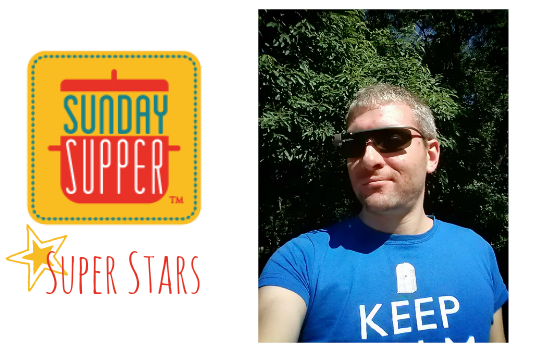 Sunday Supper Super Stars is a weekly feature in which one member of the Sunday Supper Family will be introduced. Pull up a chair and meet the family!
Today on Sunday Supper Super Stars: T.R. from Gluten Free Crumbley

Who is T.R.: I was born in the state of Georgia, and have spent most of my life in Virginia. I went to the University of Virginia for undergraduate and work full time in the DC Metro area.
I started blogging in 2009 on No One Likes Crumbley Cookies after graduating college as a way of keeping up with college friends. Within a few months, I took my love of cooking and poured it into the blog. Within a year of graduating and after a lot of testing, I became gluten free and went on an adventure to change my food lifestyle. In 2010, No One Likes Crumbley Cookies became a gluten free blog that documented my gluten free experiences and food experiments. Since then I've gained a whole new group of friends, and have found an amazing gluten free support system. Earlier this year, No One Likes Crumbley Cookies was migrated to my new site, Gluten Free Crumbley. It's been quite the wild ride this year, but it's a great amount of fun and I love every minute of it!
His favorite #SundaySupper theme so far:  My favorite Sunday Supper theme so far was the Farmer's Market Sunday Supper. I had the opportunity to host this event, and I have such a passion for local food (I am very proud of Virginia produce). I made a sour cherry cake and am excited to make it again once they're seasonal again!

His most popular #SundaySupper post: My most popular post so far has been Beef Pho Soup. It's a delicious Vietnamese soup that's rich and filled with aromatic herbs and spices.

Random Facts: 
-I was in a service organization in college and improved the local community with other college students.
-I am a huge computer science nerd (it is my full time job).
-I loved Legos (plastic building block toys) when I was a kid and won a local contest when I was in elementary school.
Catch up with T.R. on social media: Facebook | Twitter | Google+ | Pinterest

I hope that you enjoyed meeting another Sunday Supper member. Please join me again next Friday to meet another member of the family.