Sunday Supper is an Amazon Associate and may receive compensation for purchases made through affiliate links.
On Saturday, August 13th, at a Three Birds Tavern celebration, the winning #Hashed competition team was spoiled with an action-packed day filled with good food and amazing company. Participant Lara Clevenger of Healthy Fit Foodie shares a recap of the spectacular day along with her drool-inspiring photographs.
We started the day happy with Bloody Marys made with St Petersburg Distillery vodka, Steve's Gourmet Olives Bloody Mary mix, mimosas, and craft beer from Big Storm Brewing Company. We also got to munch on an extravagant veggie plate and some flavorful chicken wings.
I must confess we did have a little accident. Erica from The Crumby Cupcake aka my BFF spilled my Bloody Mary all over my dress while she was trying to get my attention. Talk about alcohol abuse. LOL.
After happy hour and all of the introductions, we packed up and piled into the most beautiful limo/party bus I've ever been on! Seriously, we need to book this for every event! We made our way to St Petersburg Distillery, where we took a tour of the two different phases of their distillery.
St. Petersburg Distillery
Let me tell you, this place was huge! I think they said it was the second largest distillery in Florida and the fifth largest in the US! One word of caution though, if you've never been to a distillery (like me) dress lightly. The first production area is HOT. I instantly regretted wearing my black lace dress (and thank you, everyone, for all of the compliments I got on it). The post-production/bottling area was nice and cool though, and after that part of the tour, we all headed upstairs for what we all had been waiting for… the alcohol.
Speaking of alcohol, I was very surprised that I really didn't smell alcohol except for one section of the distillery. For some reason, I thought it would permeate the building.
St Petersburg Distillery set us up with these cute placemats with a mini shot of each of their most popular drinks. My favorites were the coconut rum and the honey wine. I bet you can tell I like my sweets.
Three Birds Tavern
After the tour, we hopped back on our luxury bus and made our way to Three Birds Tavern. Boy, were we in for a surprise! We started the night with a Taverna Gazpacho.
A Strawberry Cocktail made with frozen strawberries from the Florida Strawberry Growers Association accompanied it, as well as a beer pairing from Big Storm Brewing Company.
Next up were the sliders, lamb, BBQ pork AND beef. They were UH-MAZING! And, of course, Three Birds Taverns paired them with another tasty cocktail and beer.
Round 3 was Three Birds Tavern award-winning Kenz Salad.
It was paired with Big Storm Brewing Company Tropic Pressure Beer (my favorite!) and a Tavern Ghostini.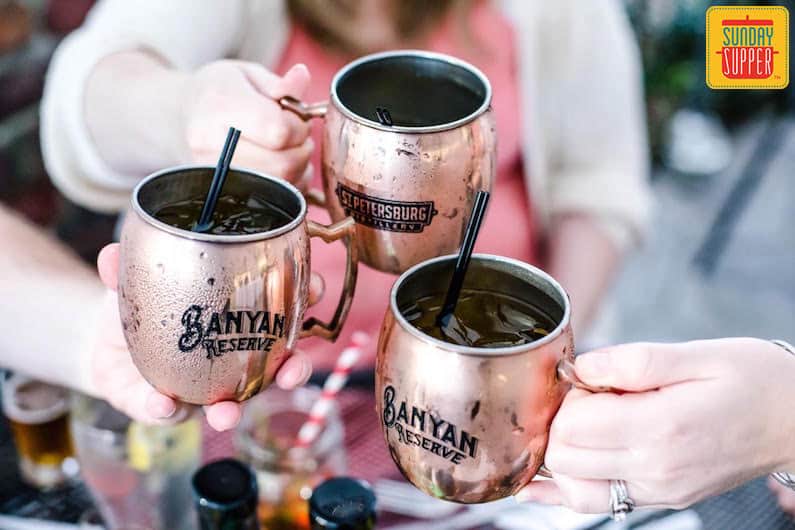 Course 4 was an entrée of our choice. I chose the chicken and waffles because duh! I'm a chicken and waffles connoisseur. Yep, you guessed it, this was paired with another cocktail and beer. Do you see a pattern yet?
The final course was one of my favorites. DESSERT. It consisted of three different types of bread pudding, a dessert cocktail, and more beer!
From beginning to end we were wined and dined non-stop. Robin, Isabel, Nichole and everyone else really came together and made this an unforgettable day that we all wish we could repeat with the rest of the Sunday Supper crew.