Healthy Rice Bowls are a great option for lunch or dinner, especially if you already have leftover rice in your fridge. This Tuna Rice Bowl with Yum Yum Sauce is a snap to put together and delivers a one-two punch of flavor. If the teriyaki marinade doesn't knock you out,  the yum yum sauce will. But you won't mind one bit.
This Tuna Rice Bowl with Yum Yum Sauce recipe is a remake of Family Foodie's Teriyaki Tuna Rice Bowls recipe.
Yum Yum Sauce
The secret to enjoying healthy rice bowls lies, in part, in the sauce. Because, otherwise, the ingredients are fairly simple. The two sauces involved in this Tuna Rice Bowl are a teriyaki marinade and yum yum sauce. If you don't have your own recipe for yum yum sauce lying around (I didn't,) head on over to Family Foodie for her recipe. It comes together quickly and enhances the flavor of this tuna rice bowl approximately 950%.
This extremely popular mayonnaise-based sauce originated in Japanese Steak Houses but has been adopted by condiment-lovers across the globe. And for good reason.
You don't need as much as you see in this picture. I was just trying to get the shot. But please don't go without it. The way it plays off the teriyaki marinade is out of this world.
Tuna Rice Bowl with Yum Yum Sauce
Speaking of photos vs real life…this Tuna Rice Bowl with Yum Yum Sauce recipe suggests slicing the tuna steaks thinly, then grilling them. But I did the opposite here because I was worried about the thinly sliced fish falling apart on the grill and looking lame. So I grilled the steaks whole, then sliced them. And it was absolutely delicious. HOWEVER, I like the idea of slicing it first because that gives you way more surface area to baste with the marinade. And I simply couldn't get enough of that teriyaki flavor. It's gold.
I'm literally sitting here feeling sorry for myself that I don't have leftovers in the fridge to nibble on while I type. Yes, I can type and eat. It has taken years of practice. But I'm dedicated.
Like I said, the rest of the ingredients in this Tuna Rice Bowl with Yum Yum Sauce are simple. So, as long as your fish is high quality, your avocado is ripe and your cucumbers are nice and crisp…you're good to go.
And speaking of "to go" these healthy rice bowls are a great candidate for a packed lunch for you or the kids because they taste great at room temperature.
Looking for more Healthy Rice Bowl recipes?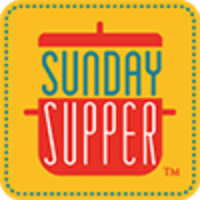 The Sunday Supper Movement is committed to bringing our readers delicious recipes that encourage them to gather and eat together around the family table. Search for your favorite ingredients on our Sunday Supper website. Also check out the Sunday Supper Pinterest boards for plenty more ideas and inspiration.
Sign up for our newsletter to get FREE Sunday Supper recipes delivered right to your inbox!

[simple-recipe]
Healthy Rice Bowls