Sunday Supper is an Amazon Associate and may receive compensation for purchases made through affiliate links.
Our Watermelon Lemonade Recipe with Mint is the lemonade you need for those warm summer days! With sweet watermelon, tart lemon, and a hint of mint, this easy lemonade recipe tastes delicious and will keep you cool all summer long.
One of the easiest and best drink recipes you can make at home!
This fresh homemade lemonade recipe will put a smile on your face! I enjoy making lemonade from scratch instead of buying it in a bottle. There is nothing quite like a glass of fresh lemonade, especially when it's hot outside!
One of the best parts about making lemonade from scratch is that you can have your kids help you. It's a lot of fun to make lemonade together, and easy to do.
You might not see many lemonade stands out on the side of the road these days, but you can still make it together to enjoy as a family! Even better if you're making it for a BBQ menu.
🥤 What do I need to make homemade lemonade?
To make watermelon lemonade from scratch, you will need a blender and a mesh strainer.
Since this is a watermelon lemonade recipe, the watermelon itself needs to be blended and then mixed again with the other ingredients.
You will also need a fine mesh strainer to hold back excess pulp and seeds from the watermelon. If you're using seedless watermelon, you can most likely skip this step and will only need a blender.
🍉 What does lemonade have in it?
Our watermelon lemonade recipe uses very simple ingredients. You will need watermelon, lemon juice, water, sugar, and, mint. Watermelon and lemon go together so well – I know you will love this easy drink recipe!
I use watermelon cubes to make this lemonade recipe. You could even use frozen watermelon cubes to give it more of a slushie consistency, like my Frozen Strawberry Daiquiri recipe (I have a kid-friendly version for that recipe, too! Give it a try!).
If you want, you can cube your own watermelon from a whole fresh watermelon. 🍉 After all, then you'll have plenty of watermelon to enjoy! Perfect for summer salad recipes like our Watermelon Basil Salad with Balsamic Glaze, or for using in the daiquiri above.
Even better if you use seedless watermelon – that way, you may not have to strain it after you blend it.
You will also want to have some ice cubes on hand. 🧊 I like to serve my homemade lemonade recipes over ice. Nothing is more refreshing than an extra-cold sip of watermelon lemonade!
How many lemons make a cup of lemon juice for watermelon lemonade?
For 1 cup of lemon juice, you would need about 6-8 lemons. You can use bottled lemon juice if you prefer, but I like using fresh lemon juice whenever possible.
Not only is there a difference in taste, but you can zest the lemons first to use the zest in your BBQ recipes.
This homemade lemonade recipe calls for less than a cup of lemon juice for 6 servings, so you would need about 3 lemons. I like to have a few extra on hand but had enough juice with 2 ½ lemons.
If you have any left over, you can use to make Lemon Orzo Pasta Salad or the lemon aioli for Air Fryer Asparagus Fries. Yum!
What can I use instead of sugar in lemonade?
If you want to skip the sugar in this homemade lemonade recipe, you can use a sugar substitute instead.
Coconut sugar is a popular choice for using in lemonade recipes! You can also use a natural sugar like honey as a sweetener for making lemonade, but you would have to cook the honey down first, which you can do by heating it in a saucepan with water.
🔪 How to Make Lemonade Step by Step
Add the watermelon to a blender and blend until smooth.
Pour in the water, lemon juice, and sugar and blend well.
Strain, then chill until needed! Serve over ice with a garnish of mint.
It's super easy to make this watermelon drink recipe from scratch. It is just a matter of blending the watermelon cubes with water, sugar, and lemon juice.
After blending, you strain the mixture to get rid of any seeds or excess pulp from the fresh watermelon and lemon. If you're using seedless watermelon and made sure there were not any seeds in your lemon juice, you can skip this step.
How to Juice a Lemon
If you're using fresh lemons to make this watermelon mint lemonade, I have good news for you: you do not need a juicer to juice a lemon!
Start by picking the best lemons at the store. Heavier lemons have more juice, and if they're a little soft, you can tell they're going to be juicy.
Peel your lemons. If you want to get the most out of your lemons, peel them first. This is optional, but makes them much easier to squeeze. You will get more juice per lemon, too!

How to peel a lemon:

Using a paring knife, cut off the top and bottom of the lemon.
Hold the lemon securely in place with one hand. Carefully cut the peel away from the lemon as closely to the skin as possible. You can do this by rotating it in one hand and cutting around it as if peeling a potato, or by cutting down the sides in strips to remove the peel and pith (the white stringy part).

Squeeze lemons using a hand juicer if possible. If you have a handheld juice press, you can get plenty of juice out of your fresh lemons!
⭐ Family Foodie Tip
You can make this watermelon lemonade recipe using more than just watermelon! I like to add strawberries 🍓 to my watermelon drink recipes (Frosé is one of my favorite choices!).
Try using other fruits in your watermelon drinks. Blueberries are a great addition to watermelon lemonade, as they pair very well with watermelon and lemon. They taste great with mint, too!
🥫 Storing Watermelon Lemonade
Store your homemade watermelon lemonade in a pitcher in the refrigerator. I like to cover the top of the pitcher with a bit of plastic wrap.
Alternatively, you can store it in mason jars that double as drinking glasses! Lemonade in a jar is way too fun, and perfect for summertime.
💭 Questions about Watermelon Lemonade
How long does fresh lemonade last in the fridge?
Homemade watermelon lemonade will last 5 to 7 days in the refrigerator. I always find that it disappears from the fridge far faster than that, however! 😉
Can you freeze lemonade?
Yes, you can freeze lemonade! After mixing your lemonade, pour it into an air-tight container with at least half an inch of room at the top. Liquid expands when you freeze it, so you want to give it space.
Label it and store it for up to 8 months. It can store for longer, but will taste better if you enjoy it before then.
You can either thaw lemonade in the refrigerator overnight or you can blend it frozen to make a delicious frozen lemonade recipe. Just add a bit of liquid to the blender if you do!
🍽 What to Serve with Watermelon Lemonade
Serve up this watermelon mint lemonade with the best grilling recipes! Grilling recipes for summer, like our Easy Steak Foil Packets and other Steak Recipes, are perfect for pairing with homemade drink recipes like this one.
Here are a few of my personal favorites:
I also love to serve this lemonade drink with Elotes Mexicanos (Mexican Street Corn). It is one of our top recipes, and they are so delicious together! Even better alongside our Easy Paella Recipe with Beef and Shrimp 🍤.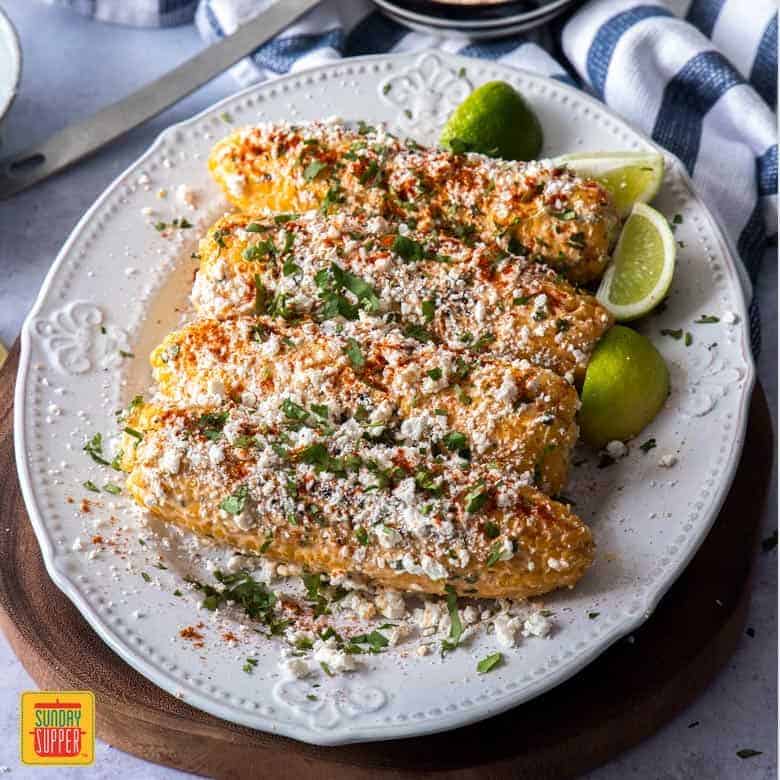 🍹 Summer Drink Recipes
Homemade drink recipes are a lot of fun and taste amazing! You can make everything from simple cocktail recipes to the best smoothies at home.
Here are a few of my favorites. Give them a try and let me know your favorite!
📌 Pin it for later!
Did you enjoy this page? Save it on Pinterest for later!



Did you try this watermelon drink recipe? It's one of my favorites! Leave a comment below and a rating to let me know what you think. We would love to hear from you!
Watermelon Mint Lemonade
Watermelon Mint Lemonade is the lemonade you NEED on hot summer days. Sweet watermelon, tart lemon, and a hint of mint will quench your thirst with a refreshing flavor and keep you cool all summer long!
Equipment
Blender

Fine mesh strainer
Ingredients
4

cups

watermelon

cubes

½

cup

lemon juice

3

cups

water

6

tbsp

sugar

or a little more/less to taste

mint

for garnish

ice

to serve
Instructions
Put 4 cups watermelon cubes in a blender and blend until smooth.

Add ½ cup lemon juice, 3 cups water, and 6 tablespoons sugar, and blend so they are well mixed.

Pour through a fine mesh strainer to hold back excess pulp and seeds.

Chill until needed, then serve over ice, garnished with some mint.
Notes
Adjust the amount of sugar to your taste, and depending on how sweet your watermelon is.
You can use fresh or bottled lemon juice, though I always recommend using fresh. Check the post for detailed instructions on how to peel and juice a lemon.
Tip: Use seedless watermelon!
Nutrition
Calories:
487
kcal
Carbohydrates:
126
g
Protein:
4
g
Fat:
1
g
Sodium:
45
mg
Potassium:
806
mg
Fiber:
2
g
Sugar:
112
g
Vitamin A:
3460
IU
Vitamin C:
96.4
mg
Calcium:
65
mg
Iron:
1.5
mg
Did you try this recipe?
Tag #SundaySupper on social and leave a comment below!
Photography by Caroline Williams.