Watermelon Mint Lemonade is the lemonade you NEED on hot summer days. Sweet watermelon, tart lemon, and a hint of mint will quench your thirst with a refreshing flavor and keep you cool all summer long! This lemonade recipe is easy to make with fresh ingredients to maximize flavor!
Watermelon
Watermelon is a delicious summer fruit that has become a staple at family picnics and barbecues. You are likely to find lots of Memorial Day Recipes using watermelon much like our Watermelon Mint Lemonade. After-all, nothing quite fits a warm day like a glass of homemade lemonade. Except maybe a slice of watermelon. So why not combine them in this Watermelon Mint Lemonade? It's refreshing, easy and as good to drink as it is to look at.
We are a family of watermelon lovers and usually have some in the fridge throughout the summer. Whenever we have friends over for a barbecue, as is often the case for Memorial Day and other summer Holidays, we make sure to have a big bowl of it to snack on. The kids, in particular dive in, but it's popular with everyone, being so refreshing and tasty.
I've used watermelon in a deliciously refreshing fruit, herb and feta Israeli couscous salad before, and I can't wait to try some watermelon strawberry and chicken salad and watermelon gazpacho as well. However I've not used it in drinks before making this Watermelon Mint Lemonade.
I made a papaya lemonade a while back that we loved, and decided it was about time to try another fruit lemonade. Watermelon has such a wonderful freshness, as well as a great color, that it's perfect for making a bright, light lemonade. We all immediately loved this Watermelon Mint Lemonade, and I know it's going to be a regular on our table over the summer.

Watermelon Mint Lemonade Recipe Tips
This drink comes together in no time following these simple steps:
dice up the watermelon
blend it
add the lemon juice, sugar and water and blend together
pour over ice and garnish with mint.
Hosting a summer party?
Watermelon Mint Lemonade makes a perfect Memorial Day recipe and will be a great addition to your beverage station throughout the summer. It's easy to make, fresh and with a wonderful flavor. Make sure you give it a try, and let us know what you think!
Be sure to check out our guide to Red, White, and Blue Recipes that will make you want to party right now! and our Red, White, and Blue Party Tips. For some adult beverage inspiration this summer bookmark our 40+ Simple Mixed Drinks for a Refreshing Summer.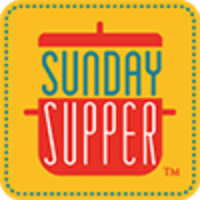 The Sunday Supper Movement is committed to bringing our readers delicious recipes that encourage them to gather and eat together around the family table. Search for your favorite ingredients on our Sunday Supper website. Also check out the Sunday Supper Pinterest boards for plenty more ideas and inspiration.
Sign up for our newsletter to get FREE Sunday Supper recipes delivered right to your inbox!

watermelon lemonade is easy to make, refreshing and the perfect drink for a warm day.
Ingredients
4

cups watermelon cubes

1/2

cup lemon juice

3

cups water

6

tbsp sugar (or a little more/less to taste)

mint for garnish

ice, to serve
Instructions
Put the watermelon cubes in a blender and blend until smooth.
Add the lemon juice, water and sugar and blend so they are well mixed.
Pour through a fine mesh strainer to hold back excess pulp and seeds.
Chill until needed, then serve over ice, garnished with some mint.
Recipe Notes
Adjust the amount of sugar to your taste, and depending on how sweet your watermelon is.