Sunday Supper is an Amazon Associate and may receive compensation for purchases made through affiliate links.
Homemade empanada dough is easy to make and makes the best empanadas! I'll show you how to make an Easy Empanada Dough Recipe you can use with any filling, that's flaky, buttery, and so delicious.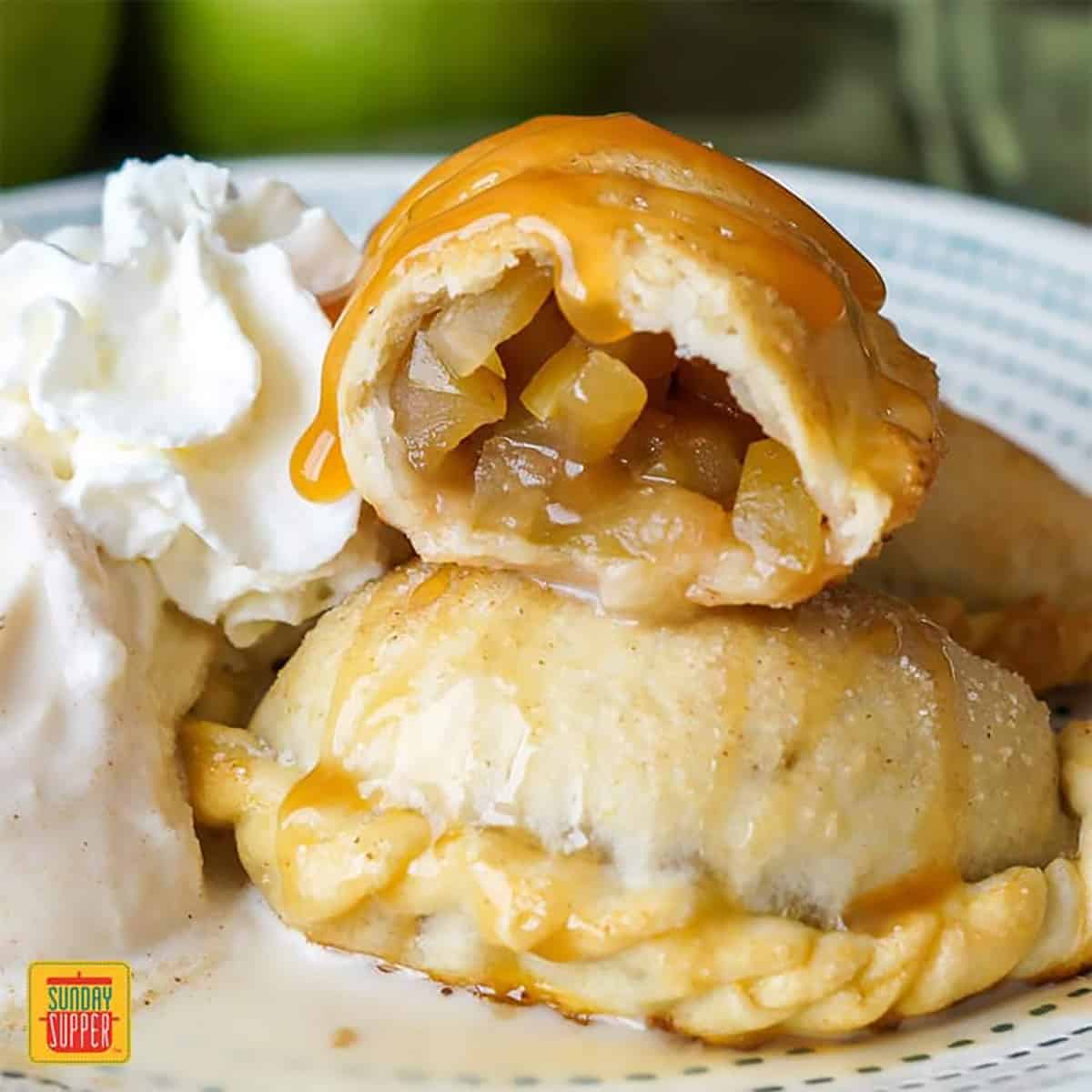 Jump to:
Best Recipe for Empanada Dough
Baked and fried empanadas are both basically a staple at our house. My family is wild about them! I've made everything from savory to sweet empanadas, with flavors like classic beef to caramel apple and even pumpkin.
While you can use premade empanada discs, I love to use my own recipe for empanada dough for the shells. There is nothing like the taste and texture of fresh pastry! They're so buttery and flaky.
You can use this easy empanada dough recipe for fried or baked empanadas.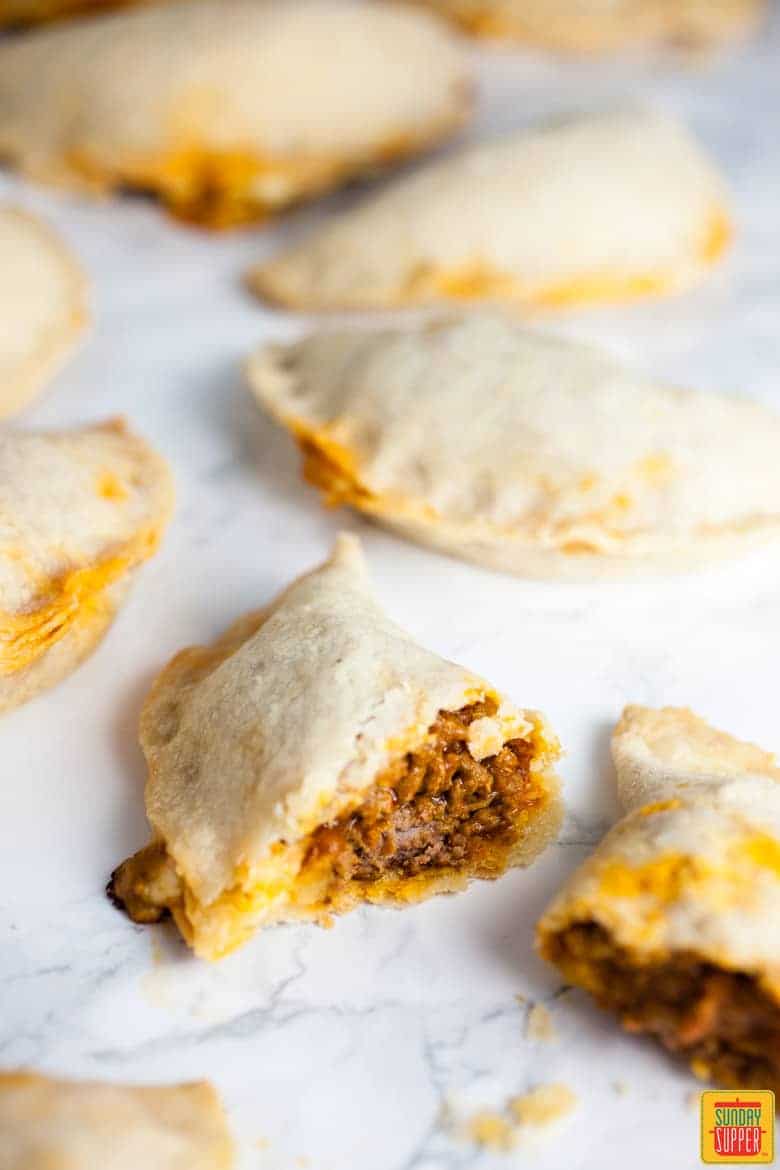 What is empanada dough made of?
all-purpose flour (or gluten-free flour)
butter
egg
water
salt
FAQs
What is an empanada?
Empanadas are essentially hand pies. They're fried or baked pastries filled with savory or sweet fillings. Empanadas are a Mexican food, but you can find the same type of dish all over the world, from Puerto Rico's Empanadillas (or Pastelillos) to Portugal's Rissóis.
What kind of dough is used for empanadas?
You can use any kind of dough you like to make your empanadas, from pizza dough to pie dough. I like to make my own recipe for empanada dough that's super easy and uses simple ingredients. Even a total beginner to baking can make this dough.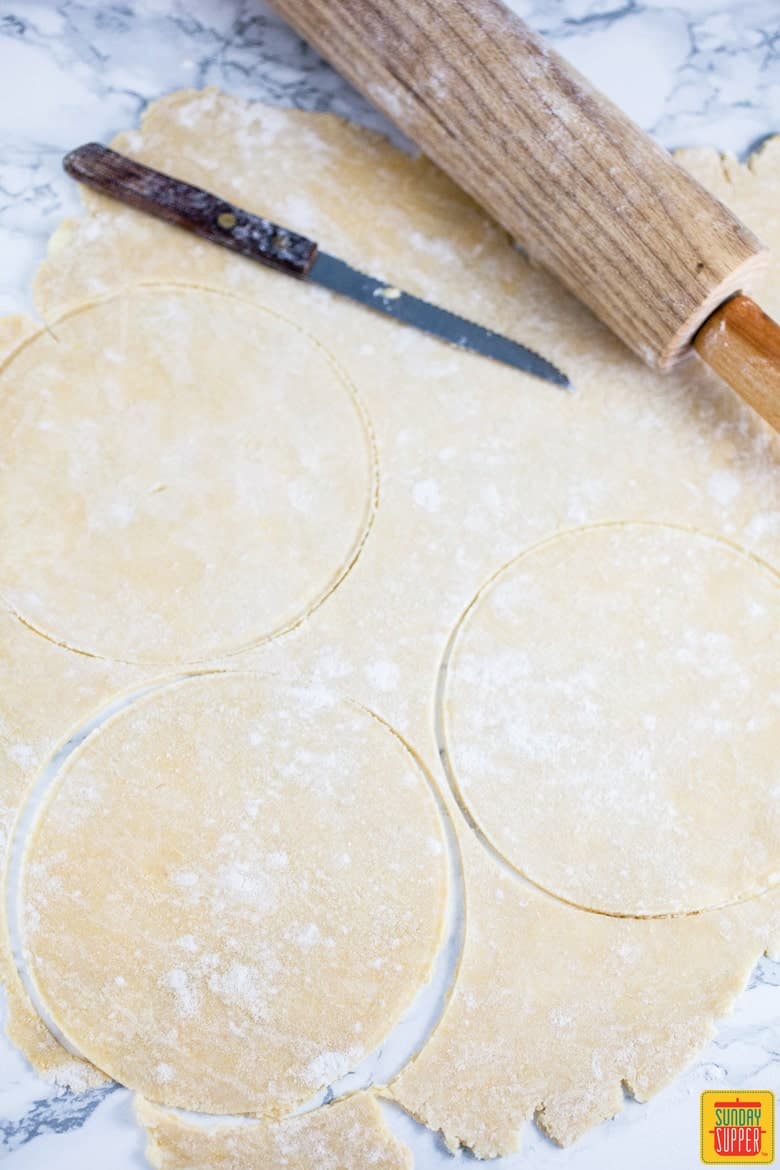 Are empanadas better fried or baked?
Honestly, I like them both ways, and so does my family. Baking uses less oil and is therefore a little more wholesome than frying, but as far as taste goes, they're both delicious. It isn't difficult to make crispy, satisfying empanadas using your oven.
How do you seal empanada dough?
There are multiple ways to seal empanada dough, depending on preference. I prefer to use a fork to crimp the edge, as it's easy to do.

You can crimp the edges of the pastries using a fork (simply press along the edges with the tines), fold them with your fingers in a purse-like shape, or roll the edges.

No matter which method you use, to help seal the empanadas, brush the inside edge with a bit of water or egg wash. Be sure not to over-stuff your pastry with filling or it may burst when baking or make it hard to seal.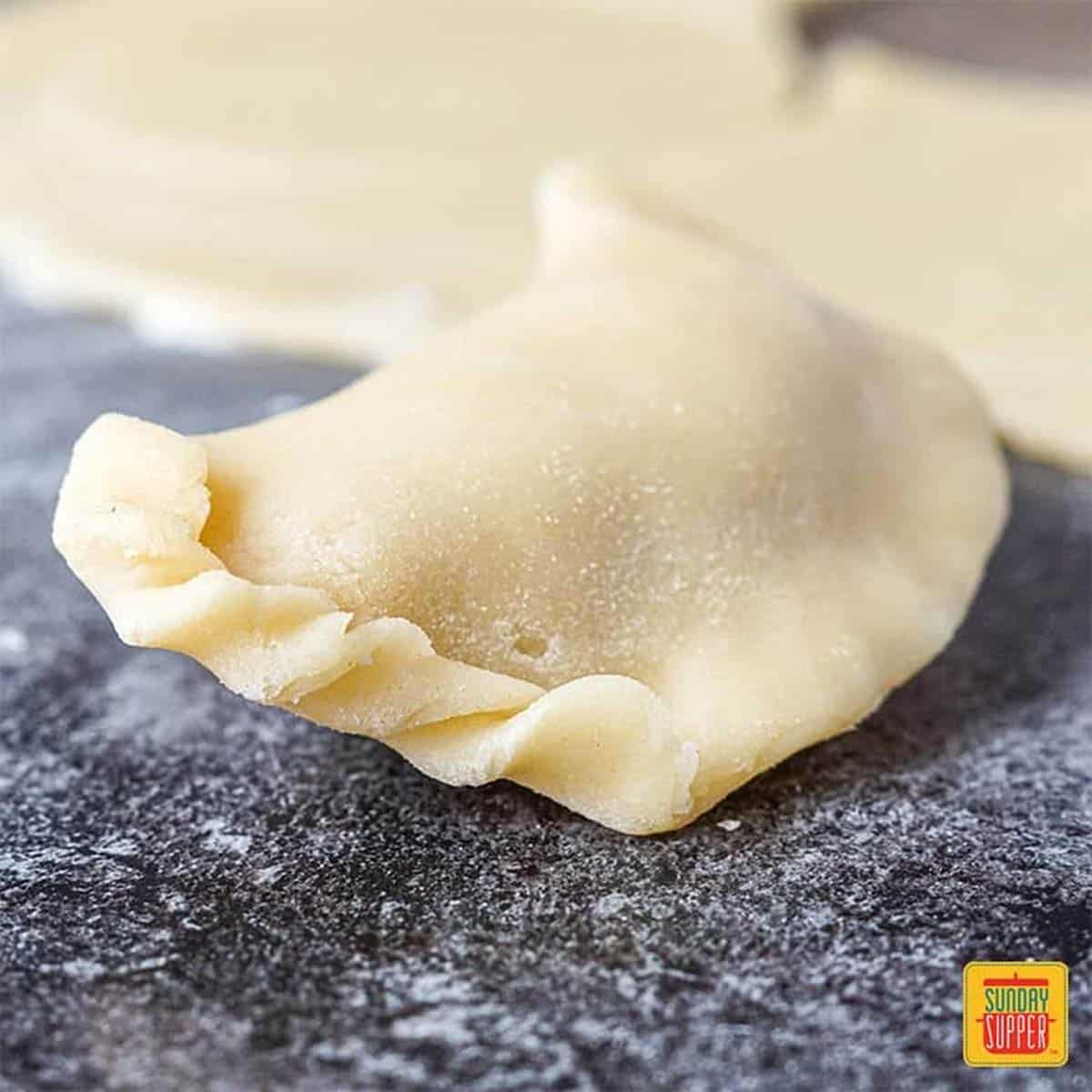 Can I freeze empanada dough?
Yes. The easiest way to freeze empanada dough is to roll the dough out into discs, then stack them with a piece of parchment paper in between each sheet. Store them in a freezer bag labeled with the date. When ready to use, let them thaw for about 20 minutes. Dough lasts about 3 months in the freezer.
Can you refrigerate empanada dough overnight?
Yes. Wrap tightly with plastic and store it in the fridge no more than 1-2 days. It's better to use the dough immediately, but storing it this way is fine.
How to Make Empanada Dough
Follow our tips to make the best recipe for empanada dough:
Refrigerating the dough for 15-30 minutes before using it will result in flakier dough because the gluten in the dough relaxes.
Use the dough as soon as you make it so it doesn't crack, or store it in the refrigerator wrapped tightly in plastic for no more than 1-2 days.
Always brush your empanadas with a bit of egg wash for golden brown pastries. Egg wash is a mixture of beaten egg and water.
Using a food processor makes mixing the dough easier, but it isn't necessary. You can mix the dough by hand, as well.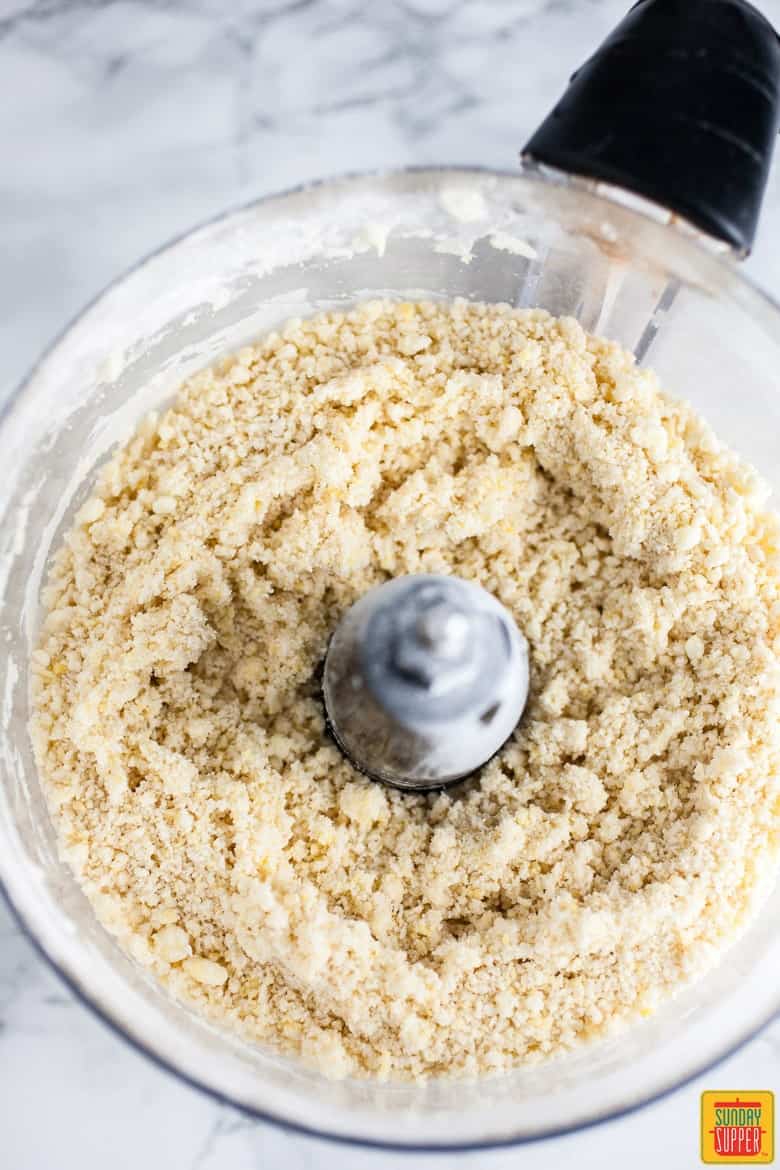 Empanada Filling Ideas
You can fill your empanadas any way you like. There are endless options to choose from! These are some of my favorite, easy hand pie recipes you can make using my empanada dough recipe.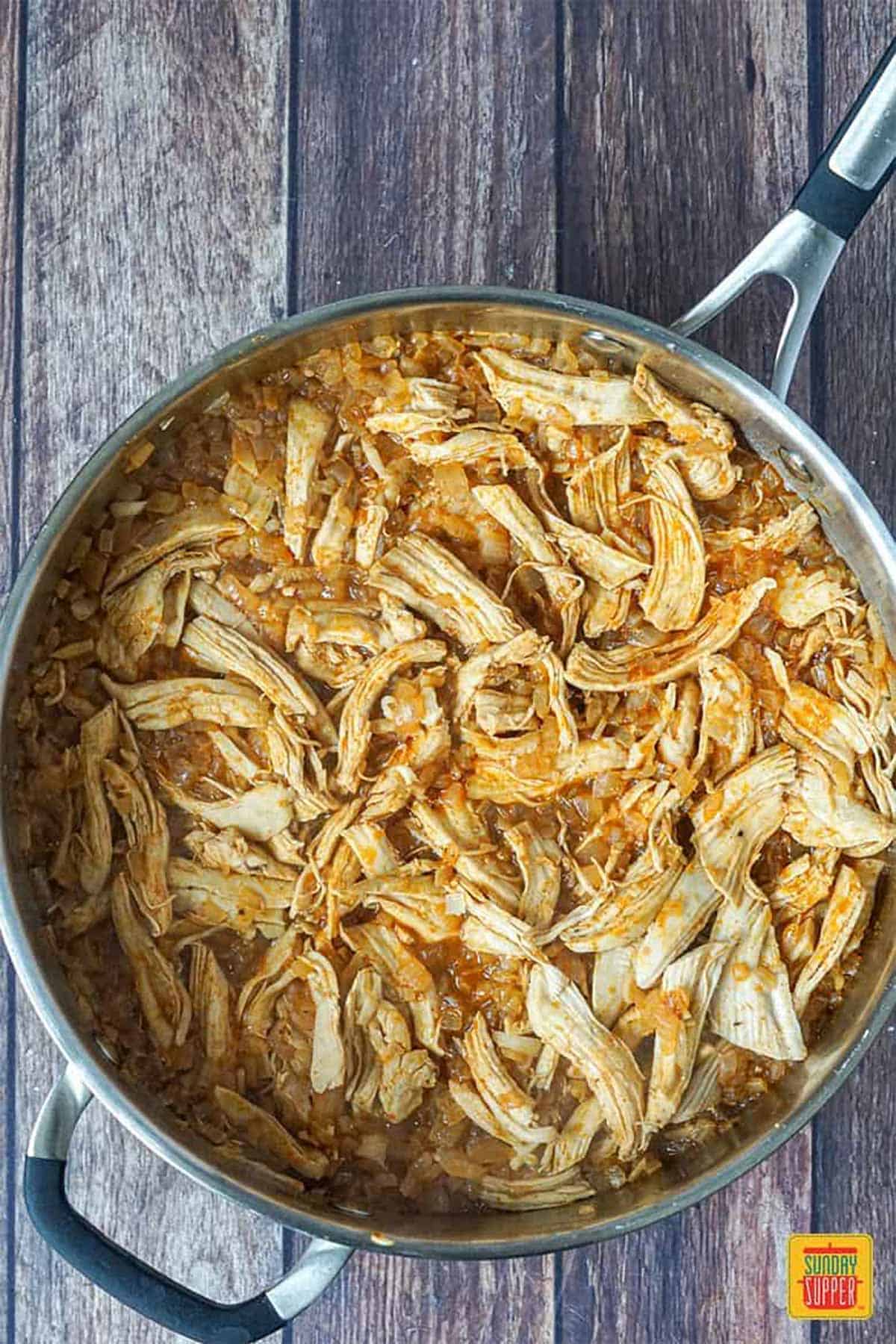 Gluten-Free Empanada Dough
For gluten-free empanada dough, simply replace all-purpose flour with your favorite gluten-free flour blend.
Sweet Empanada Dough
For sweet empanada dough, adding sugar is key. This is the only difference between savory and sweet. Otherwise, you make the dough the exact same way for both.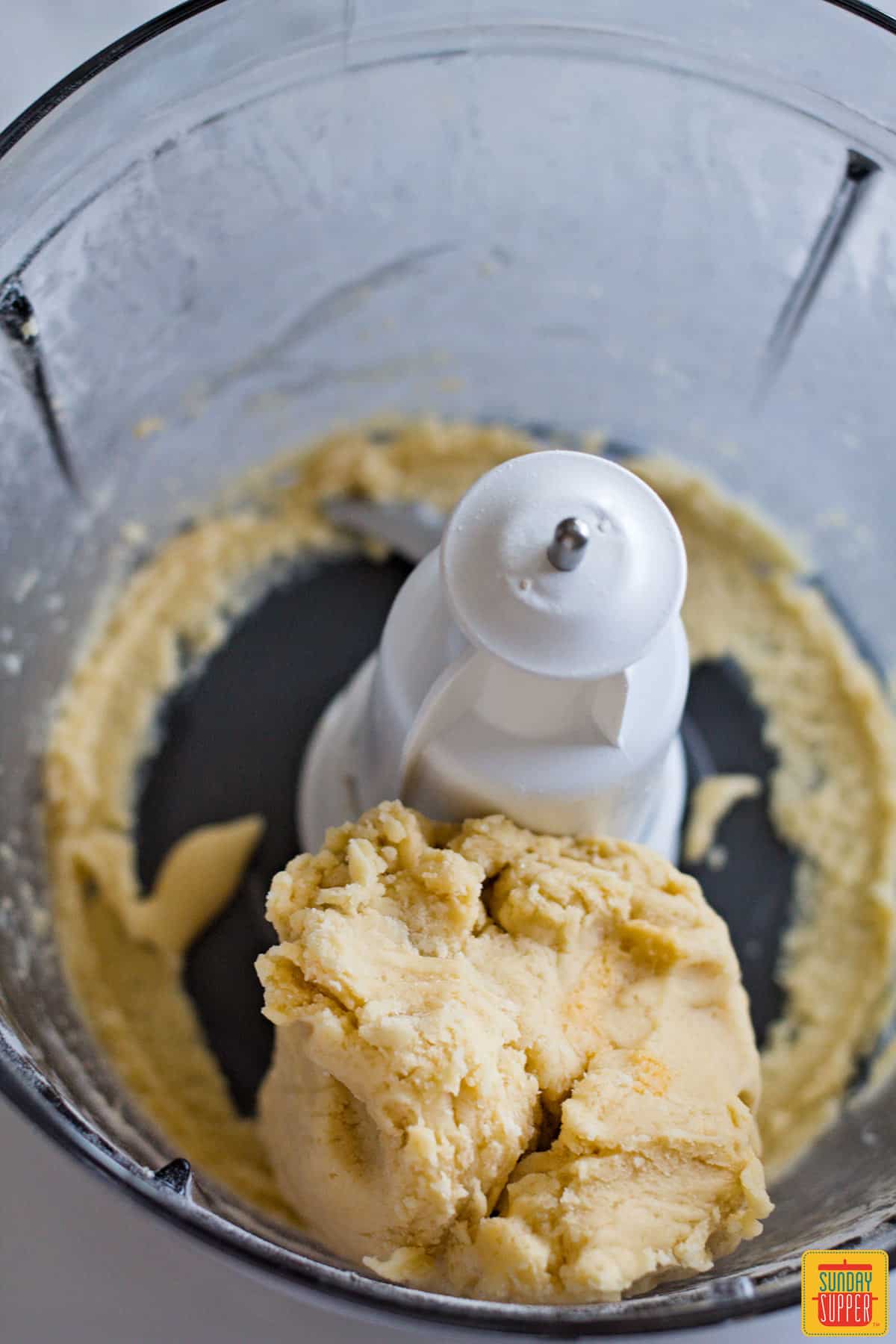 Did you try this recipe? Leave a comment and a rating below to let us know what you think! We love to hear from you!
📋 Recipe
Empanada Dough Recipe
My empanada dough recipe is easy to make using simple ingredients, and perfect to use for sweet or savory empanadas of all kinds.
Equipment
Food processor (optional)

rolling pin

Knife

5 to 6 inch round bowl or plate
Ingredients
2½

cups

all-purpose flour

plus more for sprinkling; or gluten-free flour alternative

1

stick

butter

cold and cut into pieces

1

egg

beaten

¼

cup

water

1

pinch

salt
Add for sweet empanadas
½

Tablespoon

granulated sugar
Instructions
Add 2½ cups all-purpose flour, 1 stick cold butter cut into small pieces, 1 egg, ¼ cup cold water, and a pinch of salt to a food processor fitted with a dough blade. Pulse until mixture resembles coarse crumbs. (See notes for instructions to mix by hand.)

Wrap the ball of dough tightly in the plastic wrap and place in the refrigerator for 30 minutes. After 30 minutes, remove the dough from the fridge. Sprinkle some flour on a clean surface and roll out the dough with a floured rolling pin as thin as possible.

Use a 5 to 6 inch round bowl or plate to cut discs from the dough. The dough will need to be formed into a ball and rolled out a few more times to cut all of the rounds.

Store or use immediately. Fill with no more than 2 tablespoons of preferred filling when ready to fill, to prevent bursting and make the empanadas easier to seal.

Seal by rolling or pursing the edges with your fingers, or pressing down on the edges with the tines of a fork. Brush with egg wash (beaten egg mixed with water) for best results.
Notes
Note: nutritional value is not calculated to include optional sugar.
How to Make Empanada Dough without a Food Processor
Using a fork, a pastry cutter, or your hands, cut the cold cubed butter into the flour until it resembles coarse crumbs. Sprinkle in the salt and give it a stir.
Add water and egg and mix until it forms a dough. Knead to form a ball on the counter for about 5 minutes.
Follow the instructions in the recipe card to roll out the dough and cut into discs. Enjoy!
Nutrition
Calories:
168
kcal
Carbohydrates:
20
g
Protein:
3
g
Fat:
8
g
Saturated Fat:
5
g
Polyunsaturated Fat:
1
g
Monounsaturated Fat:
2
g
Trans Fat:
1
g
Cholesterol:
34
mg
Sodium:
76
mg
Potassium:
35
mg
Fiber:
1
g
Sugar:
1
g
Vitamin A:
255
IU
Calcium:
8
mg
Iron:
1
mg
Did you try this recipe?
Tag #SundaySupper on social and leave a comment below!