With delicious Sunday Dinner Ideas like these, bringing the family back around the dinner table is easy! The whole family will love these simple dinner ideas for a traditional Sunday supper or as easy weeknight recipes.
After a busy week, the weekend is the perfect time to relax and enjoy a meal around the dinner table with your family. At the same time, we know better than anyone how difficult it can be to come up with the perfect family meal plan with everything else you have going on in life!
The good news is, we have your back. Enjoy our favorite easy Sunday dinner recipes, from quick chicken dinners to Sunday roasts!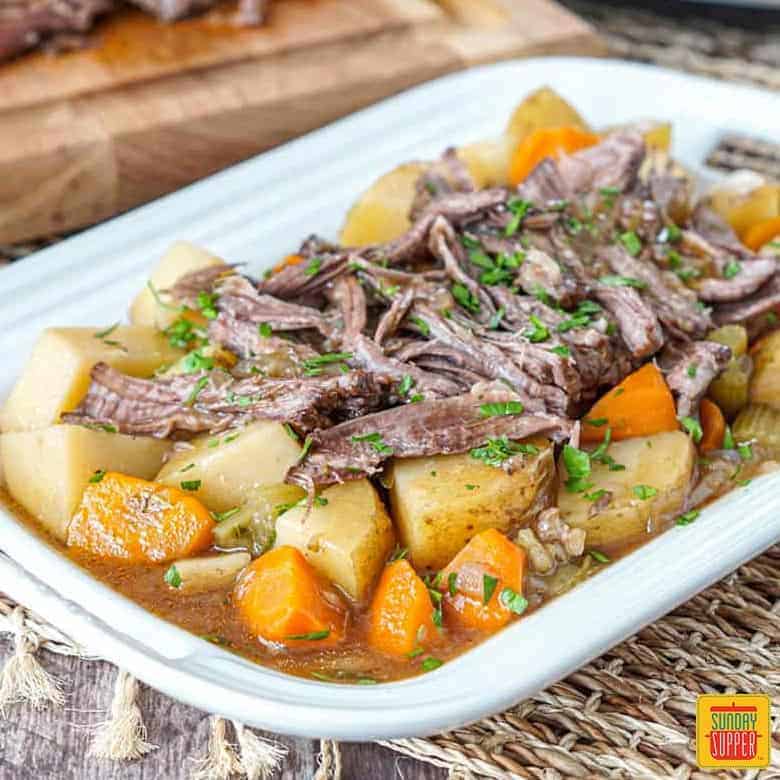 Your New Sunday Family Dinner Ideas
Family dinner menu ideas are our specialty! We cook to feed our families and to create memories around the dinner table that will last a lifetime. Sharing that with you is our mission, so we have put together a list of our favorite easy family dinner ideas for you and your family to enjoy. To make it easy on you, we sorted our favorites into categories:
Beef Dinner Ideas (including Sunday roasts)
Easy Chicken Dinners
Pork Dinner Ideas
Seafood Dinner Ideas
Pasta Bakes and Easy Pasta Dinners
Vegetarian Dinner Ideas
We also have recommendations for what to cook for Sunday dinner, including the best side dishes, the easiest desserts, and more! Enjoy!
Beef Dinner Ideas
Are you in need of the perfect Sunday roast recipe? We have plenty that are perfect for your family meal ideas or even a big Sunday gathering. Or maybe you're looking for something more simple, like a slow cooker pot roast? Beef pot roasts make excellent lazy Sunday dinner ideas! Whether you're in need of roast recipes or hankering for steak dinner ideas, we have what you need.
Try serving your roast beef recipes with our Best Side Dishes for Roast Beef, or your steak recipes with our Side Dishes for BBQ!
Easy Chicken Dinners
Some of the best Sunday suppers are easy chicken dinner ideas! These quick chicken dinners cost you less time in the kitchen so you can spend more time with your family. As an added bonus, chicken dinners are perfect for family meal ideas on a budget!
For the best chicken side dishes, try Baked Portobello Mushrooms, a Fresh Vegetable Salad with Creamy Balsamic Dressing, or Green Bean Almondine!
Pork Dinner Ideas
We love pork dinners for their simplicity and depth of flavor! Pork goes with just about anything because it takes on other flavors so well. Plus, just like chicken, pork is perfect for budget dinners. We know you'll love adding these easy pork recipes to your easy Sunday dinner ideas as much as we do!
For pork side dishes, try Sauteed Mushrooms and Onions, Irish Mashed Potatoes, or Slow Cooker Applesauce!
Seafood Dinner Ideas
These mixed seafood recipes, including shrimp dinner ideas and seafood soup recipes, make fantastic ideas for Sunday dinner for seafood-loving families. The best part about shrimp recipes, in particular, is that you can use frozen shrimp, simplifying them even more!
Our favorite seafood side dishes, depending on what we're making, are our Remoulade Sauce Recipe, Lemon Orzo Pasta Salad, or our Elote Recipe (Mexican Street Corn).
Pasta Bakes and Easy Pasta Dinners
Some of our favorite Sunday dinner ideas are pasta bakes or easy pasta dinners you cook in a skillet. You just cannot go wrong with a big plate of creamy baked pasta or one pan pasta. And, just like pork dinners and chicken dinners, pasta dinners make the perfect budget friendly meals!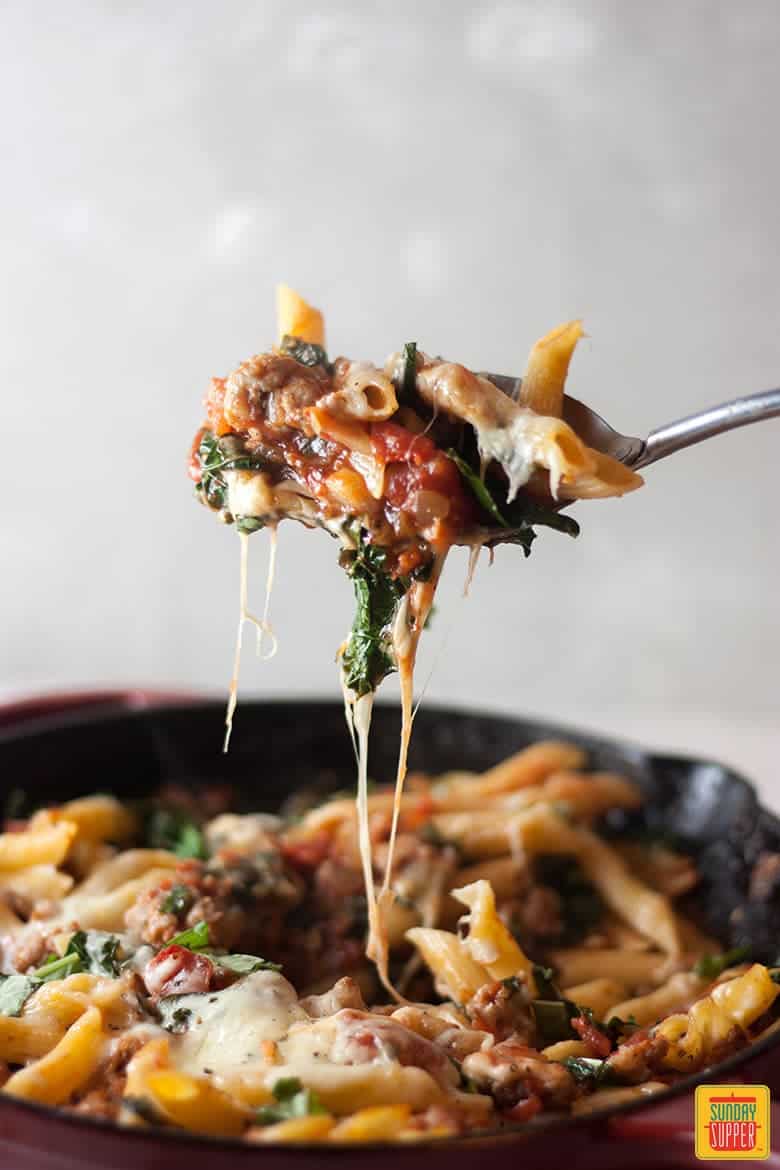 Our choice for pasta side dishes includes Brown Sugar Glazed Carrots, Easy Sprouted Grain Bread, or Smashed Brussels Sprouts!
Vegetarian Dinner Ideas
For the veggie lovers in your family, these vegetarian dinner ideas are just what you need! Even meat lovers will enjoy these easy veggie recipes. Count these vegetarian dishes among your Sunday dinner ideas, and everyone in the family will be happy!
For vegetarian side dishes, we recommend Baked Crispy Potato Wedges, Cauliflower Cheese Casserole, or our Tomato Casserole Recipe.
What to Serve with Sunday Night Dinner
When you're serving your Sunday dinner ideas, plan ahead for drinks and desserts! We have your back with our favorite simple drink recipes and the easiest desserts perfect for your family dinner plans.
Simple Drink Recipes (Alcoholic and Non-Alcoholic)
For the Adults:
For Everyone:
The Easiest Desserts for Your Sunday Dinner Ideas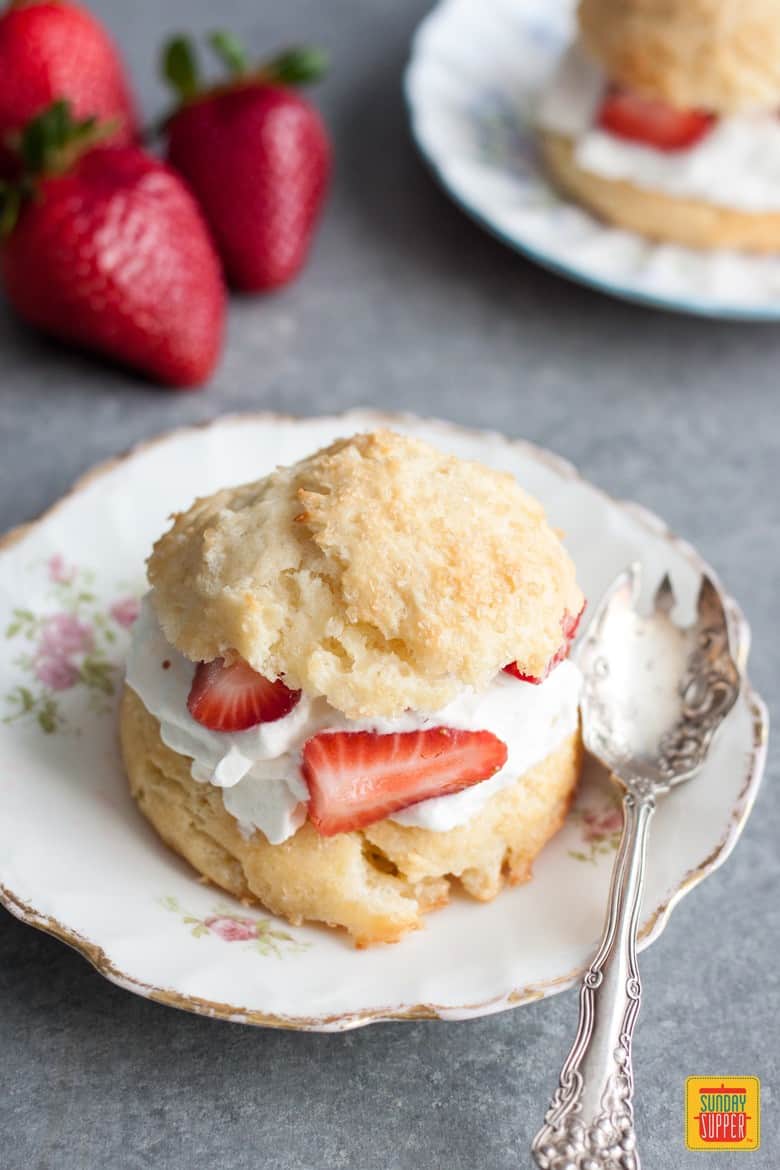 📌 Pin these Sunday Dinner Ideas to save for later!
What's your favorite dinner on this list? We would love to hear from you! Let us know in the comments below!
Take the Sunday Supper Pledge!
Here at Sunday Supper, we are passionate about encouraging families to gather together around the family table. After all, families that eat together make lasting memories and grow closer by breaking bread and sharing stories!
We would love for you to join us in our mission to bring back Sunday Supper by taking the Sunday Supper pledge. Sunday Supper starts off as one day a week and soon becomes a way of life.
We LOVE to see your Sunday supper photos, so be sure to take lots of pictures and show us your Sunday dinner ideas on Instagram!
This post was updated on October 7, 2019.