This post may contain paid links. If you make a purchase through links on our site, we may earn a commission.
My Pumpkin Empanadas Recipe is the perfect way to get your pumpkin fix! These sweet empanadas use simple ingredients and are so delicious.
Similar to pumpkin pasties or mini pumpkin hand pies, this easy dessert recipe is perfect for serving as a fun option on Thanksgiving!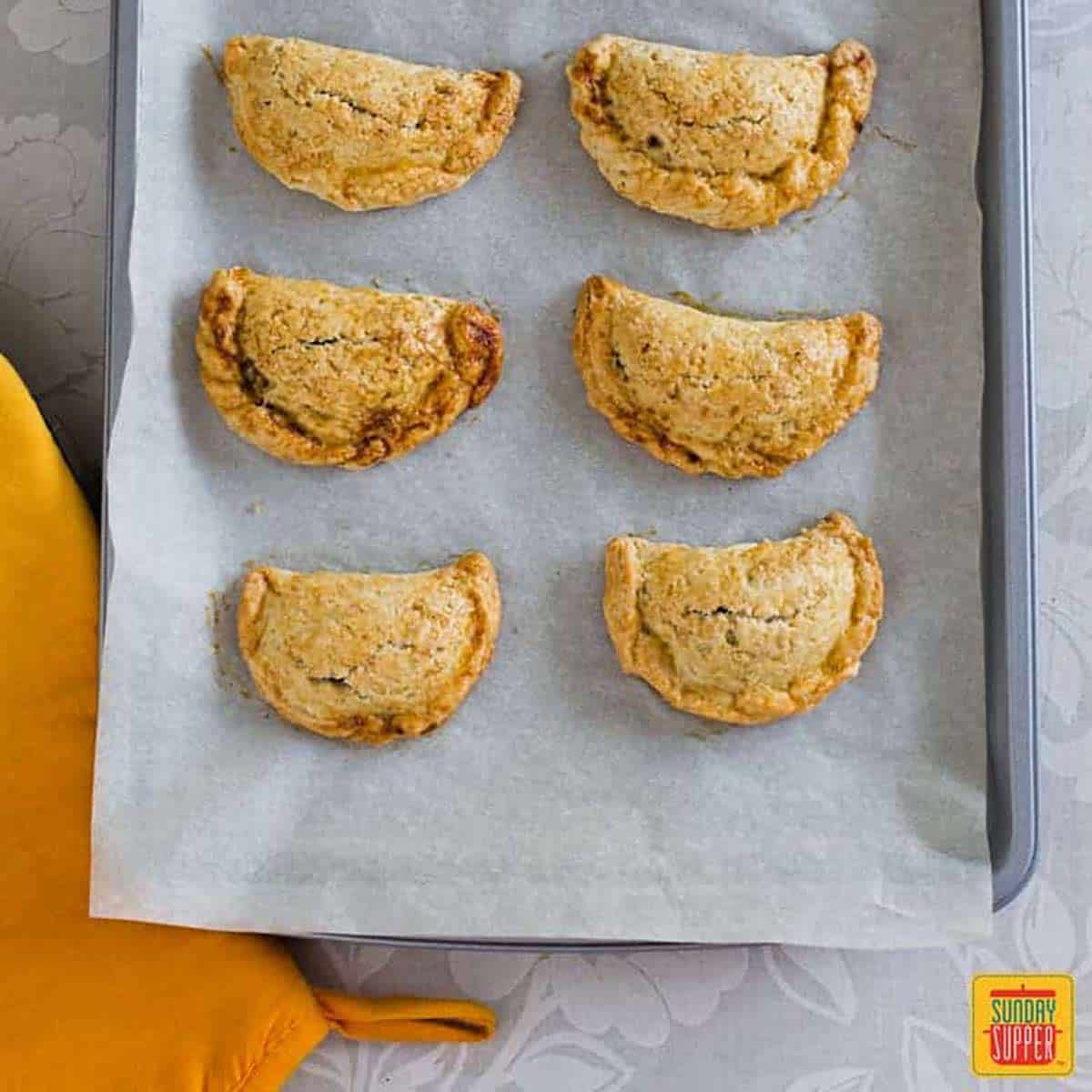 Jump to:
If you have yet to try an empanada, now is the time! They are easy to make and are a real treat! Empanadas are just amazing!
This is our new favorite Fall Pumpkin recipe!

Amelia on Pinterest
Pumpkin Empanada FAQs
What is an empanada?
The name empanada comes from the Spanish word empanar, which means to wrap. Empanadas are popular throughout Latin America and Europe. Each country has its own version of empanada dough, shape, and filling.
What can empanadas be stuffed with?
Different empanada fillings include fruit, vegetables, meat, or cheese! You can fill them with just about anything you'd like to try, and you can fry or bake them. I've even tried macaroni and cheese empanadas!
Are empanadas fried or baked?
You can fry or bake empanadas. It really is your personal preference.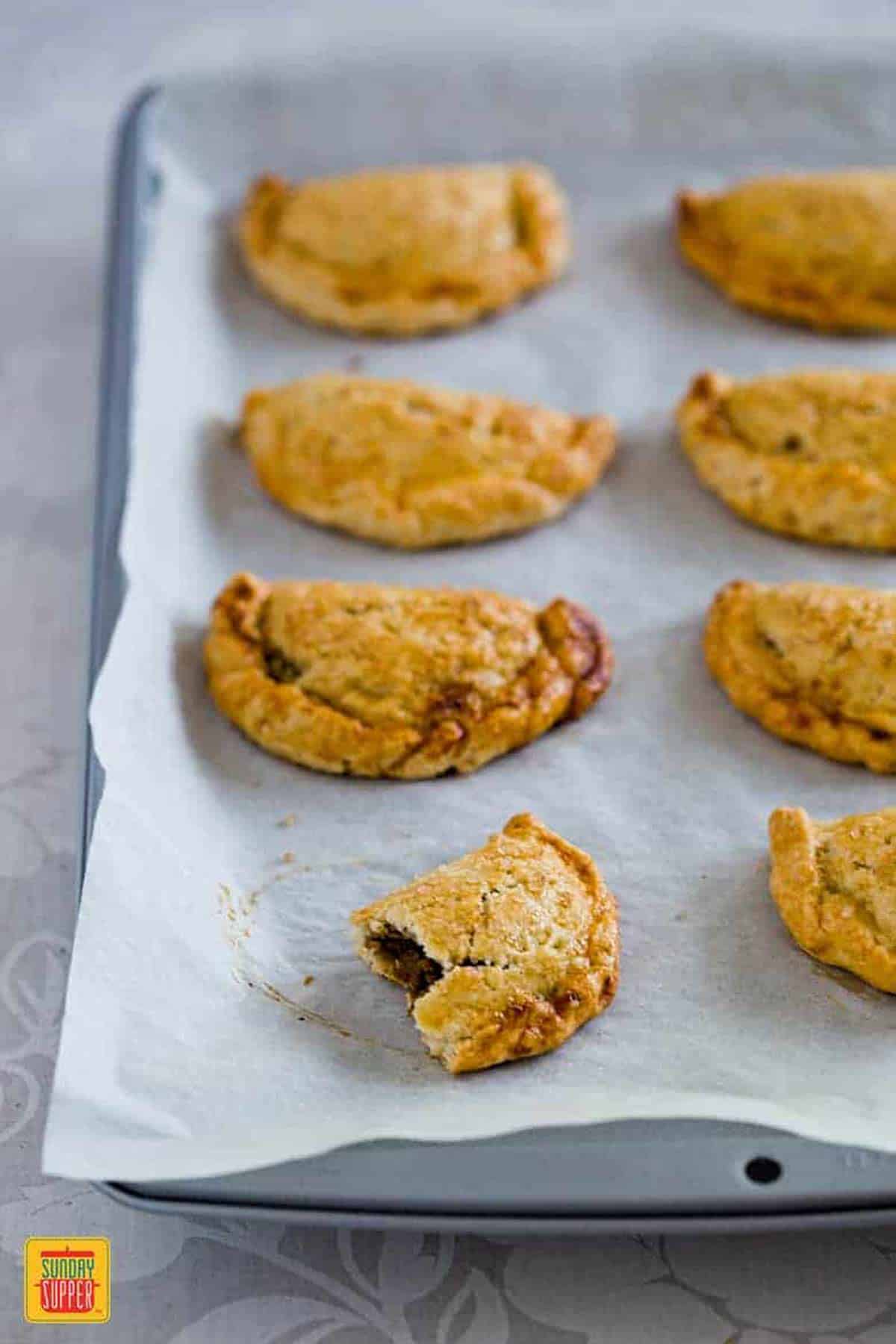 Empanada Ingredients
Empanada Dough
all-purpose flour
sugar
butter
baking powder
eggs
ice cold water
For this recipe, I use traditional pie dough ingredients to make my homemade empanada dough. However, you can also buy ready-made dough!
If you want to save some time, you can use premade pie dough or Goya discos. Goya discos are specially made empanada rounds you can find in the freezer section of your grocery store!
Empanada Filling
pumpkin puree
butter
dark brown sugar
egg
ground cinnamon
ground cloves
These pumpkin hand pies have an irresistibly buttery and sweet pumpkin pie filling you will love, made with pumpkin puree, cinnamon, cloves, and dark brown sugar.
Brown Sugar Topping
egg, lightly beaten
brown sugar for sprinkling
The egg helps them brown in the oven, while the sugar gives them a nice crunchy element.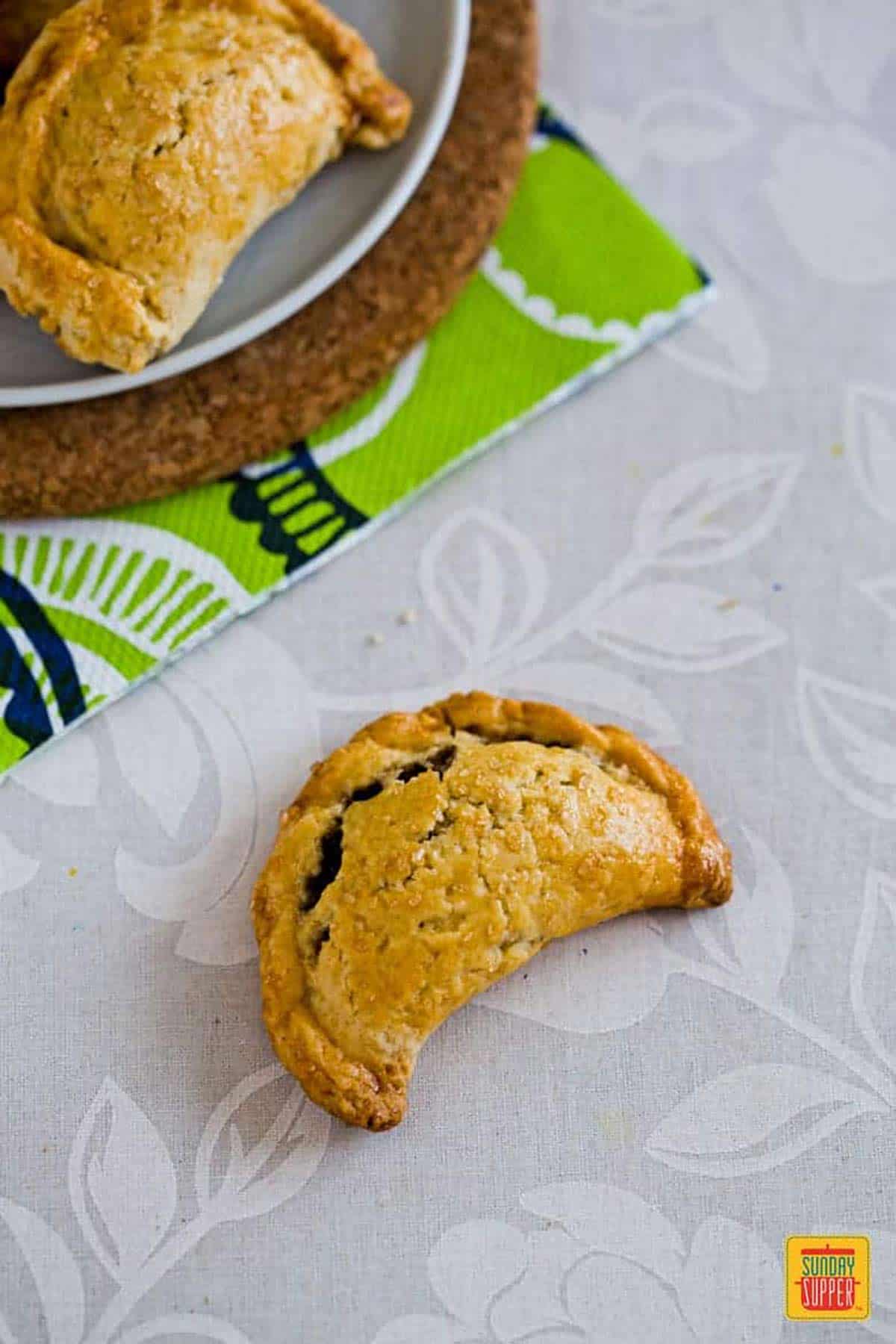 Recipe for Pumpkin Empanadas
Mix pumpkin puree, dark brown sugar, a spoonful of butter, cinnamon, and cloves over medium heat. When the mixture thickens, remove from heat and let cool for a few minutes, then add the egg. Store filling in the refrigerator until ready to use.
Combine flour, butter, white sugar, baking powder, and egg in a food processor. Process for 1-2 minutes until a ball is formed. Refrigerate the dough until chilled.

Preheat the oven to 350°F. On a floured surface, roll the dough and cut circles out of it (I used the top of a mug for this). Add about a tablespoon of filling into each circle, then fold into a half-moon shape and close it tightly. Roll the edges with your fingers to create a rope-like pattern, or crimp them down using a fork.

Arrange the pumpkin empanadas on a baking tin lined with parchment paper. Brush them with beaten egg and sprinkle brown sugar on top.

Bake until golden brown, about 20-30 minutes. Serve, and enjoy!
Sealing the Pumpkin Filling (Repulgue)
Sealing empanadas is easy to do, but you can also get fancy with it! For many people, it's become an art form.
After folding the dough, add 1 to 1 ½ tablespoons of filling. Then, pinch the edges closed tightly with your fingers. I like to fold the dough inward along the edge to create a rope-like pattern.
You can also seal them simply by using a fork to crimp the dough. Whichever technique you use, the important part is to make sure you seal them completely so none of the fillings leaks out.
What to Serve with Empanadas
Best Empanada Recipes
Best Pumpkin Recipes
Did you enjoy these pumpkin empanadas? Leave a comment and a rating below to let us know! We love to hear from you!
📋 Recipe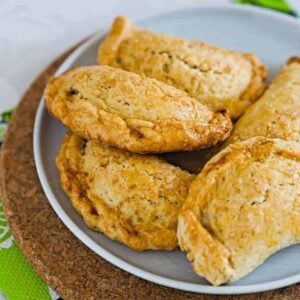 Pumpkin Empanadas Recipe
Try something new this pumpkin season by making these Pumpkin Empanadas! These sweet dessert empanadas are the perfect way to get your pumpkin fix!
Equipment
Baking sheet

Parchment paper
Ingredients
Brown Sugar Topping
1

egg

lightly beaten

brown sugar for sprinkling
Instructions
Make the dough:
In a food processor combine flour, sugar, butter and baking powder. Pulse until the mixture resembles crumbs. Add egg and the water (start with 1 tbs and add more, if needed). Pulse until a soft dough forms into a ball.

Take the dough out of the food processor and knead it just a little bit, to make sure all the ingredients are mixed well. Cover it with cling film and refrigerate for 30 minutes.
Make the filling:
In a small saucepan over medium heat mix all ingredients except the egg. Stir until the mixture starts simmering. Lower the heat and let simmer for few minutes until the liquid is reduced. Continue stirring to avoid burning.

Remove from heat and let cool 5-10 minutes. Add the egg and stir until absorbed. Refrigerate the filling for 30-60 minutes. If you want to speed up the process, leave it in the freezer for 15 minutes.
Assemble:
Preheat oven to 350 degrees F. On a floured surface or between two sheets of parchment paper, roll the dough into a thin sheet.

Use a pastry round cutter, a tea cup, or a round can to cut circles.

Place some of the filling (about 1 to 1 ½ tablespoons) in the middle of each circle of dough.

Fold the circle into a half-moon shape. Press well the edges to avoid leaking: use a fork or make folds to resemble a rope.

Arrange the prepared empanadas on a baking tin lined with parchment paper. Brush them with the beaten egg and sprinkle with brown sugar. Bake for 20-30 minutes or until golden brown.
Notes
If you don't have time to make the dough, you can use pre-made pie dough or frozen Goya Discos, instead. Thaw them by transferring them to the fridge at least 4 hours before starting to prepare the empanadas.
Nutrition
Calories:
605
kcal
Carbohydrates:
81
g
Protein:
10
g
Fat:
27
g
Saturated Fat:
16
g
Cholesterol:
147
mg
Sodium:
256
mg
Potassium:
242
mg
Fiber:
3
g
Sugar:
32
g
Vitamin A:
5640
IU
Vitamin C:
1
mg
Calcium:
73
mg
Iron:
4
mg
Did you try this recipe?
Tag #SundaySupper on social and leave a comment below!