Marmalade Glazed Sweet Potatoes are a bit sweet, with a lovely sharp edge from the orange marmalade and a good splash of sherry vinegar. They are just as tasty as they are pretty and would make a great addition to your holiday table. I mean, really. Look at that shine!
Over the years, since we've lived outside of the United States and away from family, we've celebrated Thanksgiving with various groups of friends, some American, others not. When we lived in Paris, we hosted a fun dinner with friends and neighbors. I roasted a turkey, made quite a few side dishes and pecan pies and told everyone to bring the side dish or dishes it simply would not be Thanksgiving at their house without.
All told, we were about 20 people, children included, and the array of side dishes was downright impressive. There was one dish I was completely unfamiliar with so I had to ask. Apparently, creamed pearl onions is a must-have family side for my friend, Teresa. That was in the days before the internet but years later I remember looking it up and creamed pearl onions are a New England favorite. I've never made them myself but I remember them fondly from that one special dinner.
I'm not actually allowed to make these marmalade glazed sweet potatoes for Thanksgiving because that menu is set in stone, but maybe your family is not such a bunch of sticks-in-the-mud. I can tell you that they are perfect for a Weekday Supper as well.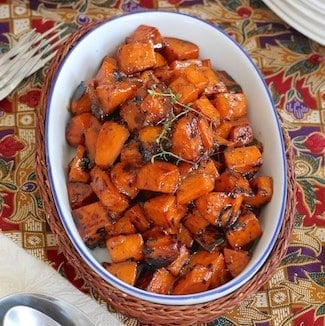 Marmalade-Glazed Sweet Potatoes
Marmalade Glazed Sweet Potatoes are a little bit sweet, with a lovely sharp edge from the orange marmalade and a good splash of sherry vinegar.
Print
Pin
Comment
Ingredients
2

lbs

or 900g sweet potatoes – more or less

1

tablespoon

olive oil

1/2

teaspoon

flakey sea salt or to taste

1/4

cup

or 80g thin cut orange marmalade

homemade or store-bought

2

tablespoons

red wine or sherry vinegar

2-3

sprigs fresh thyme

plus more for garnish

2

tablespoons

butter
Instructions
Peel and cube the sweet potatoes.

Mix together the marmalade, vinegar and the thyme leaves in a microwaveable bowl.

Add in the butter and warm in the microwave until the butter starts to melt. Stir till the butter is completely melted and set aside.

Drizzle the olive oil in a large non-stick pan where the sweet potatoes can fit in one layer.

Over a medium to high heat, cook the sweet potatoes, tossing or stirring occasionally, until they are browned on many sides, about 8-10 minutes.

Add in a few tablespoons of water, turn the fire down to a simmer and cover the pan for 5-6 minutes, or until the sweet potatoes are fork tender.

Remove the lid and add in the marmalade mixture.

Over a low to medium heat, cook down carefully until the sauce reduces and thickens and the sweet potatoes are glazed.

To serve, transfer to warm serving bowl.

Use a silicone spatula to spoon every last sticky drop of glaze over sweet potatoes. Garnish with thyme, if desired.
Nutrition
Calories:
54
kcal
|
Carbohydrates:
1
g
|
Protein:
1
g
|
Fat:
6
g
|
Saturated Fat:
3
g
|
Cholesterol:
10
mg
|
Sodium:
33
mg
|
Fiber:
1
g
|
Sugar:
1
g
|
Vitamin A:
130
IU
|
Vitamin C:
0.5
mg
|
Iron:
0.1
mg