Sunday Supper is an Amazon Associate and may receive compensation for purchases made through affiliate links.
We have the secret to making the most Perfect Caramelized Onions you will eat! Learn how to caramelize onions our way, and you will never want to make them any other way. They are deliciously sweet and perfect for topping dishes of all kinds, like sandwiches, burgers, and steaks.
Our best caramelized onions recipe needs to be tasted to be believed – it's that delicious. Cook up a batch in less than 20 minutes and try it yourself!
Quick Caramelized Onions
One of my favorite toppings for any meal is caramelized onions. I love how sweet they are and how much flavor they add to a dish! Some of my favorite recipes to use them for are steaks and my favorite Hot Roast Beef Sandwich recipe. Not to mention, caramelized onions for burgers… yum!
There is a myth that you have to slow cook your onions for approximately an hour to get them to caramelize properly… I am here to tell you that you can have perfectly caramelized onions in less than 20 minutes!
Caramelizing onions is honestly so easy, but there's a trick to getting them just right. You want perfectly browned, sweet, flavorful onions, and I have the secret.
The secret to perfect caramelized onions is all in my favorite ingredient to make them with… vermouth!
What does vermouth taste like?
There are two kinds of vermouth: dry and sweet. Dry vermouth has a bitter, savory element to it, while sweet vermouth is sweeter, and uses different flavorings. Which kind you should use depends on what you're cooking with vermouth.
I add sweet vermouth to my caramelized onions and they are absolutely amazing. The vermouth adds an extra sweet flavor that really brings out the caramelization.
What is vermouth made of?
Vermouth is actually a type of wine, fortified with distilled alcohol and made using flavorings like herbs, spices, roots, and fruit. Sweet vermouth is additionally sweetened.
How long does vermouth last?
Once you open the bottle of vermouth, store it in the refrigerator for up to 2 months. We recommend using it all within the first month, however, as it will taste best then.
Vermouth Substitute
The best substitute for vermouth is to use balsamic vinegar! If you don't have vermouth on hand or would prefer to, use balsamic vinegar in this recipe instead, and I promise it will be delicious.
How to Freeze Caramelized Onions
You can freeze this recipe for caramelized onions! And I recommend it! That way, you can have them on hand whenever you want them to spice up a dish. I love to make a big batch and freeze some to use on short notice.
Note: since caramelizing onions shrinks them, you may want to increase the amount you're using if you're freezing a batch. An easy way to do this is to simply double the ingredients in the recipe and cook double the amount.
After cooking, allow your onions to cool.
Portion cooled onions into a container of your choice – we like using ice cube trays for small portions! Freezer bags work well if you want to freeze it all at once. Flatten them out in the bag so they freeze evenly and don't take up much space.
Use straight out of the freezer. You don't need to thaw them before using them. Simply add them to whatever you're cooking and allow them to cook down with the rest of the meal.
Frozen caramelized onions last up to 3 months.
How to Use Caramelized Onions
There are so many ways to use these perfect caramelized onions in all your favorite recipes. Here are a few of my favorite ways to use them – let me know yours in the comments!
Also try my Sauteed Peppers and Onions and Pickled Onions!
This recipe makes a great side dish for the holidays. Pair it with my other Side Dishes for Ham, Side Dishes for Prime Rib or Christmas Side Dishes!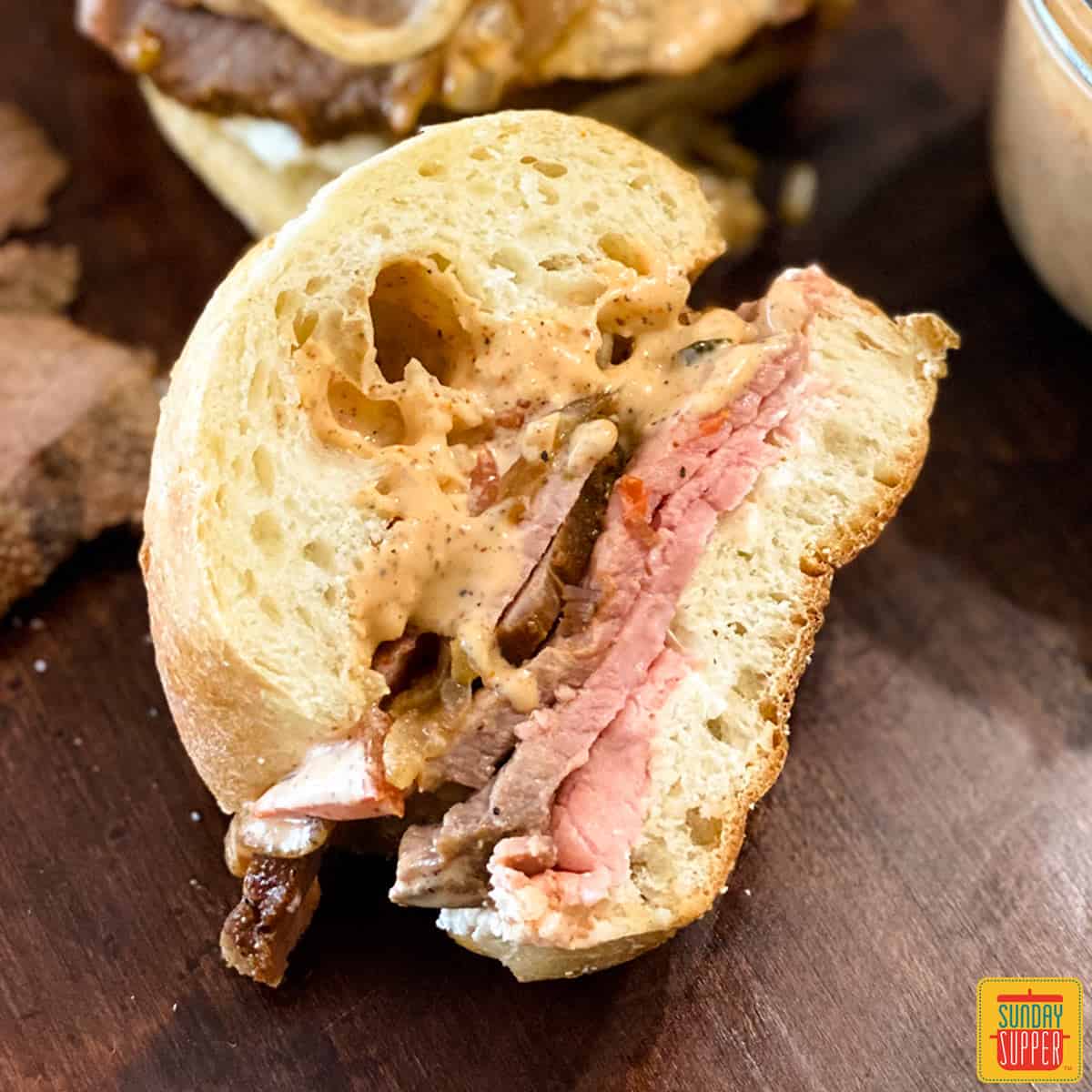 Save the Video Pin
Did you try this recipe? Leave a comment and a rating below to let us know what you think! We love to hear from you!
Perfect Caramelized Onions – learn the secret!
We have the secret to making the most Perfect Caramelized Onions you will eat! Learn how to caramelize onions our way, and you will never want to make them any other way.
Ingredients
3

sweet onions

sliced; or red onions, if desired

2

Tbsp.

vermouth

or balsamic vinegar

1

Tbsp.

sugar

4

Tbsp.

butter

salt and pepper to taste
Instructions
Melt 4 Tbsp. butter in a skillet over medium high heat. Add 3 sliced sweet onions to the pan and allow them to sit until they begin to brown. Only begin to stir once they start browning.

Add in 1 Tbsp. sugar and 2 Tbsp. vermouth when the onions are just starting to brown. Stir through and continue to cook for another 3 minutes, then season with salt and pepper to taste.

Continue to cook until completely browned and soft.
Notes
How to Use Caramelized Onions
Nutrition
Calories:
206
kcal
Carbohydrates:
23
g
Protein:
2
g
Fat:
12
g
Saturated Fat:
8
g
Cholesterol:
32
mg
Sodium:
22
mg
Potassium:
295
mg
Fiber:
2
g
Sugar:
16
g
Vitamin A:
369
IU
Vitamin C:
12
mg
Calcium:
53
mg
Iron:
1
mg
Did you try this recipe?
Tag #SundaySupper on social and leave a comment below!