This post may contain paid links. If you make a purchase through links on our site, we may earn a commission.
You need to try our Pumpkin Waffle Recipe! This is the best waffle recipe for Fall: quick, easy, and full of warm flavors like brown sugar and cinnamon! They're perfect for a family breakfast and take just 2 bowls to mix everything together for easy clean up.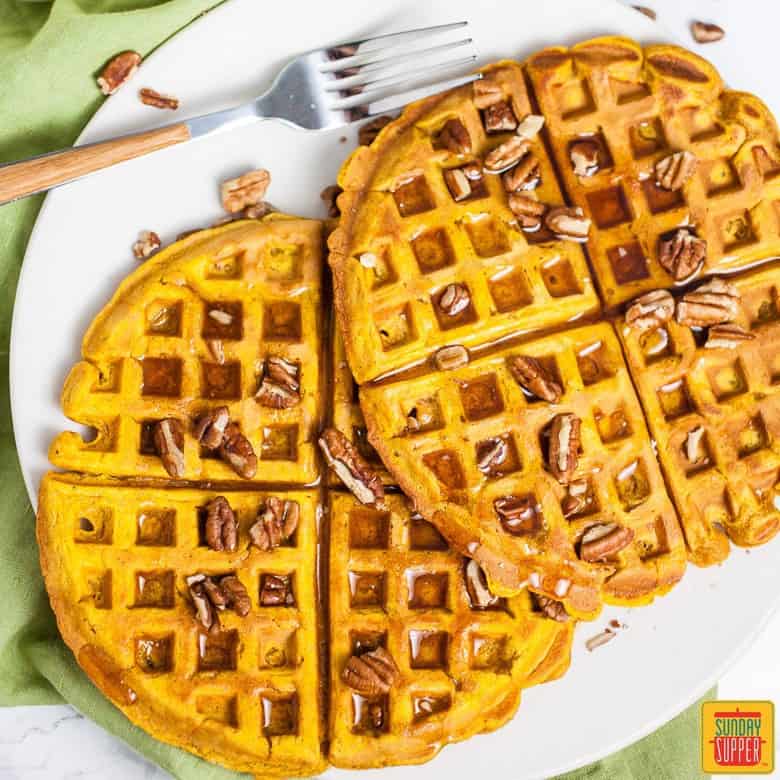 What could be better than homemade waffles for breakfast with a latte on the side (or my favorite whipped coffee)?
These pumpkin waffles are a favorite in my household. When Fall rolls around and I pull the pumpkin pie spice out of the pantry, I get asked to make them almost every day!
I guarantee you will love them. This pumpkin waffle recipe has all of the flavors we love about Fall: pumpkin spice, brown sugar, cinnamon, nutmeg… they are irresistible!
Jump to:
🍽 What do I need to make waffles?
Waffle iron, mini waffle maker, or a skillet
2 mixing bowls
Whisk
The best way to make waffles is using a waffle iron, but if you don't have one, you can still make these waffles. I have made waffles in a pan before (even my Banana Bread Waffles!) and it works just fine.
🧈 Waffle Toppings
Butter
Maple syrup
Pecans: They make these waffles extra flavorful and add a nice crunchy texture. I love adding pecans!
Ice cream: Perfect for making pumpkin waffles for dessert.
Homemade whipped cream: I love making my own whipped cream to top sweet breakfast ideas like these pumpkin waffles with.
Easy Butterscotch Sauce: Perfect for topping pumpkin waffles!
👪 How many people does this serve?
Depending on the size of your waffle iron, our pumpkin waffle recipe makes about 6 waffles. It's a perfect family breakfast recipe or Breakfast for Dinner!
⭐ Family Foodie Tips
Be careful not to over-mix the batter. Mix it well, but leave a couple of lumps. If you mix it too much, your pumpkin waffles will come out too dense and not light and fluffy.
Melt a little butter on the surface of your waffle iron in-between cooking each waffle so they won't stick.
You can use any type of waffle iron you like. I like to use a mini waffle maker to make pumpkin waffles.
Try not to overfill the waffle iron with too much batter.
❄ How to Freeze Waffles
Pumpkin waffles make one of the best freezer breakfasts to enjoy all through Fall!
Prepare a big batch, then heat them up in the toaster whenever you want them. It's so easy. Future you will thank you!
Prepare the pumpkin waffle recipe as instructed.
Allow them to cool completely, then arrange them in a single layer on a baking sheet lined with parchment paper. Add them to the freezer until they are frozen solid (check at 1 hour).
Transfer to freezer-safe bags for up to 3-4 months.
🔥 How to Reheat Waffles
You can reheat refrigerated or frozen waffles by simply popping them in the toaster and toasting until they're heated through.
I toast them at the lowest setting first, then add them to the toaster again as needed until they're heated through and crispy again.
📖 Easy Pumpkin Recipes
We have plenty of easy pumpkin recipes to enjoy! Want more? Take a look at all of our seasonal recipes for ideas!
What makes these the best pumpkin waffles?
They're easy to make
Use only simple ingredients
Full of warm pumpkin spice
You can make them ahead of time, freeze them, and pop them in the toaster to reheat
Perfect with a cup of coffee in the morning!
When Fall rolls around, I get so excited to make these pumpkin waffles. There is nothing like a plate of fresh waffles with a mug of hot coffee for breakfast when it's nice and chilly outside!
The best part about this easy waffle recipe is that it tastes just like pumpkin pie. If you ask me, you just can't get any better than breakfast that tastes like one of your favorite desserts!
These waffles are delicious! Great recipe!

Maria (above photo)
Save the Video Pin
Did you try our pumpkin waffle recipe? Let us know what you think in the comments below and with a rating! We love to hear from you.
📋 Recipe
Pumpkin Waffle Recipe
Pumpkin Waffles are easy to make and full of warm fall flavors like cinnamon and nutmeg. Top with maple syrup and pecans for a tasty breakfast or dessert recipe!
Equipment
Waffle iron, mini waffle iron, or pan

2 mixing bowls
Instructions
In a mixing bowl, add 2 ¼ cups all-purpose flour, 1 Tbsp. baking powder, ⅓ cup brown sugar, 2 tsp. cinnamon, 1 tsp. nutmeg, and a pinch of salt. Stir until completely combined.In another mixing bowl, whisk 2 eggs, then add ⅓ cup vegetable oil, 1 cup milk, 1 tsp. vanilla extract, and 1 ¼ cup pumpkin puree. Whisk until completely combined.

Slowly add the wet ingredients to the dry ingredients. Stir to completely combine, but don't over-mix the batter. The batter should be slightly lumpy, a little sticky, and dense.

Heat your waffle iron to medium-high heat. Melt a little butter on both sides to prevent the waffles from sticking. Pour your desired amount of batter into the waffle iron and close. Cook for 3-5 minutes, or until the waffle is golden with slightly crispy edges.Remove the waffle from the iron and repeat until you use up your pumpkin waffle batter. Serve with butter, syrup, and pecans! Enjoy!
Notes
This recipe makes roughly 6 waffles (depending on the size of the waffle iron).
Don't over mix the waffle batter. Mix well, but it's okay to leave a couple of lumps in there. If you mix too much, your pumpkin waffles won't be light and fluffy!
Be sure to melt a little butter on the surface between each waffle to prevent sticking.
Nutrition
Calories:
386
kcal
Carbohydrates:
35
g
Protein:
6
g
Fat:
25
g
Saturated Fat:
4
g
Cholesterol:
63
mg
Sodium:
244
mg
Potassium:
525
mg
Fiber:
3
g
Sugar:
17
g
Vitamin A:
8150
IU
Vitamin C:
2.1
mg
Calcium:
234
mg
Iron:
2.5
mg
Did you try this recipe?
Tag #SundaySupper on social and leave a comment below!
Photo credit: Christine Rooney