Are you ever hungry for a snack that has your favorite treats wrapped into one package? I often times will open the pantry and feel conflicted over which item I should grab. After all, I don't want the other faves to feel badly. This Quick Chocolate Peanut Butter Pretzel Mix is the perfect solution.
As someone who likes to minimize cleanup at all costs, Quick Chocolate Peanut Butter Pretzel Mix really makes sense to me because it gets mixed together right in the pretzel bag. It's also fun treat to make with the kids.
You will have to remove some of the pretzels before mixing everything together or else you will not have the space to add all the other goodies and shake, shake, shake.
The peanut butter does add a level of messiness to this mix but I figured out quickly that this must be the reason why napkins were invented.
Feel free to substitute your favorite pantry ingredients should you not care for my favorites or when you see that Mother Hubbard's cupboard is a tad bare!
Ready to make Quick Chocolate Peanut Butter Pretzel Mix? Here are the easy instructions!
Chocolate Peanut Butter Pretzel Mix
Author:
Prep time:
Total time:
The perfect mix of sweet and salty, this chocolate peanut butter pretzel mix is created right in the pretzel bag. What could be easier?
Ingredients
9 ounces (257 grams) mini pretzels
2 cups (270 grams) roasted peanuts, divided
1½ cups (285 grams) M&M's, divided
11½ ounces (323 grams) milk chocolate, melted
1½ cups (390 grams) smooth peanut butter, melted
Instructions
Line a baking sheet with parchment paper and set aside.
Set aside 1/3 cup (58 grams) of peanuts and 1/3 cup (78 grams) of M&M's.
Mini pretzels are sold in bags larger than 9 ounces. Remove all but 9 ounces and enjoy the remaining pretzels another time.
Add the remaining peanuts and M&M's to the bag of pretzels. Close the bag and shake until the pretzels, peanuts and M&M's are well mixed.
Add the melted chocolate and peanut butter to the bag. Seal with a clip or wrap the edges closed and shake until everything is mixed together, using your hands to help manipulate the chocolate and peanut butter through the bag.
Transfer the mixture to the prepared pan. Sprinkle the remaining peanuts and M&M's over the top. Place in the freezer to set, about 15 minutes.
Break into pieces and enjoy.
Notes
This recipe may easily be halved or doubled, depending on the number of servings desired.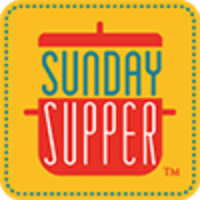 The Sunday Supper Movement is committed to bring our readers delicious recipes that encourage them to gather and eat together around the family table. Search for your favorite ingredients on our Sunday Supper website. Also check out the Sunday Supper Pinterest boards for plenty more ideas and inspiration.
And sign up for our newsletter to get great Sunday Supper recipes delivered right to your inbox every Thursday!

Love chocolate and peanut butter together? Check out these Sunday Supper Recipes: