This post may contain paid links. If you make a purchase through links on our site, we may earn a commission.
These fun Breakfast for Dinner Ideas will have the whole family jumping up and down with excitement! From easy Instant Pot egg bites to fluffy Japanese pancakes, savory sausage gravy biscuits, poached egg burgers, and more. You will love these fun family dinner ideas! 🍳🥓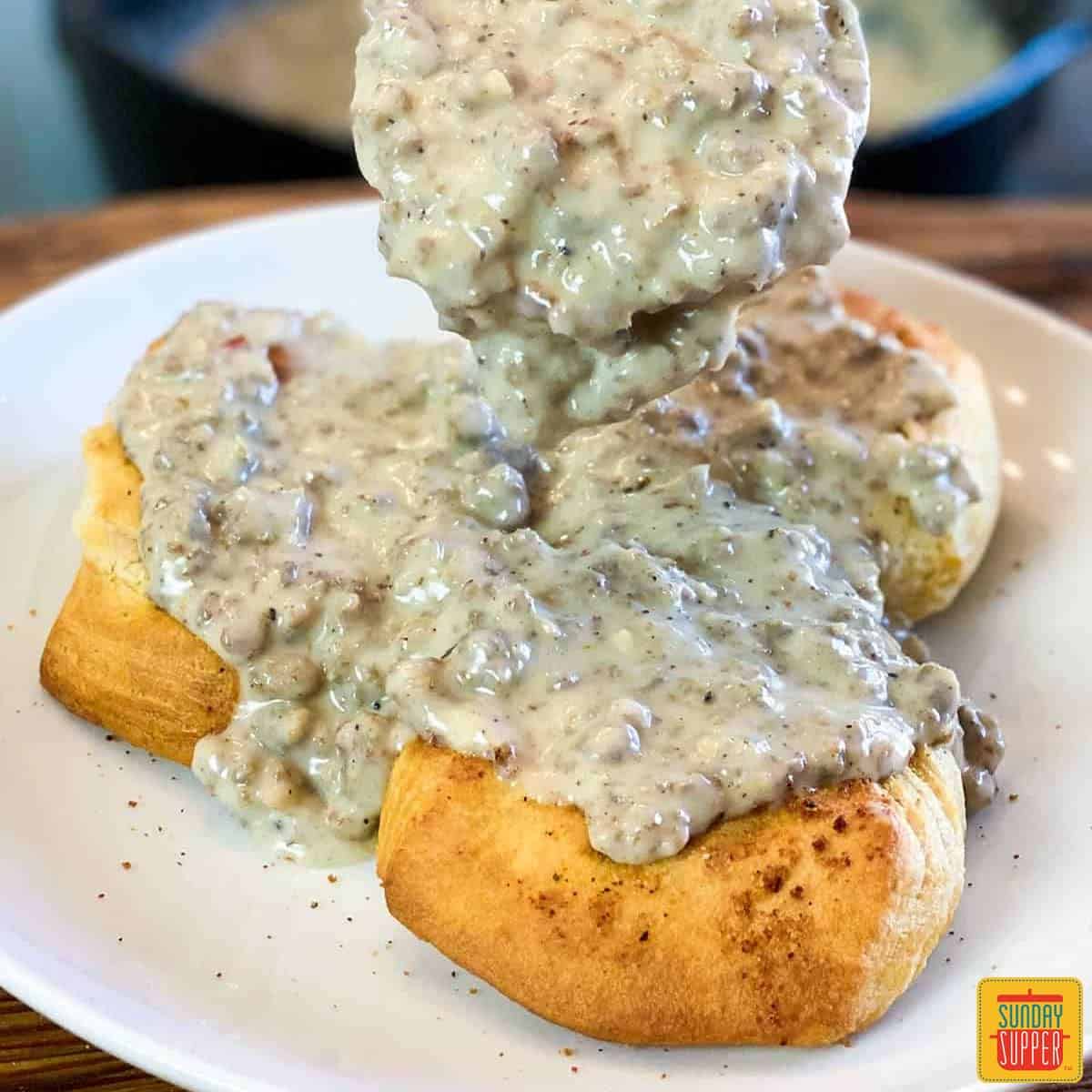 Growing up, I always looked forward to breakfast for dinner. Something about breaking the "rules" of when to eat breakfast is so much fun as a kid, and it makes even the most simple plate of scrambled eggs taste amazing.
Now, the best part about making breakfast at dinner time is that it's so quick and easy! I love whipping up our breakfast casserole recipe or sausage gravy biscuits as a fun "brinner"!
And, kids love breakfast for dinner. Breakfast recipes make some of the best quick dinner ideas for kids.
Not only that, but they're packed with wholesome ingredients and are a great way to sneak veggies into a picky eater's meal plan.
Starbucks Egg Bites
This Keto Egg Bites recipe is a must-add to your list of breakfast for supper ideas! Just like the popular Starbucks egg bites, this sous vide egg bites recipe is rich, flavorful, and low carb.
Chilaquiles Rojos
If you have yet to try this Mexican Breakfast Skillet recipe, it is an absolute must! Not only is it one of the easiest dinner ideas for families, but it's so delicious. It makes a fun kids' breakfast and a perfect brinner, too!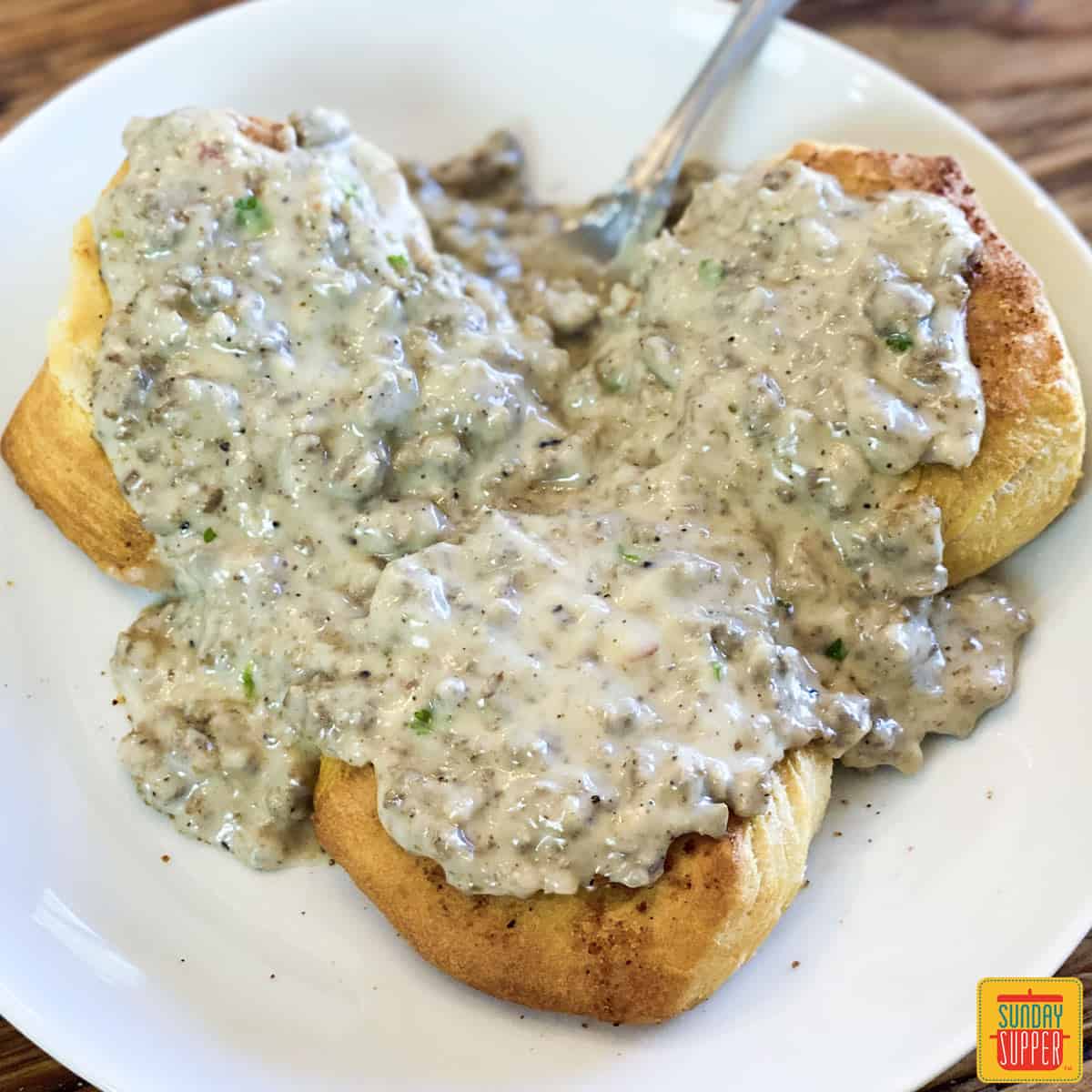 Sausage Gravy with Biscuits
One bite of this recipe for Sausage Gravy with Biscuits, and you will fall in love. This easy breakfast recipe is so flavorful and is one of the best ideas for breakfast for dinner. It's hearty, tasty, and frankly, crave-worthy! You may just find yourself wanting to make this one for breakfast and dinner.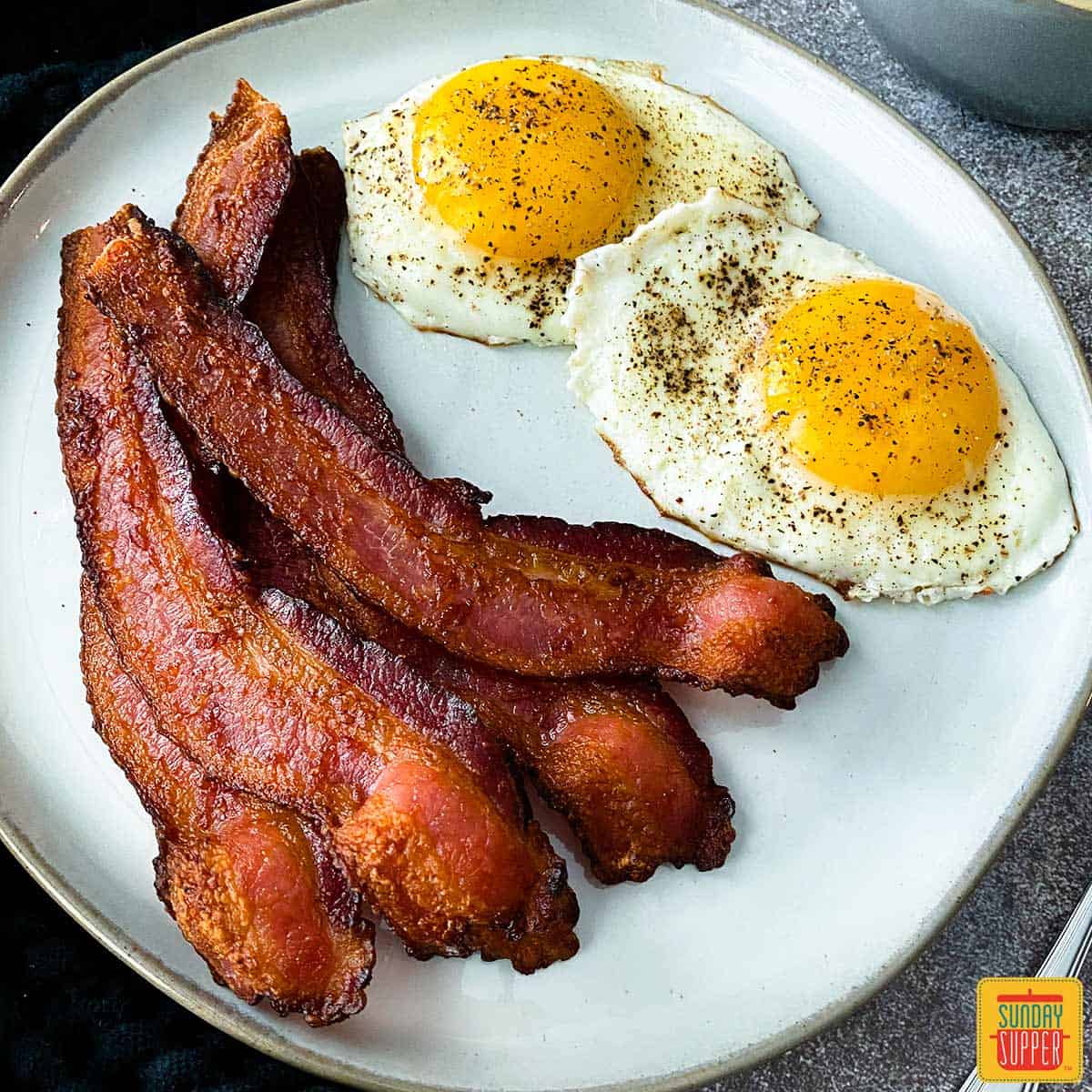 Air Fryer Bacon
I guarantee if you love bacon as much as my family and I do, you will obsess over this easy Air Fryer Bacon recipe. It is so delicious and simple to make in just 10 minutes.
Sheet Pan Pancakes
Sheet pan pancakes make an easy breakfast for dinner you can bake up for the whole family all at once!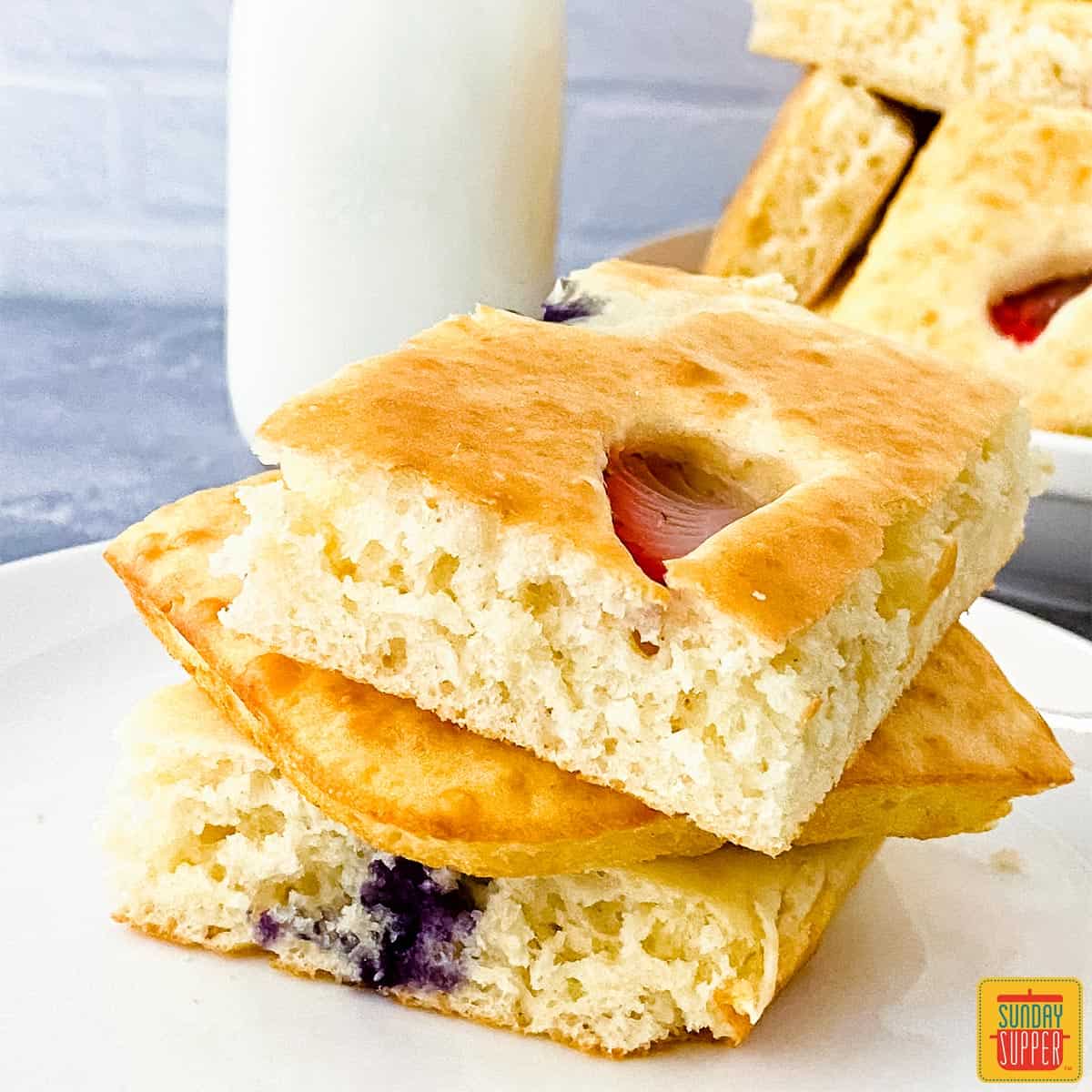 Air Fryer Breakfast Potatoes
The perfect pairing for Air Fryer Bacon is our Air Fryer Breakfast Potatoes recipe! Give them a try together!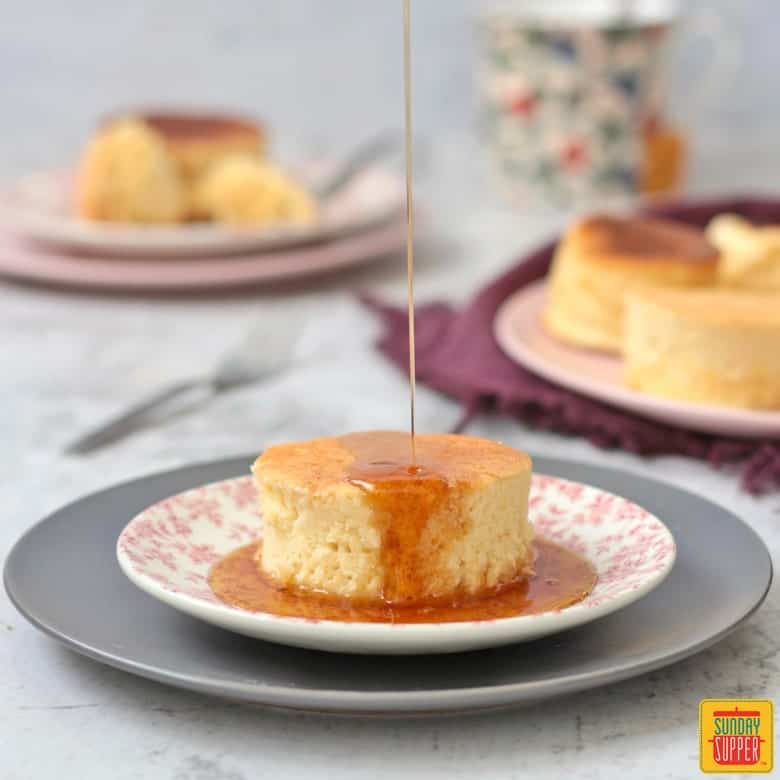 Fluffy Japanese Pancakes
This Fluffy Pancake Recipe is heaven on a plate. Thick, fluffy Japanese souffle pancakes are one of the best breakfast recipes ever. They're an easy dinner with kids, and little ones will love watching these fluffy pancakes fluff up and cook. One of the most fun brinner recipes to make!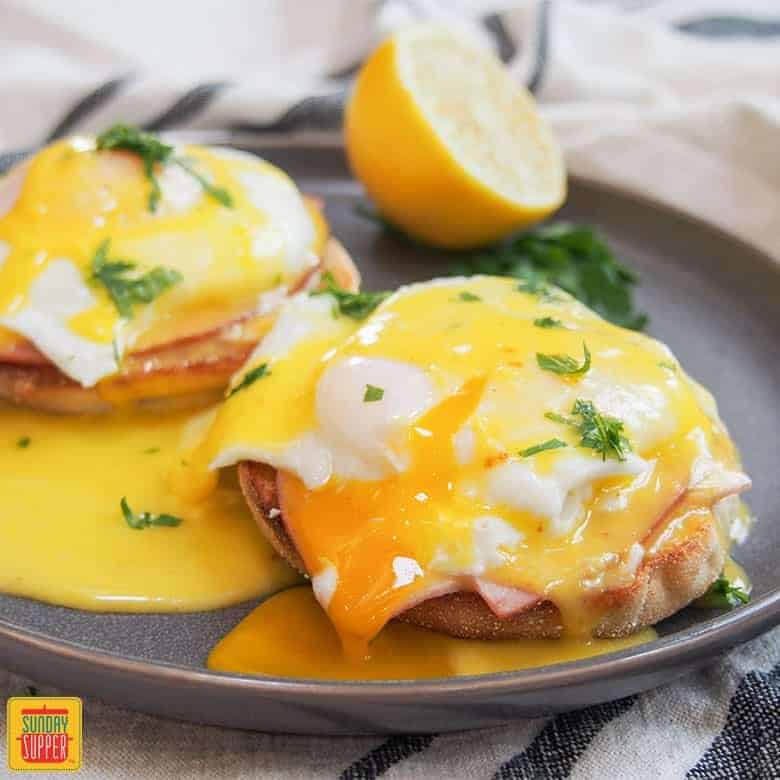 Classic Eggs Benedict
Homemade Eggs Benedict is the penultimate breakfast. Kids and adults alike love this sophisticated, delicious brunch recipe! The hollandaise sauce is just so tasty, you will want to have a spoon at hand to make sure you get every last drop.
Not sure how to perfectly poach eggs, or need a refresher? We have you covered. Follow our guide on How to Poach an Egg for perfect poached eggs every time!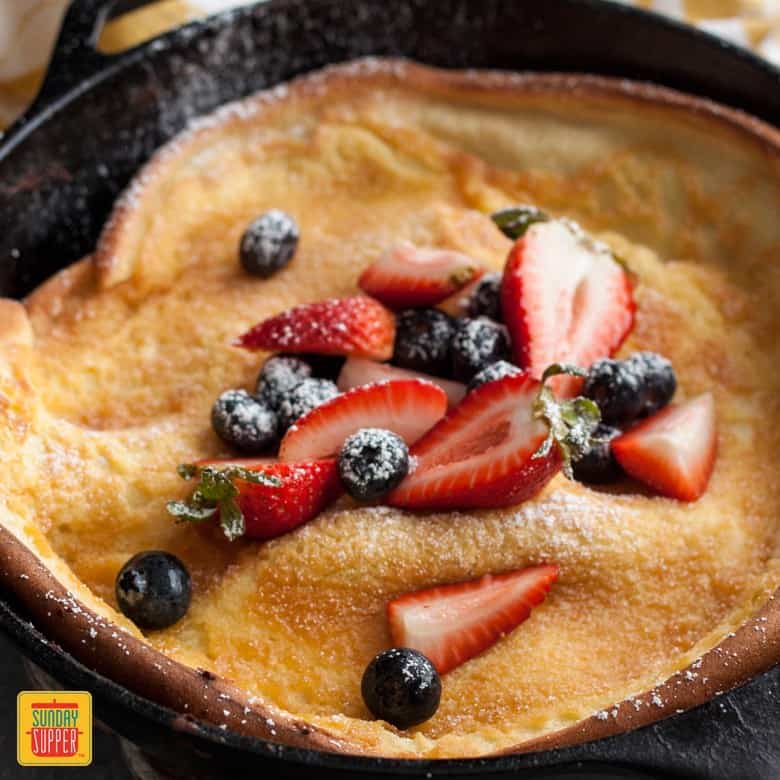 Berries and Cream Dutch Baby Pancake
Pancakes for breakfast are always a treat, but pancakes for dinner? Even better! This Berries and Cream Dutch Baby Pancake is one of the best breakfast for dinner ideas ever. You and the kids will love this recipe! Top it off with some homemade whipped cream or berry compote, and it's even better.
Poached Egg Burger with Caramelized Onions
Meet your new best friend for "brinner"! This Poached Egg Burger is a perfect combination of breakfast and dinner. It's one of the most fun family dinner ideas, and topped off with caramelized onions, it really could not be more delicious. Maybe if you add some candied bacon… 😉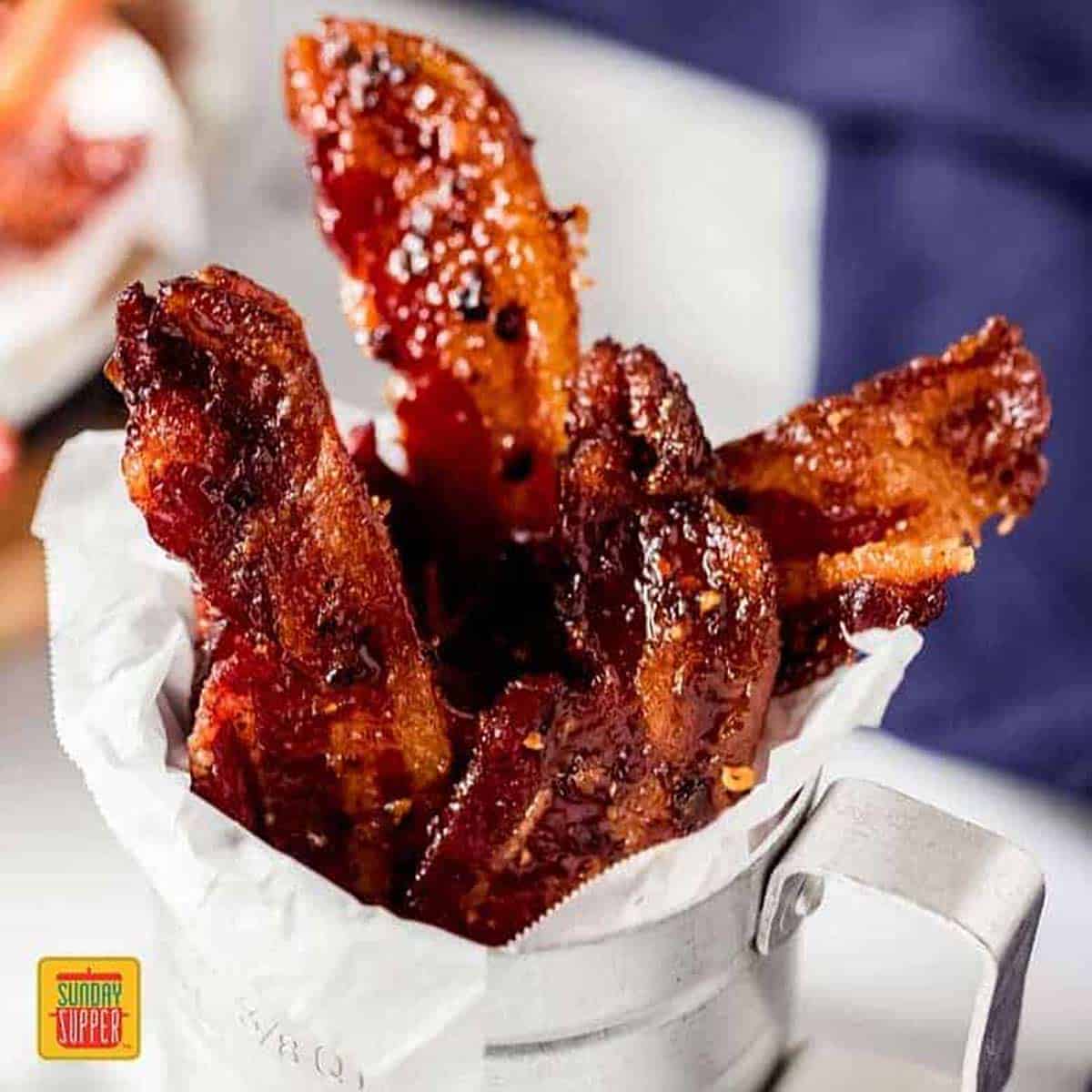 Candied Bacon Recipe
The best part about this Candied Bacon Recipe – aside from the fact that it is candied bacon! – is that you can pair it with just about any brinner recipe you want. It fits perfectly with everything from the Poached Egg Burger above to mixed in with your Starbucks Egg Bites.
If you're making it for kids, you may want to tone the spice down a little!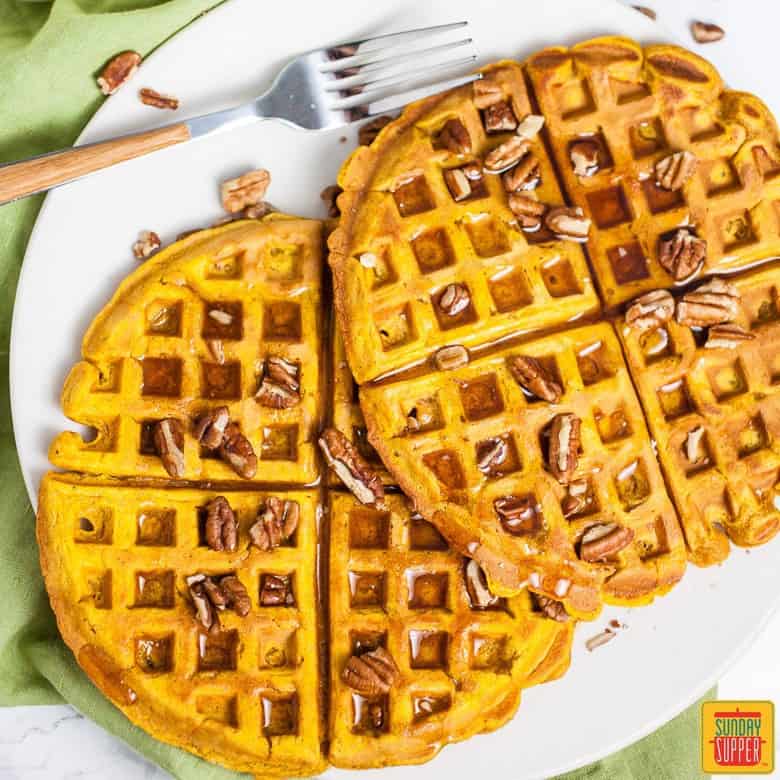 Pumpkin Waffle Recipe
This easy Pumpkin Waffle Recipe is perfect for Fall, and even better if your kids help you make it. The batter is easy to mix and a fun way to get kids involved in the kitchen! These pumpkin waffles really are one of the most fun breakfast recipes for dinner.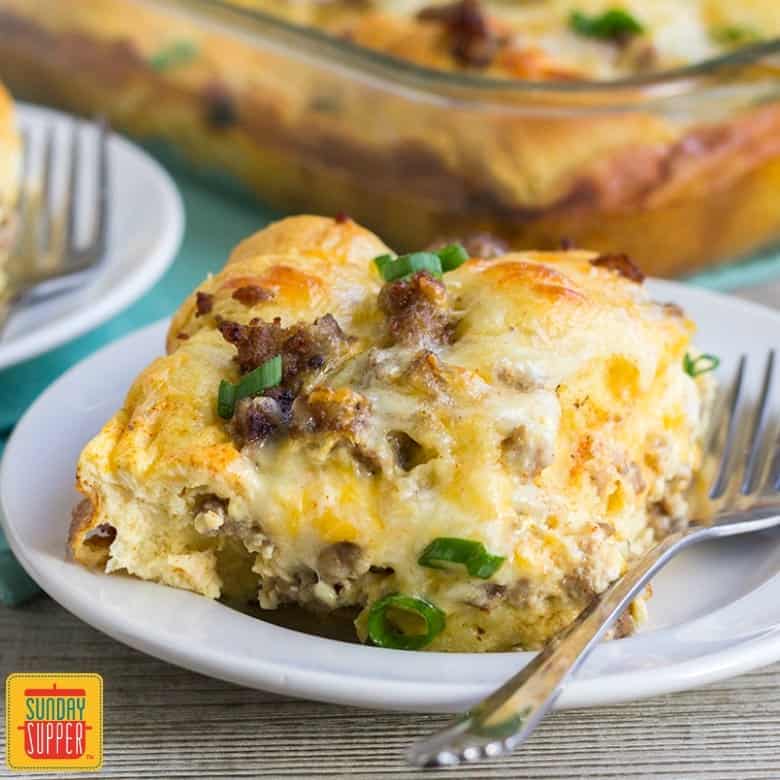 Sausage Breakfast Casserole with Crescent Rolls
This is, hands down, the best breakfast casserole recipe ever. Sausage Breakfast Casserole with Crescent Rolls is perfect for breakfast, brunch, lunch, dinner… you name it! This is one of our favorite family fun dinner ideas. Everyone at the table will love it. The leftovers taste amazing, too.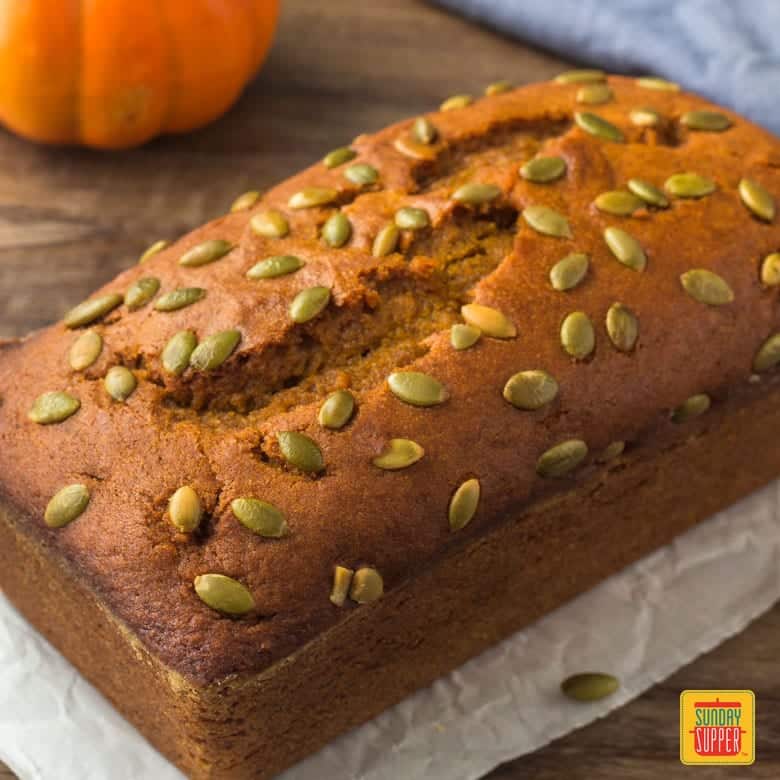 Starbucks Pumpkin Bread Recipe
This is our most popular homemade bread recipe, and it's no wonder why. Our Starbucks Pumpkin Bread is the most moist, delicious pumpkin loaf you will ever taste. Pair this with some cinnamon whipped cream for a super fun breakfast at dinner!
Love our Starbucks copycat recipes? Try our Gingerbread Loaf! It's one of the best dessert bread recipes there is, topped with cream cheese frosting and full of gingerbread flavor. You will love it! It's also great for an after brinner snack. 😉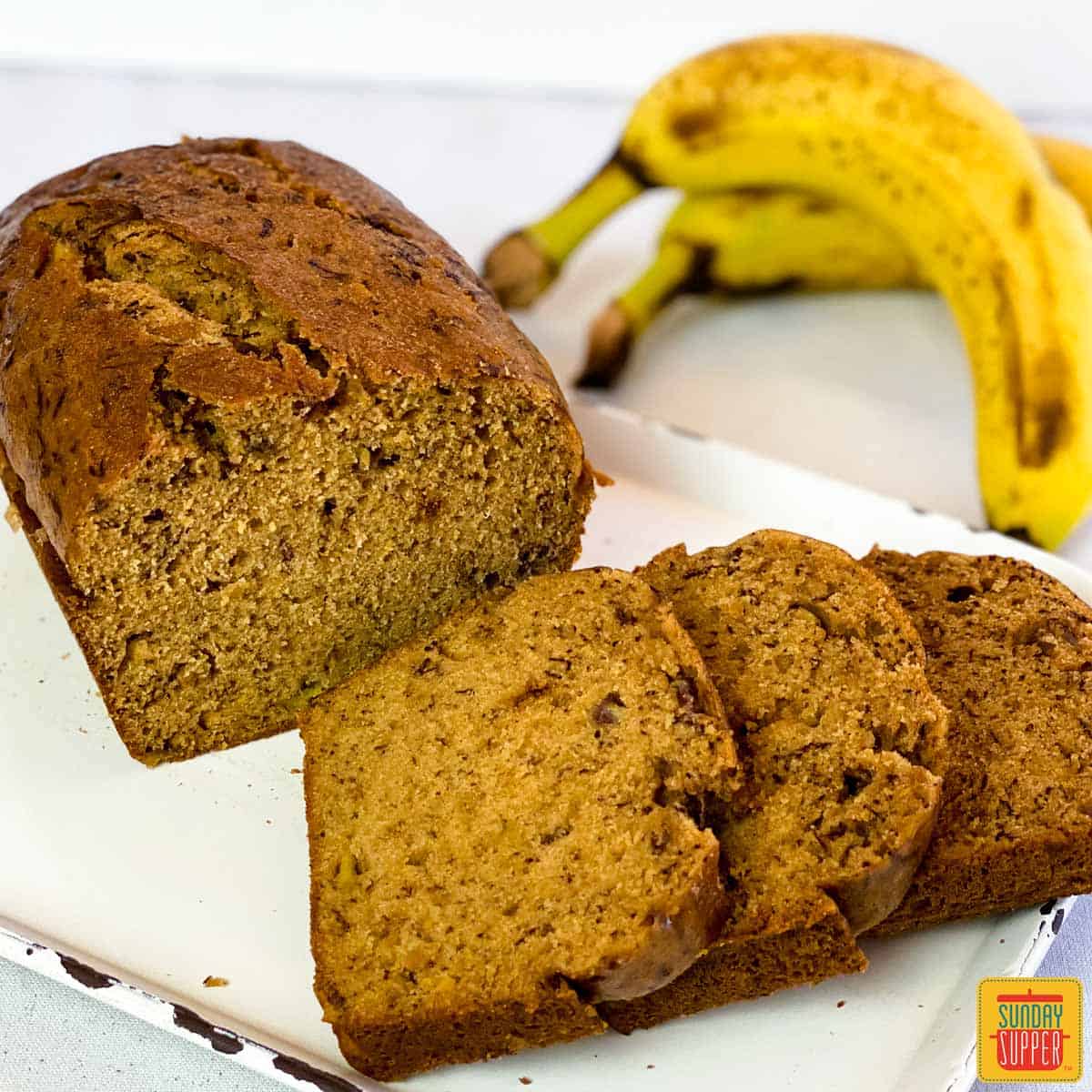 Instant Pot Banana Bread
Speaking of bread as breakfast for dinner, this Instant Pot Banana Bread is incomparable. The best part about making this easy bread recipe is that it bakes entirely in the Instant Pot, so you never have to turn on the oven. It is as exactly as easy as it sounds!
Pulled Pork Pizza Flatbread Recipe
Top this Pulled Pork Pizza Flatbread Recipe off with a beautiful runny egg, and you have yourself one of the best breakfast dinner recipes. You can use leftover pulled pork from our Slow Cooker Pulled Pork or Tender Grilled Pork Butt to make this breakfast flatbread pizza!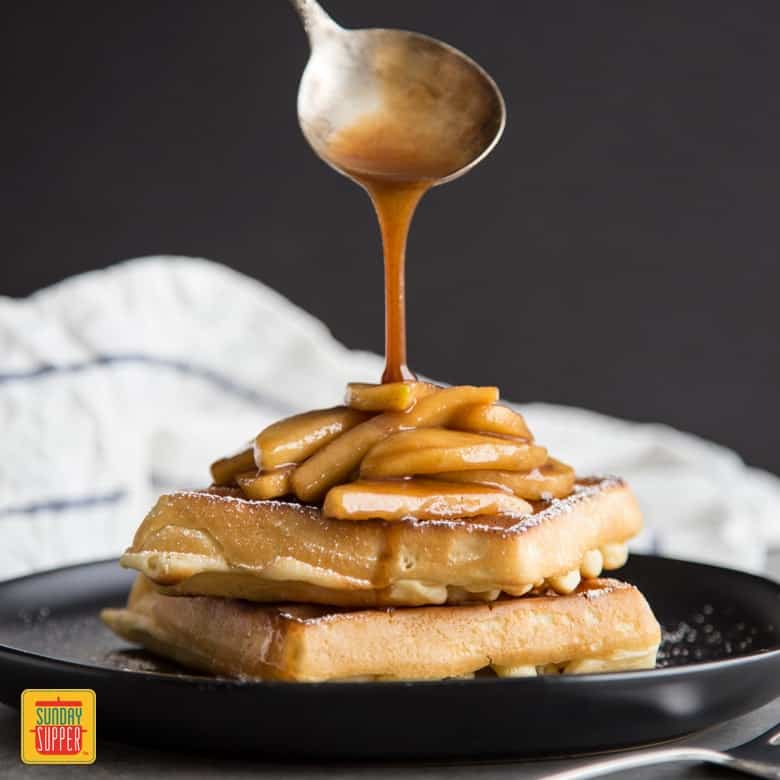 Sauteed Apples
These Sauteed Apples are decadent and flavorful, yet so easy to make! They are the perfect topping for breakfast for dinner over pancakes or waffles, and are a sweet way to sneak in a serving of fruit.
Breakfast Drink Recipes and Side Dishes
Pair your breakfast for dinner ideas with our favorite smoothies and side dishes for eggs and more!
Did you try these breakfast ideas for dinner? We would love to know your favorite! Let us know in the comments below. And feel free to share your own family memories of breakfast at dinner!
What recipe do you want to see us make next? Contact us with what you're craving to see!